Celebrate
Te Ara Awataha
01/04/2023
10AM - 2PM
PAST EVENT
Northcote
Community Engagement
Sustainability
Mana Whenua
Urban regeneration
Greenslade Reserve
Northcote
Auckland 0627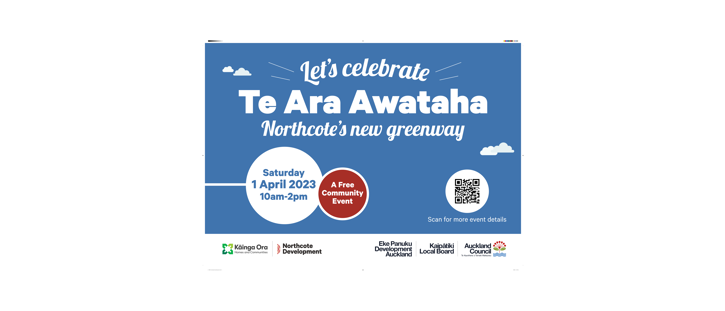 Kāinga Ora and Eke Panuku Development Auckland are incredibly excited to welcome you to celebrate the newly completed areas of Northcote's new greenway – Te Ara Awataha. With an amazing assortment of free family activities, this event is an exciting mix of colour, cuisine, culture and community.
The Celebration Day features activities spanning across Richardson park, The Schools Edge, Cadness Loop Reserve, Cadness Reserve, Greenslade Reserve and the Town Centre. Visitors are encouraged to walk or ride to this amazing one-day event.
Sneak peek on what you can find:
Greenslade Reserve:
- Sausage sizzle
- Volleyball
- Lawn games
- poi workshop
- Kilikiki (Samoan Cricket)
- Taulafoga (coconut shell game)
- whai- string games (koruru)
- Aktiv Asian activation
- Samoa Tag
- Maori games and so much more
Schools' Edge:
- Planting and ecology activities
- Art displays
- Water testing
Cadness Loop Reserve:
- Face painters
- Kids activates and games
- Ice Cream
- Kids colouring
- Basketball
Town Centre:
- Craft workshops
- Art and drawing workshops
- Chalk play activities
- Eateries
Cadness Reserve:
- Stage with live music and entertainment
- Information stalls
- Build partners and homes for sale
Richardson park:
- Kids play activities
- Music
- Chalk games
Don't forget, Northcote is a zero-waste community, so you can help make this Celebration Day even more awesome by bringing:
- Your own drink bottles
- Containers for kai
- A bag to take home any rubbish or scraps.
Visitors are encouraged to walk or ride to this amazing one-day event.
We can't wait to see you!