Eke Panuku is gearing up to upgrade
Roulston Park
11 February 2022 - TBC
Roulston Park is an historical place of interest and a great place for a picnic, but it could be used for more. 
We are planning to upgrade Roulston Park to meet the needs of our diverse and growing community in Pukekohe.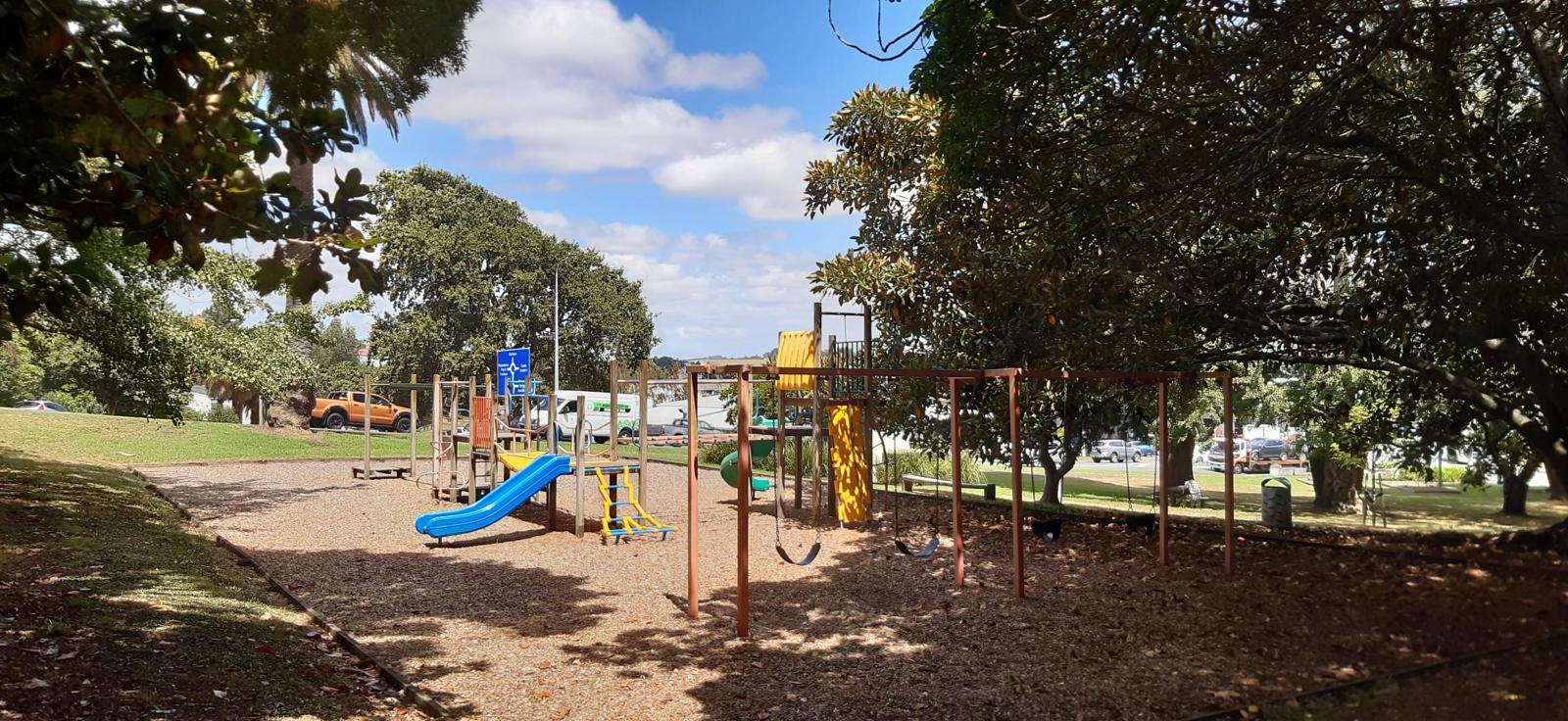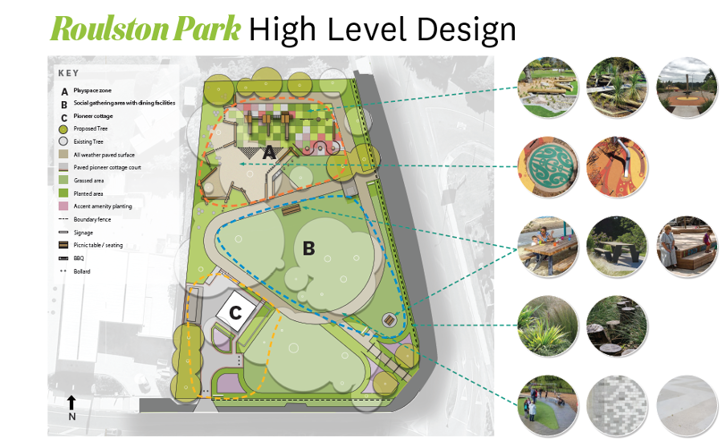 About
​Roulston Park
Situated at the corner of East Street and Stadium Drive, the park features a playground suitable for young children, a toilet block, a historic cottage, and First World War memorial.
We are planning to upgrade Roulston Park to meet the needs of our diverse and growing community in Pukekohe. We are working together with mana whenua, the Franklin Local Board, Franklin Historical Society, and the people of Pukekohe to ensure Roulston Park is a safe and accessible space for everyone to meet and play.
Our goals with the upgrade are to:
• Improve access routes to and around the Park -  the wide loop path connection provides recreational value and all weather access to community, play, courtyard and grassed open space areas.
• To provide a wider range of facilities to cater for children and carers with accessibility needs.
• Improve existing amenities.
• Improve safety - proposed timber perimeter fence supported by low native hedgerow planting.
• Proposed community gathering space with BBQ, and seating in association with play and grassed open space to complement the Pioneer Cottage paved courtyard.
This is our high level design. Things will change as we get more into the details, but this is an indication of what we are considering after listening to feedback from the community.
In April 2022 we undertook a survey to find out what people who might use the upgraded park would want in it.  We talked to people at Roulston Park, in the town square, and online. We even got drawings from local kids showing what they wanted the playground to be.
We picked up on three main themes which we are focussing on in the design.
The community said:
"Yes, I know Roulston Park is there, but I don't use it because it's too hard to get to."
"More paths through the park, of better quality – smooth, level and wide for people with mobility aids, scooters, prams and kids with wheels."
The community said:
"It's not safe to let my kids run around in Roulston Park because of the traffic."
"With the pram and my little one on a scooter, it's too dangerous to cross that road so
we go elsewhere."
"More shade and seating at the front will help deter people from loitering around the back and improve safety."
"People walking through can get hit because there is no pathway."
The community said:
"Roulston Park was gifted to the people of Pukekohe by William Roulston."
"A playground that caters to my kids of all ages and a place to meet friends for a coffee or picnic."
"Activities for adults and elderly people too."
"Play equipment for all abilities."
"A paved area with seating that can be used for meetings, displays and workshops by the wholecommunity."
"Native plantings that reflect Rongoa Maori and maramataka so everyone can learn about them."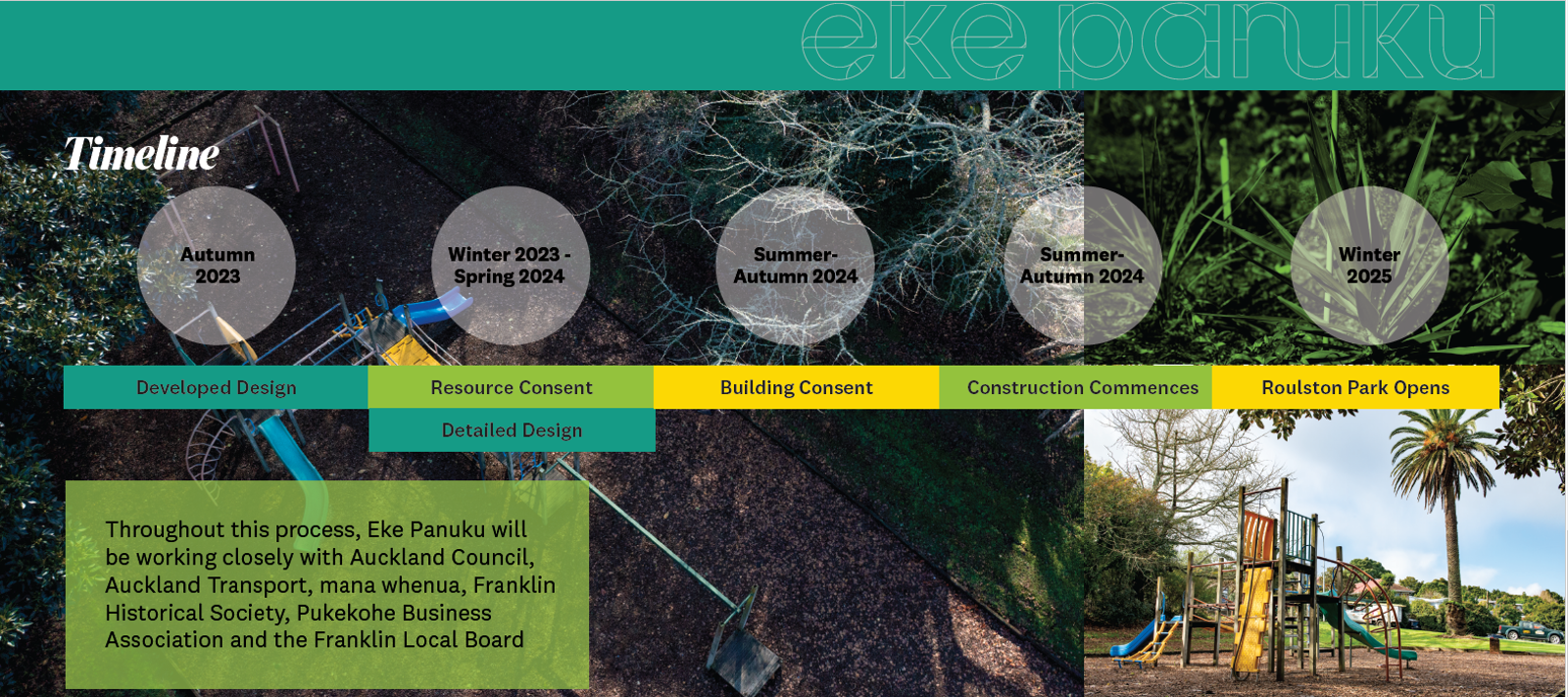 Auckland Transport are exploring options for the intersection which will make the area safer, improving access. However due to the narrow road width and large amount of traffic who use it, we aren't able to add streetside parking as part of this project.                      
Some people wanted ways to play with water in the park, and while we agree that would be fun, it would require digging up some of the old trees to put in pipes and drains, and we want to avoid that where we can.
.When we began engaging on this project we included the skate park in our plans. In order to complete this project within current budgets and in an efficient time frame, and after consultation with the community, we have decided to focus on Roulston Park for this upgrade, and will continue to think about ways in which we can upgrade the skate park in the future.