Meet the people who make
Panmure fun and active
18 November 2022 - TBC
Panmure
Undergoing Construction
Earlier this year the Making It project profiled some of the wonderful people behind Panmure's delicious kai.
This time the project team visited clubs, parks and paths in and around Panmure, and met people with all sorts of hobbies – from skateboarders and football players to petanque players and model train drivers.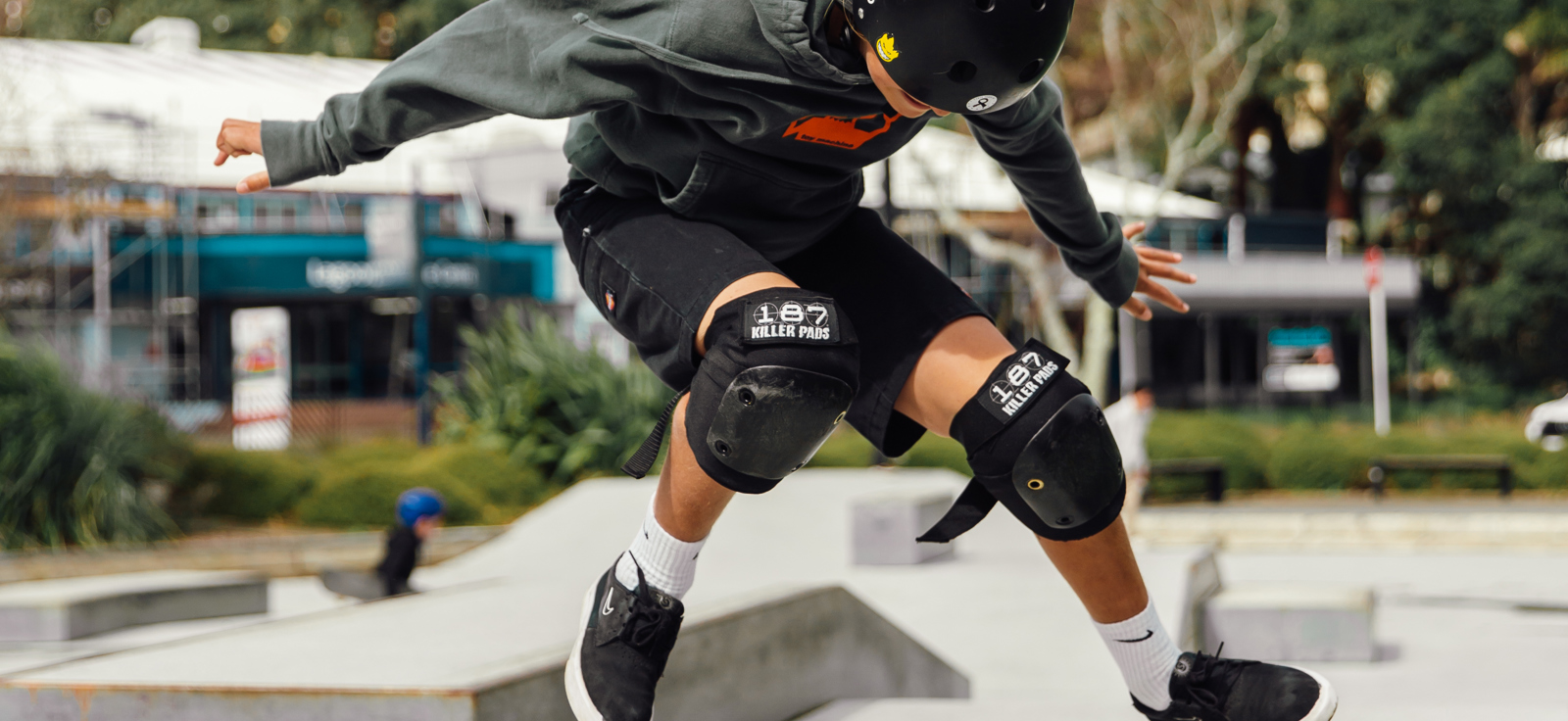 Over three weeks we met 12 people who help make this the fun and active place that it is.
We asked them, why Panmure? The resulting conversations revealed all the things that people love so much about this fantastic suburb and its surrounds – including the Basin, the shared paths and open spaces, the great coffee and kai, as well as the town's culture and heritage, and its caring community. Not to mention the beloved wildlife – Panmure is home to Auckland's only suburban Pied Shag colony!
We hope you enjoy these portraits and stories of the people who spend their precious spare time in Panmure, doing the things that bring them joy. We have included a couple of organisations in neighbouring Mt Wellington, too, since they are so close by and such popular destinations for many in the Panmure community.
Throughout this project we researched and contacted dozens of local clubs, organisations and activity groups in Panmure. We weren't able to feature all of them in this series - but we love what they do.
From tennis, to swimming, to model boats and rock climbing - there are loads of things to do around Panmure. Check out the many clubs and activities and try something new in your neighbourhood!
The Making It Project is a collaboration between Eke Panuku Development Auckland and Fresh Concept with photography by Julie Zhu.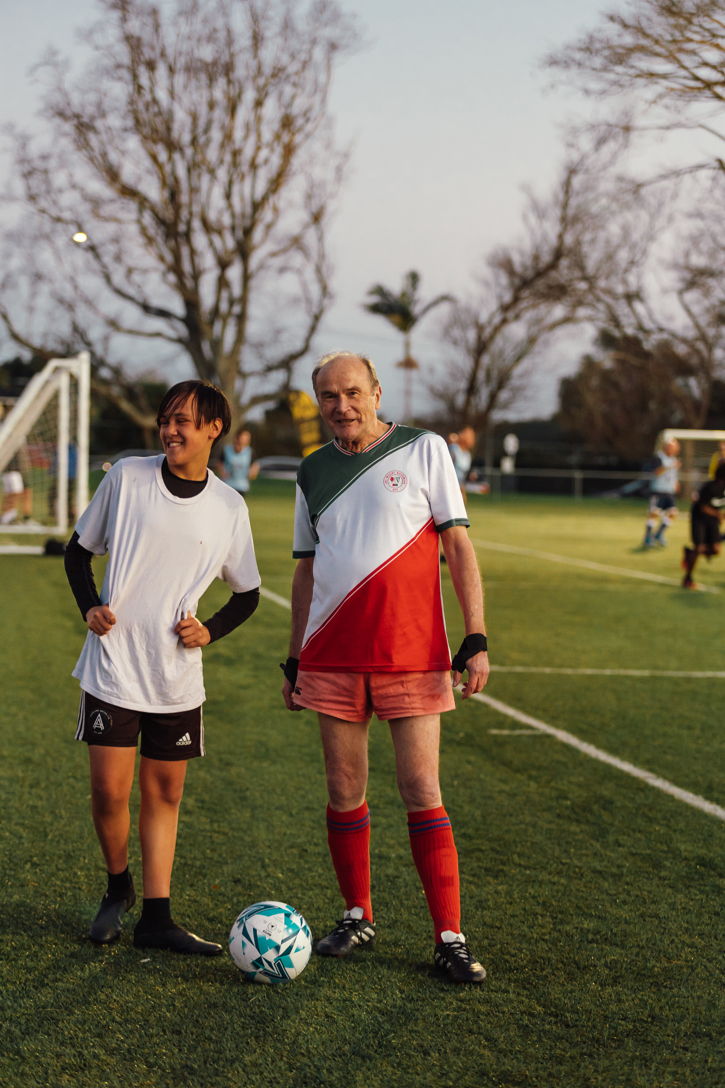 Uni-Mount Bohemian AFC - Bill McKinlay Park
Bob & Grace
Bob has been a part of the same football team for over 40 years. It all started after the Springbok Tour protests in 1973 - Bob and fellow protestors were accused of being anti-sport by the big clubs so they started their own rugby team to prove them wrong. Not long after, they decided they were tired of getting beat up on the field and decided to play soccer instead.
A series of club mergers brought them to Bill McKinlay Park, where Bob reckons (after some quick calculations!) that two or even three hundred people of different ages and experience play football each week. One of these is Grace, who's been playing for about five years, though Bob says she's far surpassed his own skills already. While her dad is helping out as a referee, Grace sometimes subs in for Bob's team. Bill McKinlay Park is both Bob and Grace's favourite place in Panmure - though Bob also enjoys a trip to Queen's Kebabs or one of the local op shops.
"At some stage the decision was made to move away from focusing on top class football to focusing on the community, and community football. Lots of people play here, it's a real mix now." – Bob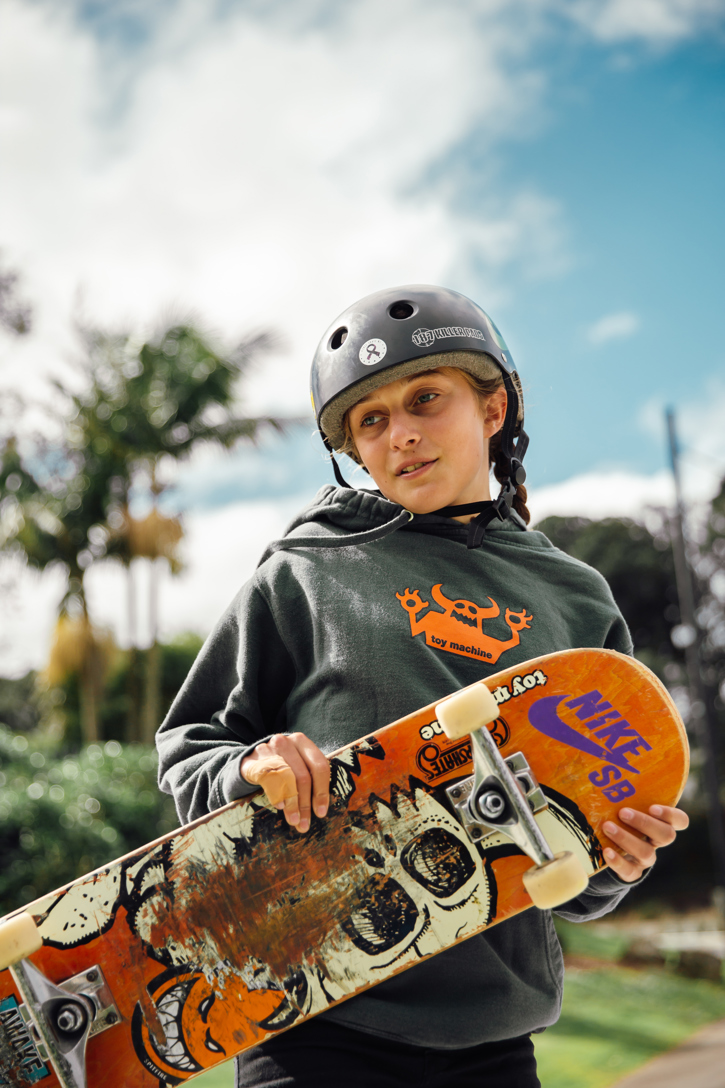 East Skate Club - Panmure Basin Skatepark
Jessica
At 12 years old, Jessica has recently attended the New Zealand X Air competition and won the women's division. To say she's talented feels like an understatement. She travels all over Auckland to visit different skateparks, but the Panmure Basin was one of her first, and was a frequent outing for her and her whānau during the lockdowns, when they had to stick closer to home.
Jessica's dad Alan tells us about growing up in Panmure, and the changes he's noticed in the neighbourhood. He's the reason Jessica took up skating in the first place - his old skateboards were all around the house and one day Jessica decided to give it a go. Jessica likes the skatepark for its proximity to the basin, and the local Pied Shag colony, though she thinks it could be even better with a few more ramps and quarter pipes.
"I like this skatepark because of the basin and all the water around it. It's fun and there's music playing from the pool sometimes." - Jessica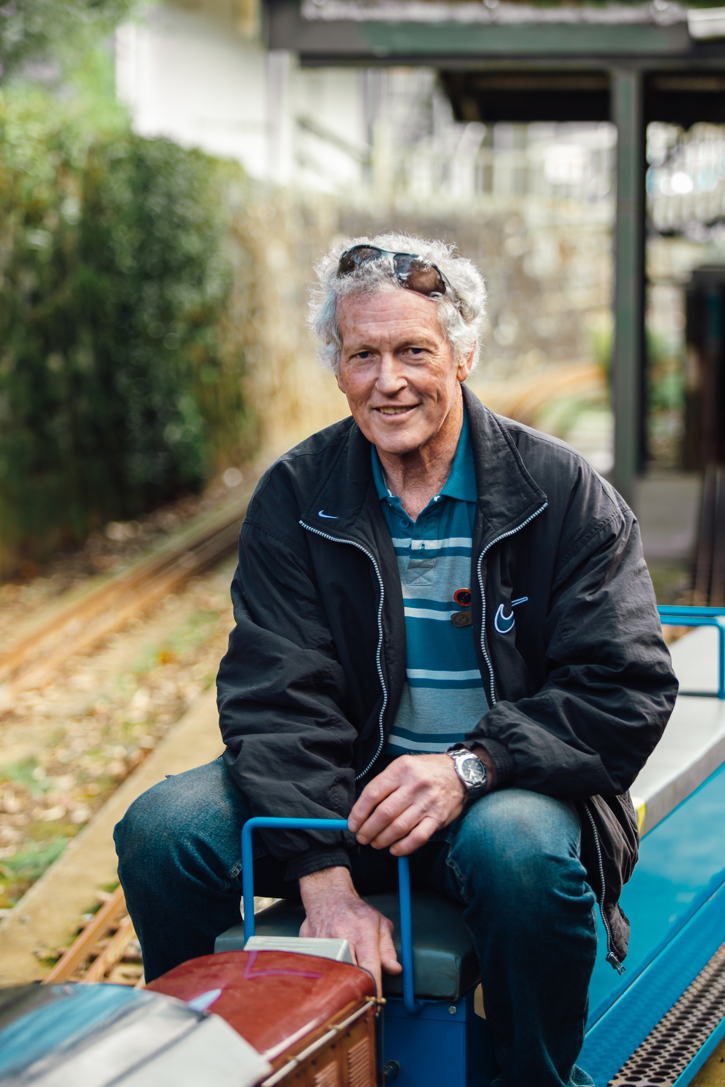 Auckland Society of Model Engineers - Peterson Reserve
Mike
In 1962, on the site of the future Swimarama (now the Lagoon Pools), the Auckland Society of Model Engineers (ASME) began to build an oval miniature railway. When the railway had to move to make room for the pools, they selected Peterson Reserve, which is where the railway lives today, right by the Panmure Basin.
Mike has been with ASME for 10 years now, and can often be found there on Sunday afternoons, when the railway springs to life offering $2 rides to the public. He didn't always have an interest in trains, but he's always loved engines. Mike drives the train while his wife, Toni, helps organise the tickets. Mike would love to see this club continue to grow, and the next generation keep this much-loved Panmure tradition alive.
"We get a lot of people just walking around the basin who didn't even know we were here. I like to talk to them and show them through our clubrooms, to see all the different stuff we've got up there." - Mike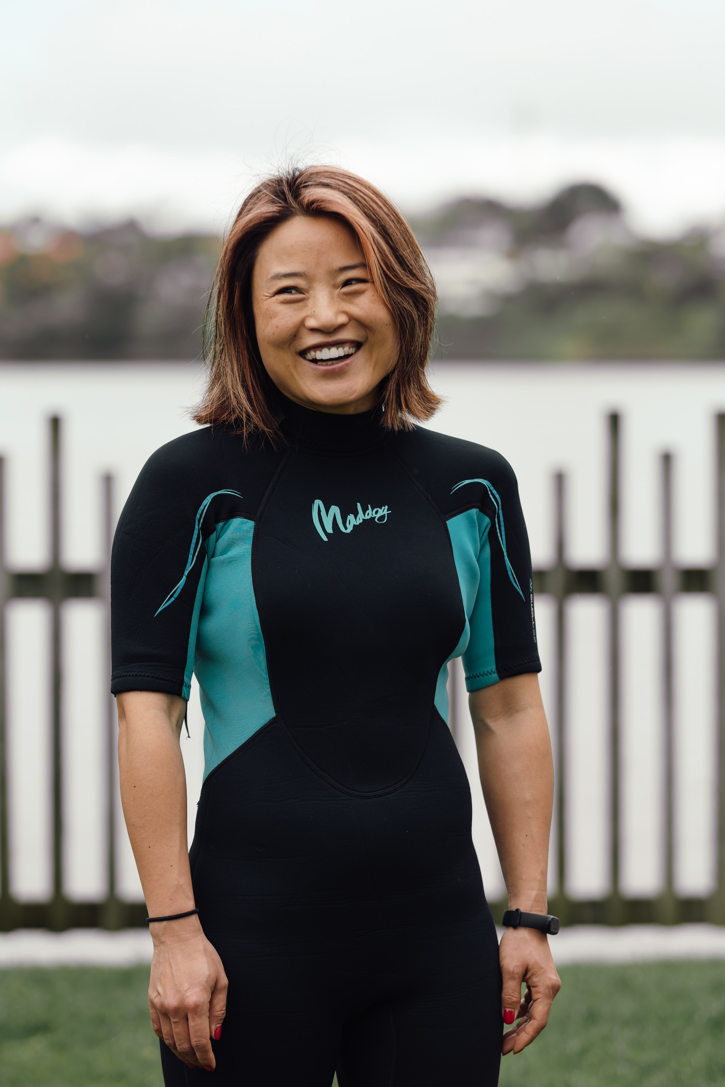 Panmure Lagoon Sailing Club - Panmure Basin
Meijing
When Meijing was looking for a new place to live, she told the real estate agent that she wanted to live near a train station. They didn't understand - usually people want to know about things like good schools, but Meijing wanted good transport. Now she has that, and a whole lot more. She lives right by the Panmure Basin, and the Panmure Lagoon Sailing Club where she and other members can often be found pushing out their boats on a Sunday when the tides are right.
When I ask Meijing what she likes about Panmure, she lists basically everything. She loves how connected it is, bumping into neighbours on her morning run around the basin, the barbershops and food options on Queens Road, and of course learning to sail. She's still building her confidence on the boats, and laughs as she tells us about a recent capsize, but her clubmates are always full of encouragement. At our photoshoot, Meijing has her first go with a full sail. She brings the boat back safely.
"Panmure is very convenient, and people are friendly. You're close to the city, you have Mt Wellington, lots of culture and heritage, as well as just being able to get out and enjoy nature. What more do you want?!" - Meijing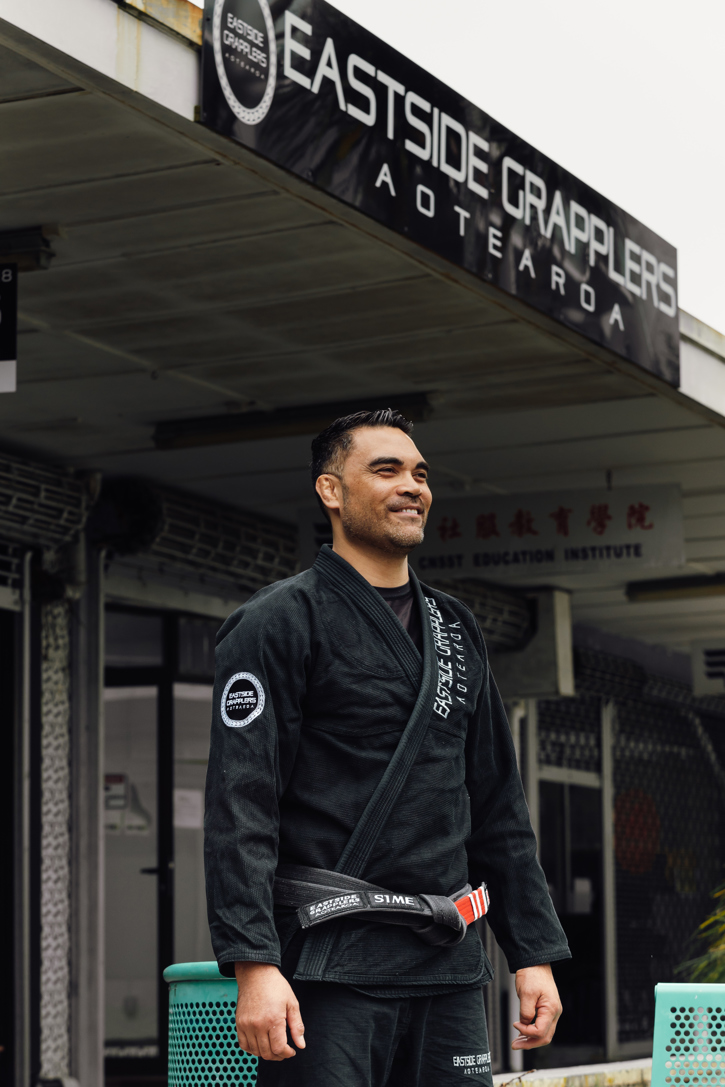 Eastside Grapplers - Clifton Court
Sime
At Eastside Grapplers, Brazilian Jiu Jitsu terminology and phrases are translated on the wall into te reo Māori. Sime tells us it's important to him that he makes the sport more accessible to Māori and Pasifika, as well as people from other cultures who may want to give it a try. Panmure, which Sime describes as a true melting pot, was the perfect place to make that dream a reality.
Sime likes the Clifton Court community, where the studio sits beside the Panmure Business Association. The playground and table tennis keeps the kids busy before and after his classes, and he looks forward to seeing what else will pop up as their little corner of Panmure develops. He also enjoys heading up the maunga with friends before heading to Lola Cafe for coffee and kai.
"It's a community that cares. People in Panmure are genuinely friendly and really go the extra mile, whether that's to help others, to start a business or to celebrate important events." - Sime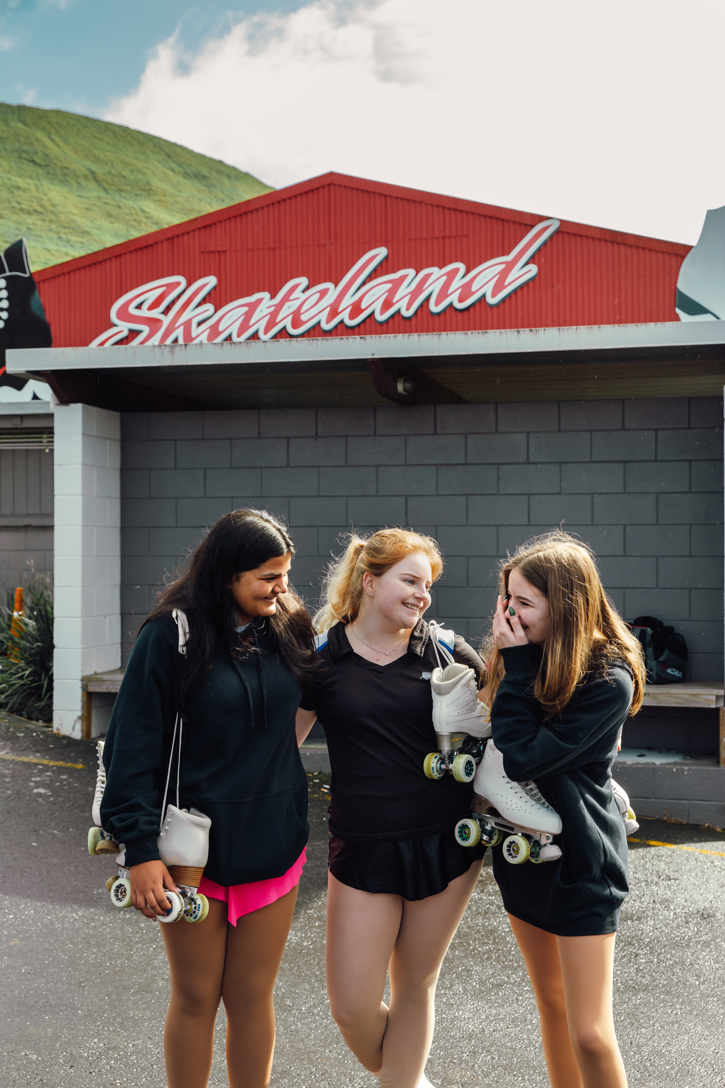 Mt Wellington Artistic Roller Skating Club - Skateland
​Khushi, Joey & Cadence
Khushi, Joey and Cadence may not have been around when Skateland first opened back in the 1970s, but they've been skating here for most of their lives. Khushi lives just a walk away from the rink, Cadence's mum used to skate here on a Friday night, and Joey's older sister trained at Skateland before she did. At the time of our interview the teenage trio are training to compete in the 2022 Oceania Championships.
They all feel lucky to have Skateland nearby. It's rare to have a place these days which is dedicated to skating. The three of them remember years of skating in the Panmure Christmas Parade, with the fear and excitement of going down the steep part of Pilkington Drive. They've also been involved in the Panmure Fun Day with a mini rink set up along the basin.
"I like Panmure the way it is! Everywhere in Auckland is different and it has its own thing going on. Like if you go to the Waitākere, it's bushes and big walks - and for Panmure we have the basin." - Khushi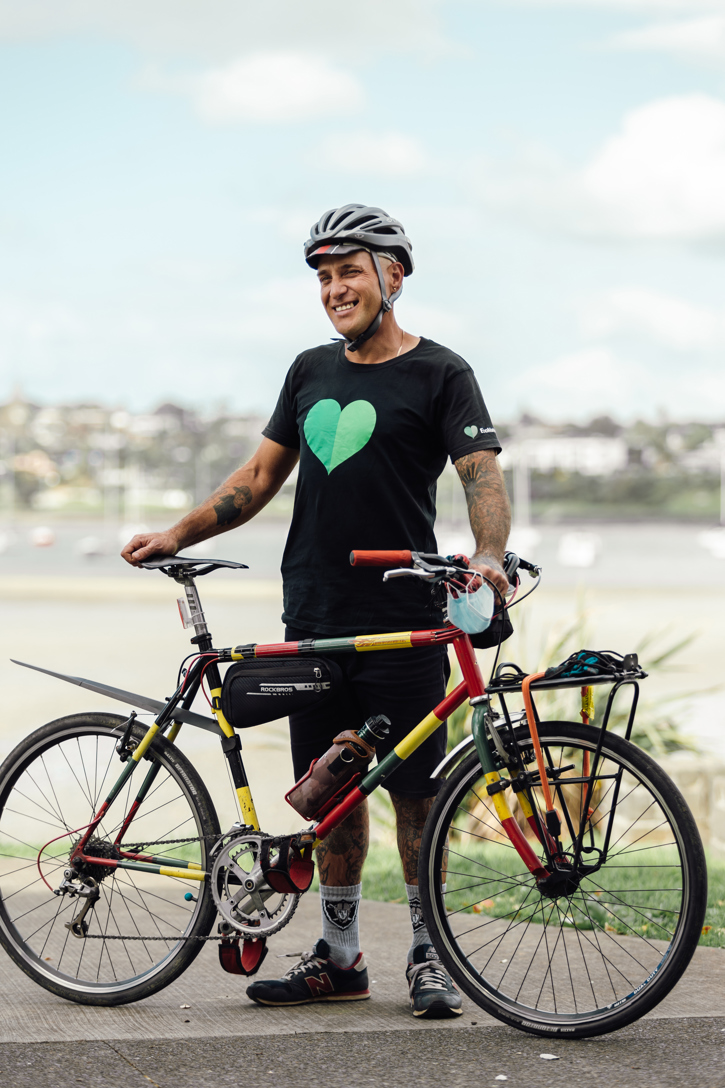 Bike East Auckland - Tāmaki Path
Tyson
Tyson's first experiences of cycling were in Panmure, where he was born and raised. He fondly remembers riding around the neighbourhood with groups of 10 or even 20 other local kids. It is these memories of the joy he felt exploring Panmure on his bike that brought him back to cycling years later, when he decided he needed a career change.
Tyson talks about Panmure with an infectious enthusiasm - the town has changed a lot over the years, and though he'd love to get in a time machine to go back to his joyful childhood, he doesn't think change is a bad thing. He talks about the new shared paths, the increase in housing and all the new communities that are being built here. Tyson hopes that the community of Panmure will only continue to grow stronger.
"Now that they have all these new shared paths popping up you can get to Panmure, GI, Mt Wellington and keep away from all the traffic. Which is what people want; they want a safe haven." - Tyson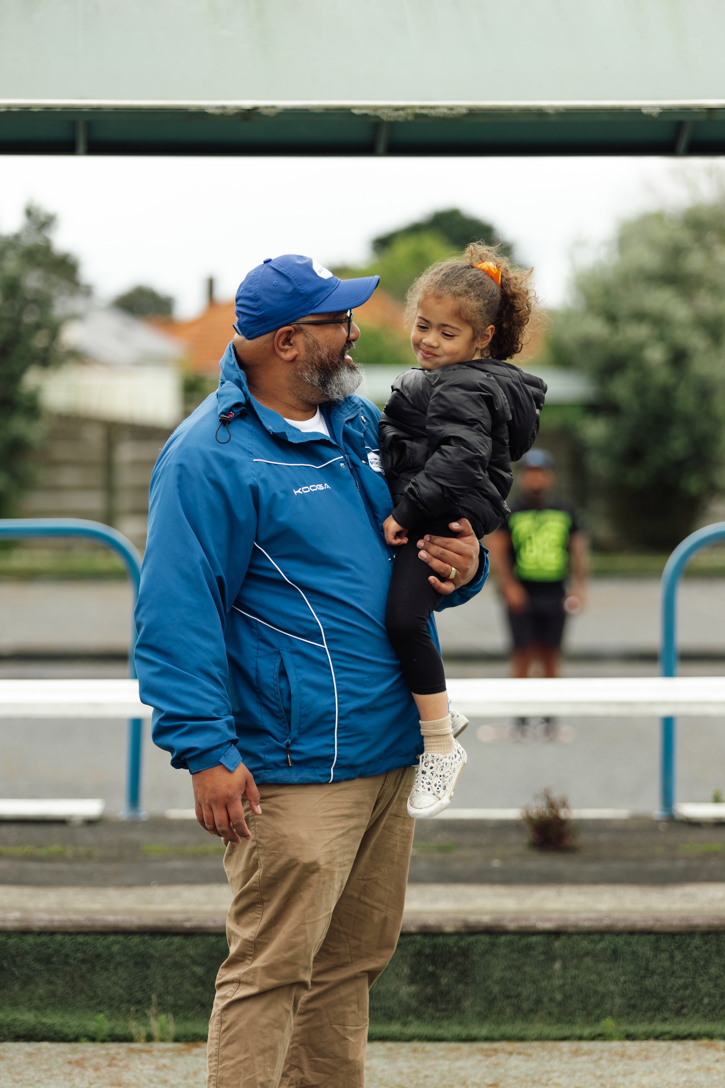 Panmure Pioneers Petanque Club
Andrew
For Andrew, petanque is a family affair. Alongside his sister and dad, he was part of the first family team to win the New Zealand national championships. Andrew's daughter Charlie is only three, so she's not quite ready to join the team yet, but he hopes that one day she'll pick up the mantle too. Petanque has taken Andrew and his whānau to Portugal, France & Switzerland - but usually you'll find them just around the corner at the Panmure Pioneers Petanque Club.
Thanks to the Mt Wellington Bowling Club, the Panmure Pioneers found a home here in 2012 and named themselves after the pioneering history of the area. Andrew enjoys more mainstream sports like rugby, but tells us that what's special about petanque is that it's a sport for everyone. He hopes the club can be a place for people of all ages, cultures and abilities to gather, compete and laugh together.
"I love the town centre - watching it evolve over the last 20 years has been cool. Its people too. From its schools to your businesses to your leisure activities, Panmure is a special place." – Andrew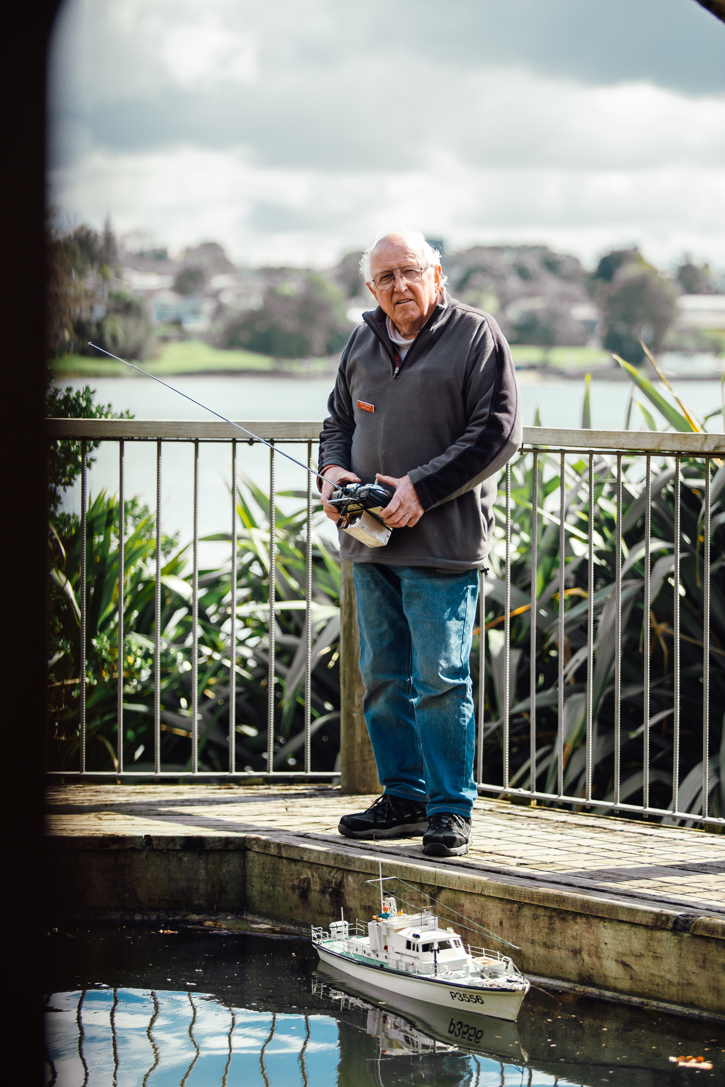 Scale Marine Modellers - Peterson Reserve
Ian
Ian joined the Scale Marine Modellers in 1993, just four years after they had built the boat pond, right on the edge of the Panmure Basin. He tells us he's here almost every Sunday, sailing his boats, talking to the public, or fixing up the clubrooms and garden - there's always something else to do on his list.
When a club member's boat capsizes on the edge of the pool during our photoshoot, Ian rushes over to help. While they're busy inspecting the boat and talking about weight distribution, I ask another member what happens if a boat sinks in the pool. He tells us that Ian has a pair of waders (waterproof overalls often used for fishing) on standby.
"If you come down to the basin you'll discover that there's a railway track and a boat pond and it's a great place to come on a Sunday afternoon. There's heaps of open grass space too!" - Ian
We hope you've enjoyed this snapshot of Panmure's spaces. This is the second edition of this project – over the coming months, we'll meet more of the community to create a diverse picture of the people that make Panmure.