Meet the people who make
Panmure so delicious
15 July 2022 - TBC
This vibrant community is cooking up a wealth of tasty treats
Tāmaki Makaurau has many amazing strengths, but the city's multiculturalism is way up there. Take Panmure: this delightful east Auckland suburb, nestled against the scenic Panmure Basin, boasts residents from a wide variety of countries, many of whom take the time to cook and bake exquisite kai. Back in May, photographer Julie Zhu toured outlets throughout Panmure's town centre. Here's what she found…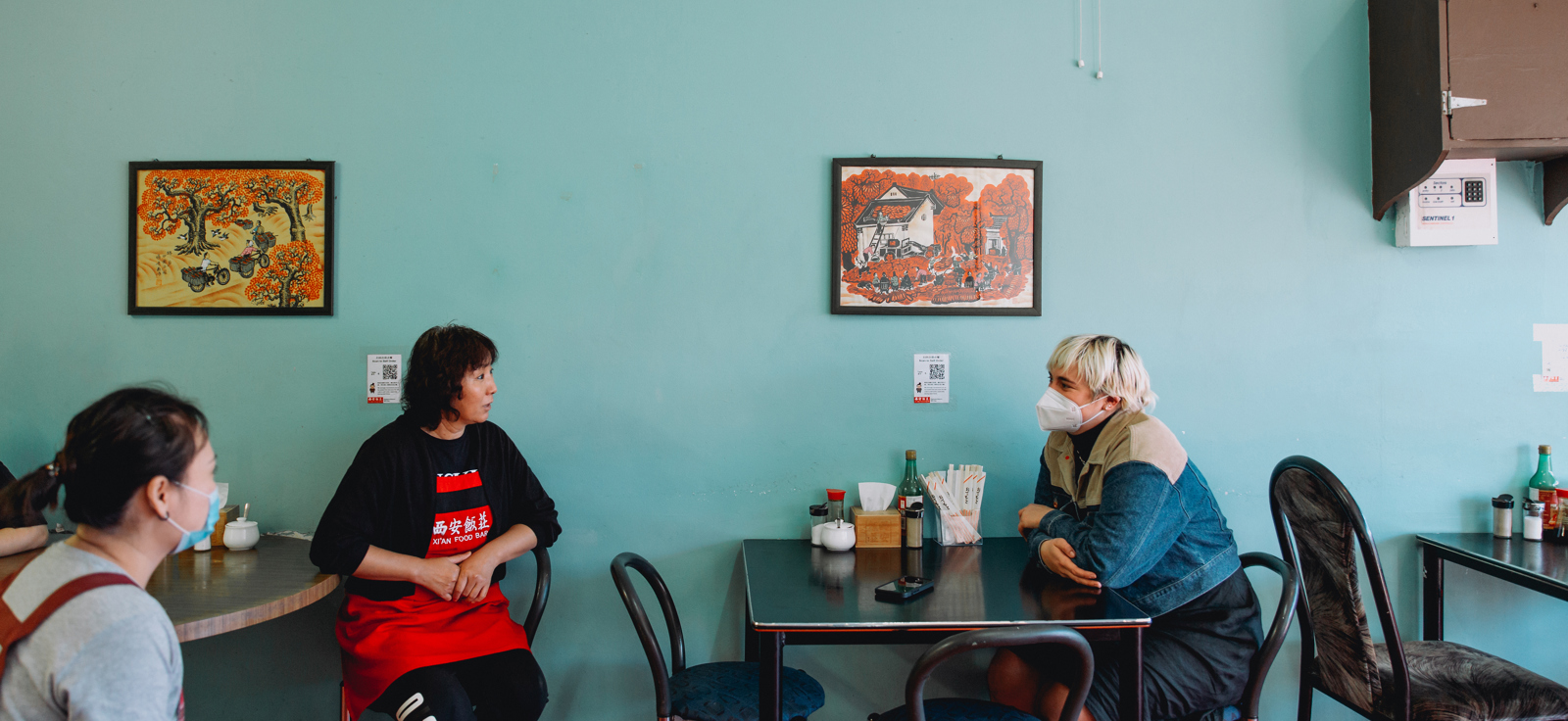 Panmure - Making it…
delicious
Having been born in Xi'an, China and grown up in east Tāmaki Makaurau, Julie has first-hand experience navigating between different cultures. With a great eye and an interest in championing marginalised voices and stories, we decided that she'd be the perfect artist to helm this project along with creative placemaking agency Fresh Concept and the Panmure Business Association.
Over a three-week period, Julie visited fourteen Panmure eateries to document the people who make Panmure Panmure. She asked about how they ended up in the neighbourhood about the local community, and their hopes for the future of the neighbourhood. Then, each restaurateur had their own trademark Julie Zhu portrait taken.
The result: a heartwarming snapshot of the people behind the food of Panmure - their faces, their lives, and their stories.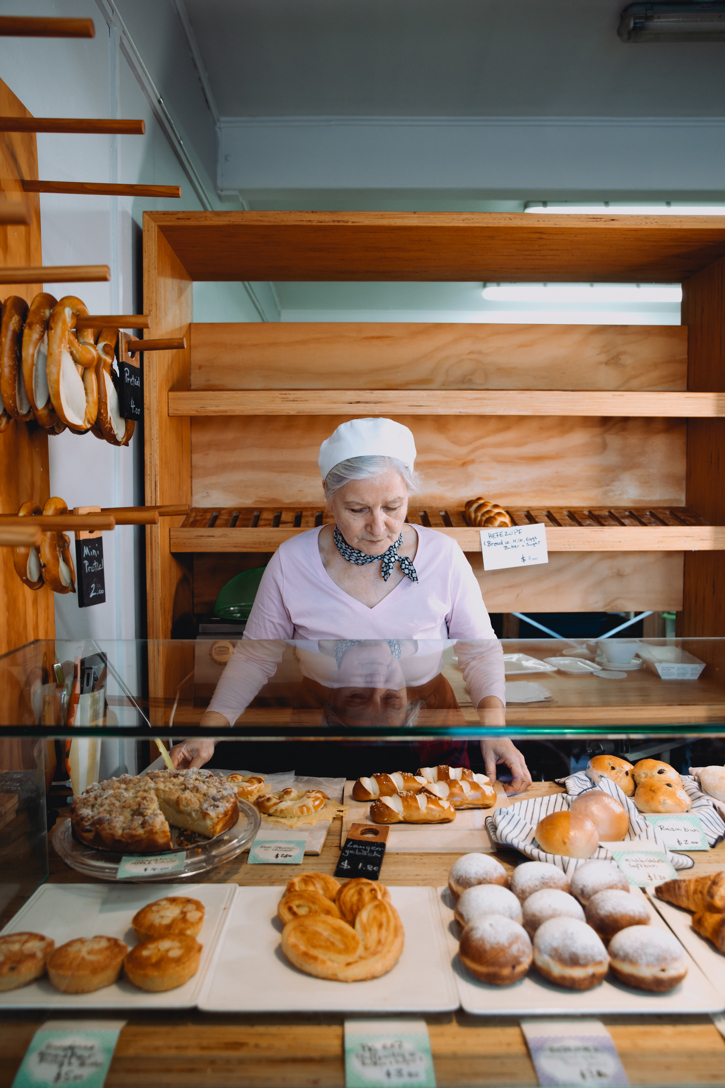 Sylvia's Bakery (12 Queens Road)
Sylvia
Sylvia reaches Panmure in the silent hours of the early morning, ready to start baking at 2am. She has run her bakery here on Queens Road for three and half years, after moving it from Remuera. The passionate baker says the move was difficult at first, but she's confident she made the right decision.
With a wry grin, Sylvia tells us that traditional bakeries are dying businesses. She talks of growing up in a small German village with seven bakeries. Her family would visit them all - picking the best from each. She hopes she can bring just a little piece of that heritage to Panmure, so that her grandchildren can get a taste of what her own childhood was like.
"I think Panmure is an up-and-coming area. There are many young people moving here, there is a lot of building work going on, we have the train station right there, and all of the bus connections."
- Sylvia
Master Chinese (150 Queens Road)
Peter & Tracey
When Peter's father came to Aotearoa from China, he founded up a successful roast duck takeaway in Ōtāhuhu. 18 years later, he opened Master Chinese here on Panmure's Queens Road, so that Peter could continue the family business.
Fast-forward another 18 years: Peter and Tracey are busy handling the lunch rush. Despite the influx of orders, they seem completely at ease, stopping to say hi and chat with customers and passers-by. Peter tells us that the locals stop to say hello even if they're not buying food.
"We've seen a lot of changes here, a lot of new businesses, and different types of food opening up. Before it was mostly Chinese, but now there is Malaysian, Thai, Indian, Sri Lankan, everything."
- Peter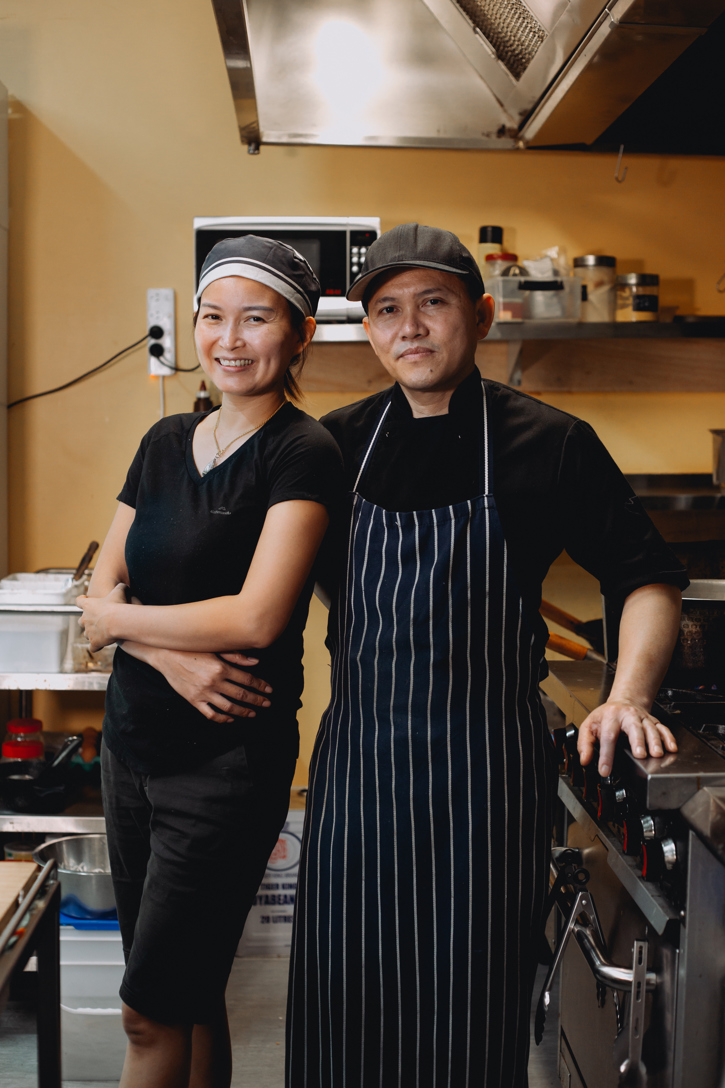 Chang Thai Cafe (146 Queens Road)
Ket
Ket opened Chang Thai Cafe a few months ago. There are just two of them working, her and Chef Aoddy, and things have been very busy. Ket's daughter Leanna plays on a couch in the corner of the dining room, which is closed for now while they get in the rhythm of their new business.
Ket tells us that the restaurant used to be a South African eatery, and this is still evident. The walls are bright yellow with pictures of African safari animals. You may think South African and Thai wouldn't have much in common, but Ket tells me that the South African decor was actually a happy coincidence. "Chang" means elephant in Thai, so it fits perfectly. Ket was thrilled that the old owners left her all the elephant memorabilia.
"The chef used to drive an Uber, so he came around here a lot. He said people were very friendly around here. So, we came out here to check it out a few times and got a feel for the community."
- Ket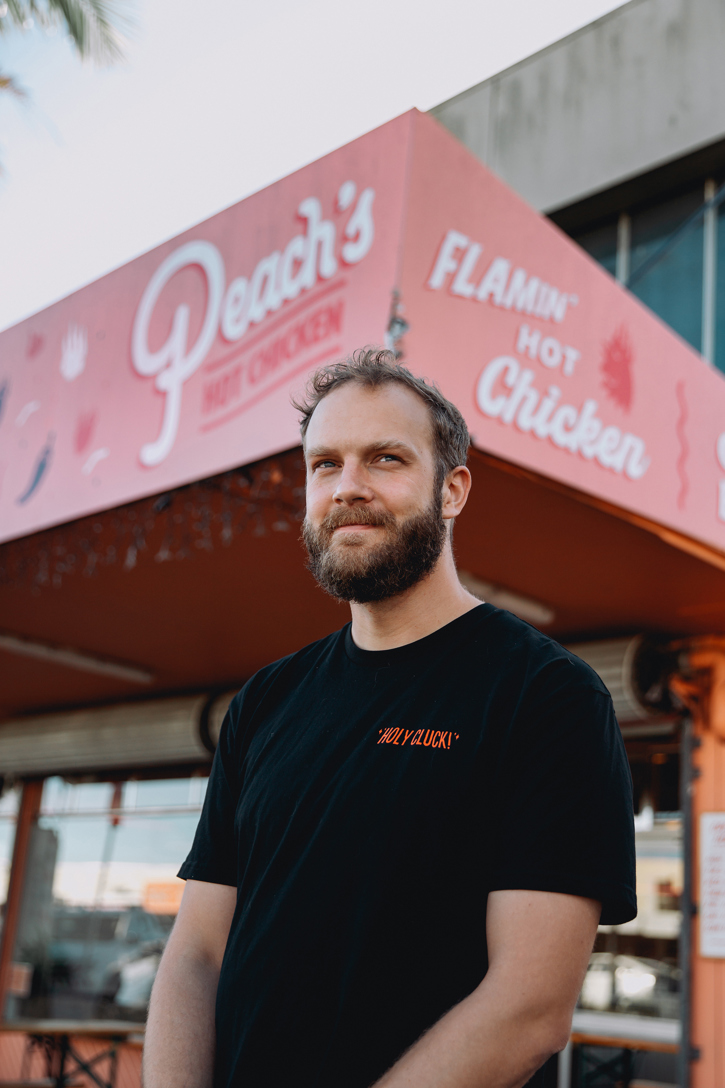 Peach's Hot Chicken (100 Queens Road)
Alex
Don't let the American accent fool you: Alex is a committed Panmurian. He and his wife Olivia have been living in the local area since they first arrived in Aotearoa seven years ago. That's why it was a no-brainer that their successful food truck's first brick-and-mortar store would be on Queens Road.
Alex loves Panmure's unique landscape and local community - the only thing missing, in his mind, is a live music venue. When he's not busy serving up his signature fried chicken, Alex can be found taking their Australian Cattle Dog up Mount Wellington, around the basin, or to Pt England Reserve to throw balls.
"I grew up in Tennessee, which is very rural. So like, Auckland is actually the largest city I've ever lived in. My wife asked to come back to New Zealand for a gap year and, well, I just never left."
– Alex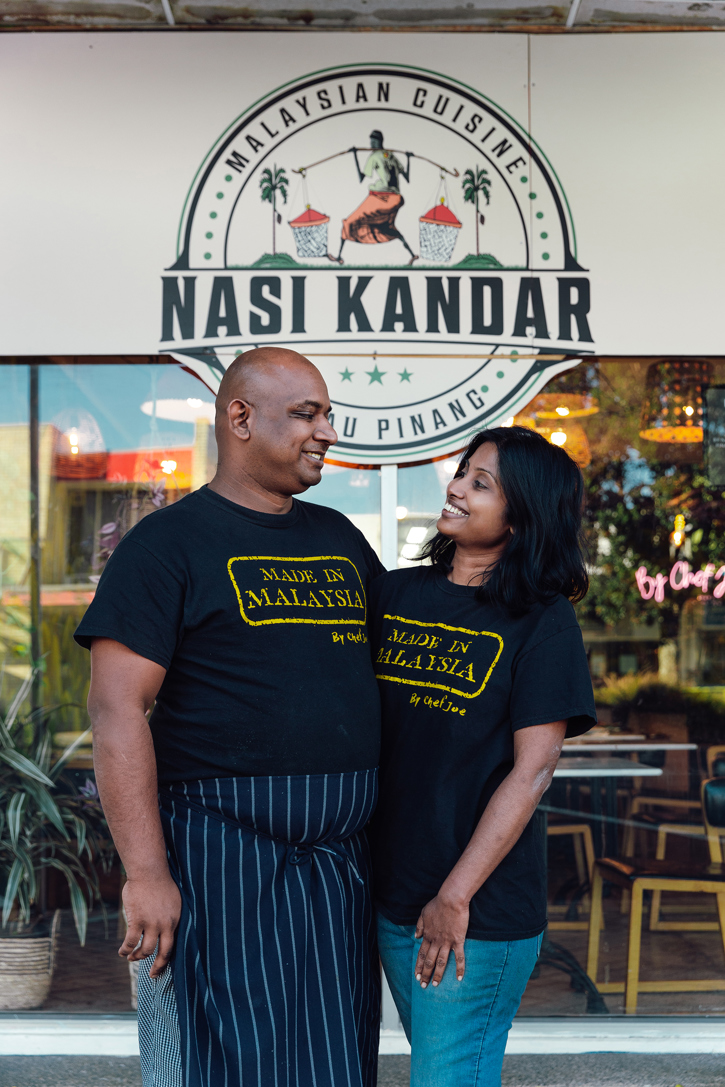 Nasi Kandar Pulau Pinang (24 Queens Road)
Joe & Alex
It's been just shy of a year since Joe and Alex opened Nasi Kandar's doors on Queens Road, but they already feel fully integrated into the community. After a year making food at the Night Markets, the pair decided to set up in Panmure due to its links with the Malaysian community.
Joe tells us that they love visiting the other eateries along Panmure's main strip, listing off where they like to go, and who comes to visit them in return. He jokes that no one wants to eat their own food - just everyone else's!
"We really like this area, we are moving here soon. We would like to put our base here, since we are here so much and a lot of people know us here… But it's also because of petrol, petrol is very expensive!"
– Joe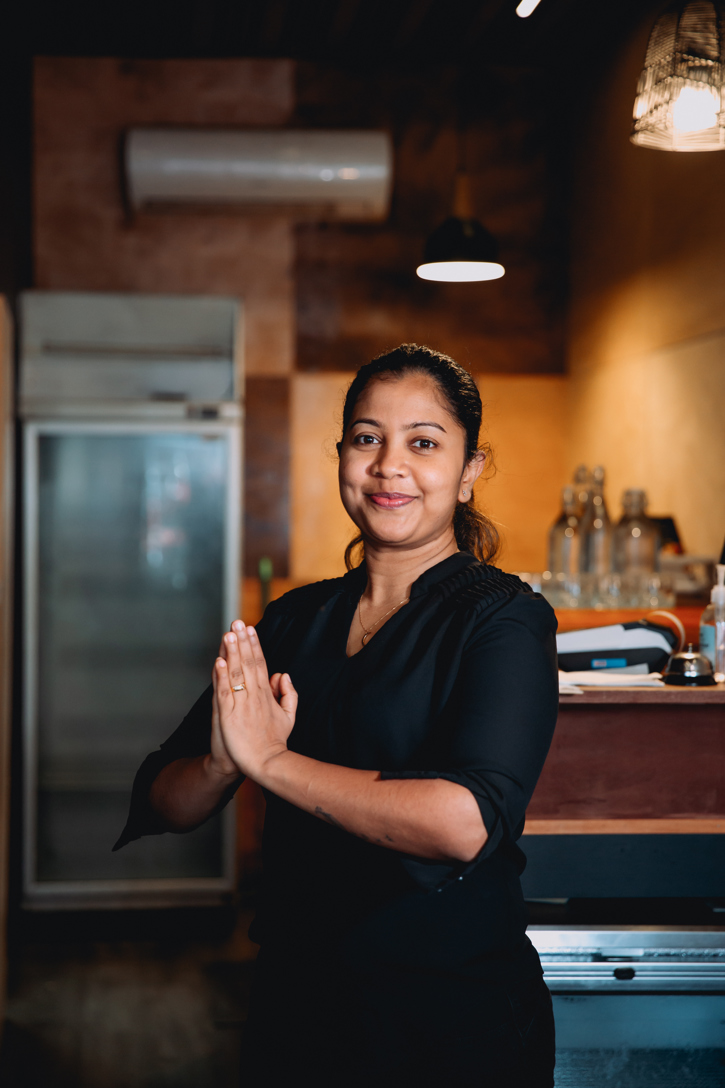 Ambula (59 Queens Road)
Sri
Like a number of Panmure's great eateries, Ambula started out of a caravan. In 2018 they took the next step, opening a brick-and-mortar store on Queens Road, right across the road from one of Panmure's two Sri Lankan supermarkets.
Sri lives and works in the local area, as does most of the staff, and she enjoys the convenience of having everything she needs in one place. She says that working in the restaurant can be full on at times, but she goes on daily walks down to Panmure Basin to reset and relax.
"Panmure has a lot of Sri Lankan people and culture. There are a lot of Sri Lankan shops and spices. What we don't make ourselves here at the restaurant, we can buy from right over there!"
– Sri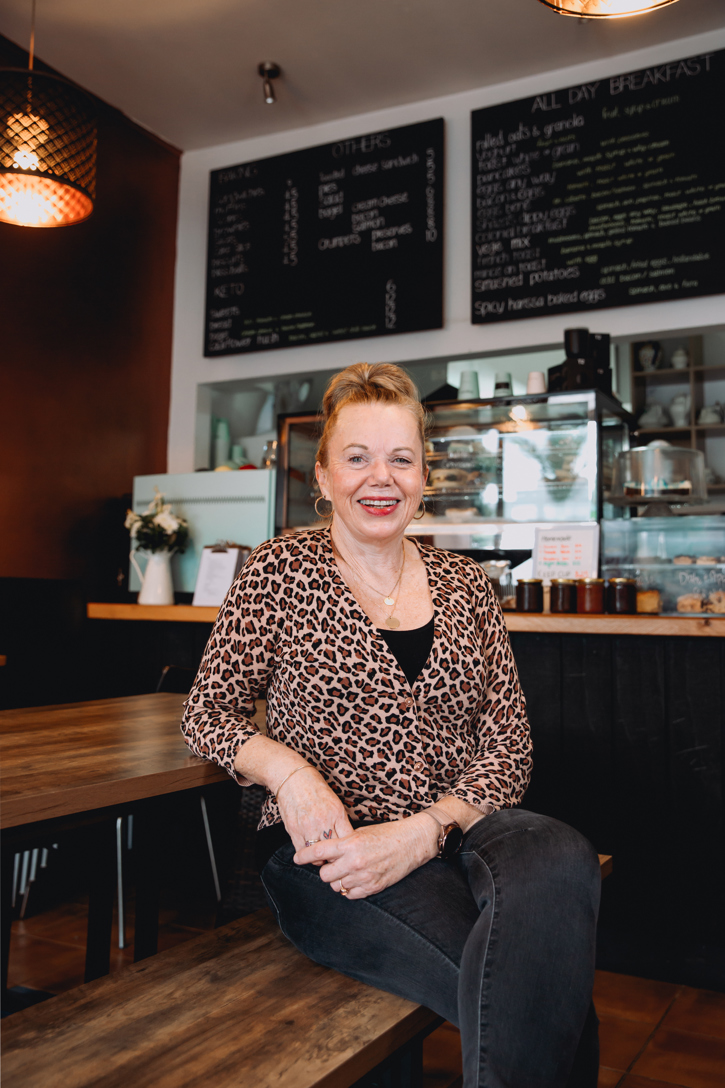 The Cafe With No Name (55 Queens Road)
Sharon
For the owner of a cafe with no name, Sharon has made quite a name for herself in the Panmure community. Before opening the cafe five years ago, she ran a nearby childcare centre, and now sits on the Panmure Business Association board.
Sharon talks about her love for the Panmure community and the importance of supporting local. She uses the local pharmacy, prints her menus at the copy shop right next door, and reckons she's tried just about every Panmure eatery there is.
"You can get just about anything that you want right here in Panmure. You just have to take the time to walk down the street and ask people and have a chat. And then you can go for a really healthy walk around the lagoon, take a coffee with you, go for a walk up the maunga."
– Sharon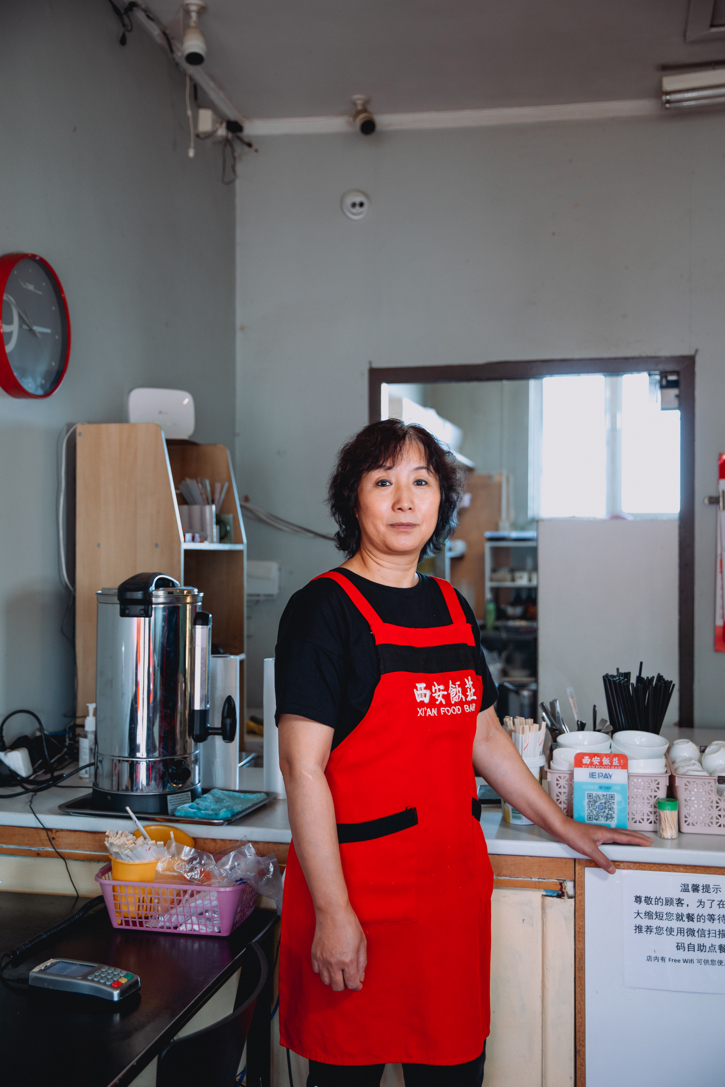 Xi'an Food Bar (83 Queens Road)
Cindy
Cindy has been working at Xi'an Food Bar for more than 10 years - right from when she first arrived in New Zealand. She loves the convenience of Panmure, with its many shops and other eateries at her disposal.
Cindy tells us that she enjoys the friendships she has here in Panmure, both with the other Xi'an employees and the customers. In the future, she would like to see Panmure become a more environmentally friendly community and have more convenient transportation.
"You see lots of customers who come here to eat and then they become your really good friends. They treat this like a dining hall, they come here for lunch and then come here for dinner."
- Cindy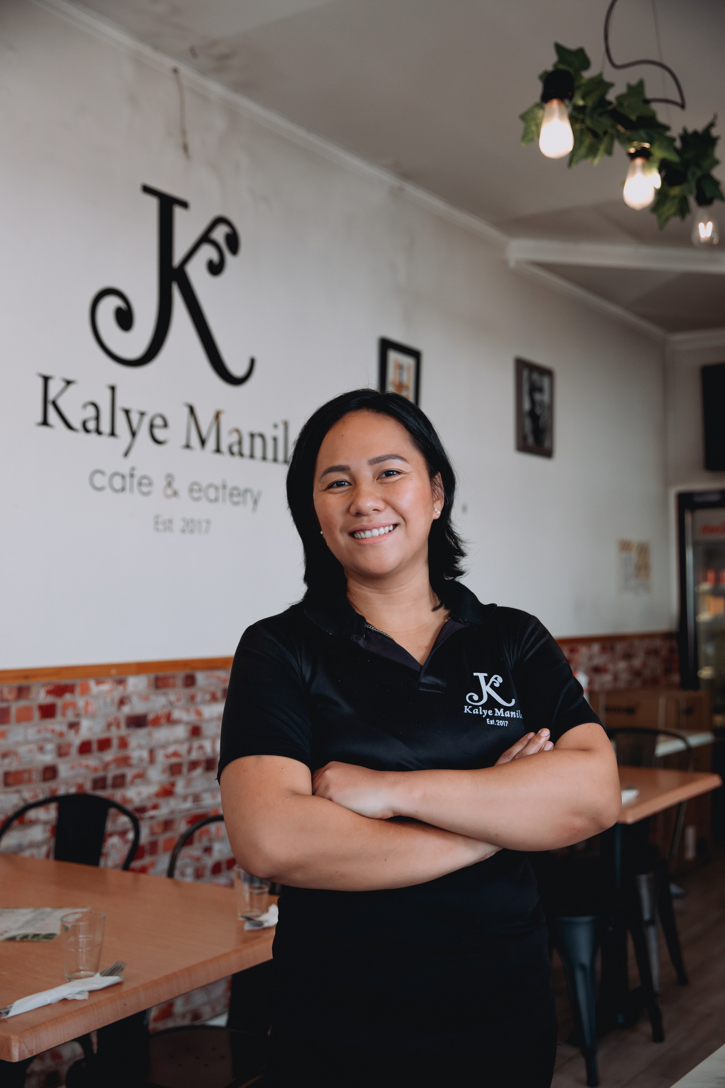 Kalye Manila (68 Queens Road)
Angeli
Angeli has been at Kalye Manila for three months, though the Filipino cafe has been here since 2017. She came to Aotearoa with her 18-month-old daughter, while her husband is still in the Philippines with their eldest.
Angeli spends most of her time at the cafe, or at home with her daughter. However, when she has time to be out-and-about it is often spent in Panmure visiting either of the two Filipino stores to buy familiar treats.
"I look forward to spending time here whenever I can. I usually go to Postie, or I go to Rey Ann Filipino Superette and buy something and talk with them. For me this is a very accessible place."
- Angeli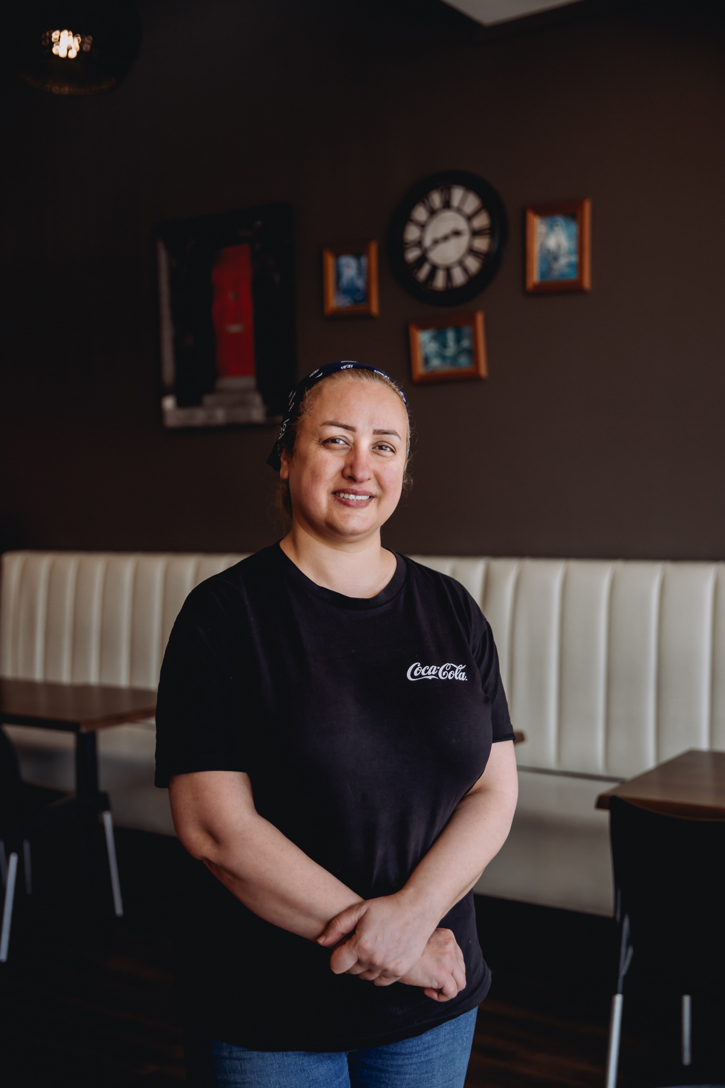 Queen's Kebabs (133 Queens Road)
Raheleh
Queens Kebabs has been a fixture of Queens Road for over 20 years. Raheleh and her husband bought the business 10 years ago from the previous owner, now deceased, whose photo hangs proudly on the wall.
Raheleh's favourite thing about having a business in Panmure is the people, and she says the community here is very strong. She tells me that she and her husband wanted to live near the restaurant, but due to the competitiveness of the housing market, had to buy further afield.
"We like this street the same as our house. Everybody is very close, same as brothers. I arrive here in the morning and they say 'hello, hello, hello' - we are all very friendly people to each other."
- Raheleh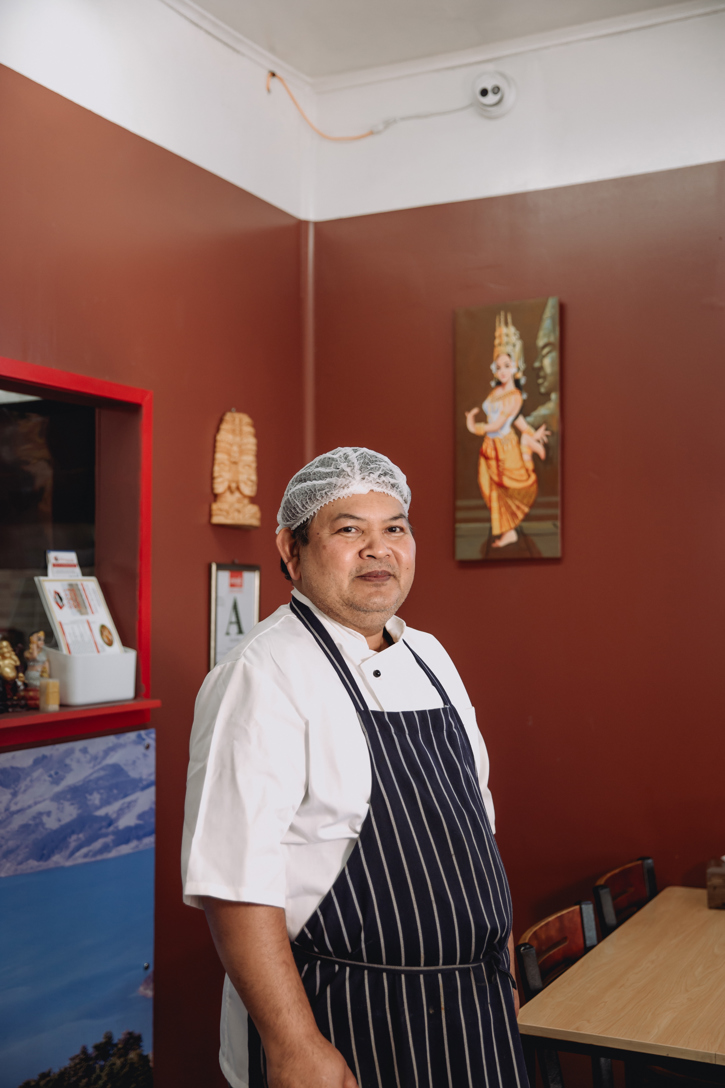 Panmure Satay Noodle House (103 Queens Road)
Sam
Sam signed the lease for Panmure Satay Noodle House's building within one day of seeing the space empty. It was his first time in Panmure. When his friends all asked him why he would make a decision so quickly, he replied that he just had a good feeling about it. He liked Panmure, and he wanted to try.
Four years later, that risk has paid off.
Sam has an infectious enthusiastic energy, and a huge grin, even when he talks about the hard stuff, like being assaulted by a stranger. He tells me that after it happened, the local business association installed a camera to help him feel safer. Sam refuses to feel fear, he says resiliently – only pride in himself and what he has built here.
"I see people move out and move in. But I survive, I don't move out. But when people move out, new people move in. That's just the cycle! Maybe if I move out someone else would move in. But I'd like to stay here."
– Sam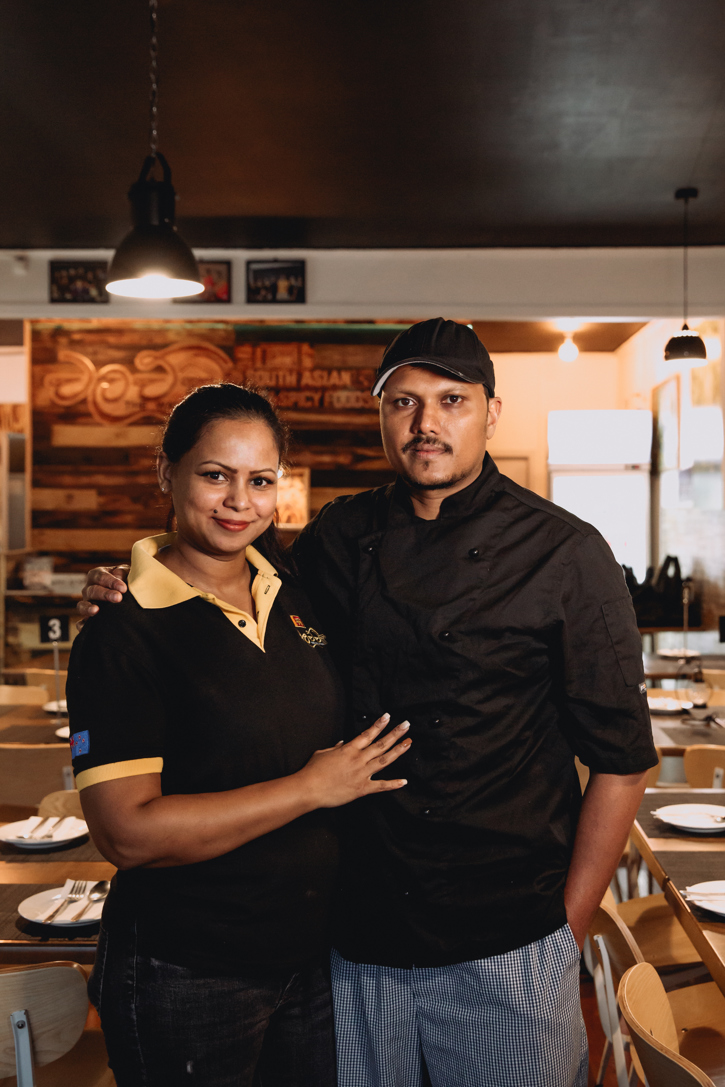 The Walawwa (2 Basin View Lane)
Shani & Mahesh
Shani and Manesh opened The Walawwa in 2019, just one year before the pandemic hit. It's been a rocky journey, but they are now starting to find their feet with a steady flow of customers, from Tāmaki Makaurau and beyond, looking for great Sri Lankan kai.
Shani tells us that the community in Panmure is resilient and that they band together when things go wrong. She thinks the support Panmure businesses have for each other is really impressive, and that there is a lot of unity among them. The restaurateur enjoys trying all the different cultures and flavours that the neighbourhood has to offer.
"In Panmure we have a real variety, you have so many different cultures here, and they have different restaurants. People can come and they can taste different kinds of food. And it's cheap!"
– Shani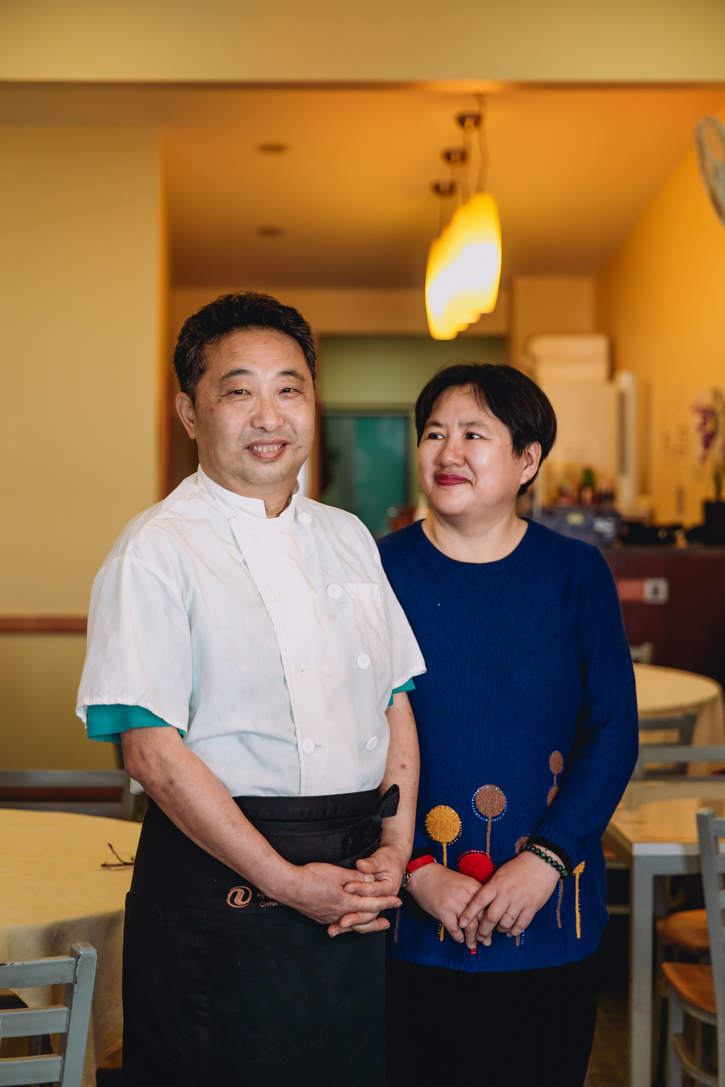 Beijing Duck Restaurant (38 Queens Road)
Yue & Jie
Back in Beijing, Yue worked in a centuries-old restaurant famous for their roast duck. It was a natural progression, then, that he would open a place of his own after immigrating to New Zealand.
17 years after Yue and Ji opened Beijing Duck Restaurant in Panmure, they're well-placed to see the many changes of the area. Yue tells us that the street is far more beautiful now - though a little quieter. There are also far more restaurants than when they first opened. Yue hopes that this will continue, and that one day Panmure will have eateries from every country in the world.
"The shops on this street, we mostly all know each other, and we help each other out. When we go buy something, if it's on this street, we will always get a discount! We all get along really well."
- Yue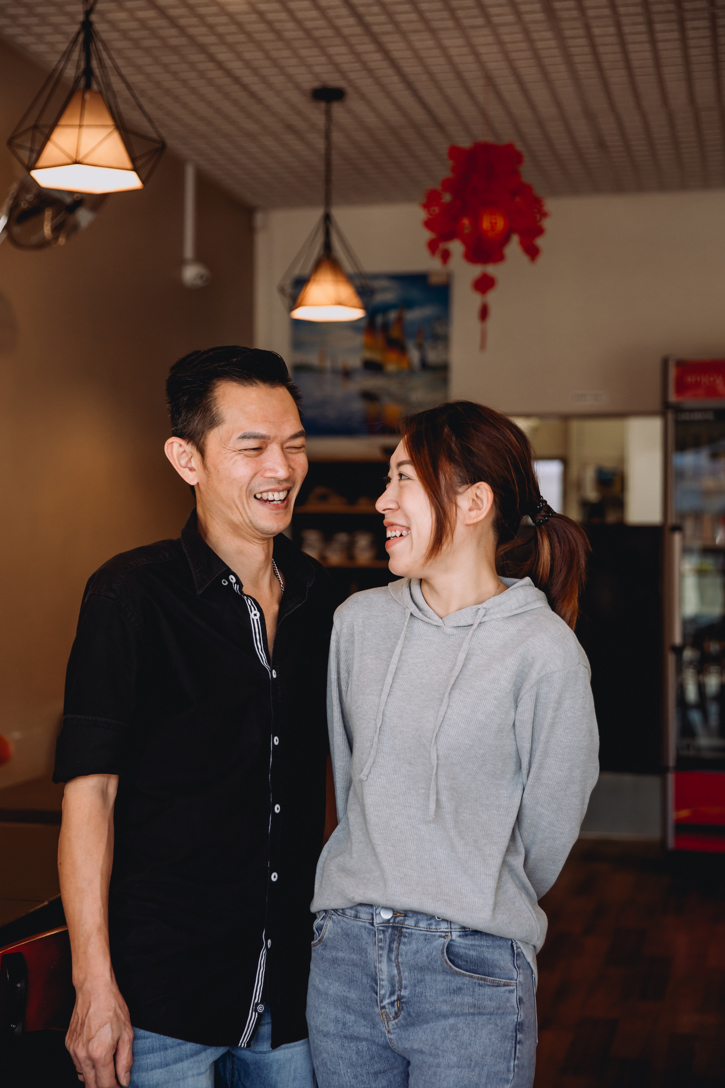 Blossom Court (135 Queens Road)
Angel & Jason​​
Blossom Court has been in Panmure for ten years, and Angel & Jason have run it for five. Jason used to work for the previous owner, and when he wanted to retire he asked the pair to take over. Angel & Jason have already seen a good deal of change in their time here, and Angel hopes those changes will continue. For one, she'd like to see the buildings on the street be more modernized.

Jason & Angel enjoy the convenience of Panmure, not just for what's in the town centre, but the easy accessibility of their other favourite East Auckland activities, like visiting the beach at Mission Bay, or exploring One Tree Hill.
"The local business community helps our street a lot. The Business Association supported some of the shops to paint the rolling doors, and even the shop signs for some of them as well, they make Panmure much more beautiful."
- Angel
We hope you've enjoyed this snapshot of Panmure's spaces. This is the second edition of this project – over the coming months, we'll meet more of the community to create a diverse picture of the people that make Panmure.