Transforming Barrowcliffe Place into a
Thriving Urban Neighbourhood
21 July 2023
Barrowcliffe Place, a parcel of land no longer needed for the creation of the south-western motorway in Manukau, South Auckland, presented a significant urban regeneration challenge for Eke Panuku.
The Auckland Council-owned site had potential to contribute both to the overall masterplan for the Manukau town centre – an Eke Panuku urban regeneration location - and to address the increasing demand for housing.
A comprehensive solution was required that would create a neighbourhood for future residents, enhance the environment and incorporate the cultural heritage and values of the local iwi.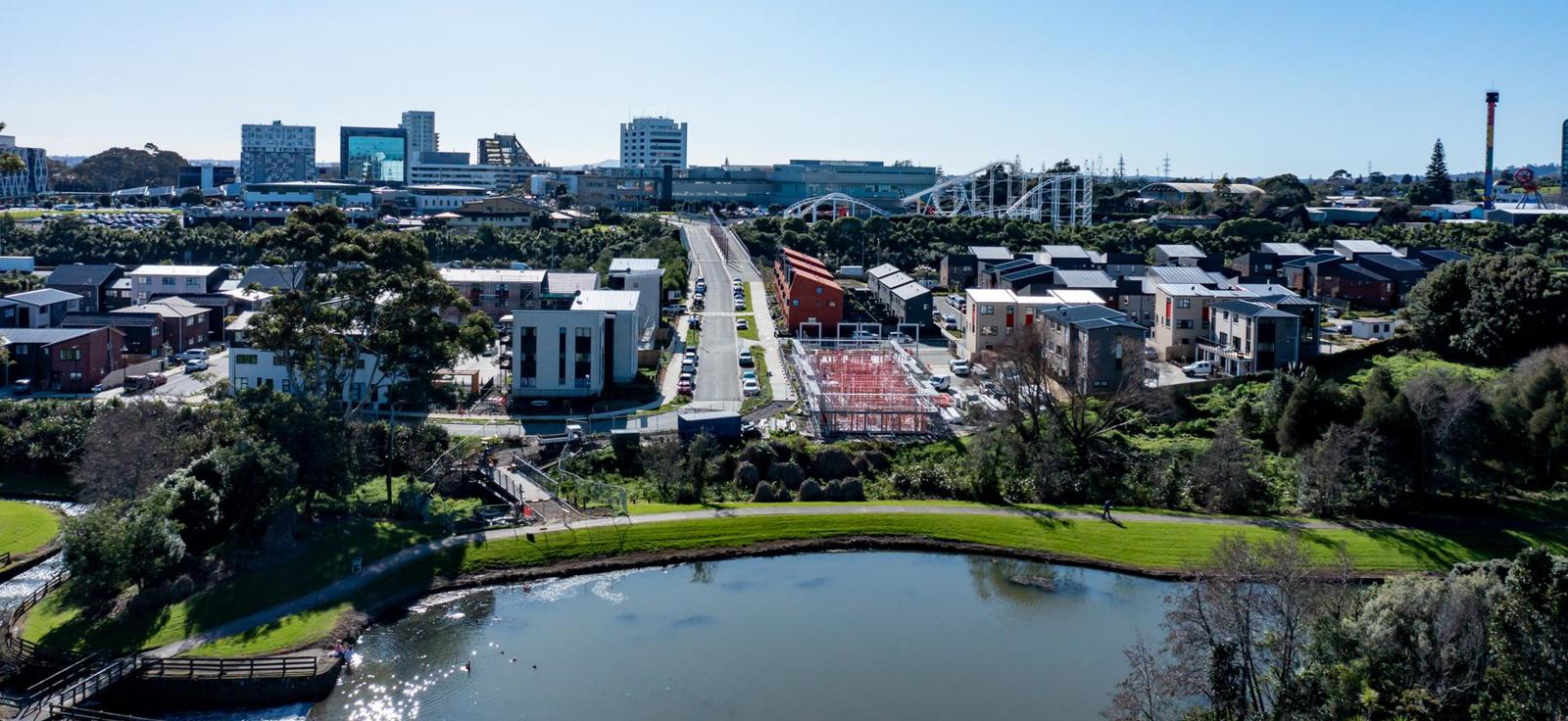 Eke Panuku has a clear focus on encouraging public and private development, and its work to improve public spaces for current and future communities showcases the potential investment opportunities in this key southern hub.
Eke Panuku worked together with Kotuitui Limited Partnership (Te Ākitai Waiohua/Avant) and Puhinui Park Limited Partnership (New Zealand Housing Foundation, Te Tumu Kainga and CORT Community Housing) to create the residential neighbourhood now known as Kotuitui Place. The transformation of the site involved a multi-faceted solution that integrated the 6 Homestar housing development with the Puhinui Stream Reserve, improved connectivity to the Manukau Town Centre and featured sustainable stormwater design.
Adjacent to Barrowcliffe Place was a large stormwater pond fenced by barbed wire and an industrial style path which provided a poor interface between the scenic pond, native landscape and the new housing development. By creating one shared path alongside the pond, connecting Wiri Station Rd to Tuaiwi St, Eke Panuku increased the developable footprint and created a north facing park for residents to cycle, walk or otherwise relax and watch their children. This project delivered a 3m wide 290m long concrete shared path, which also serves as service road for pond maintenance, with native planting filtering the air and waterways that surround the impervious structures. Providing the necessary drainage system and flood prevention measures to support the creation of a safe and sustainable neighbourhood, it offers natural habitats for insects and animals and connects the local communities to nature and whenua.
Eke Panuku required its development partners to deliver a diverse range of homes at Kotuitui. The project has seen the construction of 239 brand new 6 Homestar homes, including standalone houses, terraced homes, and 5 small apartment blocks to cater to the diverse needs of families and individuals in this neighbourhood. Further apartments and a co-living building will be added in the future.
The strategic location of Kotuitui Place was further enhanced by the reconfiguration of the partially completed Barrowcliffe Road motorway overbridge into a multi-purpose walking, cycling and low speed traffic connection from Barrowcliffe Place to central Manukau. Part of the strategy to improve connectivity and public spaces in Manukau also saw a further new cycling and pedestrian bridge connecting Tuaiwi Street to the Wiri Stream Reserve completing the link to the Wiri neighbourhoods to the south.  And embracing traditional māra hūpara designs, Eke Panuku, the Manurewa Local Board and mana whenua created a new playground on the Wiri Reserve with input from students at Wiri Central School. 
These vital infrastructure projects serve the wider community, enabling existing and new residents to easily access local amenities, schools, employment opportunities, and public transportation.
The regeneration of Barrowcliffe Place into Kotuitui Place has yielded remarkable results for Manukau. The formerly barren land has been transformed into a carefully planned and connected neighbourhood that many families now call home.
To date, 230 homes have been built providing a safe and comfortable environment for approximately 500 residents. This is just the beginning, with plans in place for further development aiming to provide an additional 70 apartments, ultimately creating a sustainable and thriving community.
The development partnership with the local iwi has ensured that the cultural heritage and values of the community are respectfully integrated into the regeneration project creating a sense of place and identity.
In summary, the Eke Panuku-led regeneration of Barrowcliffe Place into Kotuitui Place showcases the successful transformation of an underutilised piece of land into a vibrant, sustainable, and culturally enriched urban neighbourhood. With its diverse range of housing options, improved connectivity to the Manukau town centre via Barrowcliffe bridge, and strong community spirit, Kotuitui Place serves as a model for future urban regeneration projects.