Enhancing Panmure town centre as a place to live, visit and do business.
Local services and the sense of community will be enhanced with inviting, revitalized public spaces and streetscapes, embracing the stunning natural landscape of Maungarei / Mt Wellington and the Panmure Basin.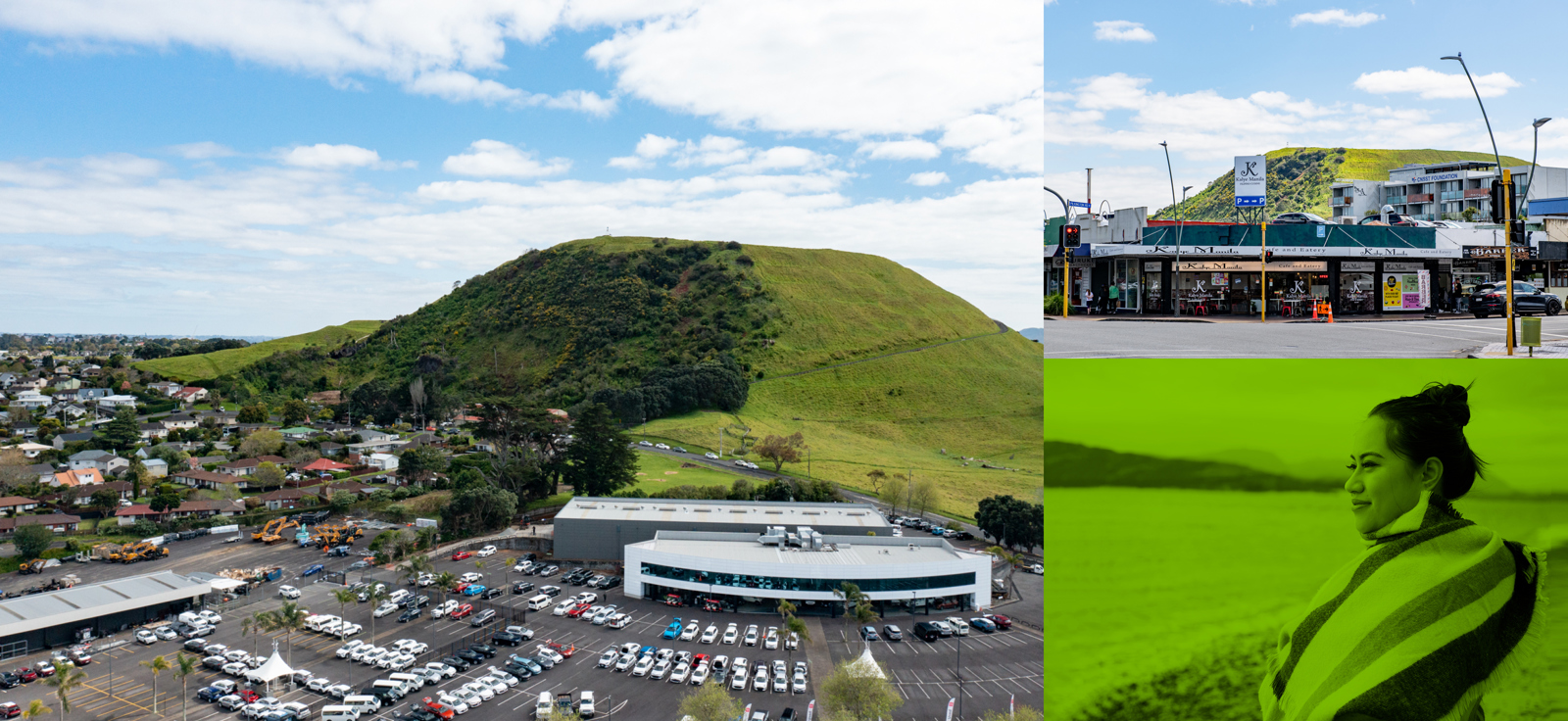 Revitalising Panmure
Local people's views have been vital in developing ideas for the town centre. People responded to drop-in sessions, an online survey and a new, interactive website launched to reach out to new and younger residents.
Panmure town centre is well-located within Tāmaki Makaurau / Auckland, with excellent public transport links to the wider region. That position made it a strong choice for regeneration, along with the development opportunities provided by large areas of underused Auckland Council-owned land in the town centre.
We're leading Panmure's town centre regeneration on the council's behalf and in partnership with the Maungakiekie-Tāmaki Local Board and mana whenua. We're also partnering with Auckland Transport, who are delivering the new Eastern Busway. When complete, the busway will provide a rapid transit and safe walking and cycling connection between Panmure and Botany, linking with the existing rail network. The first section, from Panmure to Pakuranga, was completed in late 2021.
Panmure sits in the Tāmaki transformation area, where 7,500 new homes will be built in the next 15 to 20 years, so we'll work closely with the Tāmaki Regeneration Company on our Panmure programmes.
Read more about the regeneration of Tāmaki.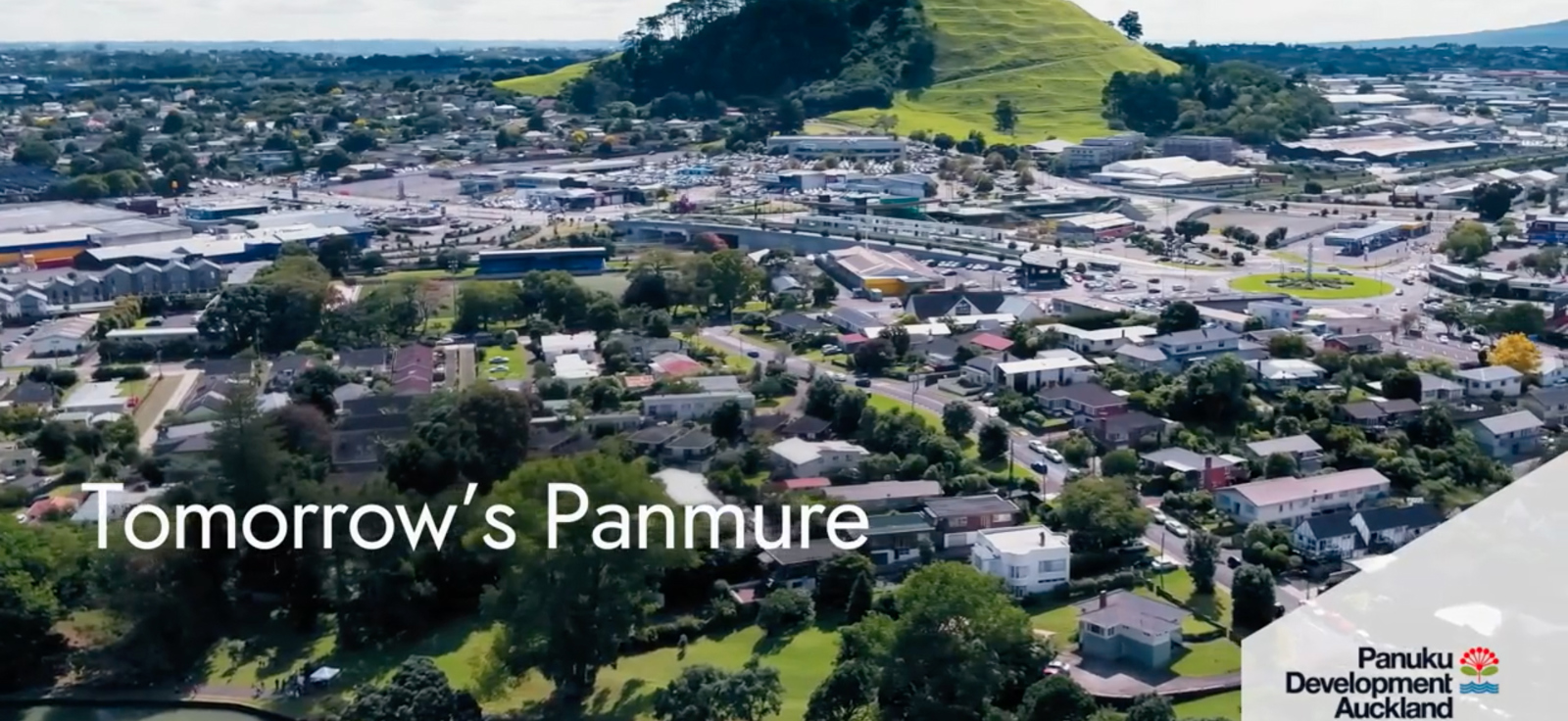 Key locations in Panmure
The parts of Panmure up for regeneration cover 43 hectares, including the Queens Road mainstreet, the transport interchange and a commercial area to the west (a mainstreet is an area's primary shopping or retail street).
Making better use of underused Auckland Council-owned land in the town centre will unlock development opportunities in Panmure, acting as a catalyst for further investment. The Tāmaki Regeneration Company, the Crown (central government) and Auckland Transport also own other land parcels in the regeneration area. We'll work closely with all these agencies to ensure the coordinated development of key sites.
Key moves in Panmure 
We believe that the combined impact of four key moves will, over time, achieve the vision that the people of Panmure have long held for their part of Tāmaki Makaurau / Auckland.
We'll work together with other agencies, local businesses and the Panmure community to make these moves:
Develop a high-quality urban neighbourhood
Reconnect the centre to its community
Enliven the heart of the mainstreet (the primary shopping street)
Foster mainstreet vitality and business growth.
Having a lively town centre where people can shop, eat, meet, learn, relax and be entertained is pivotal to creating tomorrow's Panmure. We'll team up with the business community and look to introduce fresh retail and commercial space. This will strengthen the appeal of the town centre and the diversity of what's on offer.
We envisage people enjoying a multi-purpose community facility with a civic space at the heart of the town centre. Locals could come together and use services like a library and a community centre.
Encouraging a mix of development (residential, commercial, cultural etc.) in more Panmure locations will increase the number of homes and expand the range of services people can access.
Pinpointing ideas for Panmure
There's no one-size-fits-all solution when it comes to understanding the needs of a diverse community like Panmure.
We're always reviewing ways to get ideas and views from as wide a range of people as possible. We'd especially love to involve more young people in shaping the quality of future living in Panmure.
So, in October 2018 we launched an interactive website using Social Pinpoint for the Panmure regeneration to reach out to new and younger audiences. The feedback gathered through this process has been instrumental to our planning for the future.
We asked the neighbourhood about improvements planned on Queens Road, Clifton Court, Pilkington Road, Jellicoe Road and Basin View Lane, the aim of which is to make it easier to get in and around the town centre and between local nature spaces such as the Panmure Basin and Maungarei / Mt Wellington. We also asked people for their thoughts on community facilities like the library and community centre.
The site has an aerial map of Panmure that shows the area in which we will be working. When we have an upcoming project we want to share or ask people for their thoughts on, this will be highlighted for feedback. This information is then passed onto our Panmure team to be considered as part of the design of the town.
A High-Level Project Plan
Panmure has an overall plan for a 15–20 year regeneration – a time during which its population is expected to grow significantly.
The High-Level Project Plan was approved by Auckland Council's Planning Committee on 6 March 2018, giving us the green light to progress our work. Our plan pinpoints the key actions that need to be taken to achieve this, including making better use of properties the council owns.
The plan also covers:
The context for revitalising the town centre.
The key projects and stages of work required.
The main players, and how we'll continue working with the Panmure community.
We gathered public feedback on the plan from community sessions held in October 2017 and through an online survey. People who visit, live in and work in Panmure were asked to share their thoughts on safety, community facilities and transport connections with the town centre, including walking and cycling.
View the Panmure High-Level Project Plan below.
Panmure Masterplan
Over the next decade, we expect Panmure's Town Centre to grow from a low-density area with just 300 homes within a 10-minute walk of Panmure Station to over 2000 homes, and over 5000 residents.
These new residents will bring new life and customers to Panmure and to support this future growth, new infrastructure, parks, open spaces, and community facilities will be needed.
Our role is to help guide this new phase of redevelopment and investment. Working in partnership with a wide range of public and private sector organisations, we'll strengthen the growing community around a thriving town centre, to bring success and prosperity to Panmure.
Over the last six years, we've worked extensively with stakeholders and the community to agree a way forward to redevelop Panmure over the next ten-years, to develop the Panmure Masterplan. Thank you to everyone that has contributed.
What is the Masterplan?
It is a guiding document to enhance the life and energy of Panmure. It will help make the most of the neighbourhood's cultural diversity and history, natural features, excellent location and improving transport connections, to make Panmure an even better place to live, shop, work, play and do business.
To support the transformation of Panmure, there are many exciting projects planned across three new precincts:
Basin View Precinct.
Queens Road and Pilkington Precinct.
Maungerei and Station Precinct.
The new projects within these precincts will all contribute to create a thriving town centre and making Panmure a location of choice for Aucklanders by delivering:
New homes and commercial premises.
New public spaces and amenities.
Improving transport and community connections.
Some of the Masterplan work is already completed, such as the Clifton Court public space upgrade and Panmure Skatepark Upgrade in the Lagoon Edge Reserve. Or, it's underway, such as the Queens Road streetscape refresh, and much more is planned.
Read the full Panmure Masterplan below.
Panmure
projects and events
Project status:
Active

Complete

In progress

On hold

Events