Taniwha finds home in
Clifton Court
05 October 2022
Moko Ika Hiku Waru, a unique eight-tailed taniwha who is said to have resided in the Panmure Basin, will find a new home in Clifton Court.
The under-used courtyard, in the heart of Panmure, is set for an upgrade and will become an exciting new public space.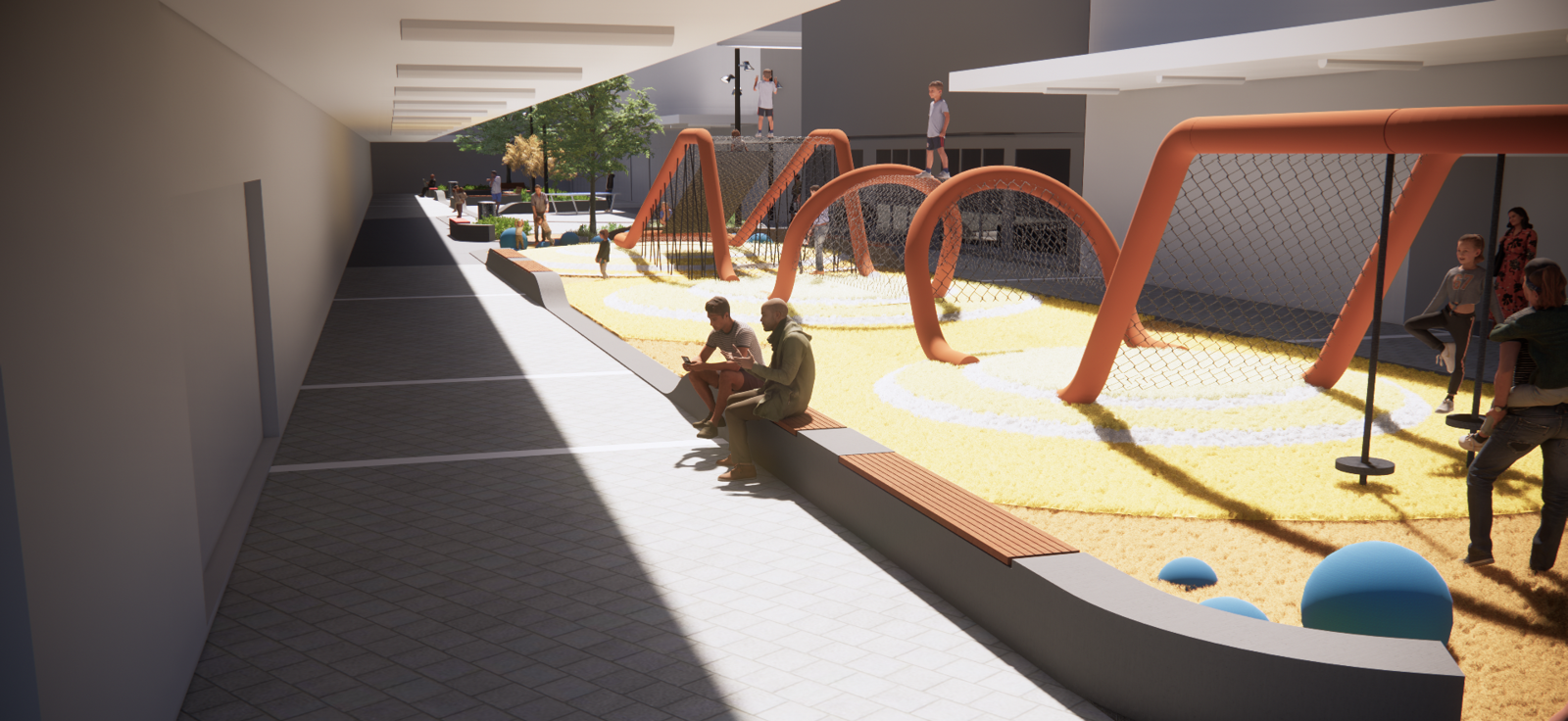 Eke Panuku is developing the site to create a flexible, open area and seating for social gatherings, recreation, small events, and outside learning – reflecting the local community's desire for Clifton Court to become a greener, more inviting space.
We will be adding beautiful native and exotic planting and new lighting to improve visibility for a safer environment, bike parking to promote active transport and a welcoming connection to Clifton Court from Pilkington Road, and an exciting new play space for children of all ages.
Mana whenua, who play an integral cultural, social and economic role in unlocking the potential of Panmure, have had significant input into the design of the space.
The vertical elements of the seating and play area take their form and materiality from the narrative of the taniwha Moko Ika Hiku Waru. The playground represents the head of the taniwha while the extruding walls and the ground-plane concrete elements break off in eight areas, representing the taniwha tails.
Ngāti Paoa Iwi Trust have also gifted whakatauākī (proverbs) which are important to the site and the wider region. These whakatauākī will be inscribed in low concrete walls which run through Clifton Court.
"This upgrade is an important and exciting first step in our programme" says Richard Taylor, Isthmus Priority Location Director for Eke Panuku.
We are very pleased to be upgrading Clifton Court to make it a safer, more usable and more welcoming area for the local community. We look forward to seeing families, community groups, businesses, and visitors to Panmure enjoy this wonderful new space.

Priority Location Director for Eke Panuku


Richard Taylor
Mana whenua recently led a karakia whakawātea (blessing ceremony) on site, clearing the way for work to begin on the upgrade.
Representatives from Ngāti Paoa and Ngāti Maru, along with members of the Maungakiekie-Tāmaki Local Board, Ward councillor Josephine Bartley, the Eke Panuku project team, contractors and design consultants gathered at Clifton Court for the ceremony.
Construction work is being carried out by Downer New Zealand and is expected to run from October 2022 to May 2023. The area being upgraded (the central public area of the Court) will be fenced off, but there will be continued access for businesses and residents. Traffic personnel will be on site to assist pedestrians and manage vehicle access to ensure public safety.
This is the first of many investments Eke Panuku will be making in the area over the next decade as part of its Unlock Panmure programme, which aims to reinvigorate the town centre into becoming a great place to live, visit and do business.