We're leading the transformation of Manukau over the next 20-plus years.
Home to about 6,000 residents and 20,000 workers, the situation in Manukau and the surrounding south Auckland area is unique.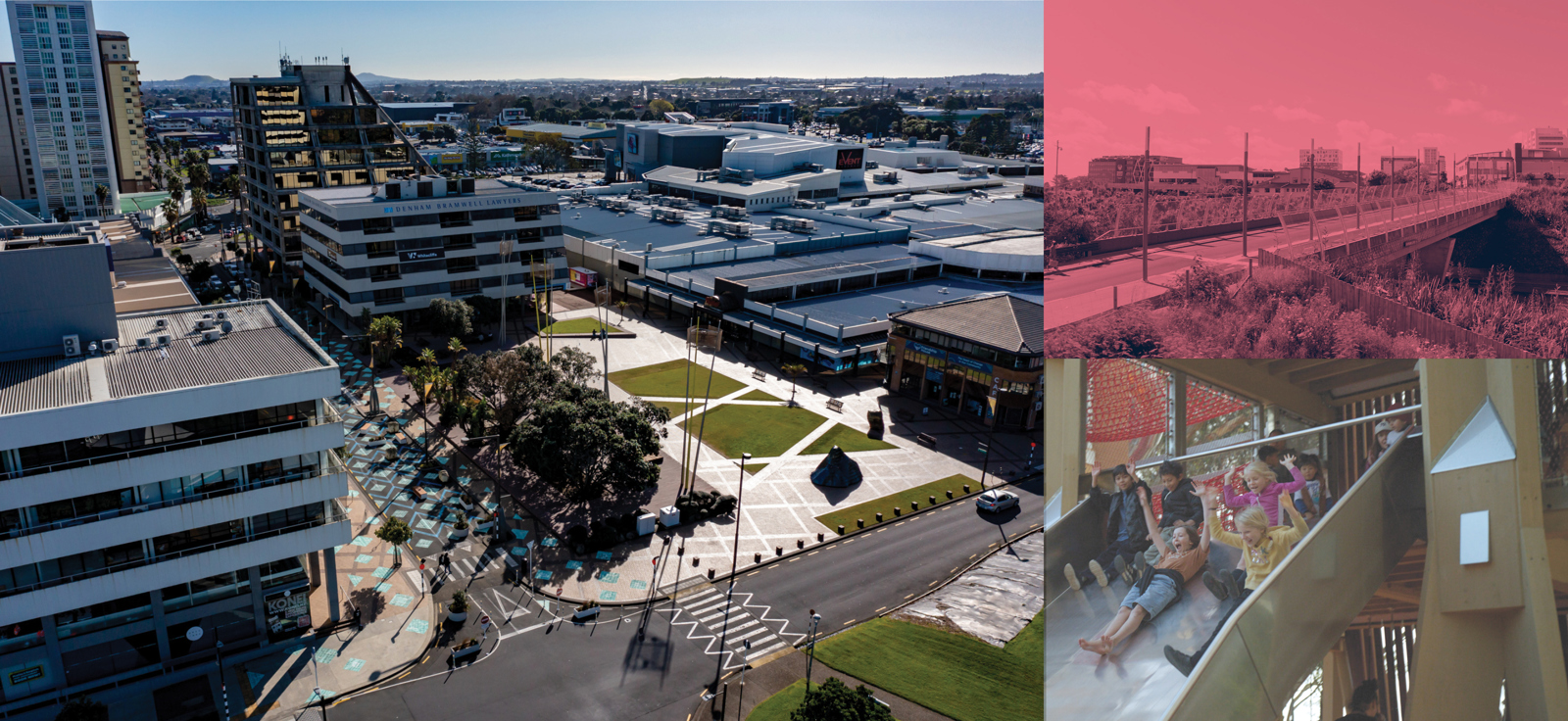 The Manukau transformation area - an overview
Home to about 6,000 residents and 20,000 workers, the situation in Manukau and the surrounding south Auckland area is unique. The area represents Tāmaki Makaurau / Auckland's biggest opportunity, yet faces significant challenges too.
Land for the Manukau transformation extends over 600ha. It covers the whole metropolitan centre, the Manukau Sports Bowl and the Wiri suburban neighbourhood to the south, including the large 49-hectare Manukau Super Clinic site.
Manukau Central is just that – described as the centre of the transformation area, and defined as within an 800m radius or 10-minute walk of the train station.
There are more affordable homes and people have greater housing choice in new and revitalised neighbourhoods.
People seeking playtime or downtime flock to a revamped Hayman Park and Manukau Plaza, as well as the surrounding shops and eateries.
The plans guiding Manukau's transformation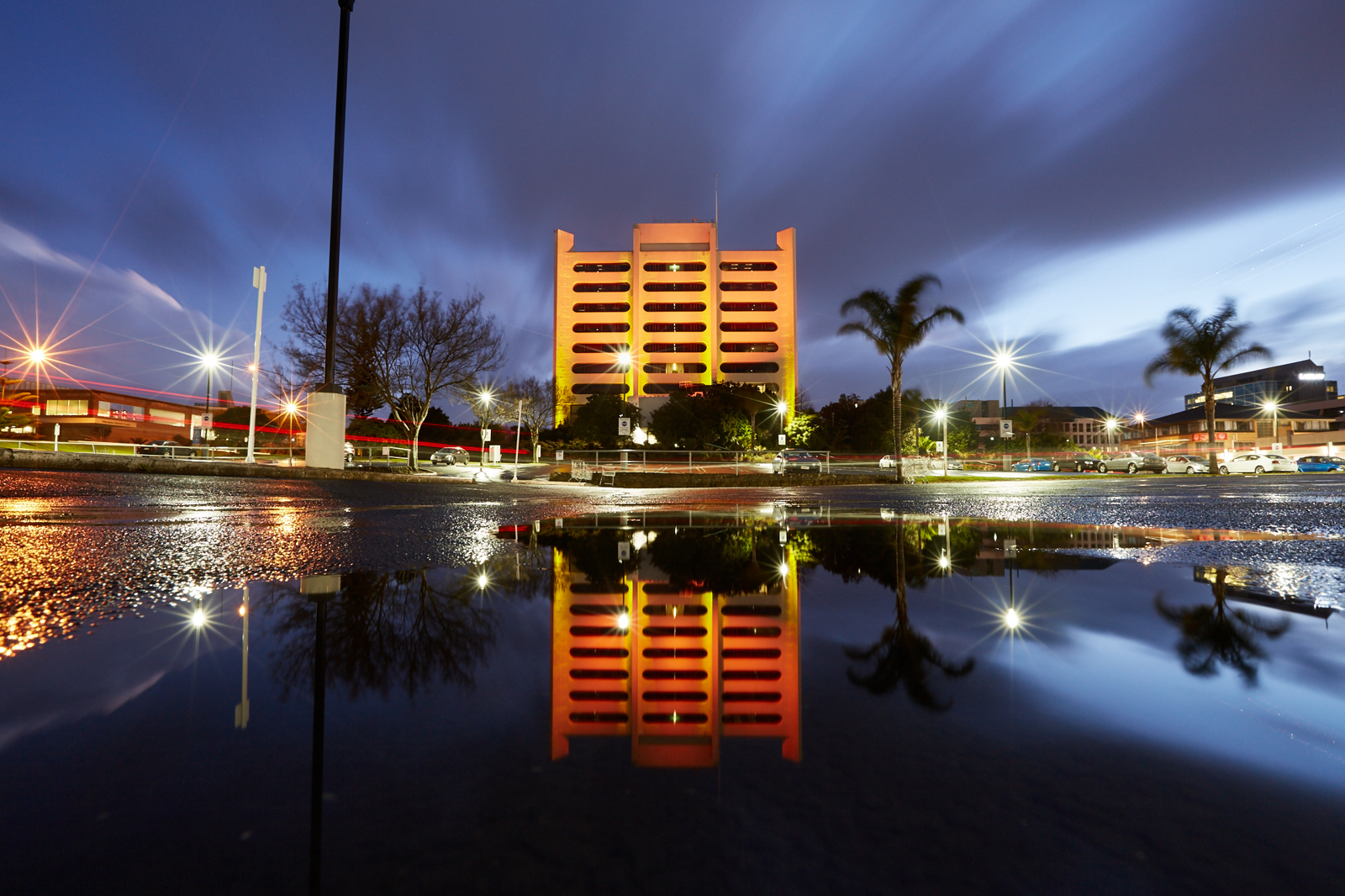 The Manukau Framework Plan sets out the approach for how we and our partners will transform Manukau over 20 to 25 years.
The March 2017 document was completed in partnership with a wide range of stakeholders including government and the Auckland Council family, including the Ōtara-Papatoetoe and Manurewa local boards. We also worked particularly closely with mana whenua and local communities.
Building on our previous High-Level Project Plan for Manukau, the Framework Plan further shapes the thinking and vision of the programme, and will guide the results and delivery for specific sites. It reflects many years of strategic planning and effort to bring about coordinated, positive change.
Find out more in the Manukau Framework Plan below.
The High-Level Project Plan provides us with the Auckland Council mandate to make change in Manukau. We pinpoint key actions that need to be taken, including making better use of properties the council owns.
Our plans for Manukau's transformation line up closely with The Southern Initiative, which aims to stimulate and support social change and community innovation in south Auckland.
Creating a thriving heart for Manukau is also a strong desire from the local community, as outlined in the Ōtara-Papatoetoe Local Board Plan.
Plans
Key moves for Manukau
"While Eke Panuku and the government will do the heavy lifting, true transformation is owned and delivered by us all."

MANUKAU WARD COUNCILLOR


ALF FILIPAINA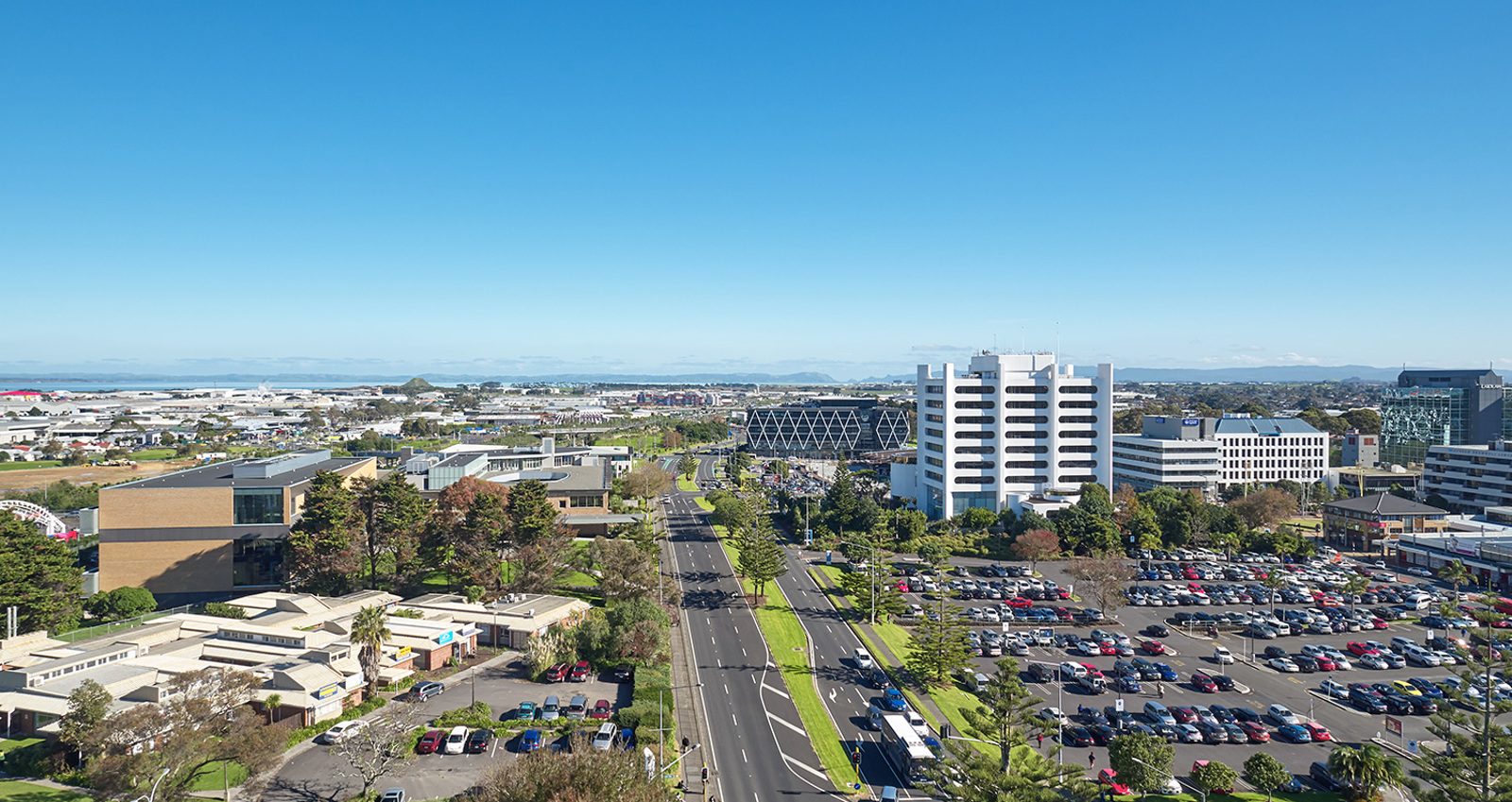 With a strong Māori heritage, its position as the world's Pasifika hub and creative and economic potential, Manukau is unlike any other place in Aotearoa / New Zealand.
Transforming Manukau is about fostering and building on the pride, values and talent of the people who live and work here. This will ensure that the area's regeneration continues to appeal to locals, while also enticing future residents, workers and entrepreneurs.
The local community has shown a clear desire for Manukau to be an attractive visitor destination, business centre and place to live, work, play, shop and learn in world-class facilities and spaces.
This future-Manukau is being kick-started through a series of projects. We've identified five key moves to bring about the scale of change needed, and from which success will multiply in many other ways.
Realising the potential of the Puhinui Stream.
Creating a vibrant heart.
Developing the Wiri healthy neighbourhood.
Harnessing learning and innovation opportunities.
Enhancing community connectivity.
It starts with creating a vibrant
heart
This move starts with the heart. People will experience the benefits of creating a healthy and vibrant core for central Manukau. These benefits can radiate to surrounding areas, providing momentum for changes there too.
Key projects include:
Supporting more housing and residential development.
Providing leisure and cultural opportunities that enrich Manukau as a destination, including new hotel developments. Links between attractions will also be improved.
Adding more office space to the Civic Building and central core.
Reimagining spaces for people – integrating a redeveloped mall into the adjacent town centre, Hayman Park as a destination park, a revamped Manukau Plaza, Osterley Way as a north–south link, Amersham Way focused on hospitality, and Manukau Station Road as a boulevard.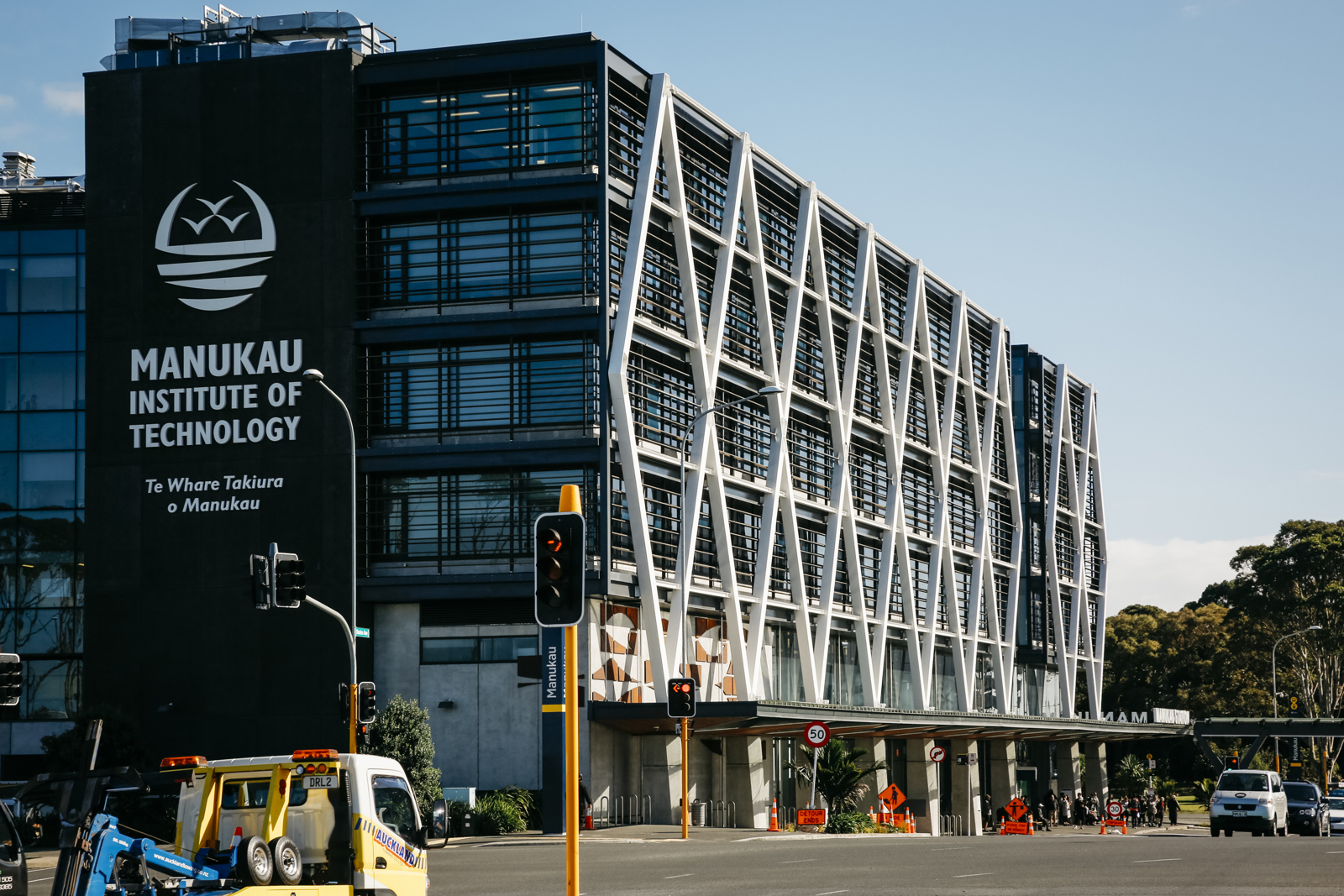 People will be encouraged in enterprise and business growth to help drive local economic prosperity.
Learning and innovation are seen as cornerstones of changing how Manukau functions. The building blocks are already here, with more participation in early childhood education and a rapidly increasing tertiary presence.
We're working with Tātaki Auckland Unlimited and The Southern Initiative to empower the community, as well as social, iwi and Pasifika enterprises. We're also harnessing growth sectors such as health, food and environmental tech, as well as advanced manufacturing.
This move will include:
A network between learning centres, so that people have a pathway from early childhood to further education and training, and on to employment.
The Southern Initiative's local enterprise and innovation initiatives, including the Makerhood, plus Māori and Pasifika trades and training programmes.
The Manukau Innovation Neighbourhood – engaging large-scale local employers to grow local innovation and talent.
The TeHaa multipurpose innovation centre.
Developing a technology hub forManukau Institute of Technology's (MIT) trades and engineering schools that will be used by more than 1,200 students and deliver more high-value jobs to the community.
Enahncing community
connectivity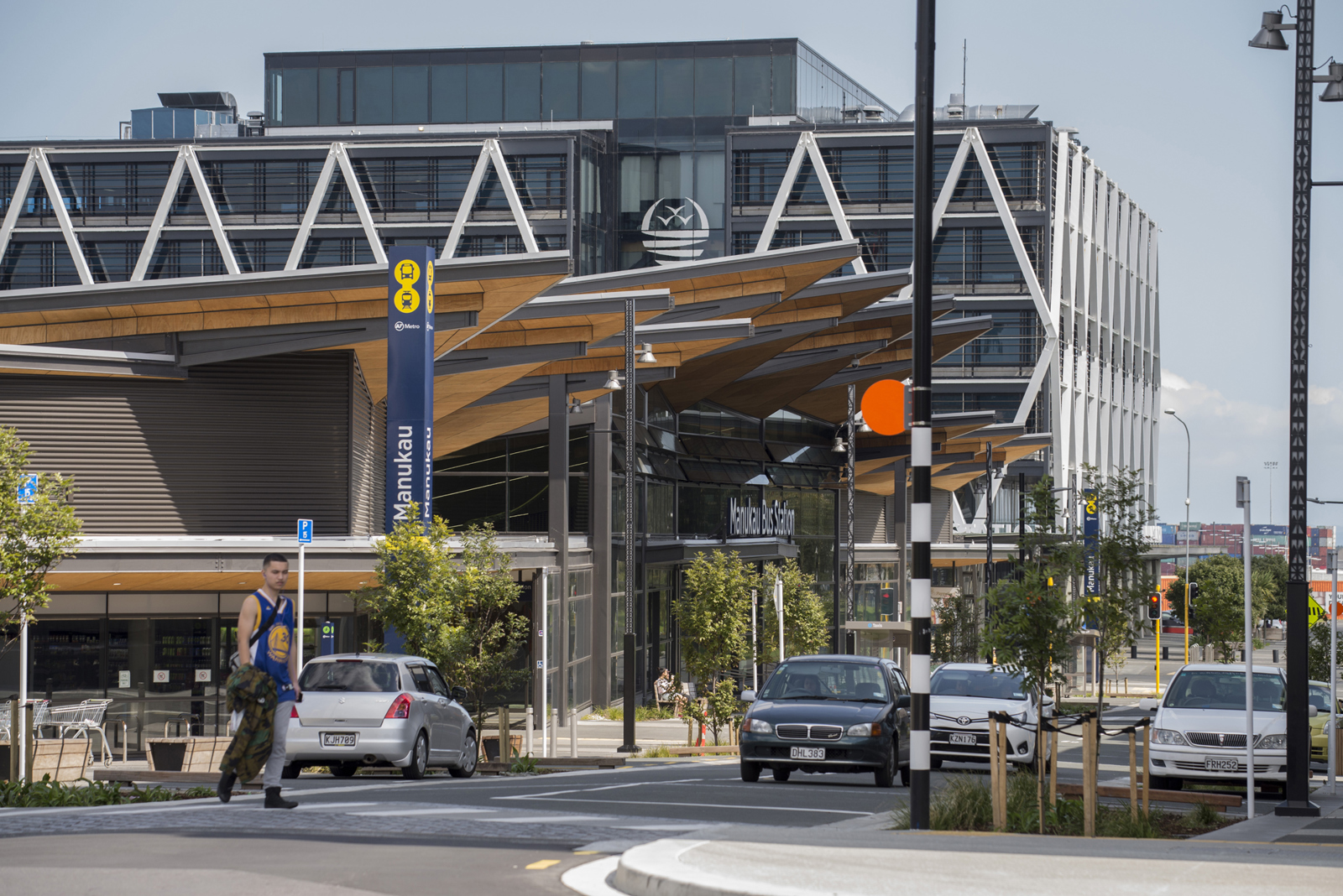 Life will be easier for people moving around Manukau. Upgraded public transport will improve connections to surrounding communities, and walking and cycling options will be safer and more convenient.
Over time, Manukau will be transformed from a car-based centre to a place where people have plenty of choice about how they travel.
Our key connectivity initiatives include:
Upgrading Great South Road as an important north–south urban avenue with greaterpriority for buses, improving public transport service
Exploring a mass transit bus route from the airport to Botany, via central Manukau
Creating a cycle network
Making it easy, safe and attractive to walk around Manukau.
Manukau's new bus station
The 23-bay bus station makes it easier for people to switch between bus and rail, and to get around the city in general. It is located next to the train station, and opened in April 2018.
As well as a major boost to Manukau's wider transformation, the bus station on Putney Way is a significant investment in a joined-up public transport system for Auckland.
An award-winning architectural addition to Manukau, the bus station also represents high environmental standards and great design, including Māori toi (art).
Find out more about the Manukau Bus Station at Auckland Transport.
Manukau
projects and events
Project status:
Active

Complete

In progress

On hold

Events