Have your say on Manukau Sports
Bowl
24 August 2022
A revised Manukau Sports Bowl Masterplan is open for feedback.
Ōtara–Papatoetoe Local Board want to hear if the masterplan is right before making an informed decision on it later this year.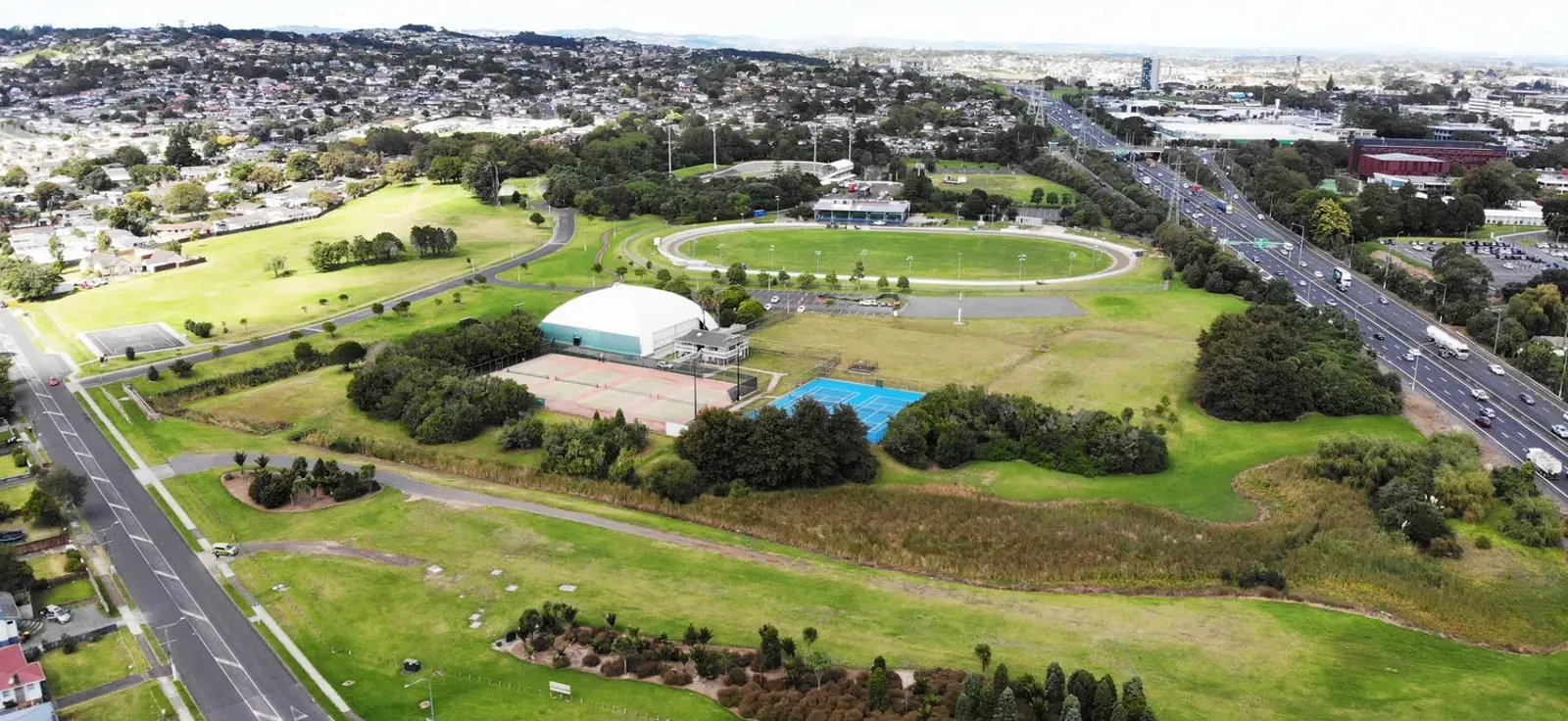 In April this year, over 750 people gave their feedback on the Manukau Sports Bowl Masterplan. In response to this valued input, a number of decisions were made about preferred activities, but there is still a question mark about athletics or greyhound racing, as there is only space for one of them in the sports bowl.
In-depth research showed the ideal site for an athletics facility is where the greyhound racing track is currently located. These factors include:
An athletics track and field requires 1.7 hectares of land
The placement means that it doesn't take over a sports field, the tennis courts or the velodrome, which all rated highly in the last round of feedback.
The facilities selected to remain all attract more users annually than greyhounds.
Improved lighting in the centre of the park (by having the track lit up every evening) will help make it safer at night and increase the use of the sports bowl.
The local board needs to know if greyhound racing is something you'd like to remain at Manukau Sports Bowl, or if an athletics track is wanted more – a dedicated feedback page has been set up for you to do just that.
"Community support for adding an athletics track came through strongly in the last consultation," said Auckland Council's General Manager – Regional Services & Strategy Justine Haves.
"We heard considerable feedback that locals want the sports bowl to not only become a more welcoming space for all ages, but also to include an athletics track so that investment in up-and-coming talent is able to happen close to home."
The updated masterplan intends to improve the basic park infrastructure, including walking and cycling routes, improve safety, provide a splash pad, upgrade the playground and generally provide for a wider range of ages. Long-term projects include indoor courts and covering the velodrome.
Eke Panuku Transform Manukau Director Richard Davison is delighted to be able to use the agency's Transform Manukau programme to support this upgrade:
"Our work in Manukau challenges us to think big and think long term," he said. "Manukau Sports Bowl fits the bill on both these criteria. I am thrilled we are able to support wider council by offering a dedicated team of experts to ensure we upgrade the park to its full potential."
Ōtara-Papatoetoe Local Board chair Apulu Reece Autagavaia added: "It's been great to see the people of south Auckland helping to design the Manukau Sports Bowl of the future. Your latest feedback will be reviewed by the local board in November, so don't miss the opportunity to tell us what you think."
Built in the late 1980s for the 1990 Commonwealth Games, the Manukau Sports Bowl is home to sporting events such as cycling, tennis and soccer, plus cultural gatherings like Polyfest, Diwali celebrations and open-air movie viewings.
Feedback on the latest Manukau Sports Bowl Masterplan is open until Wednesday 14 September. Have your say at https://akhaveyoursay.aucklandcouncil.govt.nz/manukausportsbowl