The vision for Takapuna is to make the most of its sea-and-lake location.
We'll also create a safe, accessible and vibrant town centre tailored for more walking and cycling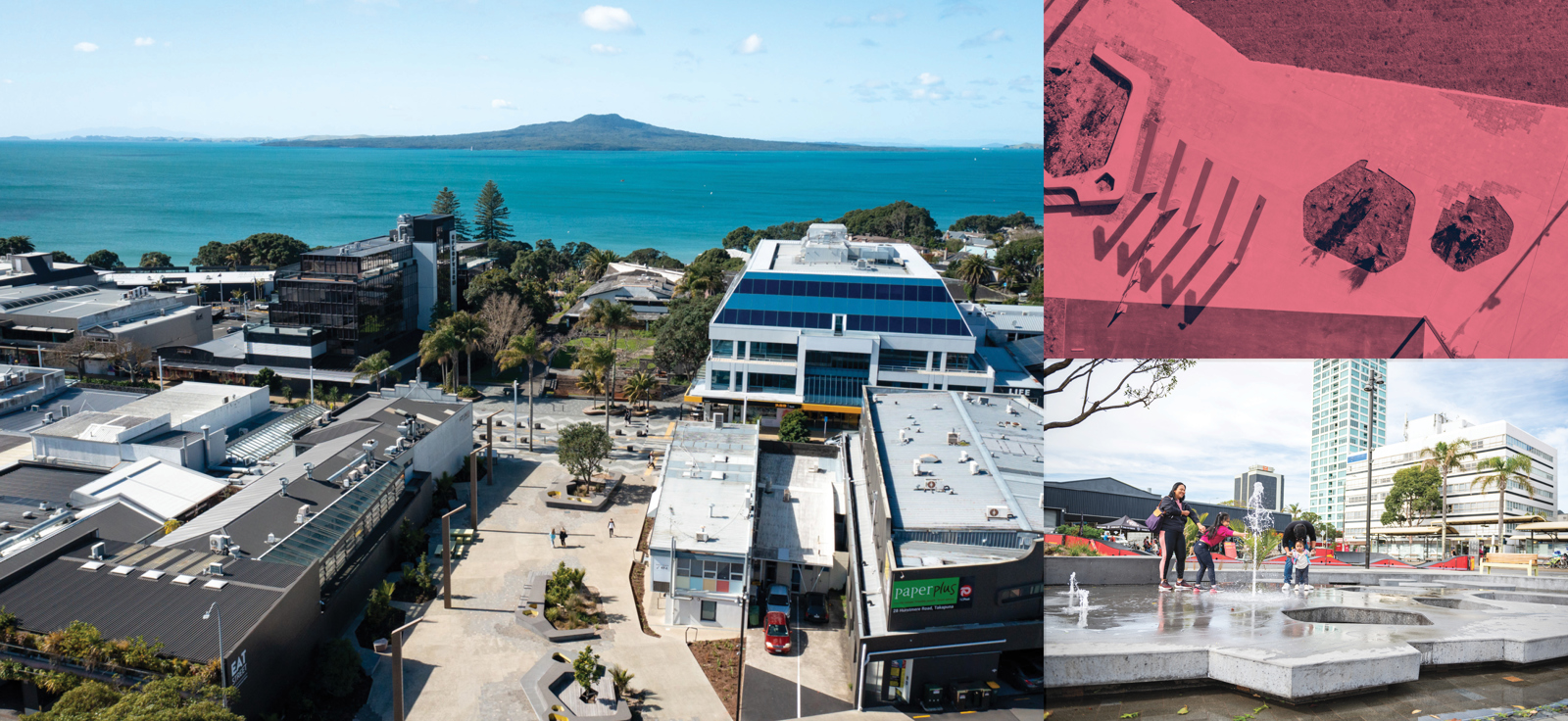 About the transformation of Takapuna
Takapuna enjoys an enviable geographical position, with Takapuna Beach, Lake Pupuke and views to Waitematā Harbour and Rangitoto Island.
The vision for Takapuna is to make the most of its sea-and-lake location.
We're leading urban regeneration in Takapuna on behalf of Auckland Council. Our goals are to:
Revitalise the town centre.
Improve public spaces.
Create better connections to the beach.
Support more options for urban living and public transport.
One key site is the car park at 40 Anzac Street. In conjunction with a property on Hurstmere Road, the site is being turned into a new mix of public space, shops, businesses and homes. This will be complemented by the new Toka Puia car park building and planned mixed-use development on the Gasometer site at 15 Northcroft Street.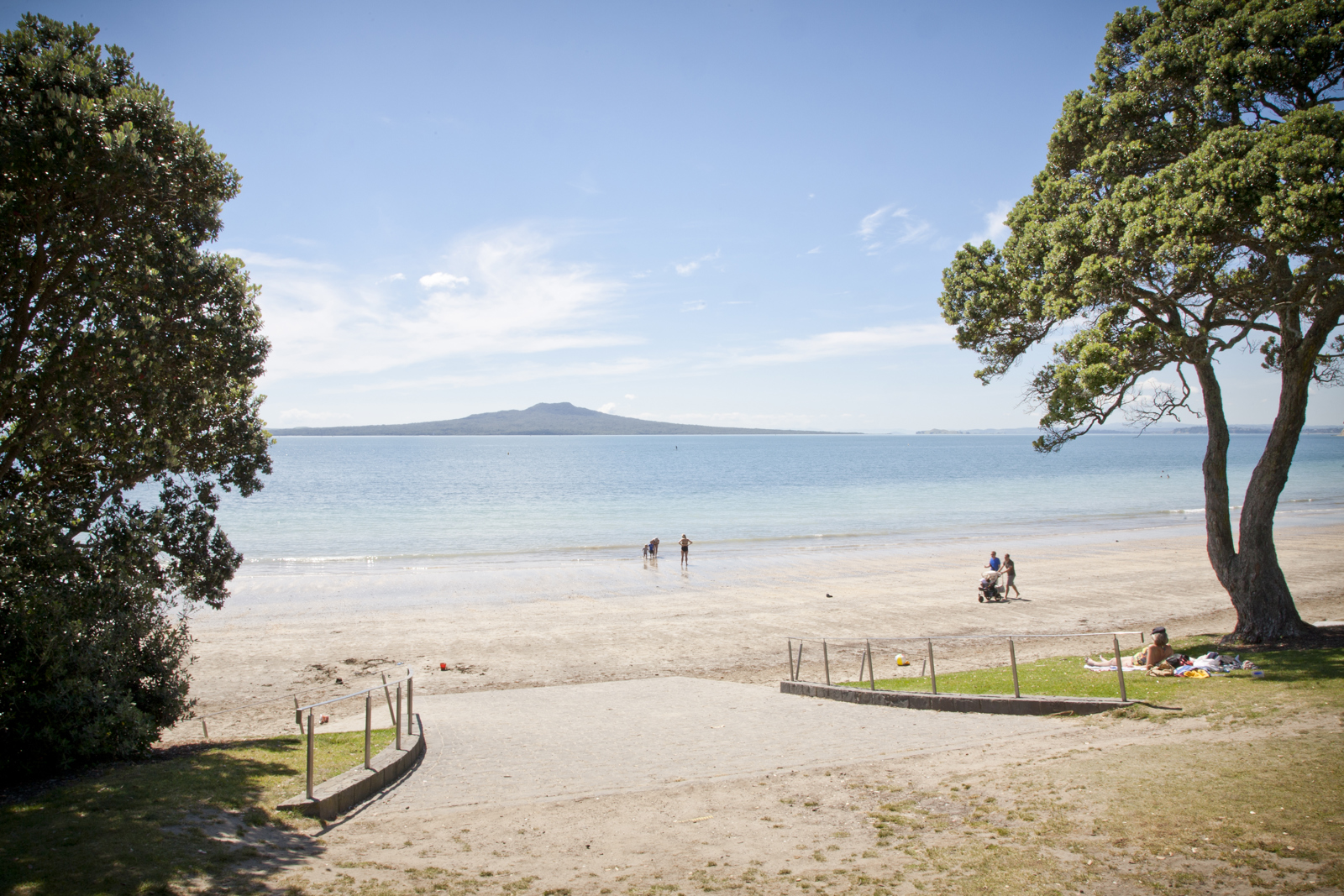 Previous consultation
We're working closely with mana whenua, our Auckland Council colleagues, and the Takapuna community during the various stages of proposals related to the regeneration.
Takapuna's opportunities have been well covered in plans dating back to 2010, and widely consulted on. Auckland Council approved our overall plan for regeneration in March 2016.
We talked extensively to stakeholders over the following year, including the former Greater Takapuna Reference Group and eight other key community groups. We also worked closely with the Devonport-Takapuna Local Board, which included the project in its 2017 and 2020 Local Board Plans.
Formal consultation took place in August and September 2017 on the proposed change of use for the 40 Anzac Street car park. A hearing followed, with a panel independently analysing submissions and hearing from submitters who wished to speak.
Many submitters who opposed the proposal asked for different activities and uses for the site, including the desire for new public space, improved connections and plenty of short-stay parking in the surrounding area. As a result, the change was approved but with some conditions. This feedback was also incorporated in the plans for 40 Anzac Street.
In July 2018 further engagement was undertaken. An independent Colmar Brunton survey was conducted where 69% of people preferred one of two proposals for a town square located between Hurstmere and Lake roads. In the Auckland Council-run consultation, 55% of people who responded were in support of the same option.
The completed upgrade of Hurstmere Road by Auckland Council has significantly increased space for people, outdoor dining and events. Ageing infrastructure, including the former subsiding carriageway, was also upgraded as part of the works.
With a healthy ecology, reduction in vehicle dominance and creative cultural expression, the upgraded Hurstmere Road is a celebration of Takapuna's unique character.
For more information on the Hurstmere Road transformation, visit Progress AKL.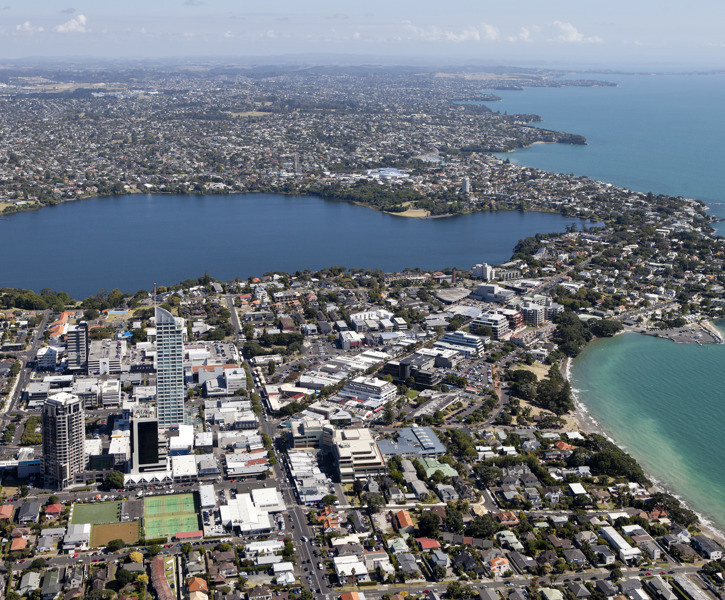 The vision for Takapuna is to make the most of its sea-and-lake location.



The overall plan for Takapuna
The Takapuna Framework Plan sets out the approach for how we and our partners will regenerate the 40 Anzac Street and Gasometer sites.
Building on our previous High Level Project Plan for Takapuna, it further shapes the thinking and vision, and will guide the outcomes and delivery for these specific sites.
The Takapuna Framework Plan reflects many years of strategic planning and effort to bring about coordinated, positive change. We've worked closely on it with mana whenua, the Auckland Council family and the local community.
Frequently asked questions (FAQ)
Please note, more specific detail on each of our Takapuna projects is available in the projects area below this section.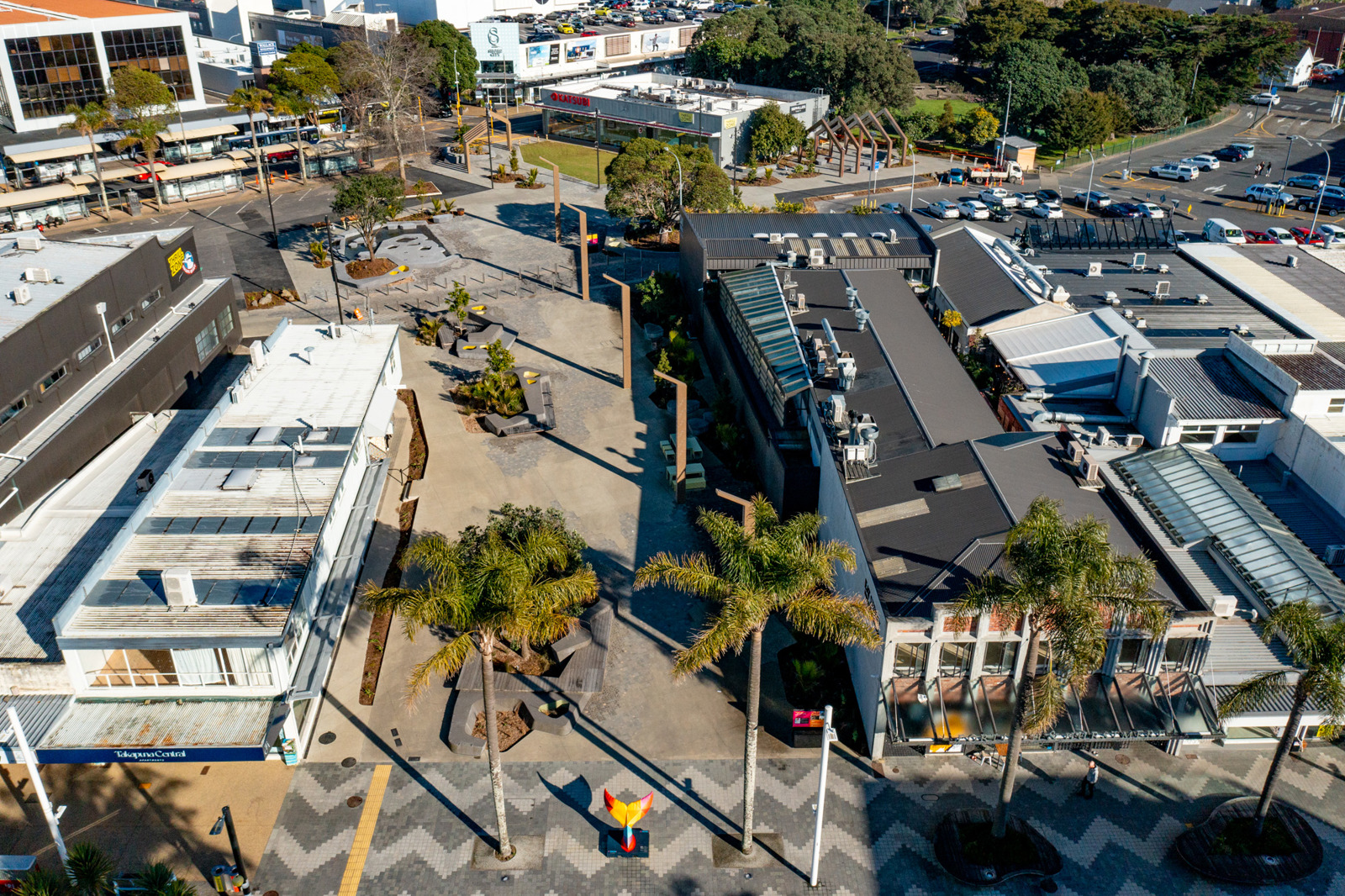 What is 40 Anzac Street?
40 Anzac Street is a 250-space public car park in the centre of Takapuna. In March 2018 Auckland Council granted a change of use, meaning the site can be used for other purposes.
The site's location and links to Hurstmere Road when combined with several Hurstmere Road sites make it an ideal location to create a new town square, shops, businesses and homes.
What will go on 40 Anzac Street? Will there be any public space?
Our plans include a new town square and connections between Anzac Street, Lake Road and Hurstmere Road. Development on the sites surrounding the town square will be mixed-use, such as restaurants, retail and housing.
What will happen to the Takapuna Sunday market?
We recognise the Takapuna Sunday Market is an important and valued part of the community. We're working with the market operator to ensure it remains a successful part of life in Takapuna.
Will the new town square be sunny?
We've worked with our development partners to ensure surrounding buildings on the site don't overshadow the town square.
When will construction start?
Construction of Waiwharariki Anzac Square began in January 2022. The Anzac car park will be partly closed to public car parking during the construction. The construction will happen in stages to ensure the Takapuna Sunday Market can continue to operate.
The first stage of the Willis Bond development, Takapuna Central Apartments, is due to start construction in late 2023, following the completion of Waiwharariki Anzac Square.
On the nearby Gasometer site, the Toka Puia car park has been completed and is open to the public. Development elsewhere on the Gasometer site will start following selection of a development partner.
What's happening with Potters Park?
Potters Park will remain a park. We have no changes planned for it.
How will the developments impact Takapuna as a shopping destination?
New retail, commercial and residential accommodation will bring more people to the centre and increase economic activity. This growth will have a positive impact on Takapuna as a shopping and food and beverage destination.
International studies show that creating easy walking environments and increasing foot traffic will also have a positive effect on these businesses.
When the 40 Anzac Street site is developed, will we lose those car parks in the Anzac Street car park?
The Toka Puia car park building on the Gasometer site was purpose-built to offset the removal of parking at the Anzac Street site.
Anzac Street car park will remain partly open to public car parking during construction of Takapuna's town square to ensure the Takapuna Sunday Market can continue to operate. The market will move to a new area when the town square has been completed.
Why aren't you keeping car parking on the Anzac Street site?
The Anzac Street site has Potters Park next door and connections to Hurstmere Road. It's a fantastic location for a new town square and pedestrian-friendly spaces that are not dominated by cars.
The Toka Puia car park on Northcroft Street is only 200m away and works well in tandem with the Killarney Street car park to serve Takapuna centre's parking needs.
I park in the Anzac Street car park. Where can I park now?
The Anzac Street car park will stay partly open throughout 2022 while the town square is built. Other parking options nearby include Toka Puia car park and Killarney Street car park.
How many car parks are available in Takapuna?
Takapuna has about 2,300 public car park spaces (both on and off-street) – the Anzac Street car park site provided 250 of these. To provide for current and future parking requirements, in November 2020 Eke Panuku completed the Toka Puia car park building on part of the Gasometer site with 420 spaces.
What about accessibility parking?
There is accessibility parking in a number of locations around Takapuna town centre, including 14 spaces in the Toka Puia car park on Northcroft Street.
How was Waiwharariki Anzac Square paid for?
The creation of Waiwharariki Anzac Square has been made possible by better using Auckland Council landholdings in central Takapuna to revitalise the town centre. This has consolidated council's land and reconfigured it to allow for a space that offers improved connection through the heart of Takapuna to the beach and provides a centrally located civic space for the community that is available for a variety of uses all-year round, including as a place to gather, markets, festivals, and community events.
Council's investment into the new public space has been at no cost to ratepayers thanks to the sale of the remaining surrounding parcels of land to development partner Willis Bond - to create homes, offices and shops allowing more people to enjoy all that Takapuna offers.
Council does not release details of site sales until settlement due to commercial confidentiality, however the proceeds from sales also enables further investment in things like infrastructure upgrades, which may otherwise not be possible (for example stormwater and streetscape improvements or the Toka Puia car park). For Takapuna, council is investing more than will be realised from this sale.
Takapuna
projects and events
Project status:
Active

Complete

In progress

On hold

Events