NZ's first green, climate-resilient
communities
16 December 2019
Two Panuku neighbourhoods have achieved a Green Star -
Communities rating for exceptional masterplanning, a first in New Zealand.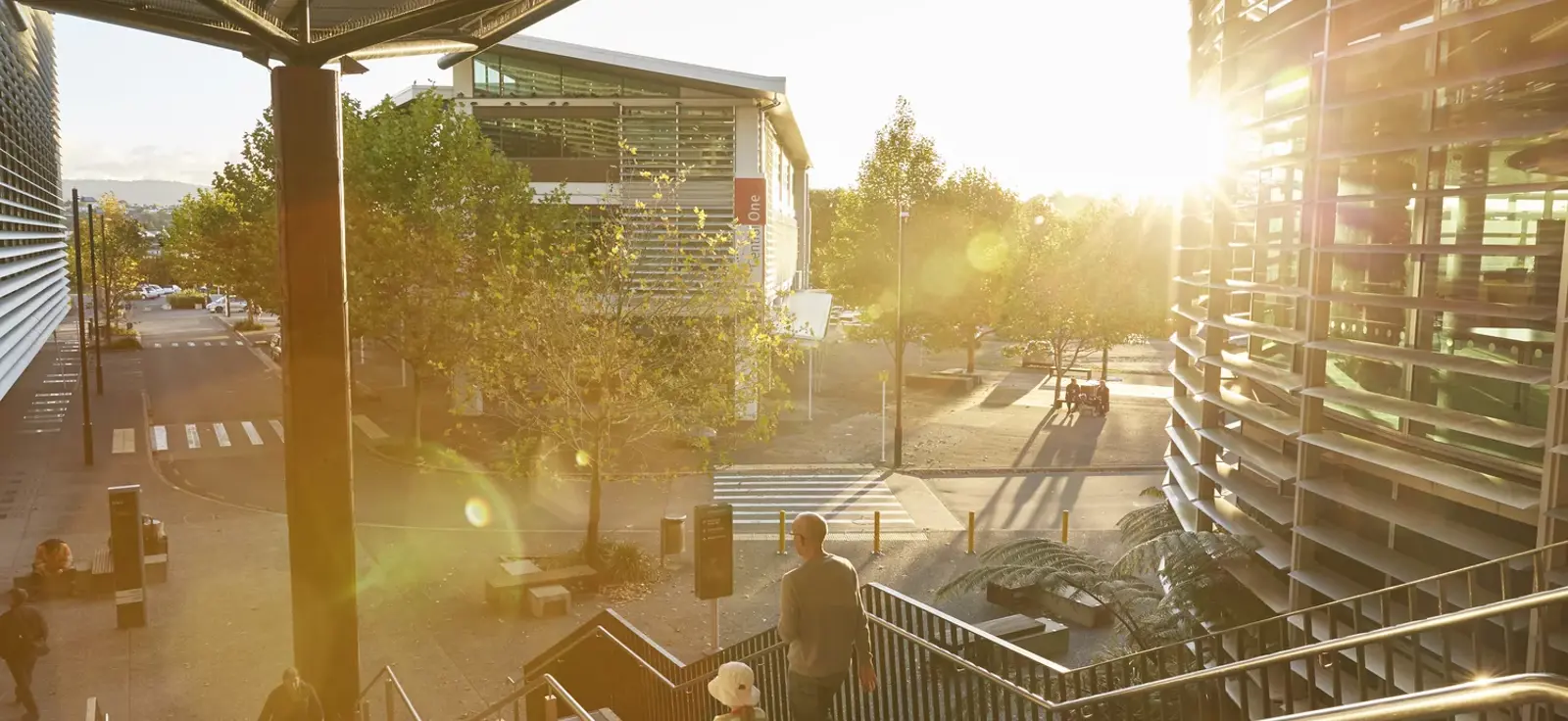 Awarded by the New Zealand Green Building Council (NZGBC), the Opanuku Precinct in Henderson and the Unlock Takapuna programme have been independently rated for their commitment to sustainability, planning for climate change and building community resilience.
The ratings are the first of their kind to be completed in New Zealand, with both projects securing a 5 Star Green Star rating.
Mayor Phil Goff welcomes the announcement.
"Given the urgency with which we need to act to address climate change, it's encouraging to see Panuku recognised for taking a sustainable approach to masterplanning," he says.
"Projects like this will help improve Auckland's ability to adapt to climate change and create better, healthier neighbourhoods for our communities."
Councillor Richard Hills, Chair of the Environment and Climate Change Committee commends the announcement.
"This is a great acknowledgment of Panuku's work to plan and design for great connected communities, low emission neighbourhoods and climate change action. Henderson and Takapuna will grow to be examples of centres where we put people and the environment 'first equal'."
Panuku's Head of Corporate Responsibility, Kristen Webster, says the use of the rating tool has added significant value to Panuku's project planning.
"The tool has given us valuable quality assurance in several areas, providing affirmation that our current practices are exemplary. We also used the tool as a roadmap to help guide us to achieve best practice in other accreditations.
"By obtaining Green Star ratings, we're future-proofing Takapuna and Henderson, planning for climate change and building community resilience. Our developments will conserve resources and enhance both the built and natural environment, providing Homestar rated housing and well-designed public spaces."
Green Star - Communities is one of a handful of internationally recognised sustainability rating tools for communities and precincts. Owned by the Green Building Council of Australia (GBCA), the tool has been adapted alongside NZGBC for use in a New Zealand context.
NZGBC's Chief Executive Andrew Eagles confirms that Auckland can now celebrate having some of New Zealand's most liveable and sustainable communities.
"A huge congratulations to Panuku for securing these Green Star Communities ratings. It's really exciting to see Aotearoa's first communities benchmarked against global standards for liveability, stakeholder engagement and climate resilience. By committing to this approach Panuku is creating healthy, low-carbon communities that are more resilient to climate change.
"If New Zealand is to reach a sustainable, low-carbon future, others will need to follow Panuku's lead both for the good of the planet and for the benefit of our tamariki and mokopuna."
Obtaining a rating requires projects to provide evidence against a rigorous set of criteria, organised under five categories; Governance, Liveability, Economic Prosperity, Environment and Innovation. Evidence is independently assessed and rated. A 4 Star rating is considered best practice, 5 Star shows national excellence, and a 6 Star rating is world-leading.
A key feature of the Green Star – Communities rating tool is that once certification is achieved, development projects must re-certify every five years to demonstrate that commitments made at the planning and design stages are delivered.
The Henderson and Takapuna assessments performed exceptionally well under Liveability, Governance and Economic Prosperity. This recognised the physical environment and community infrastructure present in these projects as well as Panuku's influence, including placemaking, engagement, and best-practice design and sustainability expectations for development sites and the public realm.
Panuku also obtained several Innovation credits, including Te Aranga Design, Financial Disclosure, and Exceeding Benchmarks for Investment in Community Infrastructure.