A group of North Shore students created this magnificent
mural!
21 December 2021
Takapuna has a new mural courtesy of the community's students.
The new mahi toi (artwork) on Auburn Street celebrates the natural beauty of the area, incorporating kowhaiwhai (traditional Māori patterns) and Māori designs of the natural world.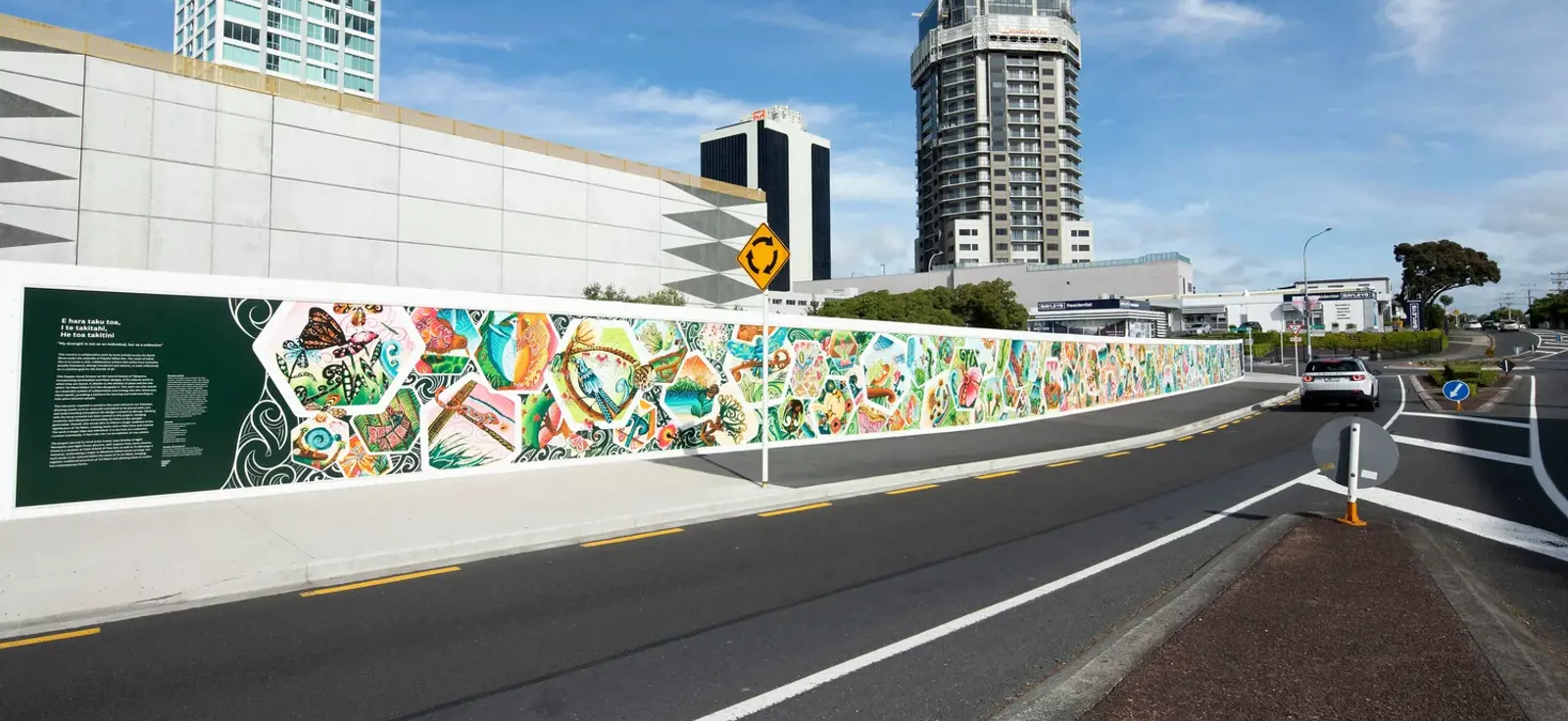 It is part of our larger work in Takapuna, which includes a new town centre, and was overseen by local artist and student Emma Jane Ormsby (Ngāti Maniapoto, Ngāti Porou), with support from mana whenua.
We were thrilled to work with Emma Jane and the pupils, the latter from schools across the North Shore under the umbrella of Pupuke Kāhui Ako. Emma is a student at Elam School of Fine Arts and Te Wananga ō Aotearoa, and is undertaking a major in Whakairo (Māori wood-carving).
"I loved working with so many talented young artists on this,"

Student


Emma Jane
"Takapuna is a beautiful part of Tāmaki Makaurau, having grown up here it holds a special place in my heart. Auckland has an incredibly diverse natural world and using kowhaiwhai and Māori imagery to encapsulate this deserves to be celebrated. Being a part of this mahi has been a real privilege, it has been a pleasure working with Eke Panuku and I am immensely grateful for their facilitation of this beautiful mural."
The local students proved themselves to be magnificent artists, with their involvement charging creativity and education surrounding toi Māori in the younger generation. Students participated in two educational workshops and contributed towards the design with their own artworks.
Roxanne Haines, our placemaker for north Auckland, said: "This is a perfect example of why you need to get the local community involved with their area's involvement. Thanks to the young people of the North Shore, Takapuna now boasts this breathtaking mural. It is, of course, always a pleasure working in Takapuna – we can't wait to get started on the new town square – but now it's even more beautiful."
The mural can be found at the Gasometer site, which has already become home to the Toka Puia car park, where a mix of 420 parking spaces, 84 free bicycle spaces (including 28 suitable for ebikes) and changing room / toilets make travelling into Takapuna much easier. The rest of the site will soon be transformed into a high-quality mix of homes, shops and businesses.
To find out more about our work in Takapuna, click here.