Auburn Street, Takapuna
build-to-rent development
01 April 2023 - TBC
Takapuna
In Progress
Development
A new build-to-rent high-rise development in Takapuna.
This development will be providing approximately 350 new state-of-the-art rental apartments, which will be on Auburn Street in Takapuna - on the corner of Northcroft and Huron streets and next to Toka Puia public car park.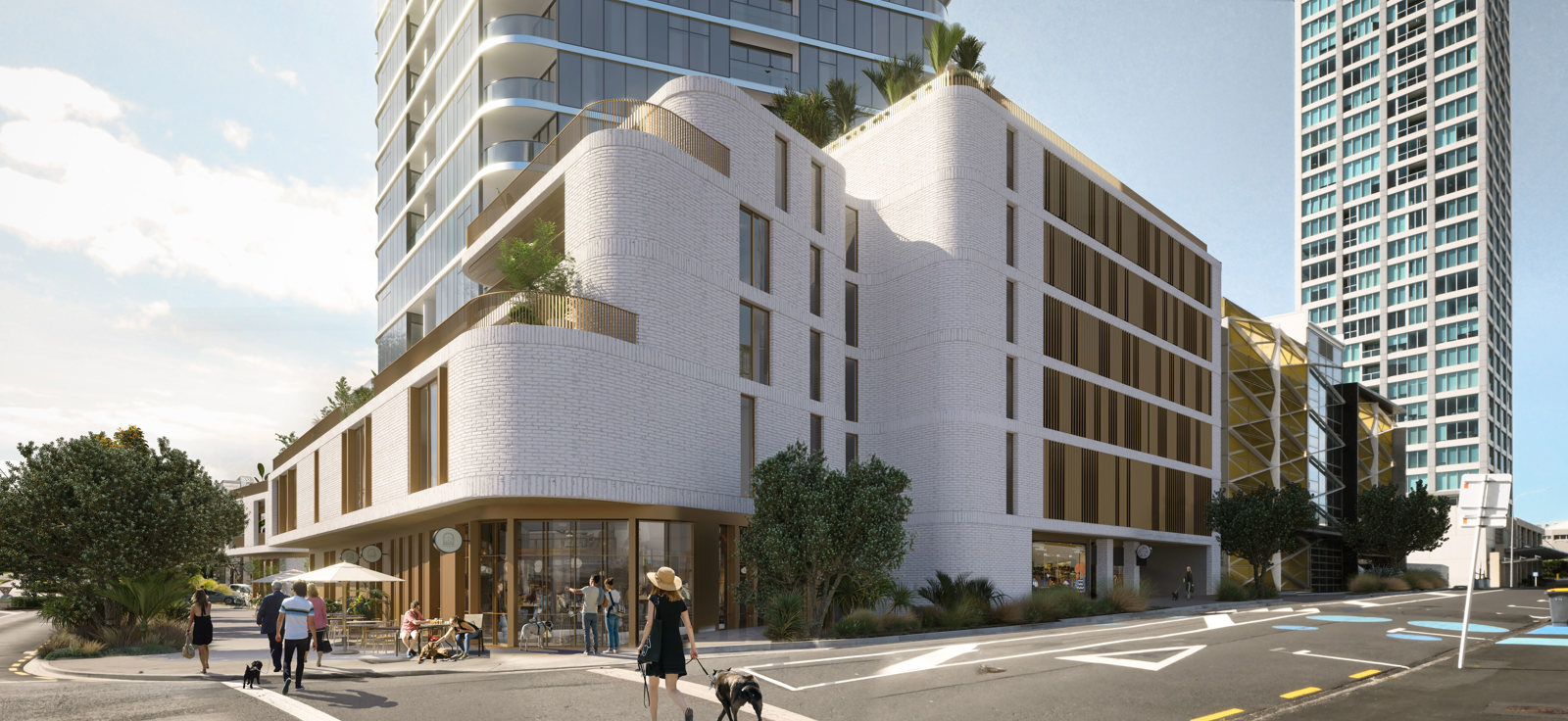 This will be the first major build-to-rent development on Tāmaki Makaurau / Auckland's North Shore, thanks to a sale and development agreement between us and the Cedar Pacific and McConnell Property consortium.
The development will mean more people will be able to live in the town centre, within walking distance of local shops and excellent transport connections, helping to stimulate local economic activity. It will also provide a new high-quality rental experience for residents – with security of tenure and a level of amenity unrivalled for rental accommodation.
In addition to on-site property management and concierge service, the development will feature a pool area and roof top gathering space for residents, plus a café and shops at ground level, helping revitalise this corner of the town centre. The building will boast a range of housing options – including studios, one, two and three-bedroom apartments, with resident parking and cycling facilities in the building.
The 2875 sqm site, previously known as the old Gasometer site, was under-utilised Auckland Council-owned land and its sale and development is part of our regeneration plans to help Takapuna thrive.
Our vision for Takapuna also includes the upgrade of Northcroft Street and the building of a new town square, called Waiwharariki Anzac Square. Collectively it will help create a more connected, appealing and lively town centre, with more people living, playing and working in the area.
What is build-to-rent?
Build-to-rent residential developments are common overseas and are starting to emerge in New Zealand. They offer people the option of secure, long-term rental accommodation, with a range of facilities more typically seen in top-quality hotels.
Usually owned by investors, not landlords, and professionally managed, build-to-rent living appeals to a wide range of tenants, from first-time renters to those looking for an alternative to retirement village living.
What are the wider benefits?
The development agreement between us and the Cedar Pacific and McConnell Property consortium includes a number of essential design outcomes that have to be delivered as part of the development, ensuring wider benefits for the street and community:
An active ground level along Huron and Northcroft streets, extended to both corners of Auburn Street.
Any vehicle access must be from Huron or Northcroft streets and designed to minimise their visibility and impact on the street and pedestrian amenity. Vehicle access is limited to two entries.
Buildings must provide a minimum 10,000m2 of space.
Any public realm, initiated as part of the development, must be reviewed and approved by us.
Homes must be built to a minimum of Homestar 6, ensuring warm, dry homes.
Building design is to include corners designed as landmarks to signal arrival/entry into Takapuna. The lower building edge facing Auburn Street is to appropriately transition into a low zoning area and tower, to be designed 'in the round' considering long distance views.
Verandas must be provided along all street edges in a manner that visually integrates with the overall building design and the rest of the street.
When will construction start?
The consortium lodged its resource consent application in April 2023. A construction start date is yet to be confirmed, but once the resource consent is approved, construction is expected to take approximately three and a half years to complete.