Heart of Takapuna to
come to life
06 March 2018
Well-designed public spaces, new homes and employment opportunities can now be realised in central Takapuna following a decision to develop the Anzac Street carpark.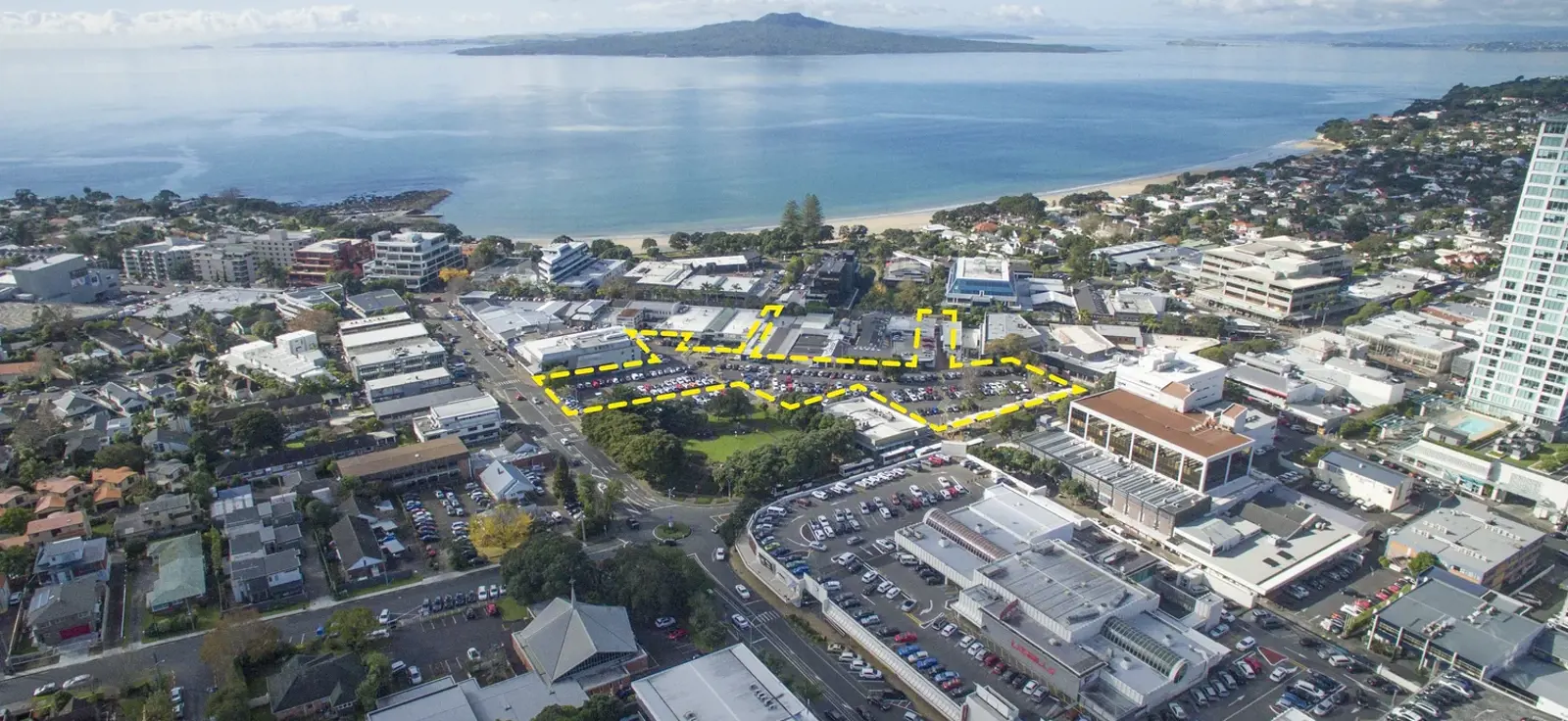 A "change of use" for 40 Anzac Street, Takapuna, was granted today by Auckland Council's Planning Committee, meaning the site can be used for purposes other than car parking.
"The Anzac Street carpark has been a soulless carpark for too long. Takapuna deserves better," says North Shore Ward Councillor and Planning Committee Chair Chris Darby.
"This location has the potential to provide new public spaces to cater for markets and events such as the annual ANZAC memorial service. It will also provide better and safer pedestrian connections and convenient local car parking will be provided just down the road. We want to hear from locals throughout the design process to ensure that the changes help to unlock the potential of this much-loved beachside centre and make the best use of Takapuna's stunning natural environment."
Panuku Development Auckland, the council organisation overseeing the revitalisation of Takapuna, will now work alongside the Devonport-Takapuna Local Board to continue discussions with the community. The details of how to get involved in upcoming feedback sessions will be announced shortly.
Devonport-Takapuna Local Board Chair Grant Gillon says, "Though the board had opposed the proposed 'change of use', of the site - the decision has now been made. Therefore, we will continue to work collaboratively with the whole community, and Panuku, to achieve the best outcome for Takapuna going forward."

"We look forward to engaging with the community throughout the entire process to ensure the project aligns with our vision to make Takapuna a fabulous sea-side metropolitan centre, with quality open space and improved connections to our stunning coastal environment," he says.
Panuku Development Director Allan Young says the decision is a positive step in furthering the vision for Takapuna as a key metropolitan centre in Auckland.
"We've listened to feedback from the community which identified the desire for new public space, improved connections and plenty of short-stay parking in the surrounding area," he says.
The plan for the 40 Anzac Street site will address this feedback, and will include:
People-friendly public spaces including a new town square that will allow for activities like a market
Well-designed laneways creating connections with Anzac Street, Lake Road and Hurstmere Road
Creating safer access to Potter's Park
Suitable alternative short-stay parking
The existing 250 carparks at Anzac Street will be replaced in a multi-storey car parking building on part of the Gasometer site (corner of Huron, Northcroft and Auburn streets). The Anzac Street carpark will not close until the Gasometer carpark is completed.
Panuku will work with Auckland Transport to create 400-550 carparks in the new Gasometer carpark, which will also replace the 140 existing carparks on the Gasometer site.
Over the next few months Panuku will confirm a construction contractor for the Gasometer carpark.