Toilets open with colourful
paint job
15 December 2022
New temporary public toilets are now open in Potters Park, Takapuna, replacing the former block that was deconstructed as part of the works for Waiwharariki Anzac Square, Takapuna's new town square.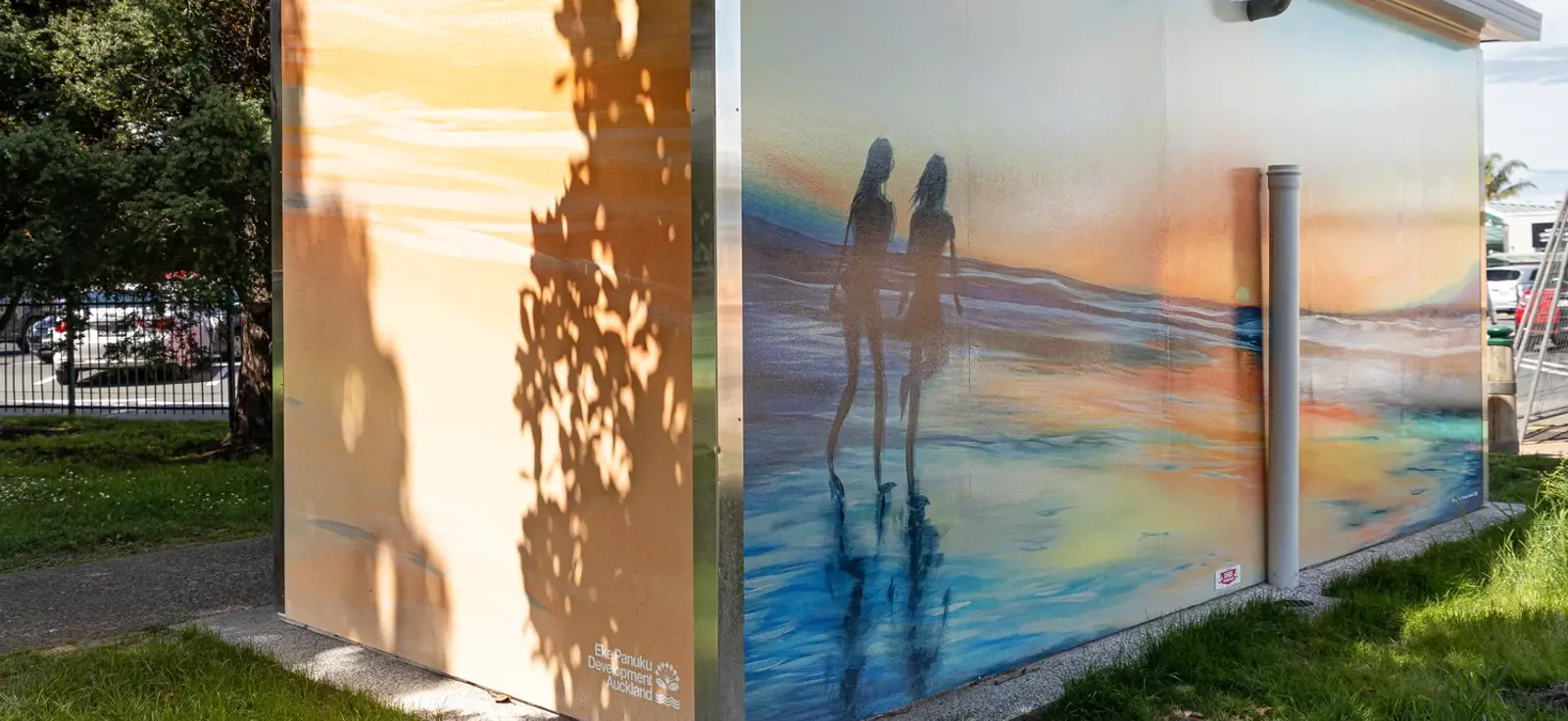 The exeloo team installed the finishing touches by fully wrapping the new loos with a mural by local artist Chrissie Calvert, whose artwork had previously graced the side of the former toilet block.
Rather than leaving the block bare, Eke Panuku contacted Chrissie to see if she would be keen to design something for the temporary toilets and the rest, as they say, is history.
We caught up with Chrissie to find out more about her artwork.
What was the inspiration for your new design?
Long walks on the beach with friends. Often I would catch up with friends over a drink and a walk along a beach. Takapuna is one of the beaches where my friends would meet, so it seemed fitting!
How does the process of designing for a 3D building compare to designing for a flat surface?
"To cover a 3D surface, you have to take into account where the doors are going, so that the image doesn't get distorted and the scaling is super important as the painting I did had to be in proportion with the building. "

Artist


Chrissie Calvert
How do considerations around perspective, scale, colour and things like doorways/signage influence your approach?
I had to think about how the shape of the building would affect the flow of the work. The signage was definitely something I had to think about. This is why I went for a simpler image which had a sense of space to accommodate that. I wanted the image to reflect the surroundings, which is why I went for sunset colours.
What do you hope people will see/feel/talk about when they see it installed?
I hope it will brighten up the space and make people reflect on how good the simple things in life are.
How does designing for a digitally printed mural differ from a hand painted mural?
I always prefer painting on the actual building, despite how much harder it is. This is because that work will look more a part of the building versus just on the surface of the building. In saying that, I really enjoyed the entire process of this project.
Why is great public art so important?
People need beauty in their lives. The quality of public spaces affects people's moral, and desire to be in a space. I believe murals are an awesome way to boost the value of an area, which will in turn have a positive effect on local people and local business.
What feedback did you get to your original mural?
I got a lot of great feedback from my original mural. Sometimes when I was in the area I would see people taking selfies in front of it. That was the best feeling!
Did it lead to further mural commissions?
It led to this amazing opportunity! I hope that this one will also lead to further opportunities.
What kind of artwork do you love creating the most?
Painting! Colour adds a whole other dimension to art and has power to affect emotions and mood. I love working on large-scale and testing out the limits of what paint can do.
If you could paint a mural anywhere in Takapuna, what would it be and where?
406 Lake Rd there is a huge brick wall, (which is the side of the building), if you are heading towards the library from Esmonde Rd on the right side of the street. I think it is a privately owned building, but it would make the perfect canvas! I imagine leaving the brickwork as a background and painting a dog running with a stick through shallow water.
What is your next work?
I am currently doing my MFA at Whitecliffe, so my next works are for my end of year exhibition on the 25th of November. For that exhibition I am working with paints on salvaged materials, which makes use of materials which would otherwise be discarded, while exploring the limits of painting.