Takapuna's Waiwharariki Anzac Square opened with
blessing
01 September 2023
Waiwharariki Anzac Square is open!
Takapuna's new public space, in the heart of the beach-side neighbourhood. was officially opened today with a karakia whakawātea (blessing ceremony).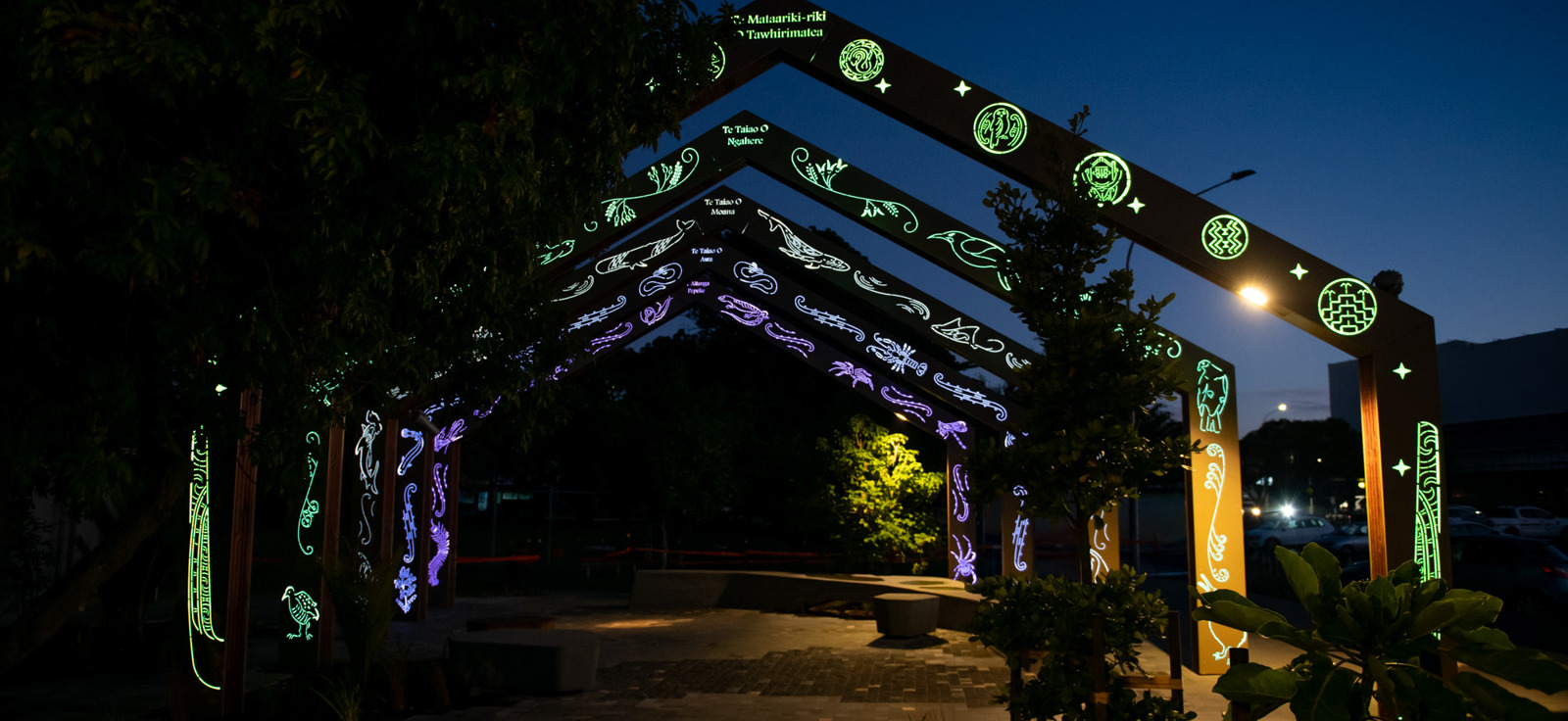 The new town square and civic space connects Lake Road with Takapuna beach through Hurstmere Green and the upgraded Hurstmere Road, serving as a place the community can meet and relax.
Featuring seating, lighting, raingardens, compelling artwork and native planting to filter stormwater runoff, along with a water feature, the square has been designed with flexibility for different uses in mind. It will be able to host events, community activities and will be home to the much-loved weekly Sunday market.
With spring here and summer on the way, it's the perfect time to welcome the community into their new space, says Kate Cumberpatch, Eke Panuku Priority Location Director for Takapuna.
"It's very special to see a space like this come to life, guided by a vision built on many years of planning and collaboration with our partners. The project has been deeply shaped by mana whenua knowledge and expertise, careful placemaking and masterplanning that took into account considerable feedback from the community. With many more people set to call Takapuna home in the near future, it's fantastic to be able to deliver investment in high-quality public space that will serve the community for years to come."
'Waiwharariki' was gifted as the mana whenua place name for the area now known as Takapuna, the beach and town centre, and is a nod to the coastal flax wharariki that was commonly found throughout the rocks and waters in the area. The addition of 'Anzac' also acknowledges the Anzac service men and women who with courage and self-sacrifice served our country. A number of the streets around Takapuna are named after World War 1 veterans.
We partnered with mana whenua to ensure the stories of the area are represented in this new public space, and informational signage on site will help visitors navigate and understand the artwork and designs.
Looking to the future, the space is designed for current and future generations including features that enhance sustainability, including sustainably sourced timber, native planting and filters to treat stormwater runoff.
For North Shore Ward Councillor Chris Darby, the square's completion represents a crest in the wave of revitalisation rolling through Takapuna. A moment to stop, reflect and celebrate the achievement, but also a reminder that the wave will keep moving and we need to stay the course.
"It's been a long journey, but finally Takapuna is getting the fabulous focal point it deserves - a place that anchors and binds us as strong as wharariki, the coastal flax from which the square takes its mana whenua gifted name – Waiwharariki. As a place to gather, play, learn, link, transact, celebrate and and care for each other – the square will serve current and future residents, visitors and workers for decades to come."
A livelier, better connected, more sustainable town centre will help future proof Takapuna for the next generation, says North Shore Ward Councillor and Chair of Auckland Council's Planning, Environment and Parks Committee Richard Hills.
"I'm incredibly excited that we've reached this milestone for the community. It has taken hard work by a lot of people, but I'm proud that we have secured significant investment in Takapuna in recent years. Hurstmere Road has been upgraded, fixing decades-old infrastructure issues and turning it into a more resilient, greener, more people-friendly environment. It also connects seamlessly to the new square and will encourage a safe and natural flow of people between our amazing local businesses, busy transport connections on Lake Road and our wonderful natural assets like Hurstmere Green and the beach.
What makes me optimistic about the future of the area is how we have seen the community embrace the new greener, safer, more welcoming spaces. Events like the Takapuna Winter Lights Festival, Matariki Market and the Christmas Carnival shows how spaces designed for people are a hit with people of all ages, across all seasons."
Devonport-Takapuna Local Board Chair Toni van Tonder sees the local board's vision of a town centre that is vibrant, safe, and attractive for locals, businesses, and visitors in the new public space.
"Seeing Waiwharariki Anzac Square open is a wonderful milestone. It's been a challenging road to get here, stretching over multiple local board terms, but the project's consistent goal has always been creating a welcoming and flexible community heart for Takapuna. We can't wait to see locals embrace the new space and making it their own in the coming, hopefully warmer months. "This type of functional outdoor space is crucial, as Takapuna will also soon have more people living centrally in new, high-quality, warm, dry homes - with all the amenities needed to live socially connected, low-carbon lifestyles right on their doorstep. This will help provide around the clock support for local businesses and enable further investment to improve our infrastructure and issues like water quality."
Toni van Tonder, Devonport-Takapuna Local Board Chair
Designed by toi whenua artists Wyvern & Hokimai-anahera Rosieur, the square is full of functional features and mahi toi (artwork) that reflect the cultural and natural heritage of the area:
The waharoa (stylised gateway arches) welcomes visitors into the square and is decorated with patterns representing the waves created by travelling waka (Māori canoe), feathers to acknowledge rangatira (chiefs), a woven pattern referencing the wharariki coastal flax used for weaving, and poutama – a pattern to acknowledge the history of the whenua (land)
Patterns on the lighting columns acknowledge te taiao (the natural world), including our ngahere (forests), awa (rivers) and the maunga (mountains) of Tāmaki Makaurau/Auckland
The central water feature representing a spring or 'puna' reflects the mauri (life force) or energy of moving water and provides a place where kids can play in cleaned water on hot days
The whare maumatanga (structure resembling a house or rafters) references our taonga (treasured) flora and fauna, prompting us to think about the environment and remember the history of the area, including:

Te Aitanga Pepeke (the insect world): dragonflies, weta and tuatara
Te Taiao O Awa (rivers): eels, crayfish
Te Taiao O Moana (the ocean): whales, stingrays, octopuses and sharks
Te Taiao O Ngahere (forests): tui, pūriri, kowhai, pohutukawa, kereru, pīwakawaka
Te Mataariki-riki O Tawhirimatea: the stars of the Matariki / Pleiades star cluster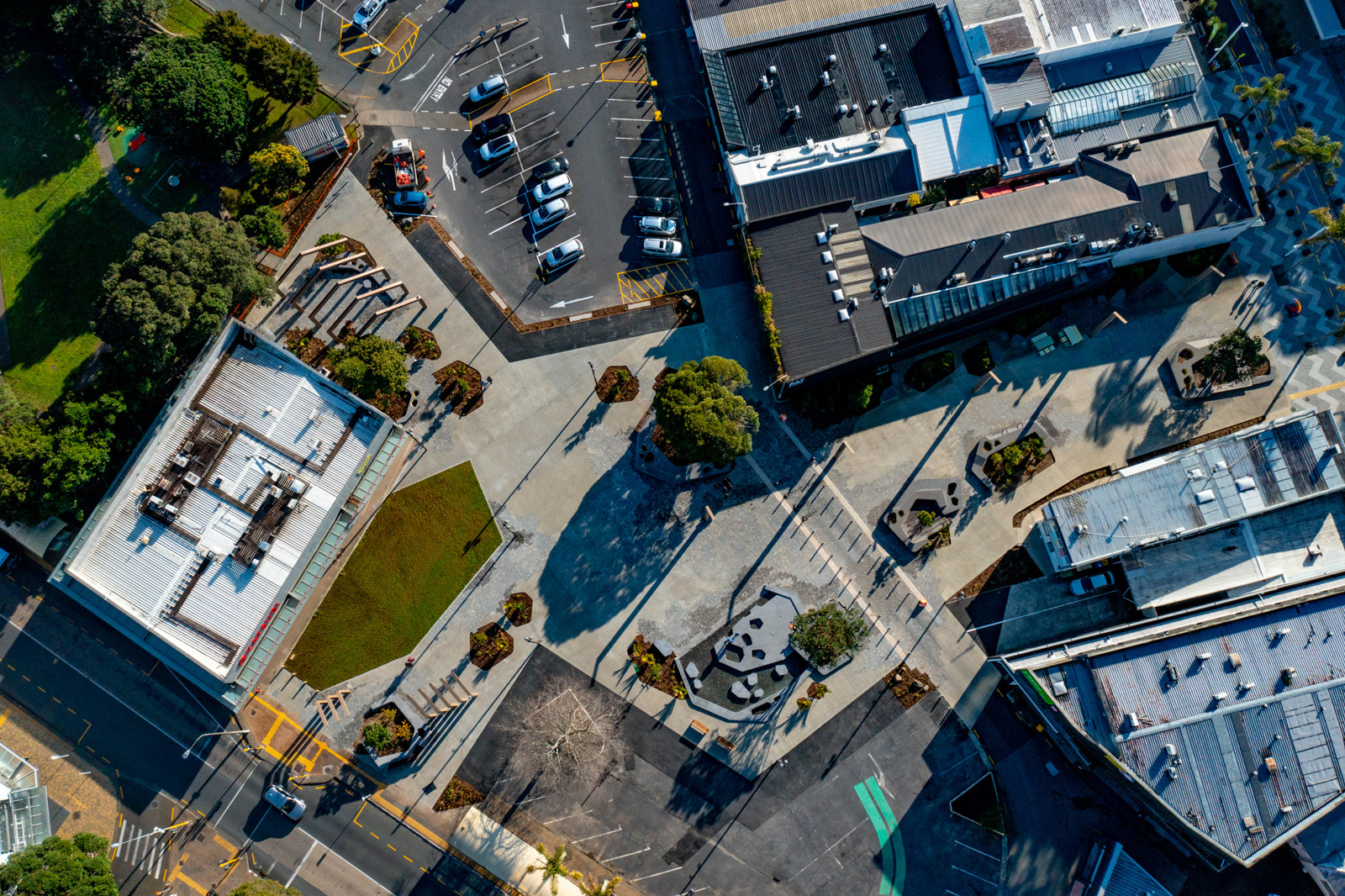 Urban regeneration
in Takapuna
Eke Panuku is leading the urban regeneration of Takapuna on behalf of Auckland Council, and we're excited to unveil your new public space as part of this vision.
Our goal is to make the most of Takapuna's unique lake and beachside location by revitalising the town centre, improving public spaces, creating better connections to the beach and supporting more options for urban living and public transport, where locals can share the sun, the excitement and the energy of Takapuna.
For the next stage of revitalisation, we are working with development partner Willis Bond on their five-stage development around Waiwharariki Anzac Square, which will include a blend of new homes, shops, businesses and eateries.
Until construction starts, the surrounding sites will be used to support community activities and events, including the return of the very popular pump track.
We would like to thank to local residents, the Devonport-Takapuna Local Board, the Takapuna Beach Business Association and mana whenua, for their ongoing mahi in service of Takapuna and support of this project.