Takapuna's new town square:
update
12 December 2021
With a new year will come the beginning of a new Takapuna town square, with work scheduled to begin in January.
John Fillmore Contracting (JFC) was chosen to lead the construction of this new space after the company recently showed their expertise in Takapuna with the Hurstmere Road upgrade.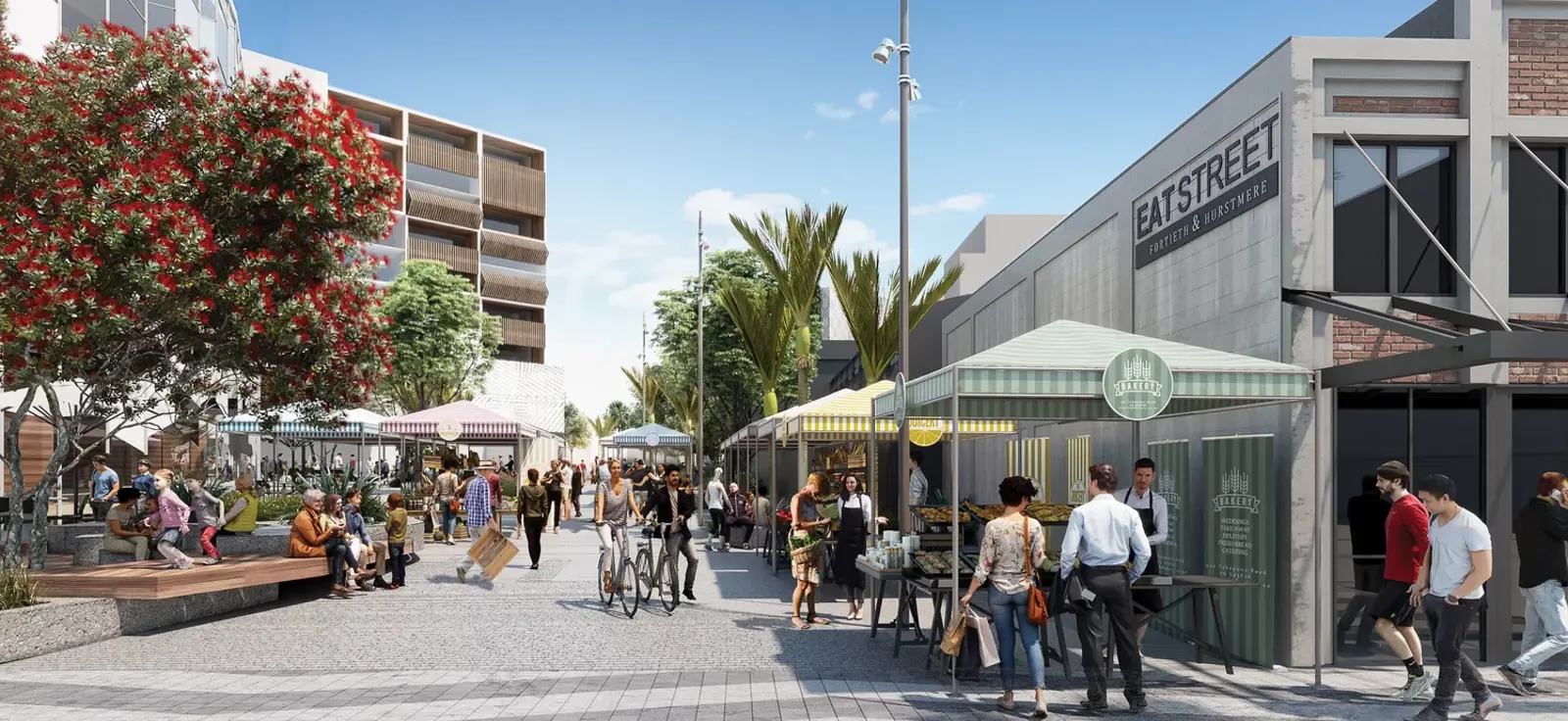 JFC will take approximately 18 months to complete the new town square, which will be constructed in three stages with the first part of the square due to open in December 2022. Access to local businesses and facilities, such as the bus stop on Lake Road and the public toilets at 34 Hurstmere Road, will remain.
"JFC's ability to build vibrant city spaces is evident in Takapuna, having recently completed the transformation of Hurstmere Road on behalf of Auckland Council," remarked our Priority Location Director, Kate Cumberpatch.
"We know the team at JFC are looking forward to continuing to work with local businesses and community leaders as they turn their focus to the construction of the new town square."
Safety fences and hoardings will be installed from 10 January 2022, and a partial closure of the Anzac Street car park will see parking reduced to 125 spaces. Thankfully, we thought of this in advance – the new Toka Puia Car Park on Northcroft Street will more than accommodate for these changes.
Chris Darby, North Shore Ward Councillor and Planning Committee Chair, says he can't wait to see construction underway. "This is a turning point for the community. After many years of consultation and design, finally Takapuna is getting the welcoming public space it deserves.
"The square is another piece of the puzzle that delivers a network of lively spaces, seamlessly linking Auckland's best urban beach to Shore City. The square will anchor life at the very heart of Takapuna, with the excitement of markets, performance, parades and a place brimming with people.
"Hot on the heels of revealing Takapuna's wonderful refreshed Hurstmere Road, the soon-to-begin construction of the new town square steps up council's investment in Takapuna and guarantees a thriving people-focussed centre for years to come."

North Shore Ward Councillor & Planning Committee Chair


Chris Darby
Shaped by considerable local feedback and expert masterplanning, the Takapuna town square will deliver a place where people can come together to meet and relax, children can play, and celebrations can be held. Through involvement of a mana whenua-appointed artist, an important cultural narrative has been woven through the design.
This new town square will be able to host a wealth of events and activities, including concerts and a market. What's more, it will be eco-friendly, with filters to treat stormwater runoff at the source, sustainable timber and low-carbon concrete to be used.
Speaking of the market, we've worked to ensure that it can continue as normal while the construction is underway, with a temporary new location at the Anzac Street end of the site. Community feedback helped us to appreciate that this was one of the most important things to get right during the construction period. The market is expected to return as the government's COVID-19 Protection Framework restrictions allow.
Terence Harpur, CEO of the Takapuna Beach Business Association says once completed, the new town square will become a real drawcard for people spending time in the town centre.
"It's terrific this project has remained a priority for Eke Panuku and Auckland Council after a particularly tough year for everyone. The project will add to our new Hurstmere Road transformation and town centre invigoration, bringing enormous benefits for our local businesses who are working hard to recover from the effects of COVID-19. We are looking forward to the works getting underway and I've sought assurance from Eke Panuku that it will happen with minimal disruption to our business centre, including the continued provision of plenty of parking, so that we can continue to forge ahead with our recovery," he said.
Ensuring minimal disruption to the community has been a key consideration in construction planning.
"We are aware that there has been, and continues to be, considerable public and private works going on in Takapuna," added Kate Cumberpatch.
"Our approach to the town square construction will happen in three stages to minimise works, noise and disruption as much as possible to allow locals to continue enjoying life in Takapuna."

Priority Location Director


Kate Cumberpatch
The Devonport-Takapuna Local Board approved a name for the town square: Waiwharariki Anzac. Mana whenua gifted the name Waiwharariki, which is the mana whenua place name for the area now known as Takapuna, the beach, and town centre.
For info and updates on our work in Takapuna, visit www.ekepanuku.co.nz/takapuna