Significant investment will improve
public space in Manukau
11 July 2023
Manukau
Media Release
Sustainability
Mana Whenua
Eke Panuku purchases 7.6 hectare site as part of a significant regeneration programme in Manukau to create a better urban environment and attract further investment in homes and amenities.
Future wetland regeneration completes important public connection along the Puhinui Stream corridor using sustainable water-sensitive design which will benefit the surrounding communities.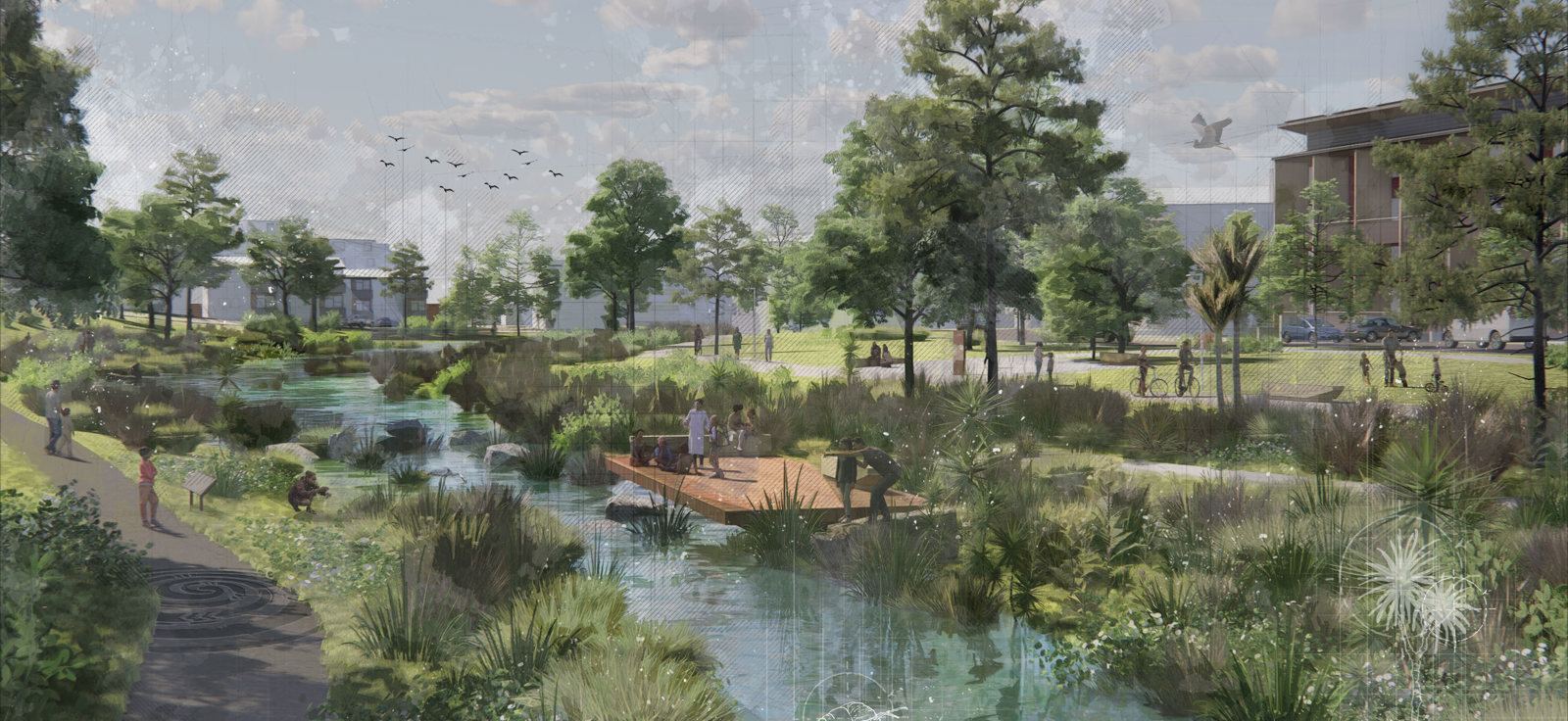 The Waiohua Iwi and community's vision of a seamless and thriving green open public space alongside Te Puhinui Stream from the Auckland Botanic Gardens to Hayman Park in the heart of Manukau is one step closer to reality today.  It follows the acquisition of a large parcel of land from Te Whatu Ora by Eke Panuku Development Auckland.
Auckland Council's urban regeneration agency has purchased a 7.6-hectare section of the national health provider's Manukau Super Clinic site as part of its Transform Manukau urban regeneration programme.  With a clear focus on encouraging public and private development in this key southern hub, the work Eke Panuku is doing to improve public spaces for current and future communities is a crucial part of this strategy.
The site is the last remaining section of the Puhinui Stream corridor which currently isn't publicly accessible. Its purchase will enable future wetland development as part of a project, named Te Aka Raataa, to progress and complete a three-kilometre connection along the path of the Puhinui Stream.  Te Aka Raataa is part of Te Whakaoranga o te Puhinui, a wider collaborative regeneration programme which is restoring the health of this natural environment.
Mayor Wayne Brown welcomed the announcement, "It's great to see more parks opened and streams rehabilitated for Aucklanders to enjoy. I'm pleased to see areas in South Auckland that have previously missed out get their fair share of investment in nice spaces, which is something I support. Well done to everyone working together on this."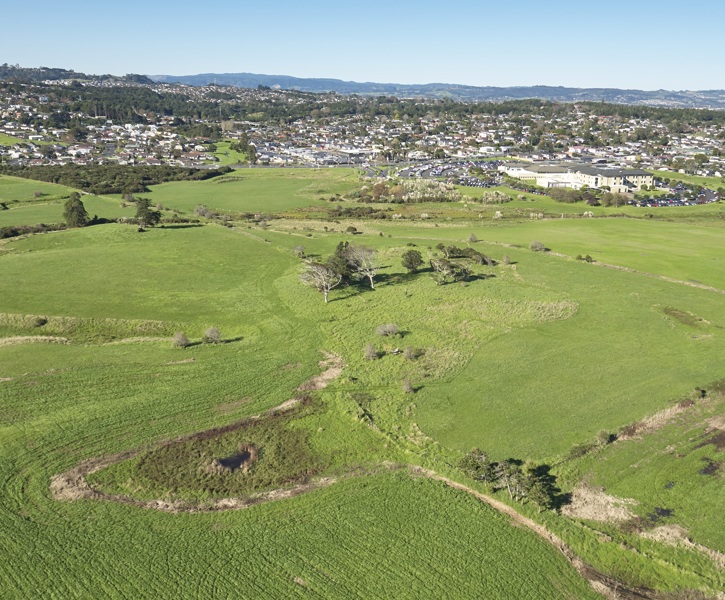 "It's great to see more parks opened and streams rehabilitated for Aucklanders to enjoy."

Auckland Mayor


Wayne Brown
Eke Panuku Priority Location Director Richard Davison said he has been waiting many years for this day to come.
"We have worked closely with Te Whatu Ora to ensure this space is part of Te Whakaoranga o te Puhinui and I'm enormously grateful to all involved that we are now able to confirm the purchase of this site.  It will eventually offer more open green space for the public to enjoy, and a direct cycle and walking route to central Manukau from the Auckland Botanic Gardens."
"Additionally, because this site is flood-prone, as we work with mana whenua, partners and the local community to create this new connection the focus will be on water-sensitive design.  This will ensure it improves the health of the stream as well as supports the current and future residents of this neighbourhood during adverse weather events," said Richard Davison.
Eke Panuku is experienced with these types of collaborative sustainable regenerative design projects as is evidenced by the multi-award-winning work on Te Ara Awataha in Northcote.  Working alongside mana whenua, the Auckland Council whānau, crown agencies and community organisations this work provides tangible positive outcomes for growing communities.  During the Auckland Anniversary weekend flooding, newly completed infrastructure combined with stream daylighting works ensured more than 12 million litres of floodwaters were contained away from areas that traditionally flooded.
As the southern gateway to Tāmaki Makaurau, Manukau is on the move undergoing considerable growth both commercially and residentially.  With the potential for more than 3,500 new homes delivered by public and private developments in the wider Wiri and Manukau area, Eke Panuku has forecast budget to make a significant investment over the next five plus years across the Puhinui catchment.  It is leading an integrated approach to secure and seek funding from across the Auckland Council group totalling $30 million.
Te Aka Raataa will see the development of the future wetland site done in stages during that five-year period, linking the previously inaccessible areas alongside the stream. Community feedback is already informing design plans which focus on upgrades to the Raataa Vine Stream Reserve, a narrow open space connecting to the Auckland Botanic Gardens via a motorway underpass to the east and Great South Road to the west.
Te Ākitai Waiohua chair Karen Wilson has welcomed the purchase of the wetland by Eke Panuku, acknowledging its importance to the ancestral awa and as an integral part of the Puhinui river catchment.
"This is such an important next step towards the vision Te Waiohua has for restoring this space.  Returning this land to its natural state of a healthy wetland and ngahere will help realise the intent of Te Whakaoranga o te Puhinui to return ora to the people and places of Te Puhinui. We look forward to working with the project partners and local communities to embed Waiohua maatauranga in the design of this future park and awa regeneration," she said.
Councillor for Manurewa-Papakura ward, Angela Dalton, said she is delighted the sale has been confirmed, marking the largest council investment in south Auckland public space in nearly a decade.
"The purchase of this wetland site has always been part of the vision of the Transform Manukau programme, and I am beyond thrilled that we now have this final piece of the puzzle in place. 
"This project has not only bought the community together but empowered them to participate in its delivery and it is immensely satisfying for our whole community to reach this milestone goal.  Now our work continues in earnest to make the most of this connection and ensure it's a place to be proud of, not only for those who call Manukau home, but all Aucklanders. I look forward to hearing more from the community over the coming years as to how to make the best use of this land." said Councillor Dalton.
Manurewa-Papakura ward Councillor Newman added "The purchase of the wetland is a game-changer for Te Puhinui Stream and an opportunity to significantly reinvest back into what has become a largely urbanised catchment that flows into the Manukau Harbour."
"I want to thank Eke Panuku for its collaboration to ensure that purchase can take place. This will ensure the progress of vital restorative work as we work to clean up our urban streams, which has been a high priority for mana whenua, the Manurewa Local Board and the wider community. I note also the work of Manurewa MP Arena Williams, who is working to champion restoration workstreams, so there is a real coming together of leaders and organisations who are willing to take action for Te Puhinui Stream," said Councillor Newman.