New skyscraper set to change Manukau's
skyline
28 February 2022
Manukau's skyline hasn't risen much higher in the last 40 years, but our new kids' skyscraper will rival even the tallest tower in Takapuna.
Destined for Hayman Park and designed for the tamariki of Tāmaki Makaurau, this new play tower will be 12.8 meters high, with multiple platforms stretching up four storeys – offering a challenging activity just to get to the top.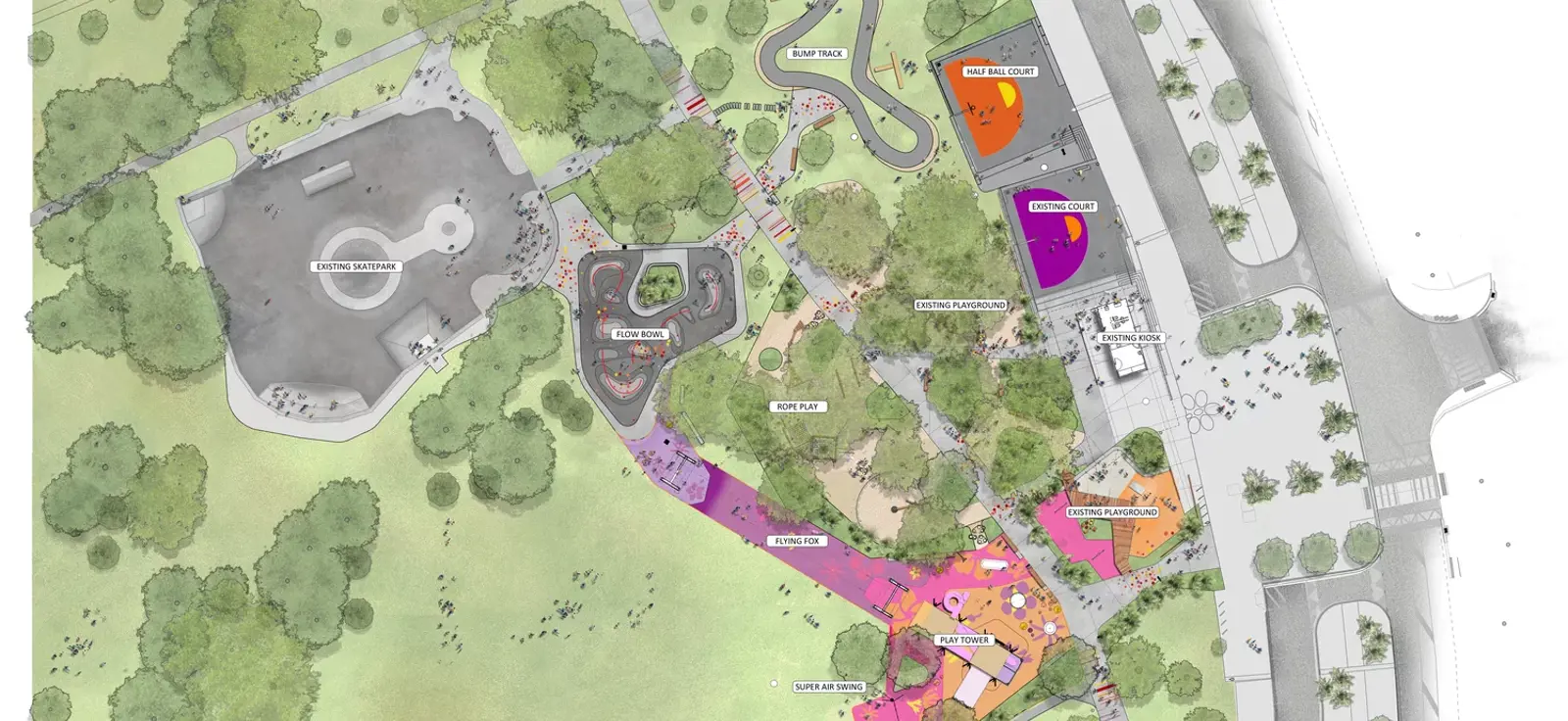 Once at the peak, there's a tunnel slide to zoom down, or a family slide lower down for those preferring a milder adventure.
Next to this behemoth will be two flying foxes, rope play equipment, a flow bowl and pump track for fun on wheels and learning to ride, and an additional basketball half-court (due to especially high demand) alongside the already pumping half-court.
These exciting new features join the young children's play area, nature play space, new paths, refurbished skate park, toilets and kiosk with canopy shelter.
The next stage of works is set to begin in March, now that the Ōtara-Papatoetoe Local Board has endorsed this project and consents have been secured.
Without any major hiccups, the half basketball court, flying fox and two tracks will be ready for kids to enjoy by the end of this year. Being so sophisticated, the play tower is estimated to be designed, built and opened for action by mid-2023.
"Manukau has the youngest population in the region, so it is important we have play equipment that is fit for purpose."

Ōtara-Papatoetoe Local Board Chair


APULU REECE AUTAGAVAIA
We want kids to be totally wowed by this sky-poker (a skyscraper from their eyes!) – for families to head down to Hayman Park for swashbuckling fun, laughter and perhaps a bit of kai from one of the many local eateries…
"We're so excited to be building a tower for the tamariki of Manukau," says Eke Panuku Priority Location Director Richard Davison. "It's time that we go big and bold and put significant investment into play spaces for our young residents.
"This playground will be a destination to envy, and we can't wait to see people come from miles afar to enjoy the finest playground action Auckland has to offer. And for those who are moving to Manukau: get ready, because this will soon be up and running, right in your own backyard."
Ōtara-Papatoetoe Local Board Chair Apulu Reece Autagavaia agrees it is time for investment in Hayman Park:
"South Auckland has had years of underinvestment in playgrounds and parks. Eke Panuku is generating funds to reinvest across the city, disposing council land where it's no longer needed, and it is only fitting that some of this investment is put into Manukau.
"In Phase 1 we saw how popular the basketball court was, with groups lining up to take turns using it and playing late into the evening. That's why we are building another basketball hoop alongside all the other exciting activities.
"Manukau has the youngest population in the region, so it is important we have play equipment that is fit for purpose and caters for our diverse communities. It's wonderful to see that we will finally have a true destination playground in the heart of south Auckland."
Phase 1 of this emporium of adventure received $4.3M, while the more ambitious Phase 2 is being allocated $6.5M – towers don't come cheap, after all.
Once it's all completed, Eke Panuku will be handing management over to council's Community Facilities, who are charged with taking care of all of Auckland's playgrounds.
For more info on our work in Manukau, visit www.panuku.co.nz/manukau
The play tower is 12.8m high (Takapuna's play tower is 9m high)
The flying fox spans 33m, with two cables side by side, allowing for races
The pump track loop stretches 72m
The bump track has gentle contoured slopes designed for learning
Some of the features in the tower:

Rock climbing wall
Rope tunnel bridges
Climbing ropes
Rooftop seesaw