New Wiri playground boosts resilience through
nature
16 August 2021
The space mixes new and old expertise as part of Manukau's transformation
A new Wiri playground is mixing the old and the new to boost resilience, agility and amenity in Manukau. The recreation space, three years in the making, has just opened in Wiri Stream Reserve (by Trevor Hosken Road), and allows tamariki (children) to enjoy nature-oriented play next to Puhinui Stream.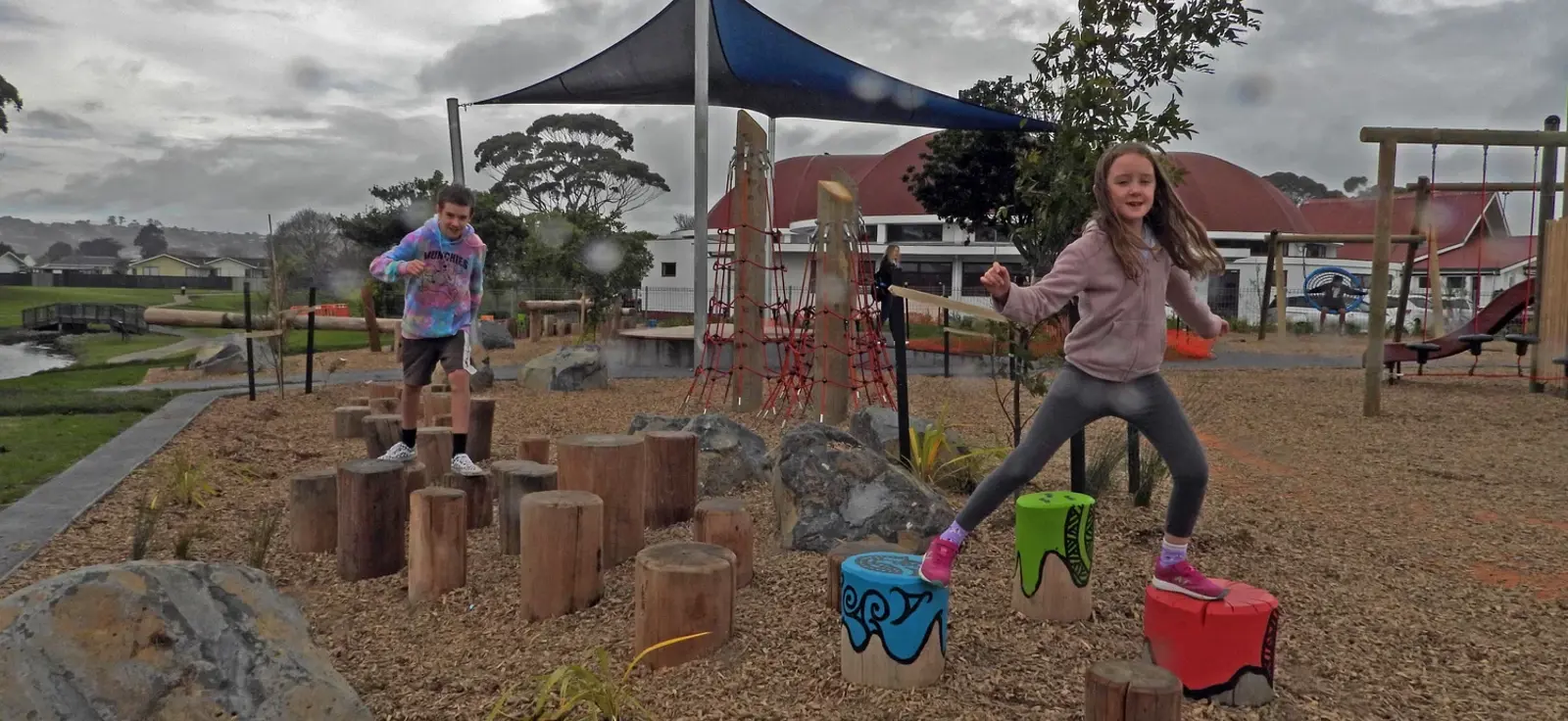 Created by Eke Panuku Development Auckland – in partnership with Mana Whenua and the Manurewa Local Board, and incorporating co-design elements from the Wiri Central School students – the playground boasts traditional māra hūpara designs by Māori play specialist Harko Brown.
Hūpara is an umbrella term for Māori artefacts made from natural elements such as logs and rocks. The new playground is a māra (garden) rich with such materials; local kids will build their connection to nature while building fitness, agility, physical skills and confidence through play.
"Results like this new playground, with its environmentally friendly design and focus on agility and resilience, shows what happens when all parties come together," remarked Manurewa-Papakura Ward councillor Angela Dalton. "I appreciate not only the relationship that our Local Board enjoys with Eke Panuku, but also how keen they are to deliver assets that all tamariki can enjoy."
The playground has been designed to be ideal for children of a wide variety of abilities, with usability and accessibility at the forefront of the design process.
Suzanne Lange, principal landscape architect at Eke Panuku, said: "I'd like to say a special thank you to the incredible team at Te Whangai Trust, whose advice and skills for selecting and planting the flora in the playground area were vital. The trees planted are going to help advance our Ngahere Strategy goals, and will help make a more resilient community in the fight against climate change. Te Whangai are doing incredible work in addressing social and environmental issues, and we look for to working with them on the next project."
This playground heralds the beginning of a broader vision to restore health to the people, place and nature of Te Puhinui. The Puhinui Stream runs through the heart of this community, and is a critical natural asset for Manukau. This wider regeneration programme, 'Te Whakaoranga o te Puhinui', seeks to ensure that the water is clean and healthy, that neighbourhoods are connected and safe, and that the natural ecology of the area is thriving.
The regeneration is being led in partnership with local iwi, crown, council, and local boards, and intends to support tiakitanga (guardianship). The goal is for the local community to have a strong connection to, and ownership of, Te Puhinui Stream. The playground is a key first step in providing this love and connection.