Waiohua Iwi lead collaborative approach to Puhinui
stream regeneration
30 August 2021
Eke Panuku Development Auckland is proud to reach a major milestone in its work alongside mana whenua.
Together we're leading the development of Te Whakaoranga o Te Puhinui – The Puhinui Regeneration Strategy and associated charter, which sets out underpinning values and principles to guide urban renewal projects across the Puhinui catchment.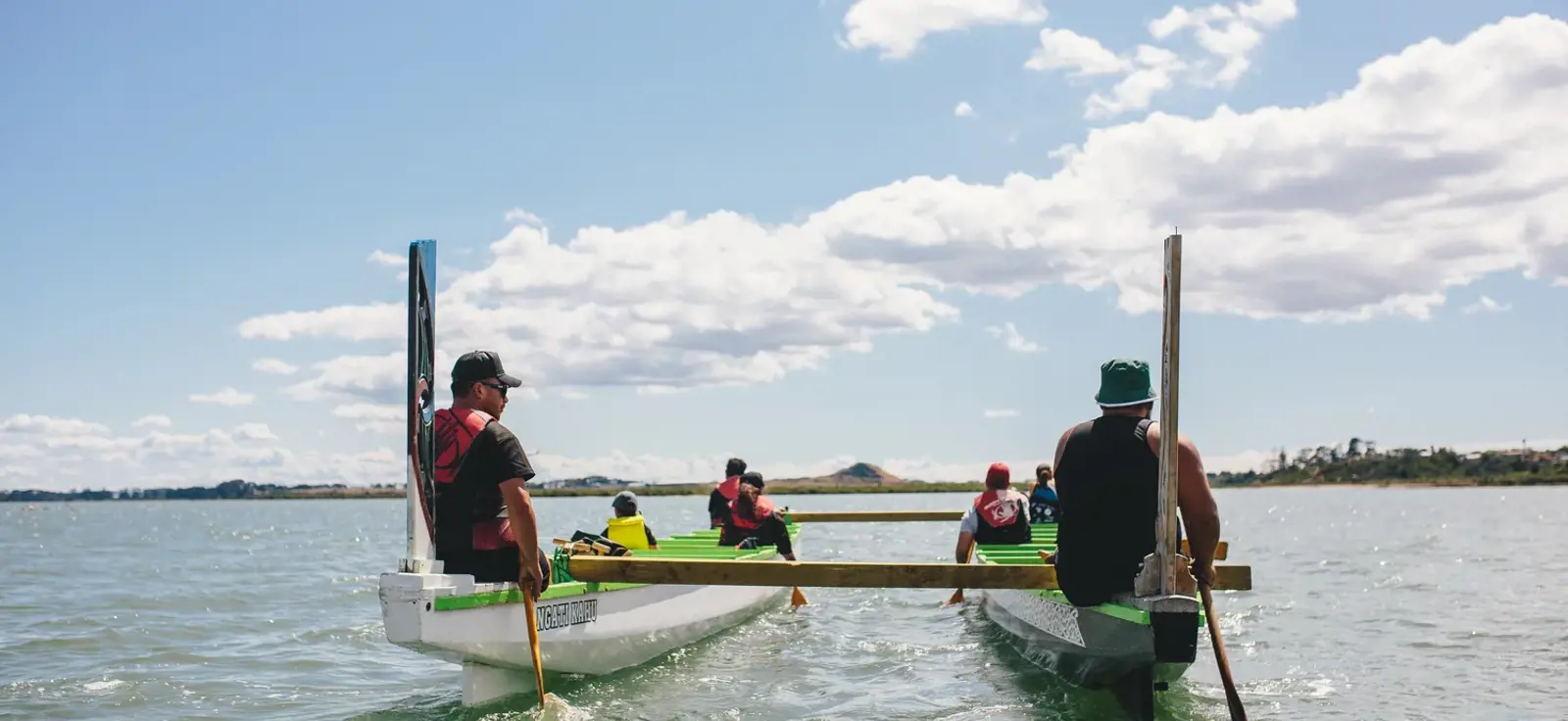 This ground-breaking document is the culmination of many years of work, led by Waiohua Iwi, Eke Panuku and Healthy Waters. It has been supported by a programme steering group consisting of senior leadership from both alongside Auckland Council Community Facilities, The Southern Initiative, Manurewa and Ōtara-Papatoetoe Local Boards and Kāinga Ora, all of whom have a vested interest in the future transformation of Manukau.
A great example of a meaningful partnership between iwi, crown, council and the community, this charter will help to realise the vision of a healthy and thriving Puhinui by bringing people together under a shared purpose, giving this kaupapa (policy) power.
Endorsed by council's Governing Body at its August 2021 meeting for ratification, when signed it will enable project leaders to move projects within the catchment forward with greater confidence based on agreed aspirational values and outcomes.
"The charter represents a shared commitment - by mana whenua, council and the wider community - to restoring the Puhinui Stream and its surrounding area," said Auckland Mayor Phil Goff. "Cleaning up the pollution in the stream, which in many areas has been used as a dumping ground, will bring it back to life and make the land around it an asset for our community.
"Starting at Totara Park and the Botanic Gardens, the stream meanders down to the Puhinui Reserve and the Manukau Harbour foreshore. With native tree plantings, areas where kids can play and a walk and cycleway from its headwaters to the shore, this area will become a fantastic place for enjoyment and recreation.
"We welcome the partnership with iwi that will help achieve this."
The charter is supported by a comprehensive regeneration strategy outlining a range of strategic initiatives and capital works required over the near and far term to restore the mauri of the Puhinui stream and its surrounds, as part of Eke Panuku's Transform Manukau programme.
Eke Panuku principal regenerative design lead Sara Zwart praised the work the Waiohua Iwi have done in leading this Kaupapa:
"From the outset, they really challenged us to think more aspirationally and holistically around bringing health back to te Puhunui. When we started this project four years ago, they requested we thought outside the boundaries of Eke Panuku's Transform Manukau project, using an innovative mai i ngā maunga ki te moana – mountains-to-sea whole of catchment – approach, which has truly shaped the charter as it is today."
This approach enabled the Waiohua Iwi of Ngaati Te Ata, Ngaati Tamaoho and Te Ākitai Waiohua to take a leading role on behalf of wider mana whenua, something chair Karen Wilson says is both humbling and unusual:
"This is a unique situation, eventuating from our work and engagement with Eke Panuku's iwi forum. The wider mana whenua group empowered Waiohua to lead the work, and we took that on board and gratefully accepted the offer. What has resulted through the charter is a very inclusive approach across local government and the wider community, which will provide important guidance for all who have a part to play in the regeneration of the Puhinui catchment."
Mana whenua programme navigator Johnnie Freeland added that the charter will act as a compass to guide the work over many decades to come:
"At its essence the charter is really an invitation and a commitment to achieve the regenerative wellbeing of te Puhinui, not only in the restoration of the stream but also alongside its peoples and connecting the communities back to the awa. One of the key success factors identified is that this becomes a model of Iwi collaborative partnering with our communities at the heart," he said.
Te Whakaoranga o Te Puhinui – The Puhinui Regeneration Strategy would have not been possible without the support of Healthy Waters and the wider Auckland Council Family, Manurewa and Ōtara-Papatoetoe Local Boards, Kāinga Ora, Resilio Design Studio, and our invaluable Waiohua Iwi partners, who have enabled this tremendous achievement.