A new walking, cycling and car route for
Manukau
01 December 2020
At sunrise this morning, mana whenua performed a karakia whakawātea on Barrowcliffe Bridge in Manukau.
The blessing celebrated the beginning of construction to transform the bridge into a new walking and cycling route. Once completed, the bridge will reconnect the Wiri community with the Manukau town centre, making it safer and easier to access. The design will also celebrate the unique identity of the area.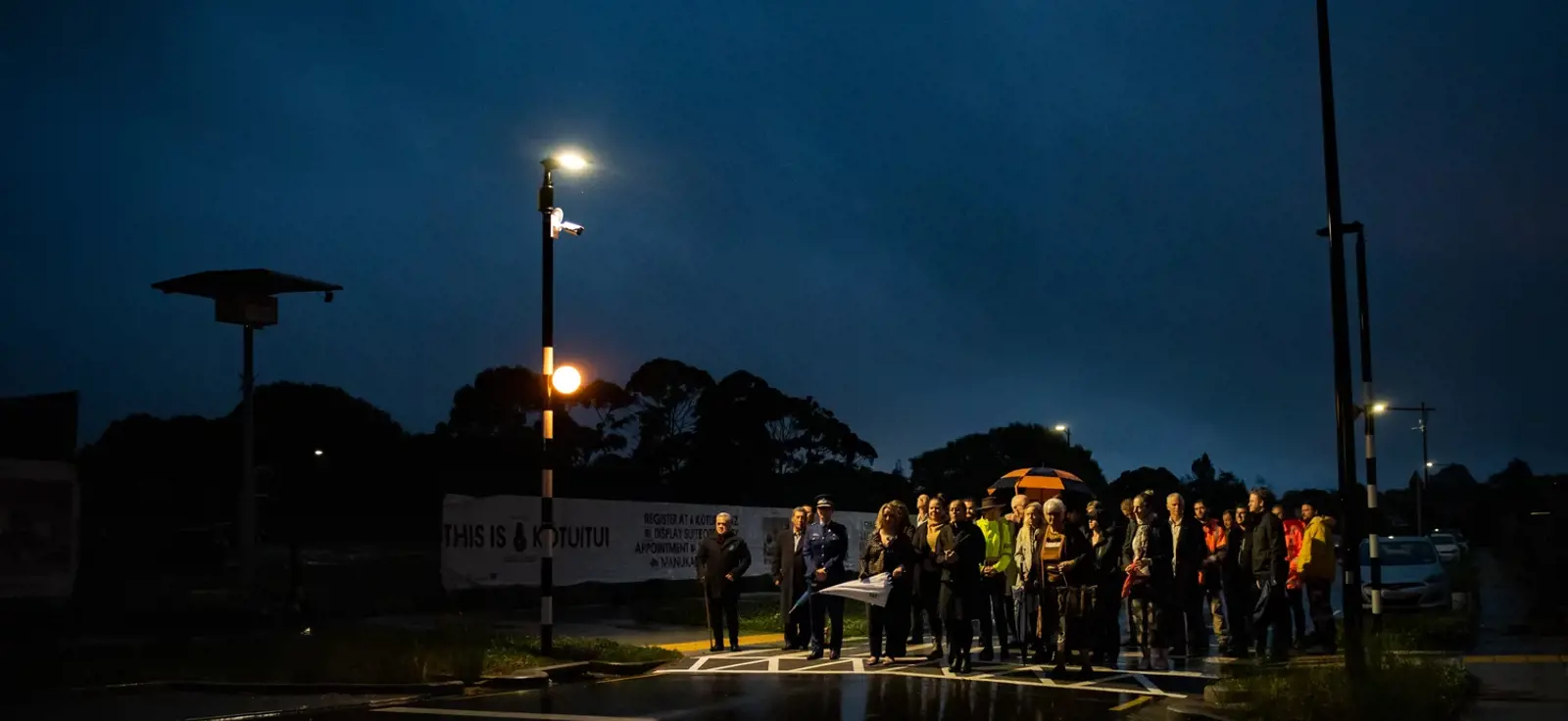 Barrowcliffe Bridge has remained closed to cars since the construction of State Highway 20. During that time, it has been used as an informal walking route from Wiri to the town centre.
This project will transform the old motorway over-bridge into a joint walking, cycling and car travel route.
Panuku is also enabling over 300 homes in a new residential suburb on the southern side of the bridge, at Kōtuitui Place and Puhinui Park. This route will be an important connection for the current and future residents of this suburb to access the town centre.
Panuku Development Auckland Priority Location Director for the south, Richard Davison says: "We're proud to have delivered this project in partnership with mana whenua, other parts of Auckland Council and our development partners. It's a privilege to be able to offer not only new homes, but surrounding amenity such as this bridge, to the Manukau community. I hope that the bridge and housing development will enable Aucklanders to be able to buy good quality, affordable homes within walking distance of a town centre which contains anything they might need."
The project has been supported by Auckland Council's elected representatives including councillors Angela Dalton, Daniel Newman, Efeso Collins and Alf Filipaina, as well as the Ōtāra-Papatoetoe and Manurewa local boards.
By 2040, Manukau will have grown from 6,000 to 20,000 people. This project is part of Panuku's wider urban regeneration programme for Manukau, which includes enhancing connectivity for the Wiri community and a healthy Puhinui Stream.
By 2040, Manukau will aim to have:
- More affordable homes and housing choices
- A revamped Hayman Park and Manukau Plaza, surrounded by shops and eateries
- A healthy Puhinui Stream
- A hub for learning, innovation and community enterprise
- More job opportunities in the town centre
- Safe, vibrant and interesting streets
After the ceremony, the group gathered at the Manukau Council Chambers for kai, mihimihi and whanaungatanga. Following that, the group went on a tour of the homes at Kōtuitui Place and Puhinui Park, hosted by the New Zealand Housing Foundation and Avant Property Development.
Construction on the bridge is expected to be completed mid-to-late 2021.