A new lease of life for Kotuku
House
24 August 2022
Kotuku House, Auckland Council's staff offices in Manukau Central, has been sold,
with the move expected to boost the local workforce and bring greater vibrancy to this southern business hub.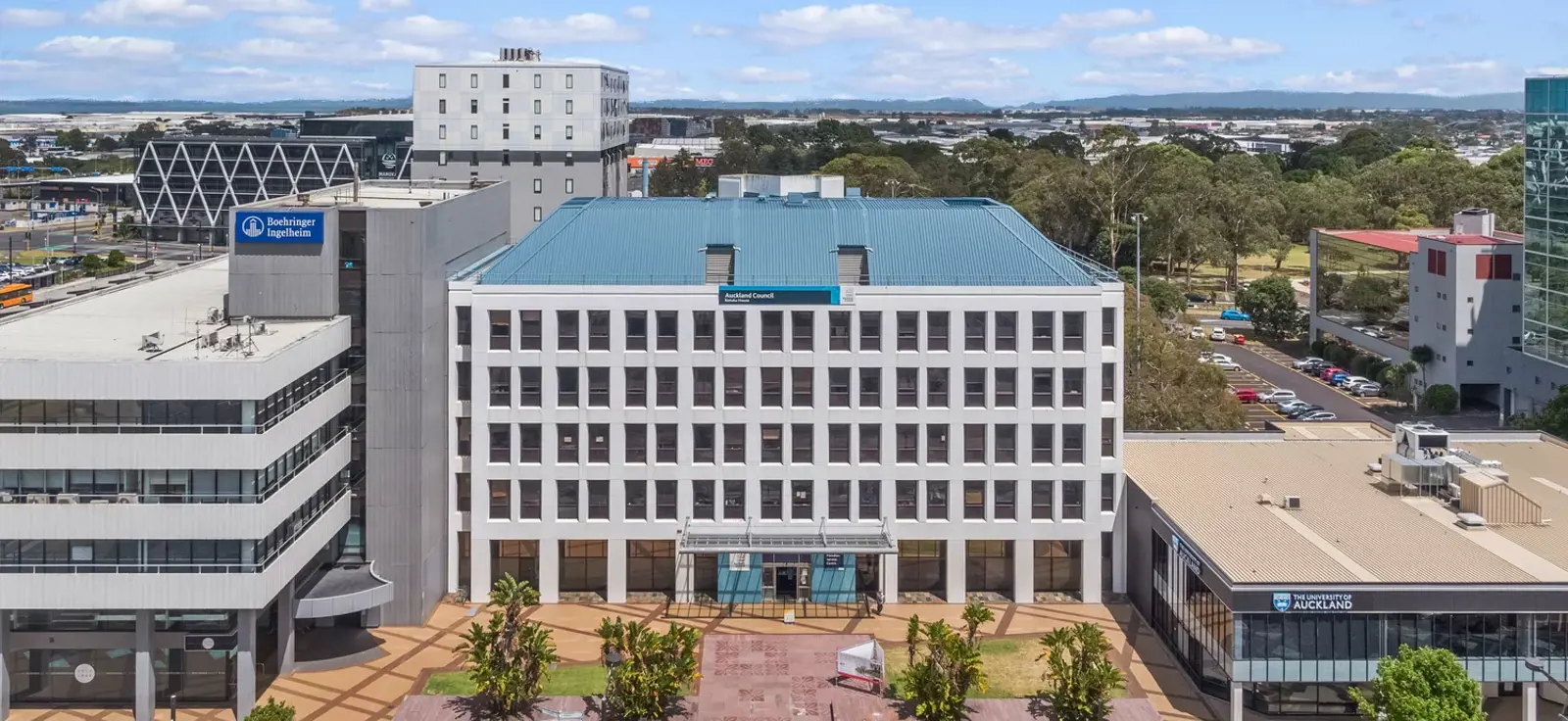 The purchaser, Reidy & Co and Haydn & Rollett, have an established reputation in Manukau, with Haydn & Rollett completing the Manukau Institute of Technology (MIT) Trades building in 2020.
They are going to give the building a full refresh and in 2024 when the building is vacated by council, consideration will be given to developing the frontage to Osterley Way in alignment with council's regeneration plans for Manukau Square.
This sale delivers on Auckland Council's efforts to make its corporate property portfolio more efficient, as well as delivering local investment and employment opportunities.
Allan Young, General Manager Development for Eke Panuku Development Auckland, is delighted with the result.
"This is a great example of how Eke Panuku uses the council's surplus property portfolio to contribute to urban regeneration in local neighbourhoods.
"We've been asked by council to take a lead role in transforming Manukau into a highly desirable hub for businesses, a vibrant destination that's also a great place to live, work and learn, and we are starting to see all the pieces of the puzzle come together," he said.
Richard Davison, Eke Panuku Priority Location Director – South said: "This agreement reinforces our belief that Manukau is perfectly positioned as the epicentre of the south. With its location right on the motorway with connections north, east, south and west, and having both a major bus terminal and underground train station, it is simply the easiest destination to get to, especially for workers who prefer to work closer to home.
"The local workforce is expanding, all located within a 15-minute drive in the growing suburbs of Karaka, Flatbush, Papatoetoe, Māngere Bridge and more.
"We look forward to welcoming new businesses and workers to Manukau and we will continue our efforts to make it a great place for council staff too," adds Richard.
Kotuku House is currently occupied by Auckland Council and has its southern service centre on the ground floor. Auckland Council is consolidating staff from Kotuku House, the Ōtara-Papatoetoe Local Board, Local Board Services and the Service Centre into the refurbished and extended Manukau Civic Building, creating a single Southern Hub.
"The Southern Hub will enable us to bring staff closer together and enhance the design of customer and community spaces, while delivering significant financial savings," says Rod Aitken, Auckland Council's head of corporate property.
"We also plan to engage with local iwi artists to co-design building elements and provide dedicated mana whenua space within the refurbished building."
The council will remain in approximately half of Kotuku House through to the end of 2024, allowing time for the completion of an extension to the Civic Building.