Invest in
Manukau
11 April 2023
Manukau
News
Sustainability
Development
Urban regeneration
Mana Whenua
Manukau is on the move.
While this southern centre of industry and heart, of course, isn't shifting anywhere anytime soon, it could be said it's going places; with a bright horizon being built on collective innovation and investment.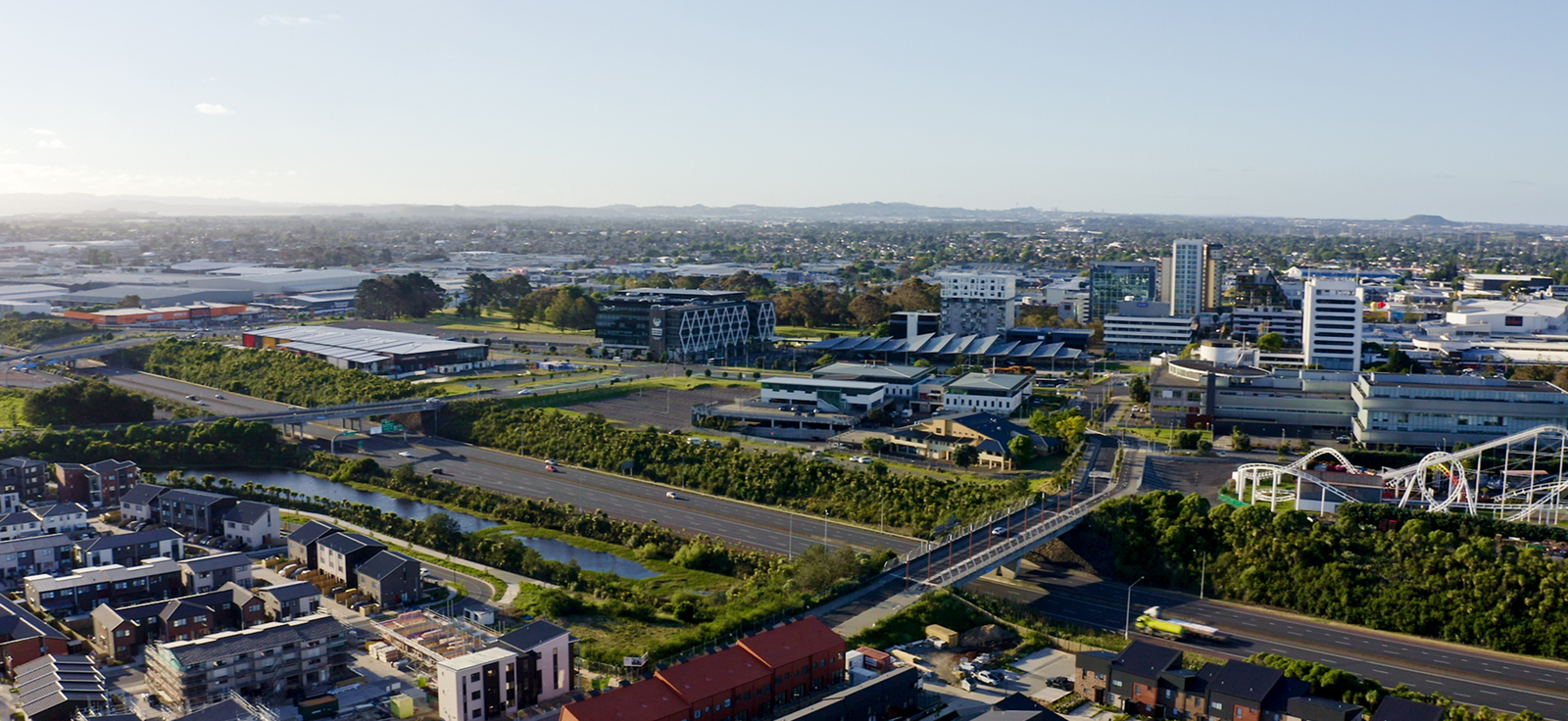 Manukau is on the move. While this southern centre of industry and heart, of course, isn't shifting anywhere anytime soon, it could be said it's going places; with a bright horizon being built on collective innovation and investment. World class infrastructure, genuine partnerships, sustainability and a will to enrich lived experiences, have laid the foundations for widespread growth. The time is ripe to build an even stronger Manukau, in the present, for the future.
Tē tōia, tē haumatia - Nothing can be achieved without a plan, workforce and way of doing things
The largest, most well-established metropolitan area in the Tāmaki Makaurau region, outside of the city centre, Manukau has grown through years of central and local government investment in world-class infrastructure and amenities. Swift international and local travel connections, quality education provision and a strong economic base make Manukau a desirable place to live, learn, work and do business.
Robust investment in the region has created enviable transport links. With large-scale investment in Auckland International Airport underway less than 10km away, the head-turning Manukau Train Station complex, the architectural award-winning Manukau Bus Station – the country's largest bus interchange – and its prime position on both the State Highway 1 and 20 routes, Manukau is both a gateway to Auckland and a place of connection.
The nearby recently upgraded Puhinui Station provides seamless connections between train and bus services, including direct services to the airport every 10 minutes from 4.30am to 12.40am, seven days a week. From Puhinui Station you can catch a train to anywhere along the Southern Line and Eastern Line, getting you to Central, East and South Auckland.
Huge investment is being pumped into safe cycling routes and walking paths, further expanding congestion-free, sustainable travel options in the area. And, as an appealing focal point for its impressive public transport hubs, Manukau Square now invites people to meet, talk, sit and to stroll in inspiring surroundings.
Development is underway to establish a regional service hub for Auckland Council within the recently refurbished Civic Building.
The proposition for investment in Manukau is positively plain to see.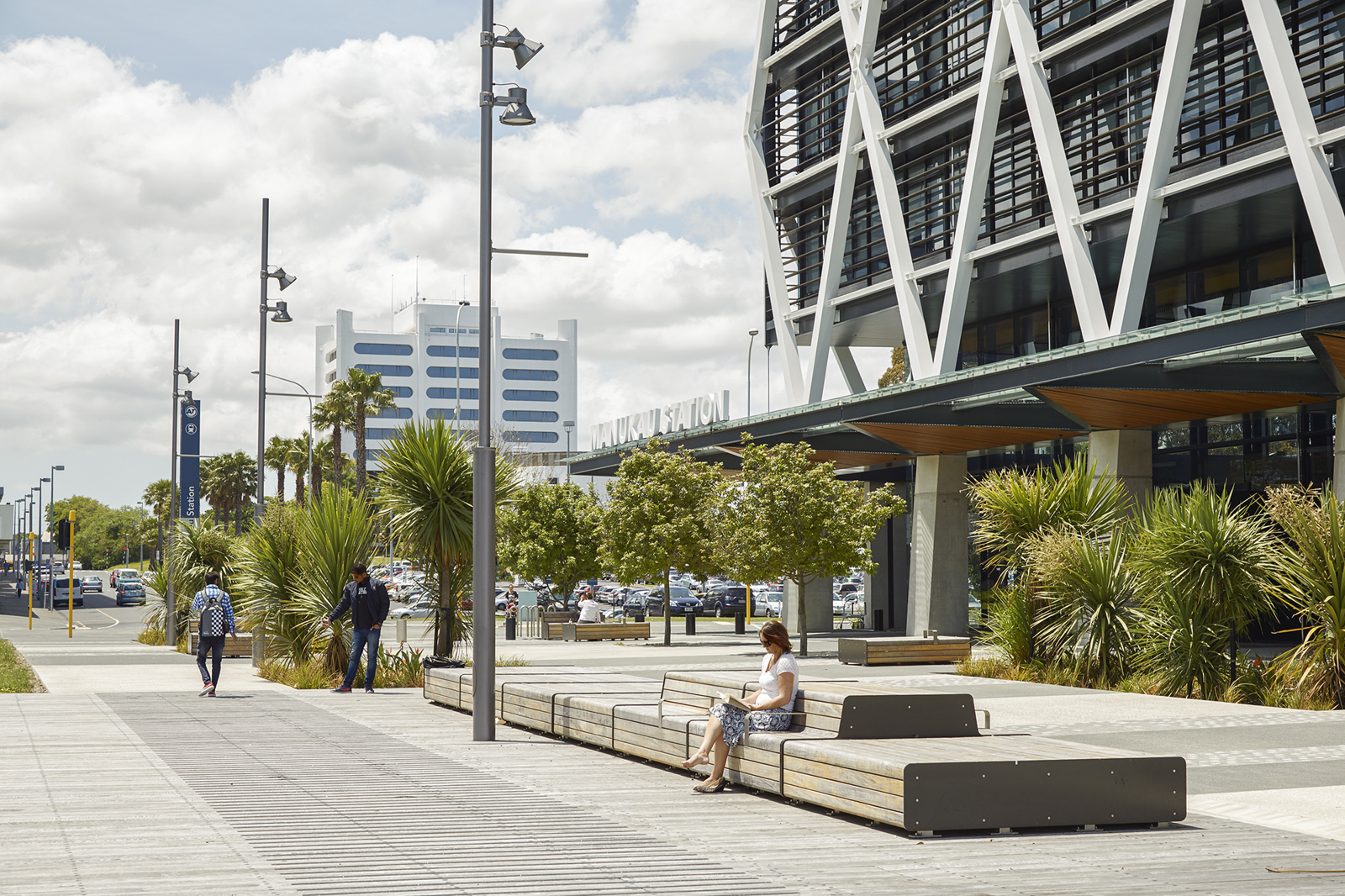 Since 2016, Eke Panuku has been working with local communities and various stakeholders to transform Manukau through urban redevelopment, regeneration and right-sized intensification.
The Manukau Framework Plan is a roadmap for how that transformation will be achieved; detailing how $123 million will be invested over 20 years. The Eke Panuku Transform Manukau programme is part of a broader multi-party regeneration programme for the region, which involves Auckland Council (including its Healthy Waters unit), Auckland Transport, and Tātaki Auckland Unlimited.
From central government, Kāinga Ora – Homes and Communities, Waka Kotahi NZ Transport Agency, the Ministries of Housing and Urban Development, Education, Health, Social Development, Justice and Corrections, as well as the Ministry of Business, Innovation and Employment are all playing a part in making the plan a reality.
Genuine mana whenua partnership is at the heart of it all. In total, 19 mana whenua partners are involved in the process, particularly iwi belonging to Te Waiohua have expressed a strong interest in seeing Manukau prosper.
We are also investing in the green space and waterways of Manukau, knowing how important they are to the lived experience of the community, as well as environmental resilience.
A May 2022 multi-agency charter sets out a roadmap for restoring Te Puhinui stream's environment and communities to health. A programme of physical works and strategic initiatives will bring the charter to life, with over $30 million investment planned over the next five years, with more to follow.
Hayman Park is seeing at least $12 million invested to establish the park as the green heart of a vibrant town centre. Right next to the town centre, train station and Manukau Institute of Technology (MIT) campus, Hayman Park is a haven, lunch and exercise venue for office workers and students, and the upgrades will be a major addition to the area's amenity.

Education providers Auckland University of Technology, MIT, the University of Auckland, and Laidlaw College all have campuses in the area, while local business development agencies Business Manukau and the Southern Initiative all have a long-standing interest in collaborating on the future of Manukau, as do many private entrepreneurs, developers and investors.
Manukau is already home to hundreds of businesses, helping power the area's economy and providing employment opportunities for thousands. With a solid foundation in place, Manukau is the place to be if you want to make an impact on the future of Tāmaki Makaurau.
To facilitate this change, the significant investment and delivery, for the most part, is scheduled this decade, making now the perfect time to get involved if you are an investor, developer or business focused on the future.
It's also a burgeoning home to major events. The Due Drop Events Centre (formerly Vodafone Events Centre) has hosted more than 2.2 million visitors over the past decade. Just next door, Eke Panuku enabled the newly constructed Ramada Suites, run by Wyndham Hotels, ensuring conference and event attendees have high quality accommodation.
The only other area with a similar investment profile is the central Auckland Waterfront, where international award-winning design and development have transformed the Wynyard Quarter precinct into a thriving destination. Manukau is next.
Manukau has potential in spades and justifies the ongoing investment. It has the infrastructure, the location and transport links to be proud of. Add to that, at its heart, strong mana and passionate people and you have a fierce and fabulous mix for the Manukau of the future.
Eke Panuku has produced a white paper detailing the strong investment case for Manukau. To find out more about why investing in Manukau now is the right move, read the white paper here: