South Auckland sport sees
big boost
19 September 2021
A new, 3000m2 all-weather canopy will be installed to cover four courts at Manurewa netball so that training will now be able to take place during wet weather and night-time hours.
Complete with lighting and a sound system, this is the second stage of much-needed improvements to the courts which will mean that the local community can enjoy even more tournaments, events and initiatives.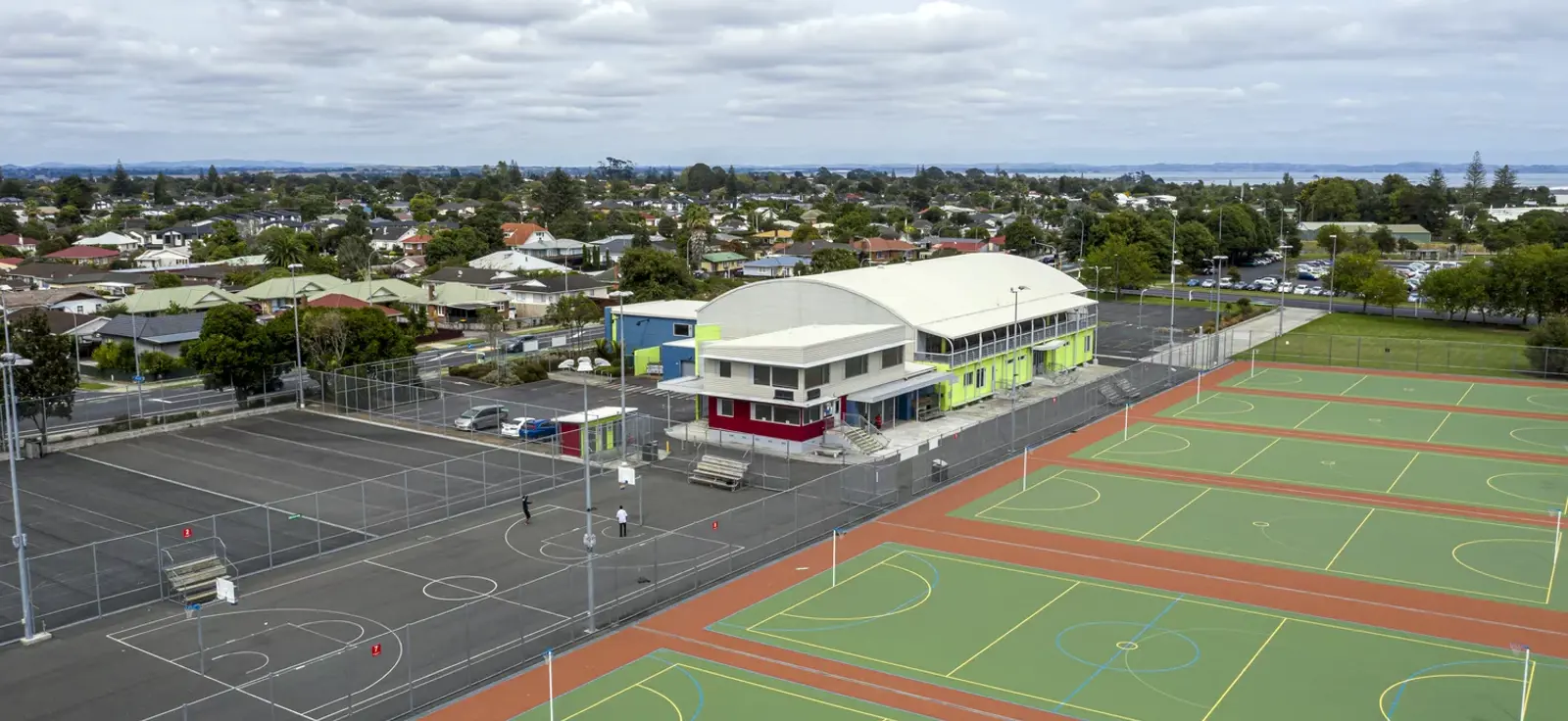 Upgrades to the courts are being funded by Auckland Council's urban regeneration agency, Eke Panuku Development Auckland which is keen to enhance sporting opportunities in south Tāmaki Makaurau / Auckland as part of the Wiri Healthy Neighbourhood programme, where local sports and activities will be built in to its regeneration of the area. Over 3,500 new homes are projected to be built in the Wiri area, and the ongoing staged enhancement of Manurewa netball courts will support the current and future community to be more active.
The courts were resurfaced in April 2019, thanks to a $1.03m venue upgrade allocation from Eke Panuku's Transform Manukau urban regeneration programme to Auckland Council's Community Facilities team. Up to $700,000 is to be transferred this financial year for development to be completed in 2022/23.
"This ongoing contribution from Eke Panuku is going to be a tremendous help in getting more Aucklanders to be more active, more often," said Joseph Allan, Manurewa Local Board Chair. "The Manurewa Local Board is proud to be a key partner in Transform Manukau, and of course the health and fitness of our community couldn't be a higher priority."
Manurewa-Papakura Ward councillor Angela Dalton said: "With so much talent and potential to be nurtured – not to mention the tremendous importance of sporting opportunities for young women and girls – I'm tremendously pleased with this investment from Eke Panuku for Manurewa."
Manurewa Netball general manager Italia Tipelu said: "We would like to thank the Auckland Council Transform Manukau programme for the invaluable investment towards the transformation of our multipurpose facility. The addition of a new outdoor canopy will enhance Netball Manurewa's capabilities to continue providing good quality facilities made available for the recreation of the general public."
Richard Davison, Eke Panuku's priority location director for South Auckland, said: "The Transform Manukau programme is about fostering and building on the pride, values and talent of the people who live and work there, and local netball culture is a core part of this neighbourhood. We're thrilled to be enhancing Manurewa's passionate netball scene as part of our Transform Manukau programme.
"At Eke Panuku we're working to ensure that long-term development benefits communities for years to come, and local sports is a huge part of that. The people of Manurewa and Manukau have been amazing partners to us and we're looking forward to delivering an enhanced netball space, the Wiri neighbourhood development, and more over the years."
For more information on Eke Panuku's Transform Manukau programme, visit ekepanuku.co.nz/manukau.