Fun and games in the
Wiri community
09 September 2020
A new neighbourhood playground design for Wiri can now be revealed.
The playground, which is located in the Wiri Stream Reserve, is part of the revitalisation of the Puhinui Stream and its surrounding public spaces.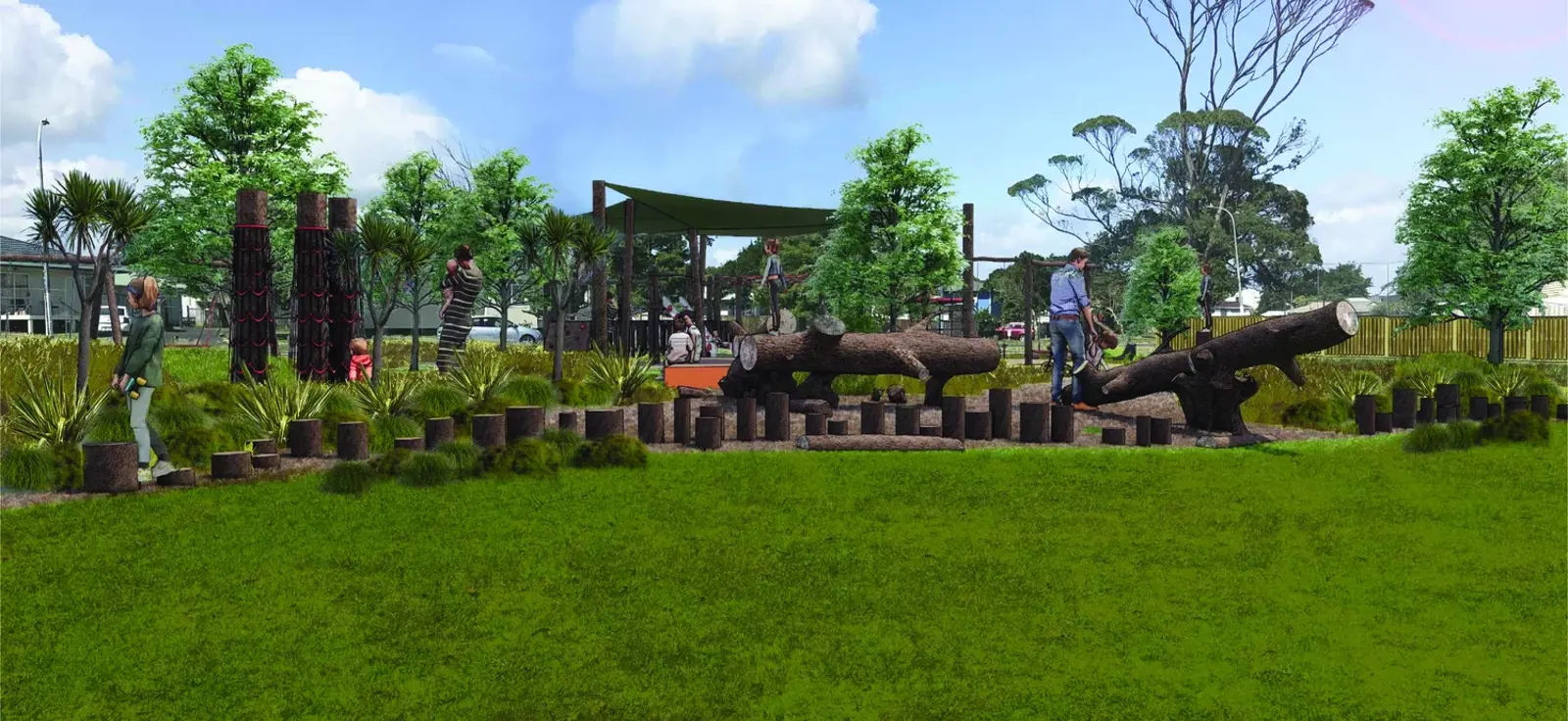 Panuku Development Auckland led the design, in partnership with mana whenua, the Manurewa Local Board and Auckland Council.
We've engaged students from Wiri Central School through co-design workshops and local community groups to create the design, to serve the families of Wiri in an interactive way, layered with rich cultural elements.
The local board-approved playground design is based around natural and cultural play and draws on the surrounding natural environment for design themes. Engaging mana whenua from Tāmaki Makaurau from the inception of the playground was vital to weave the appropriate cultural narratives into the design also.
As Suzanne Lange the Principal Landscape Architect states, "the success of this project has been working closely with the knowledge and people of the Wiri and Manukau neighbourhoods to understand the place and people and how we can fold that into the design brief. Stories can help create a sense of belonging and aim to encourage the community to feel safe, connected and at home in the space."
Through a series of hui Harko Brown, a specialist in traditional Māori play, was commissioned to infuse māra hūpara designs into the overall playground while collaborating with mana whenua on local traditions and taonga tuku iho (heritage) to influence this process.
The māra hūpara concepts incorporate play elements that Māori traditionally used to help develop skills for children, such as self-confidence and the ability to get on with others.
The new playground also features:
Design sensitive to the whakapapa (lineage), whenua (land) and existing environment, as well as its past, existing and future communities,
Cultural play concepts which have been developed to reflect the rich heritage of the Puhinui Stream
Age zones, so children of all ages can enjoy the playground safely together
Manurewa Local Board Chair Joseph Allan says: "We're thrilled with the inherent value this playground will bring to the Wiri community and the method taken to involve the community and ourselves in the design and concept process. We have been working hard to diversify children's play experiences and are right behind the māra hūpara approach which complements other work we are undertaking with mana whenua. This is another world class playground in our area."
The new Wiri playground is one of a series of projects Panuku will continue to progress along the Puhinui catchment to better develop healthy neighbourhoods and create a vibrant heart for Manukau. Construction is planned to commence in January 2021 and be finalised in April 2021.
Look out for further updates on the Wiri playground on our Panuku Facebook page.