Clifton Court
public space upgrade
03 October 2022 - 31 May 2023
An exciting new public space has arrived in the heart of Panmure.
Eke Panuku has developed Clifton Court in Panmure to create a flexible, open area and seating for social gatherings, recreation, small events, and outside learning – reflecting the local community's desire for a greener, more inviting space.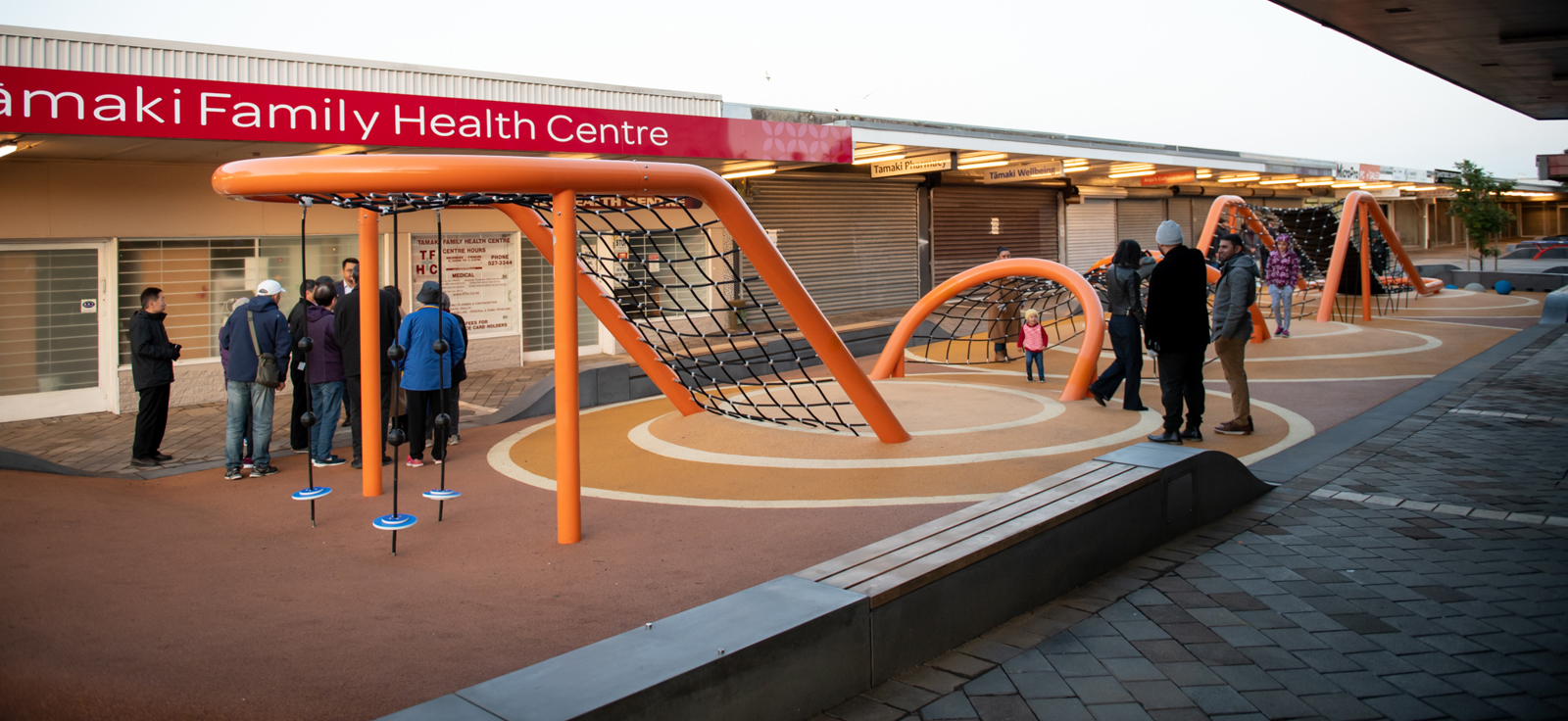 We've  adding beautiful native and exotic planting and new lighting to improve visibility for a safer environment, along with a new play space for children of all ages which will reflect a mana whenua narrative unique to Panmure.
There's also be bike parking to promote active transport and a welcoming connection to Clifton Court from Pilkington Road.
Construction work was carried out by Downer Construction and ran from October 2022 to May 2023. The upgraded area (the central public area of the Court) was fenced off, but with continued access for businesses and residents. Traffic personnel were on site to assist pedestrians and manage vehicle access to ensure public safety.
This is the first of many investments Eke Panuku will be making in the area over the next decade as part of its Unlock Panmure programme, which aims to reinvigorate the town centre into becoming a great place to live, visit and do business.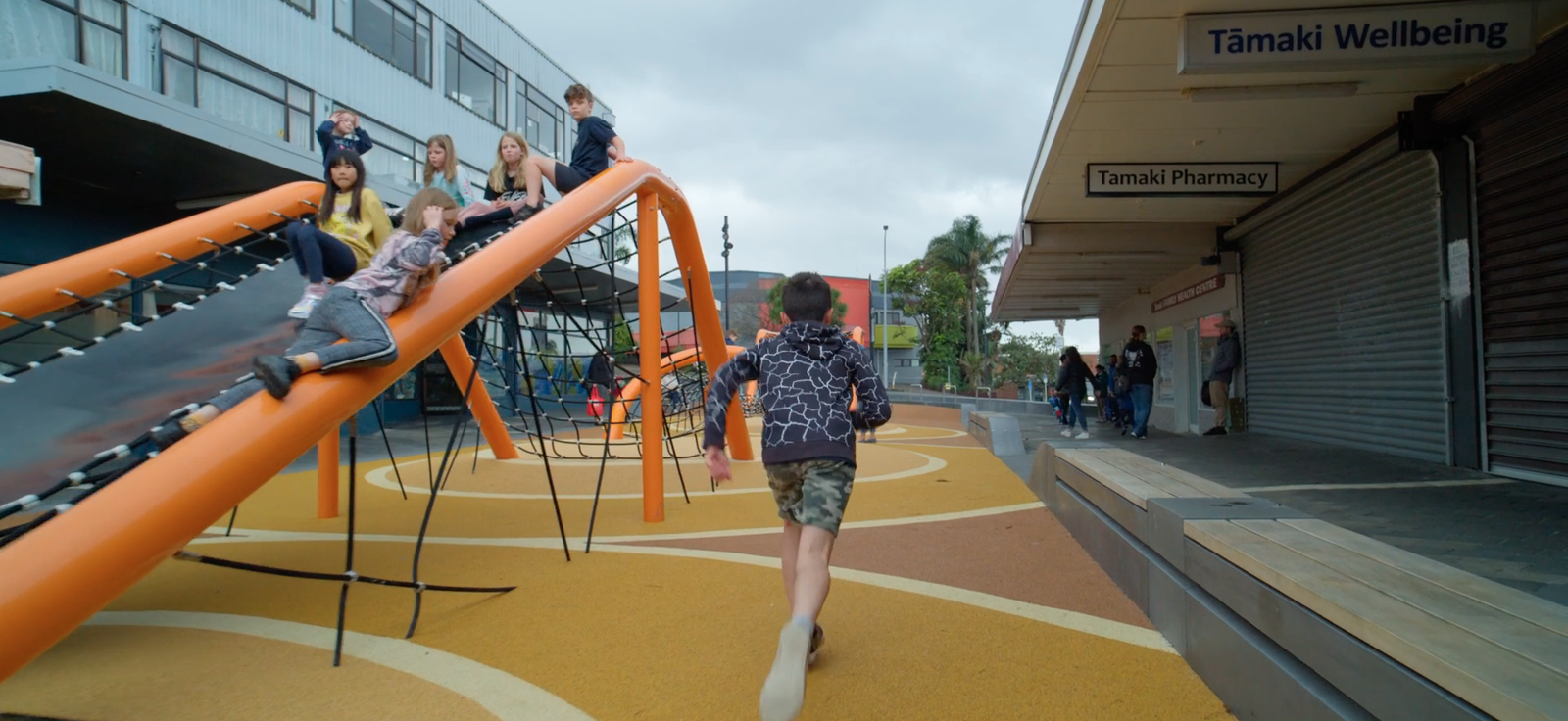 Clifton Court is a hidden gem in Panmure. In this video, find out all it has to offer (narrated by Katie Walton, Senior Project Manager - Eke Panuku).
Clifton Court cultural narrative -
Moko Ika Hikū Waru
In this video, Katie Walton, Senior Project Manager - Eke Panuku Development Auckland meets Harley Wade, Ngāti Paoa Iwi Trust, who guides us through the cultural narrative which has been woven in the design of Clifton Court.
The new-look
Clifton Court
There are five main areas in the new public space:
Welcome mat / Entry: Seating, planting and bicycle parking at the Pilkington Road entrance to Clifton Court.
Play Space: Different play areas for young children as well as older children. The play zones occupy most of the space between Pilkington Road and Clifton Lane.
Plaza: The plaza will remain wide and open, allowing for the space to be used as needed, including pop-up activations such as market stalls and coffee carts.
Laneway: Retail space will have the ability to spill out into this laneway. Amenity lighting will make the area inviting and safe after hours.
Courtyard / Nature Play: Featuring planting and seating, the western end of Clifton Court will provide a quieter space for outdoor meetings and lunch spaces. The flexible, open space will be large enough to support group activities such as Tai-Chi, school learning and more.
Partnership and
community engagement
The design of the new Clifton Court public space has been shaped by our mana whenua partners and engagement with local residents, businesses and the wider Panmure community over the past three years.
Community drop-in sessions and an online survey were carried out in late 2019, enabling people who visit, work and live in Panmure to have their say. Many of the ideas supported improving this space to become greener and safer with a play area and seating.
Since then, we have worked with the Maungakiekie-Tāmaki Local Board, businesses, and the local community through focused workshops and activations to test design ideas.
Mana whenua, who play an integral cultural, social and economic role in unlocking the potential of Panmure, have had significant input into the design of the space.
Ngāti Pāoa Iwi Trust have also gifted Eke Panuku and the design team three whakatauākī (proverbs) which are important to the site and the wider region. These whakatauākī are inscribed in low concrete walls which run through Clifton Court.
"Ngāti Paōa Iwi Trust gifted a design narrative around Moko Ika Hiku Waru, a taniwha who is said to have resided in the Panmure Basin, and who is described as having eight tails – a unique trait for taniwha. The vertical elements of the Clifton Court design, including the seating and play area, take their form and materiality from the narrative of the taniwha. The playground represents the head of the taniwha while the extruding walls and the ground-plane concrete elements break off in eight areas, representing the taniwha tails."



The Clifton Court upgrade is the first of many projects Eke Panuku has planned for Panmure over the next decade. Future sites for upgrade or renewal projects include key sections of Queens Road, Pilkington Road, Mountain Road, Lagoon Drive and Basin View Lane.
The aim of these projects is to make it easier to get in and around the town centre and between local nature spaces such as the Panmure Basin and Maungarei/Mt Wellington.
This will be done by building on Panmure's distinct landscape, good infrastructure, transport connectivity, community facilities and local amenities to realise the vision of creating a vibrant town centre, while also reflecting Panmure's heritage and values.
Throughout the Unlock Panmure project, Eke Panuku will also partner with Auckland Transport which will deliver the next phase of the Auckland Manukau Eastern Transport Initiative (AMETI) Eastern Busway from Panmure to Pakuranga, and Tāmaki Regeneration Company (TRC) as it delivers 7500 new homes across Tāmaki over the next 15-20 years.