Silent disco turns Panmure town centre into a
dance floor
26 November 2019
Saturday 2 November saw something that resembled a silent flashmob in Panmure:
50 people from 5 - 75 years of age grooved down the streets to their own beat, through the buildings and alleys of the town centre.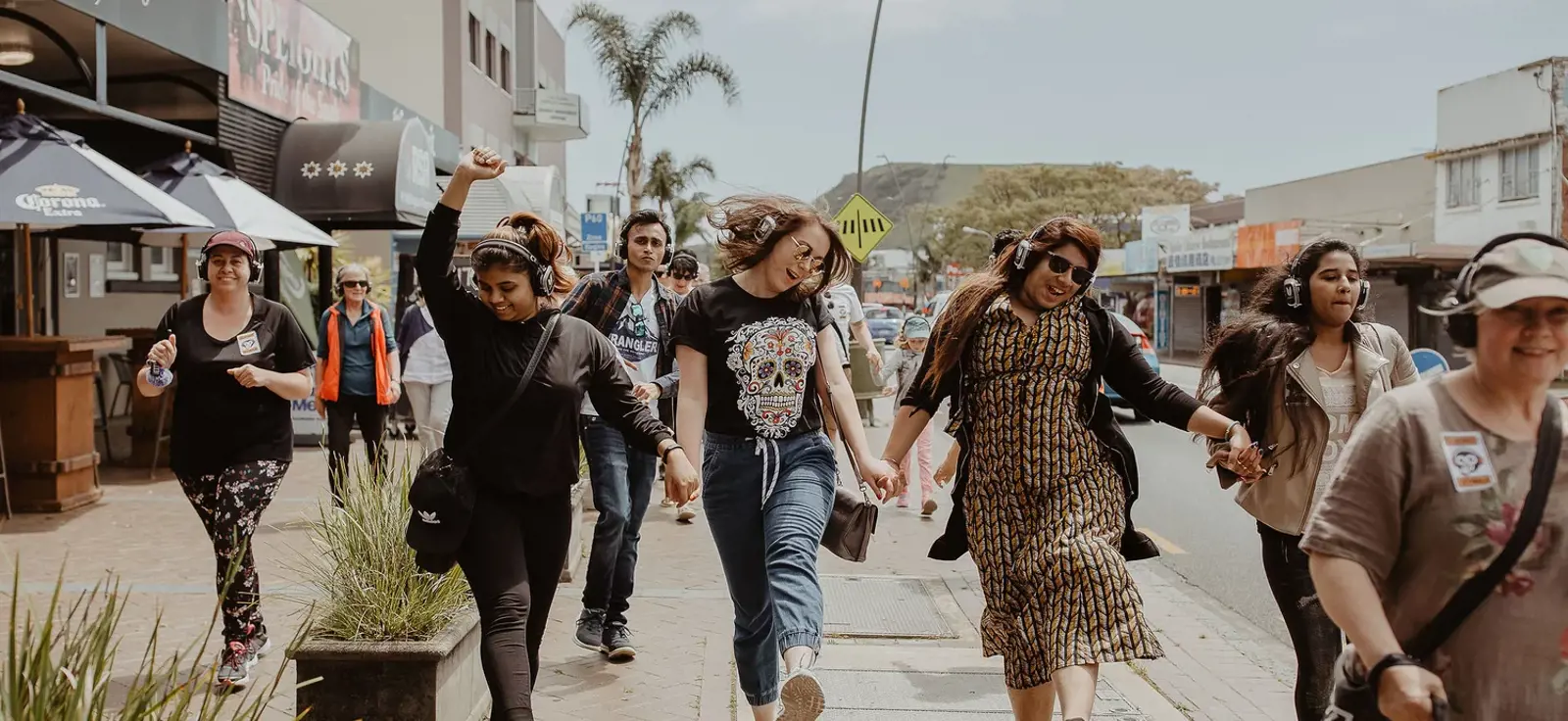 With wireless headphones, they listened to a pre-recorded playlist with a mix of songs from different times and genres.
It was the second edition of Panmure's Silent Disco Citywalk; a free community event presented by Panuku in partnership with Papaya Stories.
"We're really pleased to support an event that encourages the community to explore Panmure's town centre in such a unique and exciting way," says Jessica Laing, Project Director – Unlock Panmure at Panuku Development Auckland.
Chris Makoare, Chair of Maungakiekie-Tāmaki Local Board says the event allows people to rediscover what's great about their neighbourhood.
"There are many treasures to be uncovered in Panmure with its historical, cultural, heritage and natural diversity. The event is a fantastic way to connect people and place and build community spirit in the process."

Chair of Maungakiekie-Tāmaki Local Board


Chris Makoare
Open to all ages, the event is an energetic, outdoor multi-sensory and curated adventure that brings together people of various backgrounds.
"Flip a coin, listen to your gut feeling, follow the sign and choose a route of your journey – that's what we told our audience who were able to choose the route of their walk," says Yana from Papaya Stories.
Two routes were on offer: an upbeat walk around the town centre discovering hidden spots and graffiti surprises, and a mindful walk around the Panmure Basin with a meditation session using singing bowls. All walks ended at Panmure's historic Stone Cottage.
Here is some of the feedback from participants:
"My favourite part of the walk was the amazing stops we made along the way. Stopping at the Salt Cave and listening to the meditative song was such a great and unexpected change from the relatively fast urban pace. It made me think how easy it is to be lost in the busy schedule of our life and forget to stop for a moment to breathe and enjoy the surroundings. I adore street art, therefore that vibrant graffiti room was an excellent decision. So many colours and creativity in one place." – Rimma
Emotions are definitely positive. Everyone in our group was very happy to be part of it. We know how important it is to have balance and forget about life's daily problems from time to time. So you definitely helped us release some stress and at the same time learn more about Panmure." – Anastasia