Good and affordable kai in
Papatoetoe
15 June 2020
At the heart of Papatoetoe's town centre is The Food Hub.
The bustling, community-driven kitchen, cafe and meeting place is a place where locals can enjoy homegrown and indigenous food options, that are both healthy and sustainably sourced.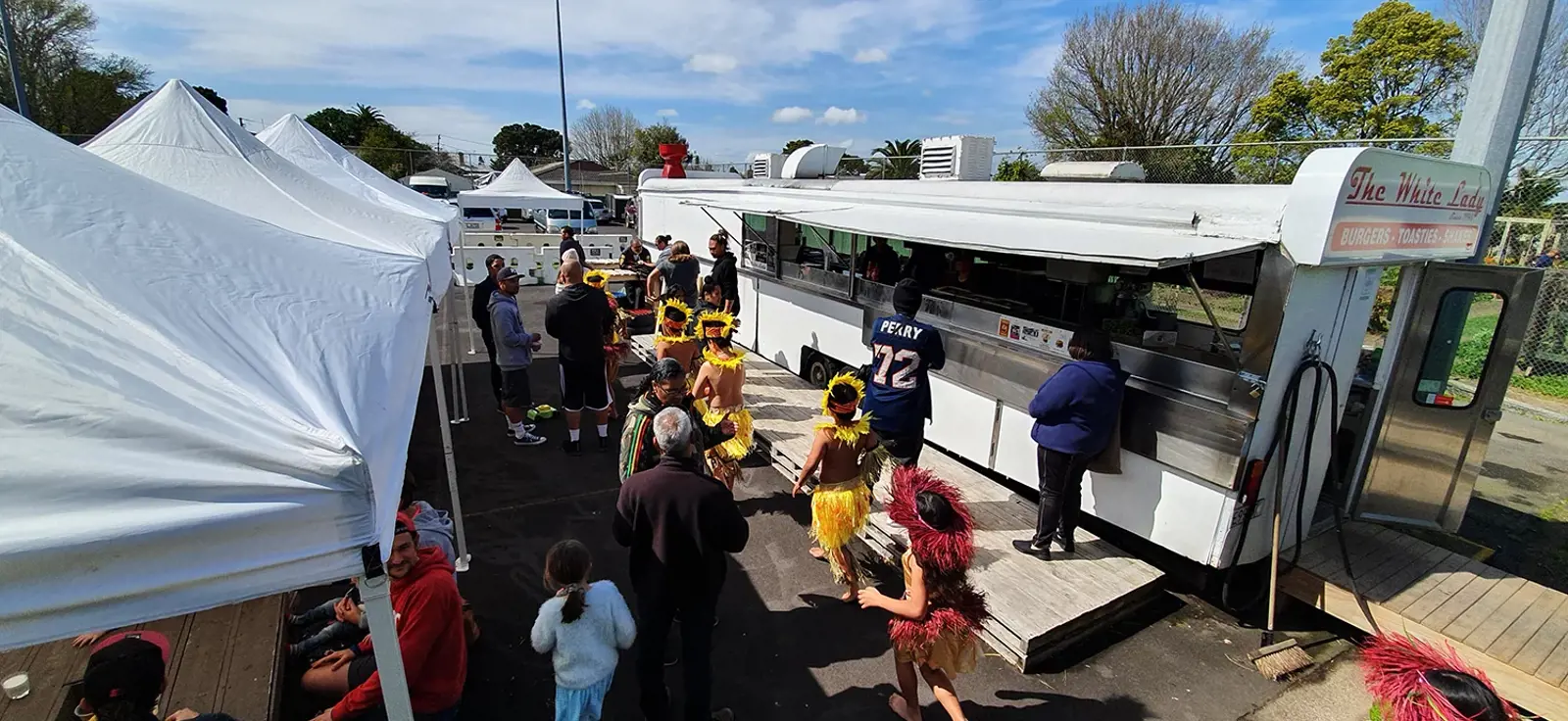 The Food Hub has reached some key milestones over the past months and the evolution of this initiative has been staggering, from its inception to the fully licensed café and commercial kitchen onsite today.
As part of its urban regeneration strategy for the area, the team at Panuku saw potential in an under-utilised netball club in Papatoetoe which neighbours the central New World Papatoetoe supermarket.
Panuku managed the site management and provided resource consent before handing over management of The Food Hub to The Southern Initiative and Healthy Families in September 2018.
Connie Clarkson, Panuku's Head of Commercial Place Operations, says:
"Panuku played a vital role in connecting The Food Hub's key people, like the New World supermarket and the Washer Family. Max Washer owns the iconic White Lady food truck, which recently retired after 45 years of being based in the CBD. The White Lady now proudly resides at the Food Hub for new cooking and catering initiatives. These strong relationships had to be forged otherwise the project would never have been able to go ahead."
The vision for The Food Hub was to explore what's possible when you bring the resources of local government, traditional knowledge, local food production and healthy principles together. Some of the major successes have been:
Implementing a free delivery and pre-order pickup system for affordable meals
Partnerships with farmers in Pukekohe to rescue surplus produce and turn it into soup for school kids in Papatoetoe
Joining with New World Papatoetoe in an 'upcycle' food scheme that resulted in one tonne of produce being rescued per week
The availability of indigenous food in Papatoetoe including hangi and umu
Supporting local food businesses including helping them set up and achieve health and safety ratings
Providing work opportunities for Papatoetoe locals
Being awarded $200,000 by the Foundation North, South Auckland Community Innovation Fund
What does the future hold?
The long-term goal is for The Food Hub to replicated in other urban centres. As Julio Bin from The Southern Initiative says:
"The Food Hub helps alleviate food insecurity and influences behaviours by making a healthier and sustainable local food system. The concept has evolved to become a community-led enterprise focused on providing good and affordable food to the local community, while upcycling surplus food into meals and juices. The Food Hub is now, post COVID-19, an example of an alternative model to enhance community food resilience and support a sustainable and local food economy."