Avondale Library, Community Hub, Town Square
consultation
22 April 2021
Exciting progress is being made in Avondale
The draft designs for the new Avondale library and community hub and upgraded town square are now available for public feedback, and we're keen to hear your thoughts.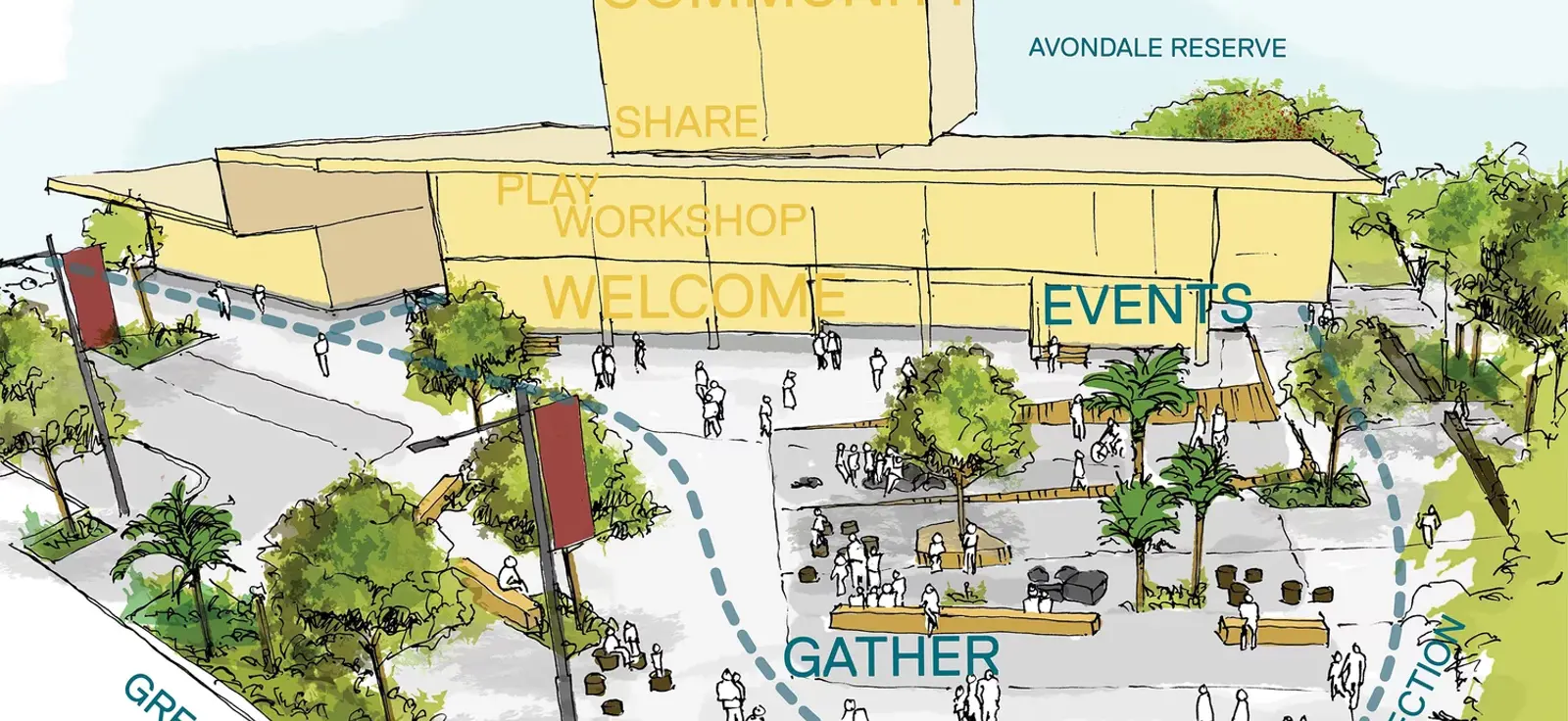 Exciting progress is being made in Avondale
Architecture and design studios Athfield Architects and Isthmus Group have been working side by side on an integrated design for the new buildings and outdoor spaces since the end of last year, and now it's time for the Avondale community to give their thoughts and feedback to make sure it meets the community's needs.
Whau ward councillor Tracy Mulholland welcomes public feedback on the proposed designs.
"This community space within a revitalised Avondale will be a precious taonga for the community for generations to come. Getting this far has been a huge achievement and credit to all those who have been involved. When completed it should provide an important connection point for our growing community, allowing people to come together for functions, events, workshops, recreation and more. Now it is time for the community to let us know if we've got it right and how it can be made better and make sure it reflects who we are and who we aspire to be in the future."
Whau Local Board chair Kay Thomas says she's pleased to see the consultation get underway.
"This is our chance to ensure this large, multi-purpose building will truly meet the diverse needs of everyone who lives or works here. Athfield Architects and Isthmus Group have done well to bring our requirements to life in their draft design and I'm looking forward to hearing further feedback over the next few weeks."
All feedback will be presented to the Whau Local Board for consideration.
How to have your say
Visit us online to view the draft designs and give feedback at akhaveyoursay.nz
Check out the interactive map online
Or come along to one of our drop-in sessions:
7 May 2021, 3pm to 5pm, Avondale Library
9 May 2021, 10am to 2pm, Avondale town square
11 May 2021, 10am to 12pm, Avondale Library
15 May 2021, 10am to 2pm, Avondale town square
The draft designs, along with a 3D model of the site, will also be on display at the Avondale Library.
Feedback on the draft design closes on 17 May 2021.
A space for all
Panuku Development Auckland, council's urban regeneration agency, is leading the regeneration of Avondale's town centre over the next 15 years. Panuku is working closely with the rest of the council whānau including Auckland Transport, as well as Kāinga Ora – Homes and Communities, private sector developers and the Avondale community.
Priority Location Director West John Carter says this development is the cornerstone of the wider works planned in the area and it's great to be making progress.
"We're excited to be starting this consultation and very much looking forward to hearing the community's feedback. Avondale residents and businesses gave a considerable amount of input prior to the design period and it will be great to hear how well they think this has been captured."
The draft design shows a new integrated library and community hub offering two multi-purpose community spaces for hire, as well as public bathrooms and kitchen facilities.
Head of Community Libraries for Central, North and West Darryl Soljan says it allows great flexibility for the space.
"​We're delighted this new modern facility will literally put the library and community space in the heart of Avondale, offering a safe and welcoming place for all and allowing a place for people to connect with each other. The open and airy design allows us to future-proof this key community facility to ensure that we're not just providing all the things that current library users love but cater for many generations to come."

HEAD OF COMMUNITY LIBRARIES FOR CENTRAL, NORTH AND WEST


DARRYL SOLJAN
The consultation period will focus on locals' thoughts on the design and their feedback on how they and their whānau will use the new indoor and outdoor spaces. Physical materials such as cladding will be considered in the next part of the design process.
Auckland Council's Head of Property and Commercial Business Kim O'Neill says the finished facility will not only provide a focal point for the community but also lead the way in efficient design.
"The draft design is fun, quirky but also very practical. With interesting spaces and unique views across to the Waitākere Ranges it also makes the most of the indoor-outdoor opportunities to maximise the event space. Underpinning it all is the desire to make sure the building effectively runs itself, from generating its own energy through rooftop solar power panels to the integrated rainwater catchment system which will keep the toilets flushing and the gardens growing."
Avondale Business Association chair, Marcus Amosa, says he's keen to see as many people as possible give feedback on the draft design through this process.
"Having this amount of investment in our town centre is so important for the future growth of our community. Given the pressures of COVID-19 across the city, the progression of this project is a hugely positive sign that Avondale is on the up and I'm keen to see everyone who works, lives, shops and eats in our community have their say."
Visit us online to view the draft designs and give feedback at akhaveyoursay.nz