Big news for Avondale's Crayford
Street West
17 February 2022
Some improvements are being made for you.
We're upgrading Crayford Street West to make it a safer, better-connected part of Avondale.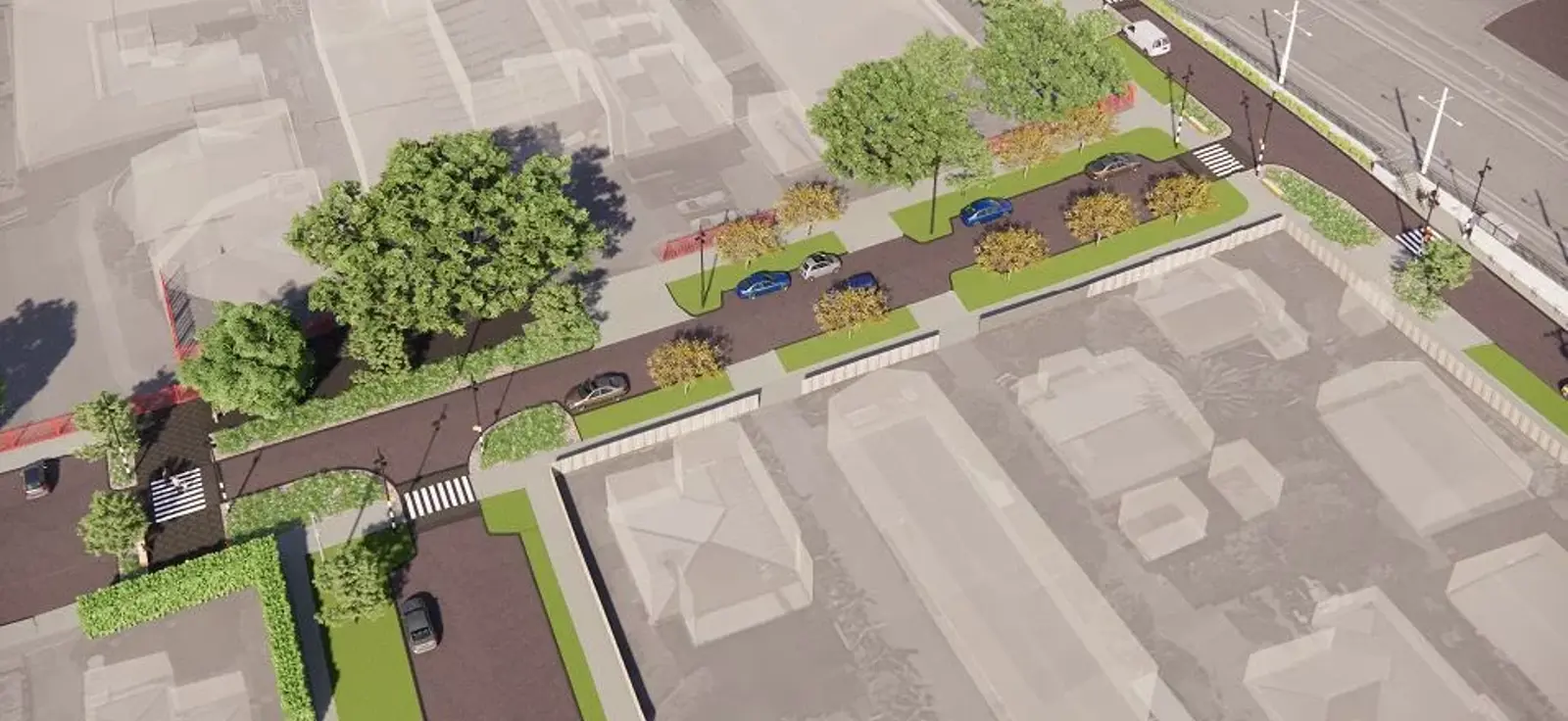 This project is supported by both Auckland Transport and Whau Local Board, which means that we'll be able to reduce inconvenience as much as possible while delivering this much-needed enhancement.
The upgrade will involve construction (including digging of the road), installation of raised road crossings, seating, and landscaping, as well as proposed changes to parking time restrictions.
The thinking behind this project
A big part of why we're making these changes is to ensure better safety for Avondale Primary School students, as well as tamariki (children) who attend other schools nearby. Crayford Street West is also the main walking connection between the train station and the town centre, so coupled with Avondale's growing population, planned improvements to public transport, and the increasing number of people walking and using bikes, we consider this upgrade to be of top priority.
Why the upgrade is great for Avondale
These changes will improve the safety and wellbeing of the Avondale community by:
creating a slow speed environment in front of the school
making it safer for kids to cross the road to school through the installation of raised zebra crossings
extending kerb space to narrow the road
improving street lighting for those walking to and from the train station and town centre
increasing safety for people walking and cycling
improving parking for school drop-off/pick-ups, as well as for residents and businesses.
Overall, the changes will reduce the number of parking spaces from 44 to 38. Most of these will be removed from the part of the street to the east of Geddes Terrace. Only one parking space needs to be removed from the existing 90-degree parking.
When it will happen
Update as at 31 March - Construction began on 28 February and will continue through to July. We're keen to wrap this up for you quickly (while still ensuring a high level of quality, of course).
How we're proposing changes to parking time restrictions
The community has expressed concerns around parking in the area, and so we're hoping that you'll tell us your thoughts on the proposed changes. These will improve parking availability for school drop-offs and pick-ups, people visiting local businesses, and for residents by discouraging all-day parking.
The existing P5 (8:30am–9:15am and 2:30pm-3:15pm on school days only) on the northern side of Crayford Street West, between Layard Street and Geddes Terrace, will remain, however the changes to the street will reduce the number of parking spaces from eight to four.
The unrestricted parking on the southern side of Crayford Street West, between Layard Street and Geddes Terrace (seven spaces), will be converted to P5 (8:30am–9:15am and 2:30pm-3:15pm on school days only).
These two proposed changes can be seen on the diagram here, and we're not proposing any alterations to the time restrictions on the 90-degree parking located near Great North Road.
The P5 (five minute) restrictions will only apply at the above times, at the start and end of the school day. No time restrictions will apply during the middle of the day, overnight, on weekends, or during school holidays.
Update as at 31 March – Thank you for your feedback on the parking time restrictions. We are now analysing the feedback received, and will report back in May.
How construction will affect Avondale
If you live within the affected area, our construction partner JFC will deliver a notification letter to your home about a week before the work starts. You'll also receive contact details for any issues during construction. Parking will be restricted to allow construction machinery full access to the site, helping help the job to run smoothly so it can be completed quickly.
We aim to reduce the inconvenience to the community as much as possible, but there will be trucks, rollers and workers on-site, so expect some noise, dust and other disruption.
How you can find out more
If you'd like more information, you can call us on 09 336 8820, email info@ekepanuku.co.nz, or view a diagram of the construction plan here.