City centre development will add homes, commercial
and retail spaces
09 March 2021
New homes and space for business will be created at the heart of Auckland's public transport network as a key city centre site is destined to become a new mixed-use development.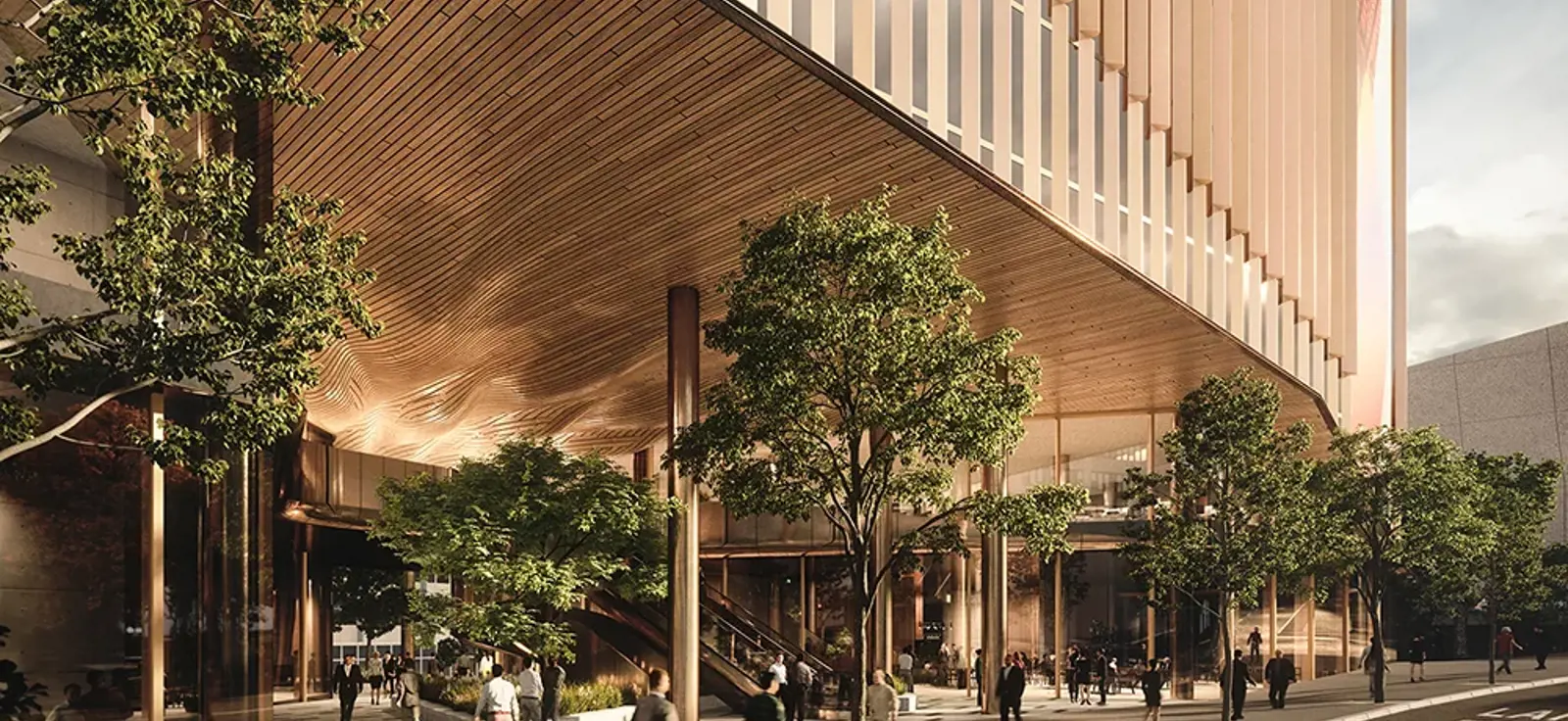 Panuku Development Auckland is partnering with international property developer Malaysian Resources Corporation Berhad (MRCB) who, with experienced local development and project management company RCP, will deliver the urban regeneration of the site above City Rail Link's Aotea Station at the corner of Mayoral Drive and Wellesley Street which is currently under construction.
The over-station development by MRCB, known provisionally as Aotea Central, will be designed to revitalise mid-town and support what will be Auckland's busiest train station.
Auckland Mayor Phil Goff says the development will be positive for Auckland's city centre.
"MRCB has experience in developing integrated commercial and residential properties around transportation hubs and a good reputation for the design and quality of its developments," he says.
"The project will replace what was once a car park with modern, well-designed and high-density housing, as well as shops and commercial spaces in the heart of our city. The apartments and businesses it creates will have a great location, situated above the City Rail Link Aotea Station. It makes travel convenient and it's close to attractions such as the Art Gallery and Aotea Centre."
Central Auckland is destined to become an even more vibrant place to live and work for its around 40,000 residents and 130,000 people who work there.
The new development will be a 21-storey building with a mixture of retail, commercial and residential space. Early concepts show a striking design with terraced planting being a key feature. As well as integrated access to Aotea Station, the development will connect to the surrounding area with laneways, offering places for people to meet and spend time.
The 4780m² site, formerly a car park used for Auckland Council fleet parking at the intersection of Mayoral Drive and Wellesley Street, is currently being used to support the City Rail Link construction.
MRCB has a track record of delivering internationally acclaimed Transport-orientated developments.
Ravi Krishnan, Chief Executive Officer of MRCB International, is pleased that Aotea Central development has provided the opportunity for MRCB to contribute to Auckland's development landscape. "We are incredibly excited to deliver what will be a truly unique and transformational development for Auckland. Aotea Central will be an exemplar mixed-use, transport-oriented development that positively contributes to and enhances Auckland's mid-town and the city centre more generally."
MRCB has partnered with New Zealand-based RCP on the development project and has assembled a multi-disciplinary team of market-leading experts with international, national and local experience. The team, which includes global architecture studio Woods Bagot, will work together to successfully realise the vision of the Aotea Central development.
RCP, with 25 years' practical project delivery experience in many of the largest and most complex projects in New Zealand, is providing dual development and project management expertise. The company has been integral to the strategic thinking and curation of MRCB's successful high-rise, mixed-use development proposal for the site.
RCP's Cristean Monreal, the project's Development Director, says: "We're immensely proud of the innovative outcomes we facilitated in our development proposal, which pushes the boundaries in the way Auckland thinks about transport-oriented developments.
"The RCP team is excited to be working alongside development partners Panuku Development Auckland, Auckland Council and City Rail Link to deliver a landmark development never before seen in New Zealand."
"The Council is committed to the success of the City Rail Link to further enable Auckland to be a world-class city."

— AUCKLAND COUNCIL'S HEAD OF CORPORATE PROPERTY


ROD AITKEN
"We are glad to be able to support the city's growth by releasing a car park to be developed into a precinct that will provide a unique experience for many. Providing opportunities to work and live alongside and above the emerging Aotea Station will transform this area of our city by offering terrific access for all to nearby entertainment, restaurants and shopping."
Panuku Chief Executive David Rankin says ensuring the right type of development partner was key.
"On behalf of Auckland Council, we sought a particular type of development partner which would understand the rare opportunity to contribute to the regeneration of this unique mid-town location. MRCB has a long history of quality transport-oriented developments in Malaysia and is committed to transforming the Mayoral Drive site to appeal to those wanting vibrant inner-city living and a low carbon lifestyle right here in the centre of Auckland."
The 125-year lease-hold site has been sold for $40 million following a fully contestable market process supported by an independent valuation. The development will begin after the construction of the City Rail Link's Aotea Station, which is due to be completed in 2024. Significant construction planning will ensure minimal disruption to the station and surrounding businesses.