Connecting Onehunga's
malls
25 November 2022
Dress Smart set for upgrade, with wider town centre to share in benefits
Our Transform Onehunga regeneration programme has taken a step forward with confirmation that the town's retail outlet centre, Dress Smart, is set for a major expansion.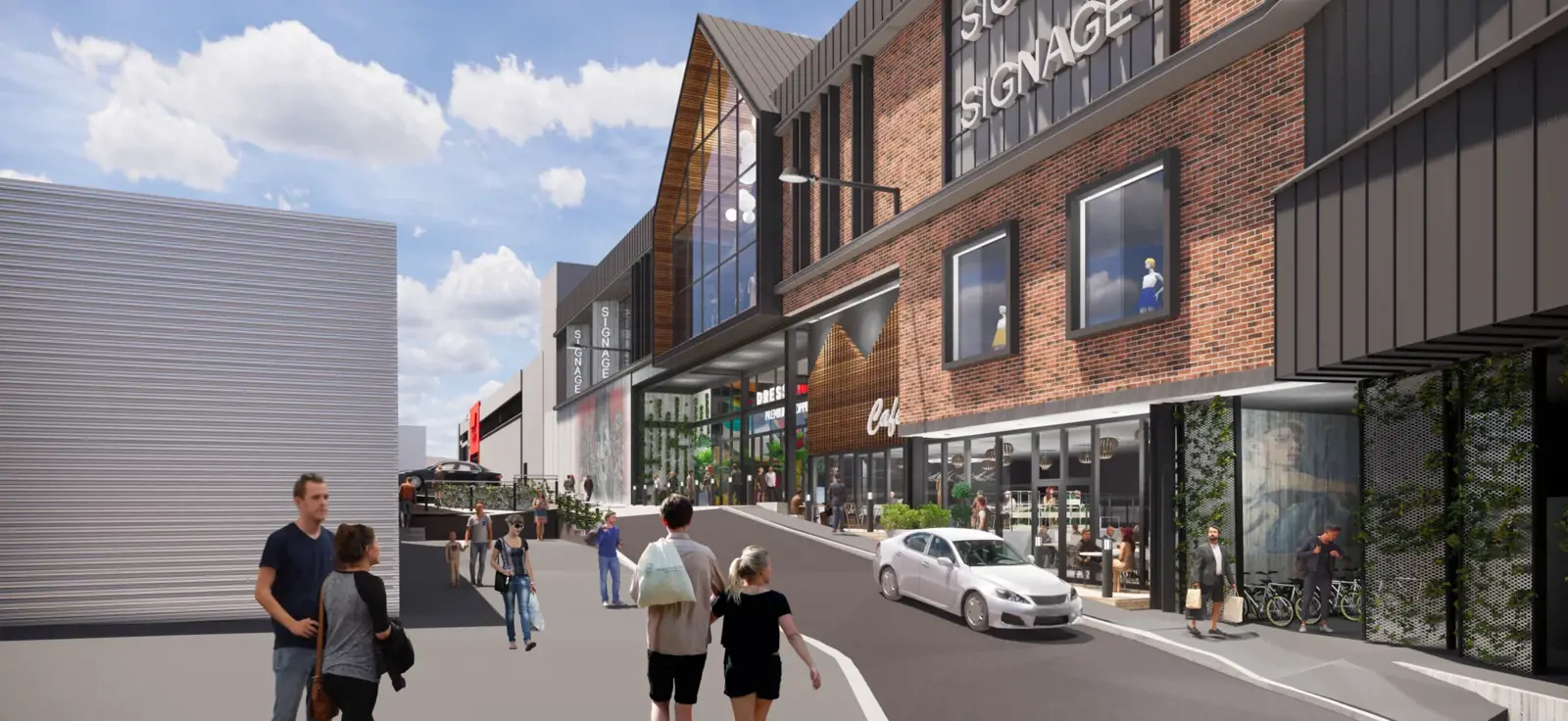 Lendlease Investment Management has announced plans for a three-level extension to its Onehunga Dress Smart centre, including new shops, more dining options and improved car parking.
The new development will also feature a prominent, inviting and convenient visitor entrance and plaza area on Paynes Layne, and a direct pedestrian link through to Onehunga Mall and the Waiapu Precinct.
The planned expansion of Dress Smart is great news for Onehunga and follows the successful conclusion of a development agreement between Lendlease and Eke Panuku Development Auckland for two properties at 3 Paynes Lane and 45 Waller Street.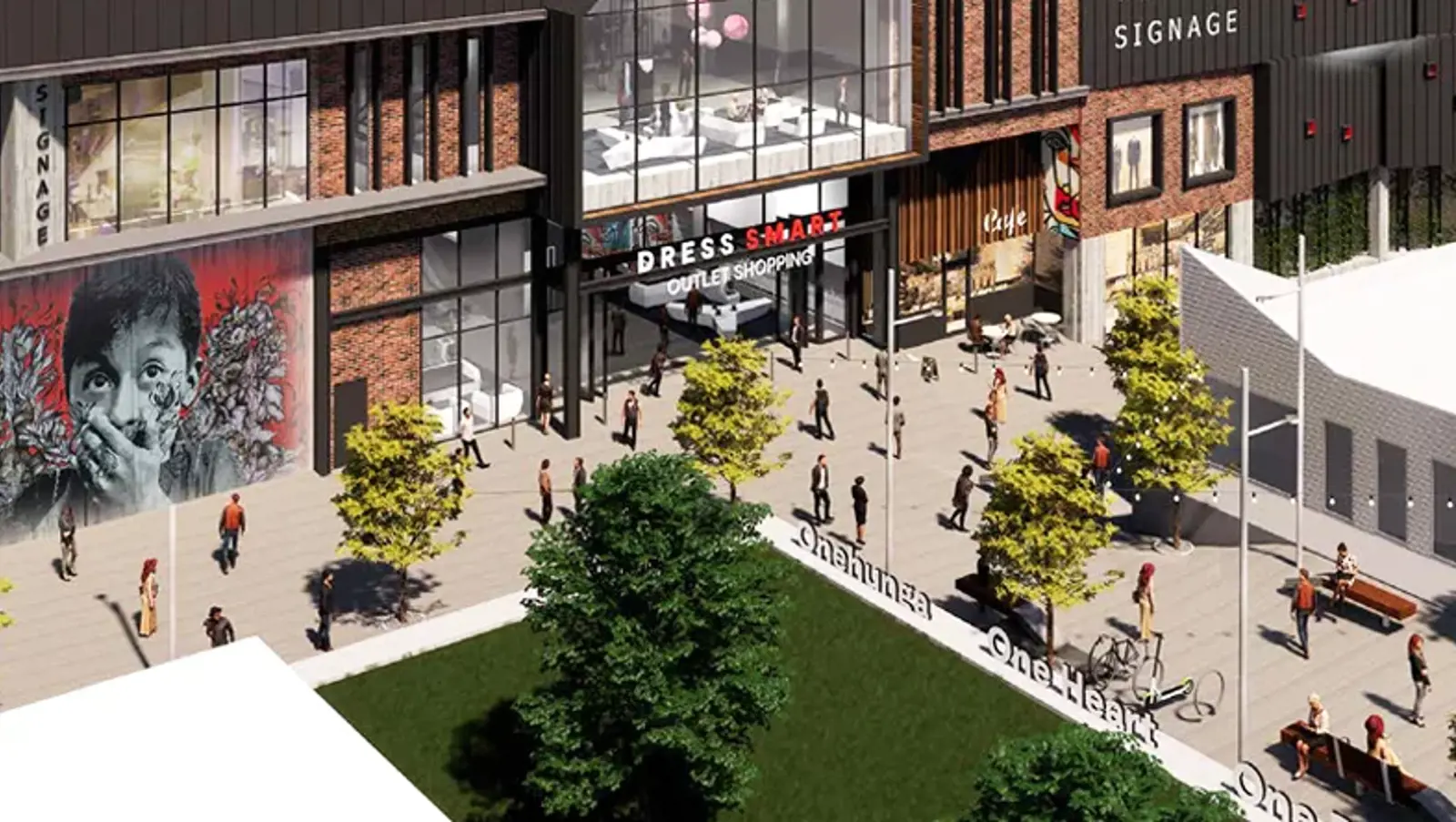 "This is a terrific example of the great outcomes that are made possible when public and private sectors work together," says Richard Taylor, Isthmus Priority Location Director for Eke Panuku.
"It's wonderful for Onehunga, and we are looking forward to working with Lendlease to successfully integrate this exciting development with the wider town precincts as part of the Transform Onehunga regeneration programme."
Says Lendlease Head of Mandates, Matt Bowyer: "Achieving consent to expand Dress Smart Onehunga is a fantastic outcome for shoppers and the local community. With its central location, easy access and great variety of stores, the centre has become a much-loved discount shopping destination over the years. We look forward to providing the community with even more exciting shopping options in the near future."
As well as creating more retail capacity and bringing a much more welcoming entrance to Dress Smart, the new development will cement Onehunga as Auckland's premier outlet shopping destination and add to the vibrancy and liveability of one of Auckland's oldest and most iconic neighbourhoods.
The expansion will make a real difference to the look and feel of Onehunga Mall and help to encourage the significant number of people who visit Dress Smart to explore the surrounding shops and eateries in the town centre too.
"With the Dress Smart Precinct now moving forwards and the Waiapu Precinct plans making great progress, we are confident there will be plenty to celebrate in Onehunga over the next few years."



The Onehunga Business Association agrees, and has welcomed the expansion news.
"Dress Smart brings visitors from across the Auckland region and is a top destination for tourists from across New Zealand," says town manager Amanda Wellgreen. "Our data shows that when Dress Smart is successful then our other businesses benefit from that success."
Confirmation of the new development also means Eke Panuku is now able to progress design work for an upgrade to Paynes Lane.
"With every project that we're able to confirm, momentum for the wider Transform Onehunga programme grows," says Mr Taylor. "With the Dress Smart Precinct now moving forwards and the Waiapu Precinct plans making great progress, we are confident there will be plenty to celebrate in Onehunga over the next few years."
Eke Panuku is leading the regeneration programme for Onehunga, which was chosen as a priority location for investment by Auckland Council in 2015.
Called Transform Onehunga, the regeneration programme seeks to build on the strengths and distinctive character of the town centre by creating exciting new public spaces, helping to make better use of council-owned community facilities, and creating opportunities for commercial investment and a variety of housing options.
We are looking forward to sharing more updates on Transform Onehunga, including details of our first public realm works in the Waiapu Precinct, for consultation in early 2023.
We will be seeking feedback from a wide range of people and groups – we know the Onehunga community feel deeply connected to where they live and we want everyone to have their say!
We look forward to working together to make Onehunga an even better and brighter neighbourhood.