Construction gets underway on new village for older people in
Henderson
27 August 2018
Auckland Mayor Phil Goff has marked the start of construction of 40 new homes as part of a new housing development for older people in Henderson.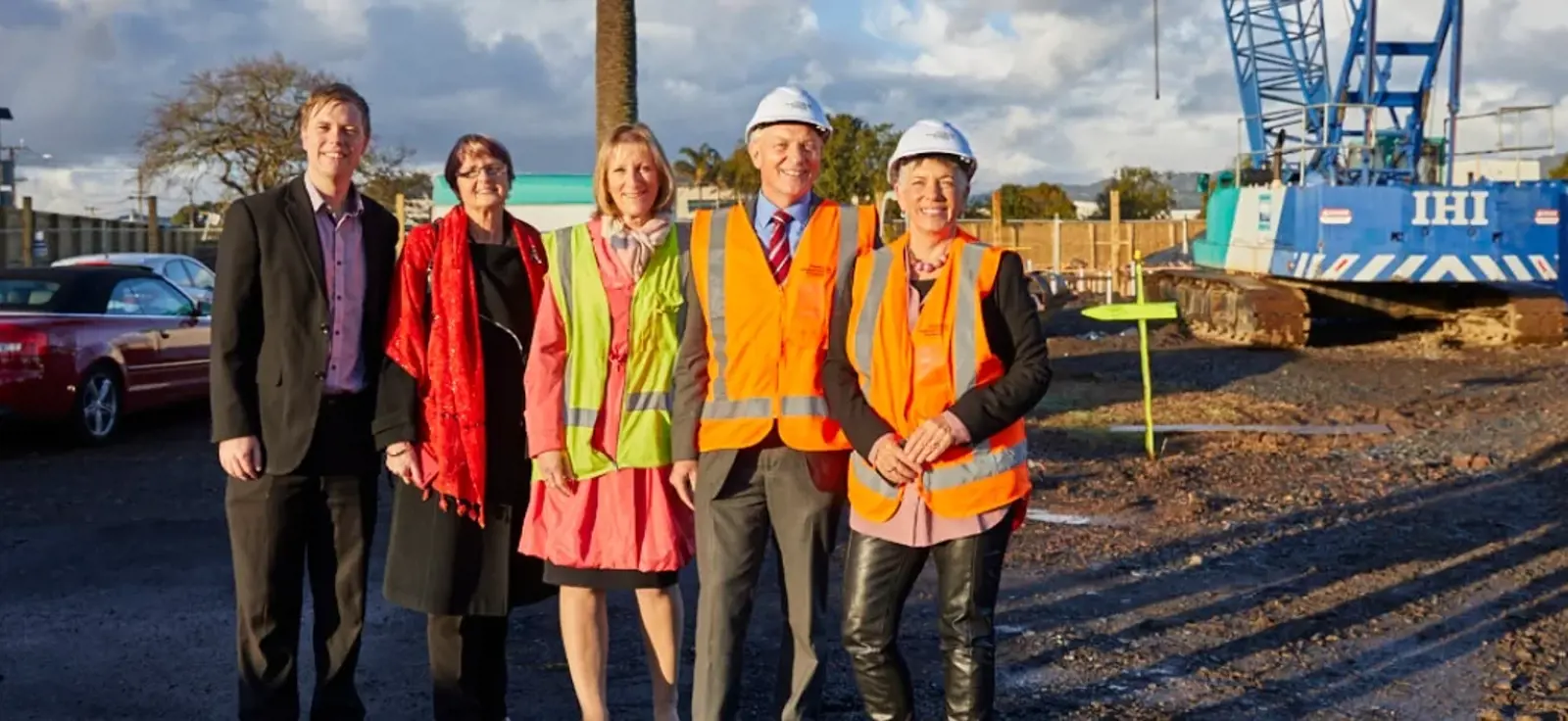 The 40-apartment development at 33 Henderson Valley Road will increase the number of homes for older people in Auckland to 1452 and the number of villages to 63. It will be managed by community housing provider Haumaru Housing, a partnership between Auckland Council and the Selwyn Foundation.

Mayor Goff says, "Forty new homes in Henderson will be a welcome addition to 1412 homes that council already provides older people who need affordable and secure accommodation in Auckland.
"Housing delivered through our partnership with the Selwyn Foundation not only provides warm and dry homes to older people but creates safe and supportive communities. The number of older Aucklanders is expected to double in the next 15 years.

Auckland Mayor


Phil Goff
"Through Haumaru Housing, we can help play a part in providing housing of a high standard in our city to help cater for our ageing population," said Mayor Goff.
The four-storey building will provide 40 one-bedroom, wheelchair accessible homes with a floor area of 45sqm and a designated space for mobility scooters. The 3000sqm site also provides extensive green spaces and 19 carparks for resident and visitors. The village is designed to be easy to maintain, warm and energy efficient with a high Homestar built rating. An internal atrium connects the four neighbourhoods within the building with generous corridors on each floor to encourage social interaction between residents.
Haumaru Housing Chief Executive Officer, Gabby Clezy, says the building represents a new style of housing for older people and raises the standard for future developments catering for the senior community.
"These new apartments will provide warm, dry, safe and secure homes for senior citizens and will set the standard for our other housing developments to come.
"We look forward to receiving the completed building next year and to providing more affordable rental homes that will help people to live well and will enhance their wellbeing in this wonderful new setting."

Haumaru Housing Chief Executive Officer


Gabby Clezy
Waitakere Ward Councillor Linda Cooper says it's exciting to see the village coming out of the ground. This development will not just be a great addition to the network of villages for older people but will also be a key part in helping to revitalise the Henderson town centre."
The new village is expected to be completed by mid-2019 with residents moving in shortly after. The remainder of the 1.6-hectare site on Henderson Valley Road is earmarked for a separate housing development which will see at least 50 homes in the coming years. Both developments are expected to be part of a new residential neighbourhood for Henderson offering strong links to public transport and excellent cultural, recreational and educational facilities close-by.
The development is the first project by the city's redevelopment agency Panuku Development Auckland to redevelop the network of villages for older people to improve quality and design, and better cater for areas of higher need.
Panuku Chief Operating Officer David Rankin says the new housing for older people village is being built using best-practice design principles that have been created specifically to better meet the needs of older tenants. "In developing the design standards, Panuku worked closely with The Selwyn Foundation, Age Concern NZ, mana whenua, tenant reference groups and the local board to gain insights into the challenges faced by those living in the homes. Through this process we identified opportunities to design quality units that go beyond minimum design requirements. It's pleasing for all involved to see construction underway on the 33 Henderson Valley Road site."