Construction is recommencing on
our sites
01 May 2020
Now that we've moved to Level 3 construction crews are back in action, recommencing work on Panuku's development projects in Takapuna, Henderson, Westhaven Marina and Wynyard Quarter.
These projects range from a boardwalk extension along the marina by the Harbour Bridge to a new car park building in Takapuna which we're building to free up a central site for public space and mixed-use development. We're also upping tools on a new public space being developed along the waterfront in time for the 36th America's Cup.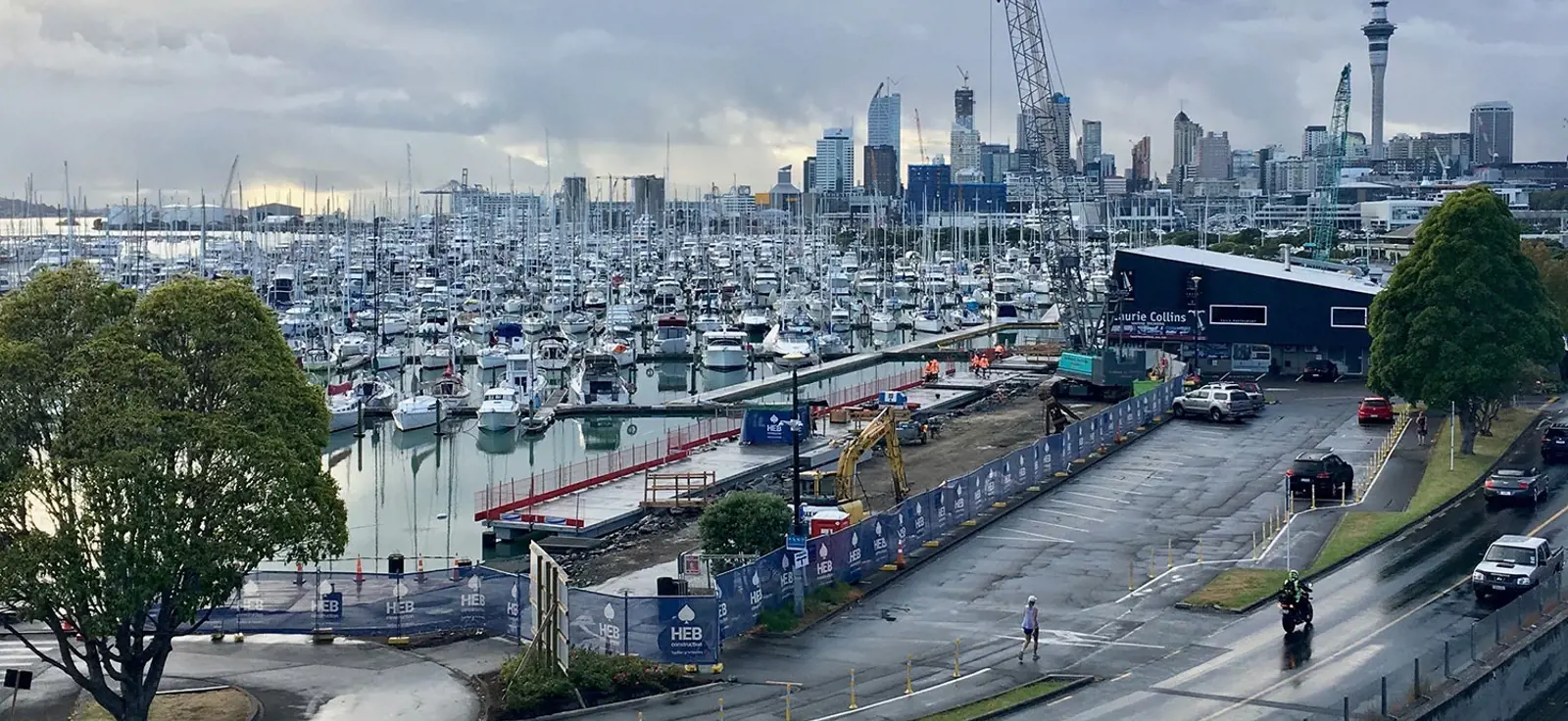 Panuku's Chief Executive David Rankin is delighted to see work on these sites recommence.
"I've been impressed to see our team refocus and work safely from home but it's great to be able to see our building partners back on-site resuming construction now too. We are delighted to be able to provide access to hundreds more workers so they can pick up tools and get back to work," says David.
"Maintaining momentum on our work programmes is important. A number of these projects are poised to make a positive impact on how Aucklanders enjoy their city so it is great to see work starting up again."
Work sites that will remobilise this week include:
This multi-storey building in Takapuna will provide 420 parking spaces as well as electric car charging stations, motorbike parking, bike storage, accessibility parking and facilities such as changing rooms and lockers, catering for Takapuna's current and future car parking needs.
Auckland Council Henderson Campus
A road extension and greenway is being built to make it easier for people to travel from Henderson Train Station to Henderson Valley Road as part of our plan to improve connections in Henderson's town centre.
A new world-class facility inspired by the area's marine industrial heritage that will house marine-related amenities including chandlers, brokerages and other specialist services.
Westhaven Promenade Stage Two
A 400-metre long boardwalk will fill a missing section between the two existing pathways, creating an uninterrupted boardwalk and cycleway close to the water's edge in Westhaven Marina.
Pile mooring redevelopment
This project consolidates the existing pile moorings to add 50 serviced boat berths while extending the northern section of Westhaven Marina to provide green space for public use, access and car parking.
Utilities that service Westhaven Marina are being upgraded including a new pump station and a combined service trench that will house water, power, gas, fibre and phone lines.
Silo Marina electrical supply upgrade
The transformer that services the electrical needs of Silo Marina is being upgraded to cope with increased demand.
The demolition of bulk storage tanks is underway to create new public space around Silo Park in time for the 36th America's Cup.
Percy Vos Heritage Trust Boat Shed restoration
This project will revive this historic boatyard and convert it into a public space as a working maritime heritage centre.
A new public space is being built outside the Park Hyatt Auckland that will open up the waterfront and Viaduct Harbour promenade entirely, for the very first time.
This new facility will feature a marine haul-out and refit facility servicing marine vessels up to 800 tonnes, plus commercial buildings and a residential tower on the northern end.
New health and safety plans are in place so that contractors can work safely and maintain appropriate distancing from each other at all times on work sites.