Council considers transformative City Centre and
Waterfront plan
31 August 2017
The next stage of work to enhance and open up Auckland's city centre and waterfront to the public will be considered at the Council's planning committee on Tuesday 5 September.
A package of proposed projects that will also help cater for the increasing number of people arriving into Auckland includes plans for a new ferry terminal and new public space along the water's edge.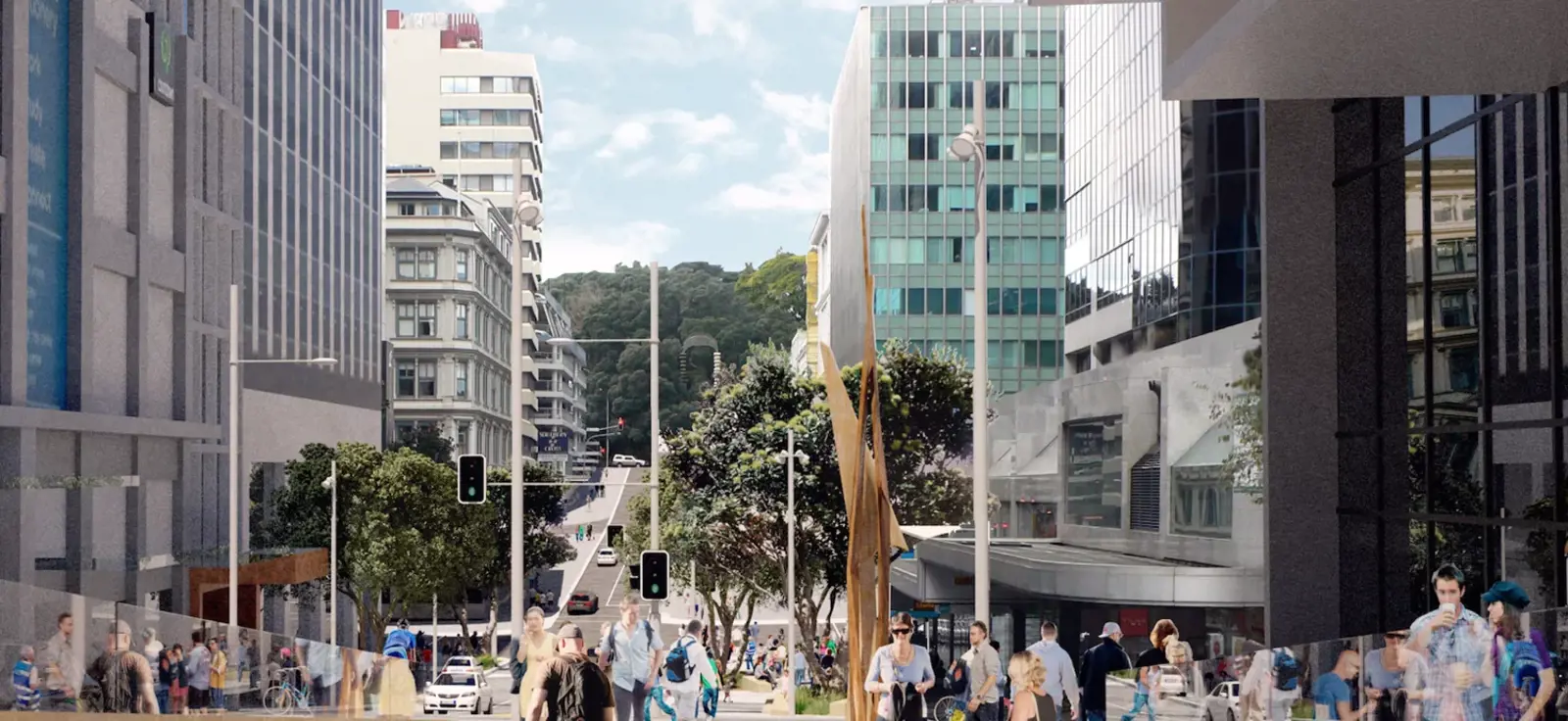 The plan builds on several years of successful planning along Auckland's waterfront and integrates a forward-looking public transport programme that will accommodate Auckland's significant growth.

Mayor Phil Goff said, "This is a transformative plan that will create a more pedestrian friendly city-centre, return our waterfront to the people of Auckland and cater for the greater number of people visiting, living and working in Auckland's central city.

"The work under consideration will open up the lower Queen Street and Quay Street area with more public space, and buses won't have to compete with increased foot traffic in the downtown area with a proposed new bus facility in Quay Street East and the staged delivery of Victoria Street Linear park.

"It's an ambitious plan that will be good for Auckland. However, the timing of its implementation will need to be balanced against a range of spending priorities for transport and housing infrastructure, and regenerating town centres across our city.

"The city centre accounts for 20 per cent of Auckland's GDP. More than 40,000 people live there and the daytime population reaches several hundred thousand people with the daily influx of tourists, students and workers.

"The America's Cup in 2021 adds impetus to our decision making. We are exploring suitable locations on Auckland's waterfront to host the Cup while looking at creating a lasting legacy for Aucklanders," Mayor Phil Goff said.

Planning Committee chair, Councillor Chris Darby notes the appeal of the city as a place to live, learn, earn and enjoy: "The city centre has the potential to be a flagship location for people to both work and live in, and to be enticed to for recreation and celebration.

"These proposed changes will make the city centre and our waterfront a great place to live, an easy place to get to and navigate, and a really exciting place to explore. They will also amplify the city centre's economic potential and the desire of Aucklanders to reconnect with our waterfront."

As part of the overall improvements to the city centre, Auckland Transport has proposed a new public transport network that will include better bus connections across Auckland's Midtown and Downtown areas.

A new bus facility is planned for Quay Street East, removing the need for buses to operate in the Lower Queen Street and central Quay Street area.

This will allow for upgrades to make Quay Street more pedestrian-friendly and improve access between the city's Downtown space and Wynyard Quarter, giving more people an opportunity to get down to the water's edge.

This will be undertaken in conjunction with changes to the ferry terminal to cater for the increasing use of ferry services. The transition of Captain Cook Wharf to include a cruise facility is also proposed in the long term to accommodate the growing cruise industry and the increasing number of larger vessels that are arriving into Auckland year on year.

The proposals are the result of a collaboration between Auckland Transport, Auckland Council, Panuku Development Auckland, Auckland Tourism, Events and Economic Development (ATEED) and Regional Facilities Auckland (RFA).
Options for delivery and funding of the proposed projects will be explored as the council works through its 10-year Budget, which will be released for public consultation in early 2018 before it is finalised in June 2018.