Eastern
Viaduct
23 March 2018
EASTERN VIADUCT HAS A NEW LOOK
A new piece of public space has opened up along the city's waterfront with the removal of public car parking on Eastern Viaduct.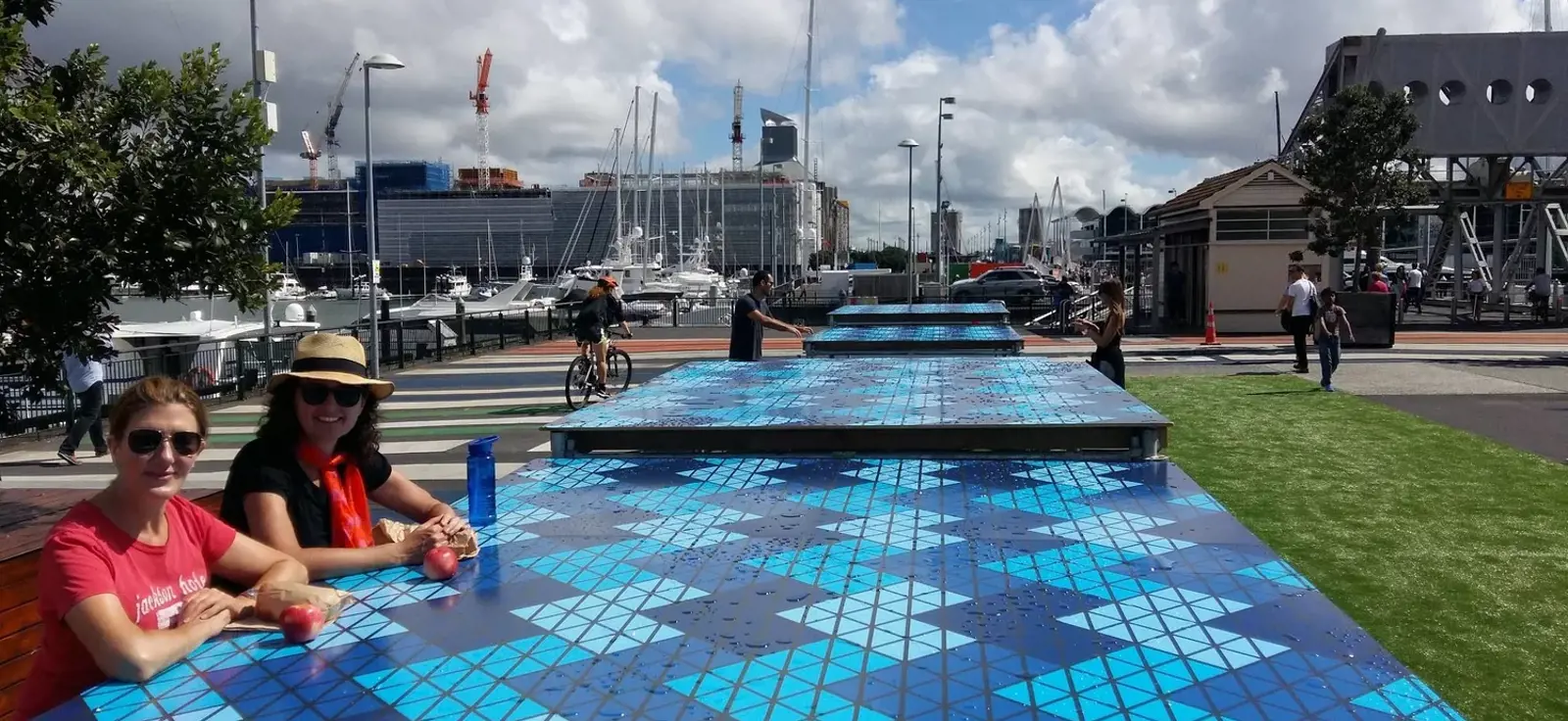 Take your seat at New Zealand's longest table and share food, conversation and make connections with friends both old and new.
A dining table almost twice the length of a cricket pitch features in a newly opened up piece of public space on Auckland's waterfront. Public car parking has been removed from Eastern Viaduct to improve safety and prioritise the space for pedestrians and cyclists.

In its place is a 35-metre-long bright blue table that will soon be skinned with information about the development of the city's waterfront, designed to get people sharing food and ideas about the future of Auckland. A selection of food trucks will be in place for the month of April, offering a mix of culinary and coffee delights.
Waitematā Local Board chair Pippa Coom says: "With the waterfront becoming an increasingly popular destination for Aucklanders and visitors, it's great to see Panuku responding to the need to make Eastern Viaduct a safer and more attractive place for people to linger and move through. The change is the realisation of the 2012 Waterfront Plan, where the intention to return this space to the public and improve the connection between the waterfront corridor and Wynyard Quarter was first outlined."
A karakia led by Ngati Whatua took place before the table was constructed on site ready for the public to test out in the final gasp of good weather.

In the coming months, there will be opportunities for the public to feedback on what they think of the new layout, which will provide flexibility for public uses. Planning committee chairman Chris Darby says the change will encourage more Aucklanders to explore the area, which currently sees about 1.9 million people pass through it each year.

He says: "In testing the design of the space, the public is invited to contribute to the creation of a quality public realm, allowing them a unique opportunity to collaborate in deciding how a prime piece of the city's waterfront is shaped in the future. Without public parking, the area is safer and provides a better experience for visitors to the waterfront."

Just under 50 public car parking spots have been removed from Eastern Viaduct.

Access for authorised vehicles remains to allow marine and business activities to continue to thrive in the area. Parking for berth holders also remains unchanged and service vehicles are permitted access to deliver to businesses and restaurants on Viaduct Harbour.
The nearest public parking is in Downtown car park, which has more than 1900 spaces including 19 mobility car parks. More mobility car parks are available on Princes Wharf and in Wynyard Quarter.