Global spotlight on Northcote Town Centre
regeneration
27 September 2021
The regeneration of the Northcote Town Centre has been the focus of students and universities from across the globe as part of the C40 Students Reinventing Cities competition.
The competition, led by C40 Cities Climate Leadership Group – a global network of cities committed to taking action on climate change including Tāmaki Makaurau, Auckland – is designed to ignite creative ideas to decarbonise city neighbourhoods, as well as support thriving and resilient life for local communities.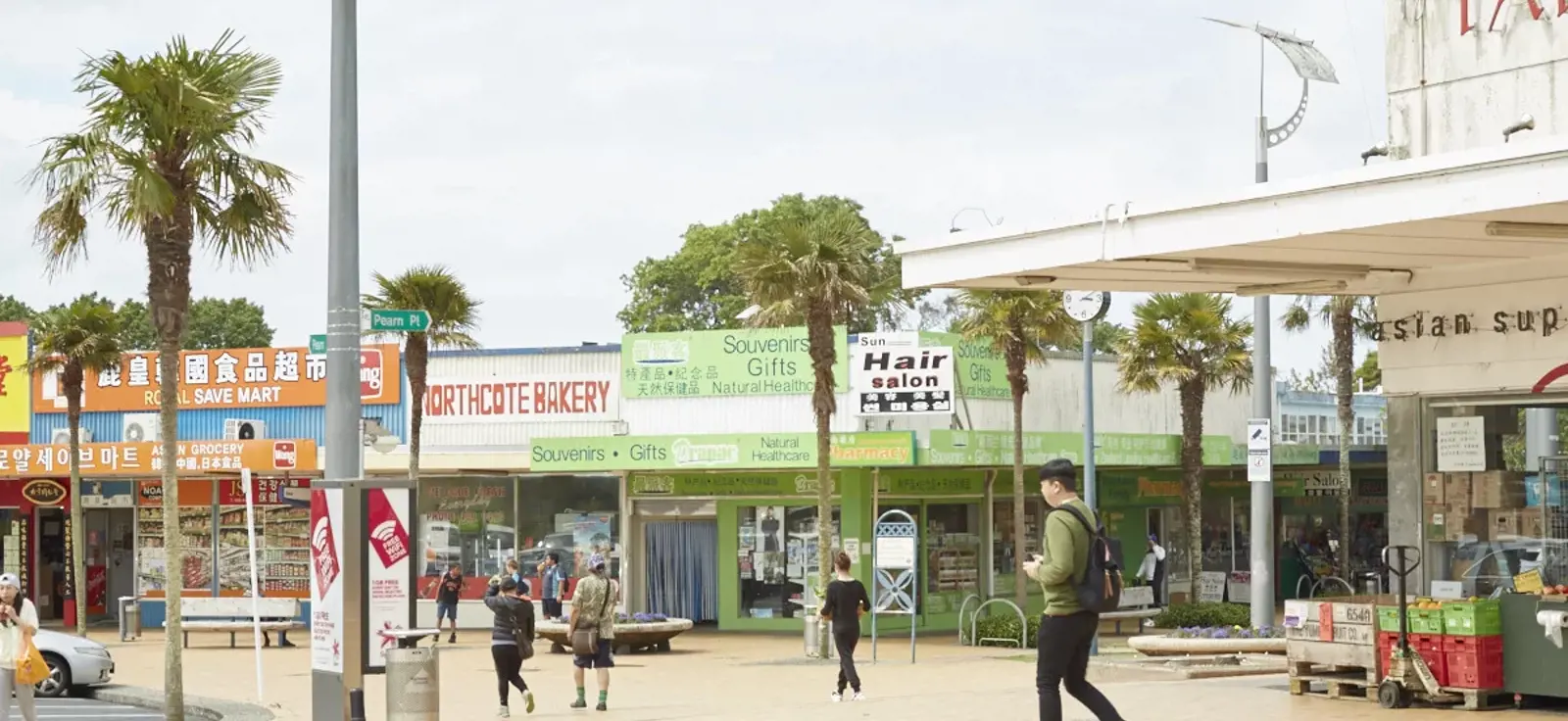 Northcote Town Centre was one of 15 locations from across the globe chosen as a C40 Students Reinventing Cities competition site. Academics and students were invited to share their creative vision and fresh ideas in line with the city's climate priorities and the Northcote Town Centre Benchmark Masterplan.
Under the guidance of the Northcote Town Centre Benchmark Masterplan, the urban regeneration of Northcote Town Centre is being led by Eke Panuku Development Auckland, on behalf of Auckland Council. Developed in collaboration with the Kaipātiki Local board and mana whenua, it draws on more than a decade of legacy planning and community input and outlines the plan for the town centre renewal. The renewed town centre will offer all the things that locals need including eateries, shops and public spaces while retaining a distinctly Northcote flavour.
Five teams from three countries submitted official entries for this year's competition. A jury panel made up of local and international industry experts selected the winning entry from Brisbane Designers, a multidisciplinary team from the Queensland University of Technology.
Matthew Blaikie, Auckland Council's Chief Sustainability Officer (Acting) said, "Utilising their skills across architecture, town planning and landscape architecture, the Brisbane Designers project stood out for its strong visual presentation and well considered approach which built off Eke Panuku's Benchmark Masterplan.
"The C40 Students Reinventing Cities competition has provided an excellent opportunity for cities and academia to collaborate and for students to further increase their understanding of how neighbourhoods can be planned and designed to support a low carbon, resilient future."
Matthew Blaikie also made special mention of a submission by a team from Imperial College London, who's Re-Reinventing a Better Tomorrow for Northcote, Auckland project clearly responded to the competition's 10 design principles for a green & thriving city neighbourhood and also outlined an environmental analysis of their proposal.
In addition to the official competition entries, a further five teams from Auckland chose to use the global competition as a learning and development opportunity, completing proposals for Northcote Town Centre as an architecture studio brief.
"​It's great to see some amazing ideas for the Northcote Town Centre from students from across the globe"

Richard Hills


Councillor
"It's also awesome to see that the winning ideas are well-aligned with our existing plans for Unlock Northcote. Innovative urban design ideas like these will be necessary for us to reshape our city for the future and establish low carbon, resilient neighbourhoods and town centres across the region, as set out in Te Tāruke ā Tāwhiri: Auckland's Climate Plan."
Kaipātiki Local Board deputy chairperson Danielle Grant is the board's liaison on the Northcote project and says it is always interesting to get an outside view to see if things can be improved or to identify new ideas.

"What's pleasing is that this process has shown that the benchmark masterplan is well placed to deliver not just for the regeneration of Northcote but also the environment, which means all the hard work being done is on the right track and that is exciting."
Kate Cumberpatch, Eke Panuku Priority Location Director – North said, "It has been fascinating to see the creative and innovative ideas submitted by these groups of students. There have been some great options for solutions. The winning team had an interesting proposal to use pneumatic tubes for waste, which we will look into further."
Other cities who participated in the competition include; Athens, Barcelona, Bogotá, Buenos Aires, Chicago, Dakar, Delhi, Dubai, Madrid, Melbourne, Montréal, Paris, Quezon City, Quito, Reykjavík, Seattle and Washington D.C.
Find out more about the C40 Students Reinventing Cities global winners at c40reinventingcities.org/en/students/winning-projects/
Find out more about the regeneration of Northcote Town Centre at ekepanuku.co.nz/northcote