Henderson-Massey Local Board adopts
Catherine Plaza plan
04 July 2023
A concept plan for a refreshed Catherine Plaza has been approved by Henderson-Massey Local Board
The plan, prepared by Eke Panuku in partnership with Te Kawerau ā Maki, includes new play elements, more native trees, and an outdoor dining area, to create a multi-functional and adaptable community space, as part of the Henderson Spatial Delivery Plan.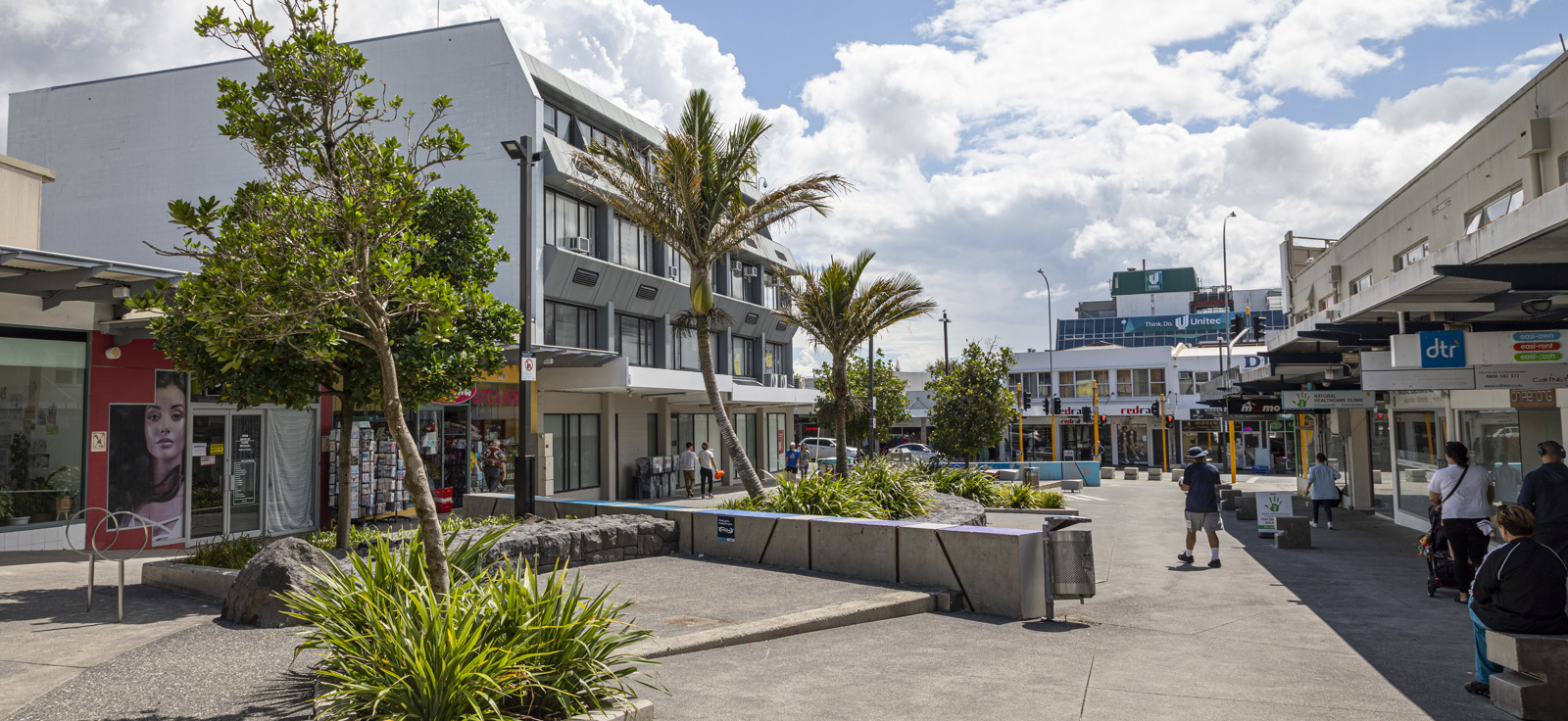 Catherine Plaza, situated in the heart of Henderson, was formerly known as Catherine Street and has become a public space that connects Great North Road with WestCity Waitakere. The plaza's prime location holds the potential to play a greater role in creating a welcoming and more active space within Henderson town centre for locals and visitors.
"We're very excited to see the concept plan. The last time Catherine Plaza was updated was in 2007. After more than 15 years, the Plaza truly needs some love," says Henderson-Massey Local Board Chair Chris Carter.
"Getting to this stage has taken a lot of work, dedication, and patience - while the Plaza won't be updated in one day, we are all looking forward to seeing it rejuvenated for us all in Henderson-Massey," Carter says.
Eke Panuku Priority Location Director Richard Davison is pleased to see this project moving front and centre within the agency's planning and delivery schedule.
"Over the years we have heard time and time again that there is a strong community desire to address the challenges within this space. I am delighted to hear that the local board has given this the green light and I can confirm we are now ready to make this a priority for our Unlock Henderson programme.
"We look forward to working with the business association, nearby shops and WestCity to make this a more inviting space for everyone."
Public consultation took place on the concept in March and April to gather views, thoughts and ideas on how to improve the Plaza. A total of 327 pieces of feedback were received after the consultation period.
Eke Panuku will now move forward with the developed design and consenting phases of the project.
Other improvements of the Plaza include:
Planting – boardwalk winds through low vegetation with clear stemmed trees to improve sightlines and provides natural canopies, with areas to sit underneath
Play – play elements introduced such as the low grass seating mound within the central area and ovals bands of play safety materials to bring colour into the space
Outdoor dining - dedicated zones to the south other Plaza to allow the food court in the mall to spill out into the plaza for outdoor dining
Open and flexible space – to allow activities such as performances, food carts, seasonal events and small market; sufficient clearance space outside of shopfronts to encourage future outdoor dining use
Lighting – through column and under seating lighting to improve visibility and atmosphere, with permanent structures installed for festoon lightings as required
Signage and wayfinding – to connect the plaza with other key Henderson locations