How Panuku does
the mahi
17 June 2020
Urban regeneration is a complex process that requires integrating many different types of skills.
At Panuku we've developed a strategy to ensure we're delivering the most strategic and best quality work we can.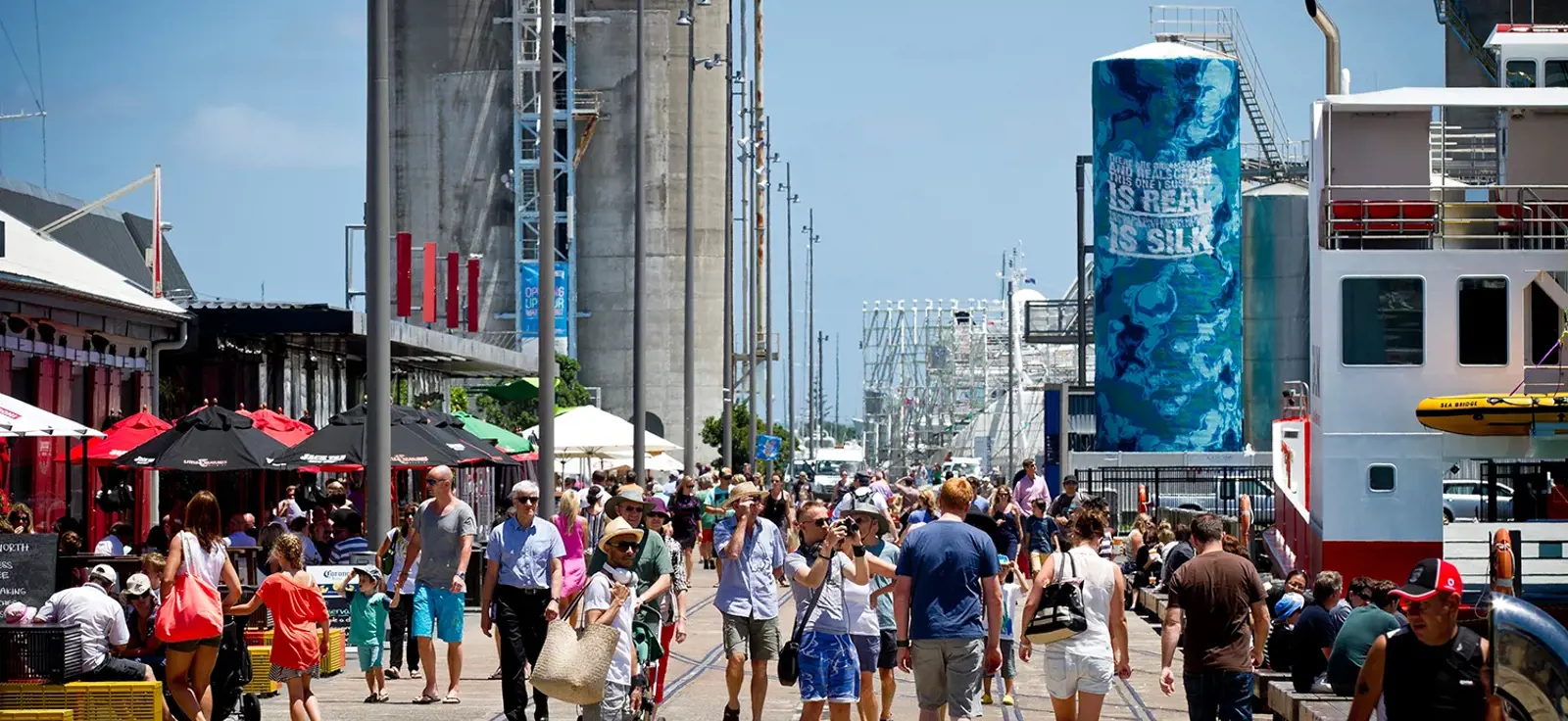 By Brenna Waghorn
General Manager Strategy and Planning
Our vision is shaping spaces for Aucklander's to love. We start with a plan, working with the local board, mana whenua and stakeholders, and importantly building on any plans that have already been prepared with the community.
We seek approval of our over-arching plan (called a High-Level Project Plan) by the council's Planning Committee and the local board. This confirms our role in the neighbourhood's regeneration, what we are seeking to achieve and the council land that can be used. To implement the agreed plan, we have "three levers".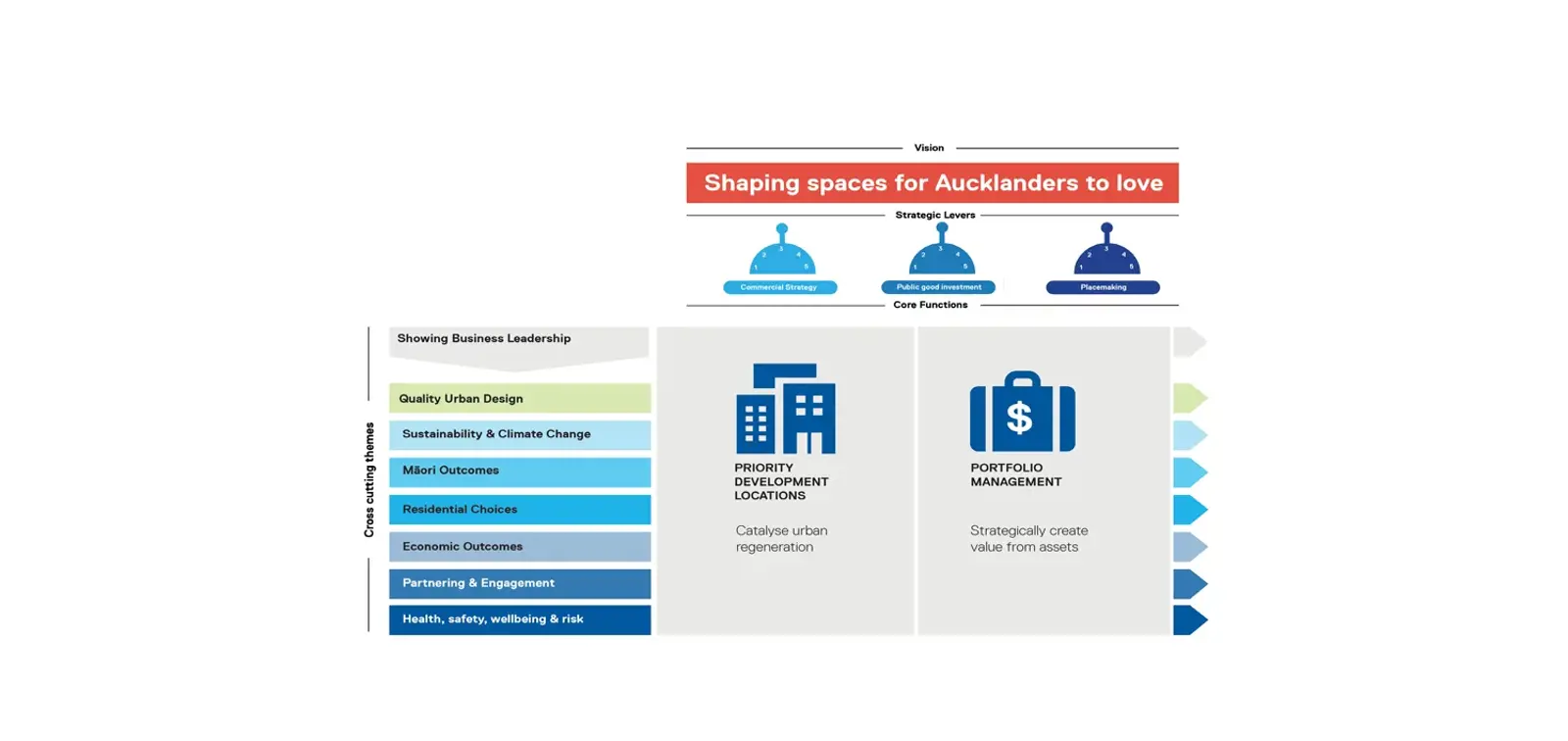 The 'levers' are the three key tools we use to implement the plan. We 'pull' each lever to a certain level in our neighbourhoods, depending on what's required there.
The first lever is commercial strategy. This is where we use properties in Auckland Council's portfolio to deliver urban regeneration. These are either not needed by council to deliver services, could be used better or properties that have been purchased specifically to enable urban regeneration. Every site that we develop is strategically planned to ensure it delivers what the community needs; be it more homes, retail, or even a supermarket. We don't build on land directly, instead we work with others such as government, iwi, not-for-profit and private organisations. We provide them with a set of rules, including creating buildings that benefit neighbourhoods and guaranteeing all homes are healthy, energy efficient and better for the environment.
The second lever is public good investment. We have a small amount of funding available to invest in and improve the town centres we work in. If we want people to live, visit or work in our neighbourhoods, they need to have good amenities and be attractive. Public good investment could mean improving streets or walkways, creating new public spaces or linking up existing walking and cycling paths.
The third lever is very important – placemaking. Placemaking is a process that fosters the creation of successful places. Through placemaking, our communities play a strong, cooperative role in the building of their public places. It is an inclusive approach which can benefit both social and commercial outcomes. It is about building a relationship with the community and building support for change.
The second part of our strategy is our cross-cutting themes. This is a 'checklist' of things that our work must take into consideration. We set minimum standards but also look for opportunities to provide leadership through pilot projects, demonstrations or exemplary work.
The first theme is quality urban design and development. We're regenerating land on behalf of council, so it must be high quality but also commercially viable and realistic. We have a team within Panuku that prepares masterplans, provides design input, reviews our designs, as well as an independent design panel. For public realm projects our designs often receive input from local boards, councillors and the community. And that's all before they go through council's resource consenting process.
Next, we consider sustainability and climate change. We undertake initiatives to ensure we build sustainably including homes that are low carbon, reduce emissions, are warm, dry, drought resistant and resilient to climate and pandemic events.For example, all houses built on our sites must be a minimum Homestar 6, and often we aim for higher such as in Wynyard Quarter, where many of the apartments built are Homestar 7 or 8.
Māori outcomes are also critical to our work. We have worked closely with mana whenua, Auckland's 19 iwi, for many years, including agreeing a series of Māori outcomes.. We identify opportunities for Māori in our work including cultural opportunities, ways in which we can reflect Māori identity and commercial prospects.
Another key theme for our work is residential choices. Many neighbourhoods are dominated by three- and four-bedroom stand-alone homes. Often our work means introducing more one- and two-bedroom homes, including townhouses and apartments, to provide options for people. We're also committed to ensuring homes serve the whole community, including social and affordable housing. For example, in our Barrowcliffe development in Manukau we are working with the New Zealand Housing Foundation and Te Ākitai Waiohuato deliver over 300 homes in a mix of types and ownership models, including shared equity and KiwiBuild. We regularly work with Kāinga Ora Homes and Communities to build social housing, too.
Our next consideration is economic outcomes. Although economic outcomes at a region-wide level sits with our counterparts at ATEED, economic development at a neighbourhood level is critical to urban regeneration. We ensure that our work delivers new business, employment and workers to our town centres. We have a dedicated team, Commercial Place Operations, that work with our business associations and tenants to ensure good economic outcomes.
We know we can't achieve urban regeneration alone, so our next theme is relationships and engagement. Our collaborative approach means that we must take people on this journey with us, through proactive engagement and communications. Investors in housing and commercial development are critical to what we do and we are always looking for ways to ensure we are an easy partner to work with. Partnerships with the private sector, Kainga Ora and other government organisations, iwi, community housing providers and others is our focus. We must work together, prepare plans jointly, co-fund projects and align delivery. This is especially important with other parts of council, such as Auckland Transport, Healthy Waters and the Community Services team, that deliver community facilities.
Health and safety is a bottom line. Keeping our staff, partners and communities safe is of utmost important to us, so we develop health and safety plans wherever they're required and work hard to ensure everyone's wellbeing is put first.