Innovation precinct reaches another significant
milestone
21 May 2021
​After over a decade of master-planning and two years of construction, today Wynyard Quarter's innovation precinct reached another significant milestone with the blessing of 10 Madden, N. Cole Building and Freda Barnes Plaza.
Ngāti Whātua Ōrākei led the dawn whakawātea on the morning of 20 May 2021, and a group of approximately 60 gathered to mark this impressive accomplishment.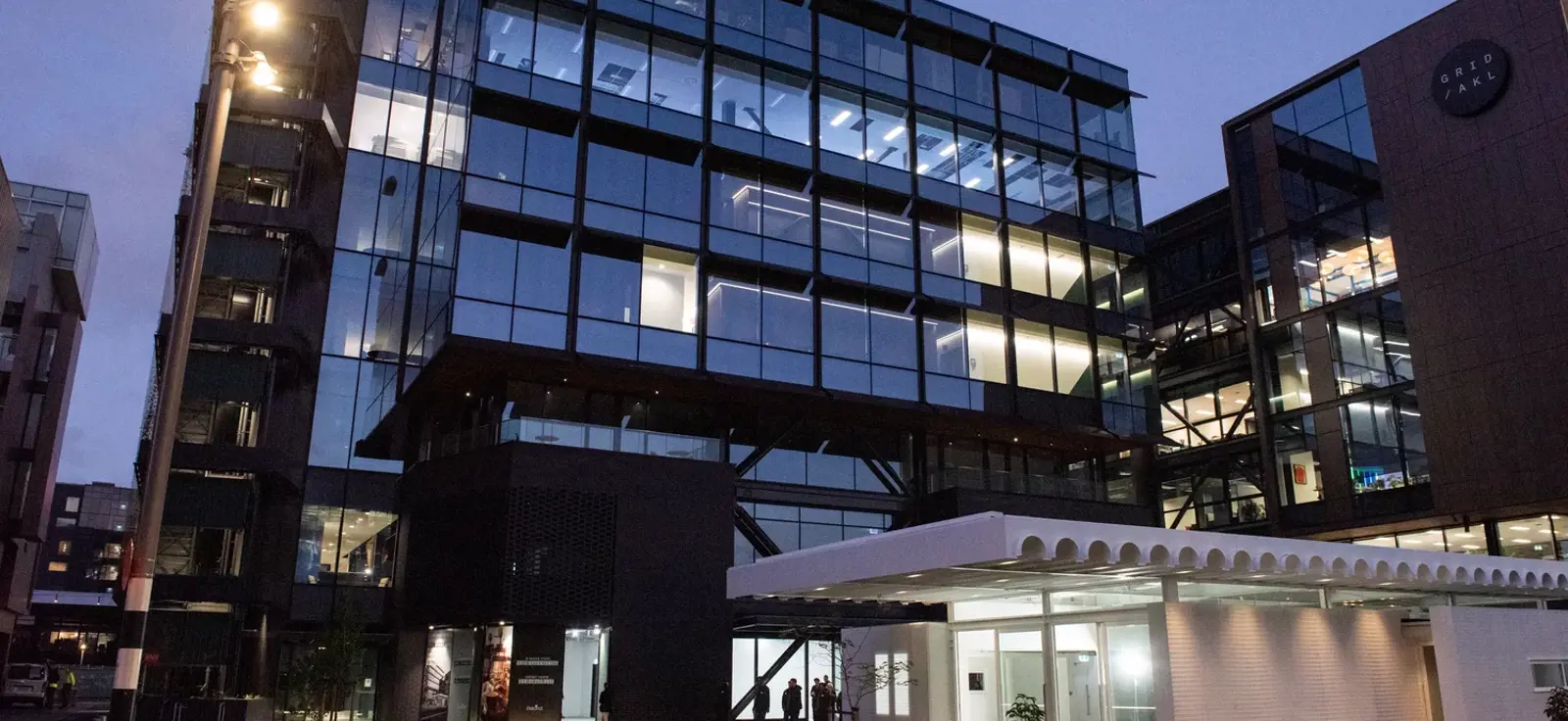 The completion of these Precinct Property developments marks the close of stage two out of a three stage process towards establishing a home for high-value, innovative, creative, green businesses within Wynyard Quarter.
Precinct Properties worked with Eke Panuku, architects Warren and Mahoney and construction partners Hawkins and BECA to design and build these new additions to the 48,000sqm innovation precinct. The developments are in good company with the commercial Lysaght Building, award-winning Mason Brothers and 12 Madden buildings nearby.
Previously an industrial site closed off from public access, the space has transformed into a mixed use, people friendly and well-designed neighbourhood destination. The innovation precinct offers a hub for people to work in sustainable buildings, with good transport links, functional streetscapes, and welcoming public spaces nearby.
Throughout Wynyard Quarter, inspiring public art is featured at every twist and turn. Each piece is thoughtfully crafted and designed for the space it's located, so that it tells a story of place. Eke Panuku and development partners like Precinct Property are working with mana whenua to incorporate public art across the waterfront so that everyone can experience thought-provoking, culturally vibrant, and enjoyable public art and public space.
Janine Williams of Ngāti Pāoa and Ngāti Whātua ki Kaipara has her mahi toi exhibited throughout the innovation precinct. Her work is featured on the seating plinths within Freda Barnes Plaza, the concrete precast panels on the eastern side of the 10 Madden building and on the entrance canopies, as well as on the nearby 12 Madden and 134 Halsey Street buildings.
"I have had the beautiful privilege of representing mana whenua and being their eyes in this space," she says.
Janine's mahi toi draws on her tupuna and connection to the whenua and symbolises the collaboration between mana whenua and the developers to increase the beauty of the space. The display of rātā vines climbing the building symbolises the growing partnership between mana whenua and the developers. "A rātā uses a host tree to grow high in the canopies of the forest, it eventually grows roots down to the ground and encases that tree to make one entity. It speaks of collaboration; it only grows when there are two structures working together," says Janine.
Her other mahi toi on the plinth seats feature the kaokao pattern pertaining to the strong and robust nature of the material. They respond to the surrounding architecture acknowledging the wider environment and terraced designs, and on the entrance canopies the puhoro design with the pointed edges is in response to the building being a hub for technology and innovation. The sharp edges symbolise modern applications to culture and draw from ancient Polynesian voyaging where birds, seen as sharp pointed beak shapes, played an important part of the journey towards innovation and discovery.
Outside the development, Freda Barnes Plaza offers a relaxed meeting place and green retreat in between the entranceways to 10 Madden and the N. Cole Building.
"It's a key focus for Eke Panuku to not just think about commercial development, but to combine this with investment in public spaces both big and small"

KE PANUKU CHIEF EXECUTIVE


David Rankin
"Freda Barnes Plaza is a great addition to this precinct, and will be a welcome lunch spot for those who work in Wynyard Quarter."
The name of the plaza was adopted by the Waitematā Local Board after Freda 'Fuzz' Barnes, who was a law clerk, Justice of the Peace and trade union activist who supported the strikers in the 1951 waterfront dispute. Due to her civic contribution, her link to waterfront heritage, and the notable lack of spaces named after women in Wynyard Quarter, the Waitematā Local Board agreed that the name was fitting for the space.
Precinct Properties has worked hard to achieve Wynyard Quarter's sustainability standards and align with the 2012 Waterfront Plan and waterfront goals. 10 Madden has targeted a 5 Green Star rating, to achieve sustainable best practice. Sustainable features include rainwater harvesting, solar panels on the roof, electric charging, end of trip facilities and bike repair services.
"The completion of stage two is a significant milestone for the Wynyard Quarter innovation precinct, we're incredibly proud of what has been achieved to date and we're excited about the opportunity to embark on the next stage of development," said Tim Woods, General Manager of Development for Precinct Properties."
When a building is designed to be sustainable, dynamic and for people, it has such an impact on productivity and staff wellbeing. By creating a high-quality development, that people want to spend time in, Precinct Properties has contributed greatly to a Wynyard Quarter that is sustainable, innovative, desirable, and future ready.