Manu māori roost in Auckland's
waterfront
06 August 2021
A new mural in Wynyard Quarter celebrates our native birds
Wynyard Quarter's pump station in Amey Daldy Park has an exciting new look inspired by Aotearoa's manu māori, our native birds.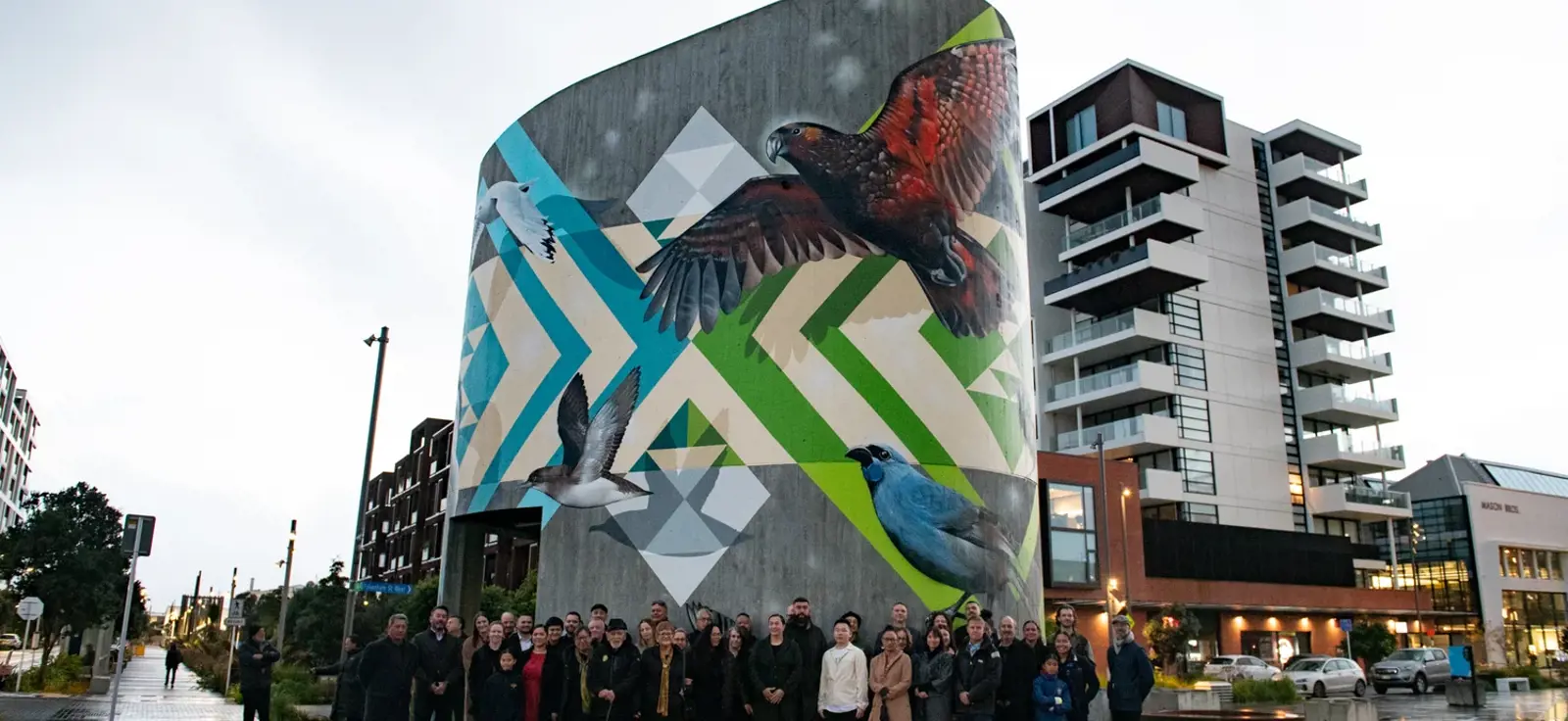 The new mural, created by mana whenua artists Janine and Charles Williams, is named 'Mai i ngā maunga ki te moana' (from the mountains to the sea) and was blessed with a karakia whakawātea by Ngāti Whātua Ōrākei this morning.
At 12 metres high and spanning 16 metres wide around the pump station structure, the mural features 12 native birds to remind us of our roles as kaitiaki (guardians) of our natural environment. Each manu (bird) faces their respective habitats, be it moana (ocean), takutai (beach/shore) or pararau/repo/maunga (forest/swamp/mountains).
The artists were appointed to curate a work that brings beauty and cultural interpretation to the concrete pump station and contributes to cultural expression on the waterfront.
"Mai i ngā maunga ki te moana reflects the interwoven relationships within te taiao [nature] and the importance of these connected ecosystems"




— ​JANINE AND CHARLES WILLIAMS
"The work responds to the physical location of the pumpstation and the orientation of the structure within its geographical position in Tāmaki Makaurau. The placement and colour selection of the design reflects the natural habitat of the chosen birdlife (in consultation with mana whenua) while showing the comparisons of their physical size."
Eke Panuku senior delivery project manager Jeanine McMullien remarked: "Our native manu of Aotearoa, New Zealand are so important as taonga to be treasured and cared for, so we're thrilled that our winged taonga will be honoured in such a prominent location."
"As pointed out by Janine and Charles, this mural will serve as a reminder that we at Eke Panuku must be kaitiaki – guardians – of Tāmaki Makaurau's natural environment."
The award-winning pump station was completed in 2018 by Watercare to manage Wynyard Quarter's wastewater. The artwork was commissioned by Eke Panuku in partnership with mana whenua as part of the wider Wynyard Quarter redevelopment project while Auckland Transport delivered Amey Daldy Park (named after the iconic Kiwi suffragist).
The mural was the finishing touch to the much bigger project of Amey Daldy Park. The budget of $400,000 covered everything from consultation with mana whenua to appoint the artists, concept development and design work, to paint, brushes, scaffolding and, of course, Janine and Charles' valued time and skills. The result is a timeless mural that puts Tāmaki Makaurau on the map for our unique mana whenua artwork and brings colour to a space for Aucklanders to love.
The birds included in the mural are:
Kuaka - Bar-tailed godwit
Karuhiruhi / Kawau - Pied shag
Tarāpuka - Black-billed gull
Pakahā - Fluttering shearwater
Kāka
Warou - Welcome swallow
Kōkako - Blue-wattled crow
Korimako - Bellbird
Pūkeko - Purple swamphen
Karoro - Southern black-backed gull
Tōrea - Oyster catcher
Tuturiwhatu – Dotterel
Be sure to visit Wynyard Quarter soon to see 'Mai i ngā maunga ki te moana' for yourself.