New Silo Park is ready for
summer
21 December 2021
There's now even more of Silo Park to love, just in time for summer!
The space, part of Wynyard Quarter, is a popular park for Aucklanders to enjoy all year round.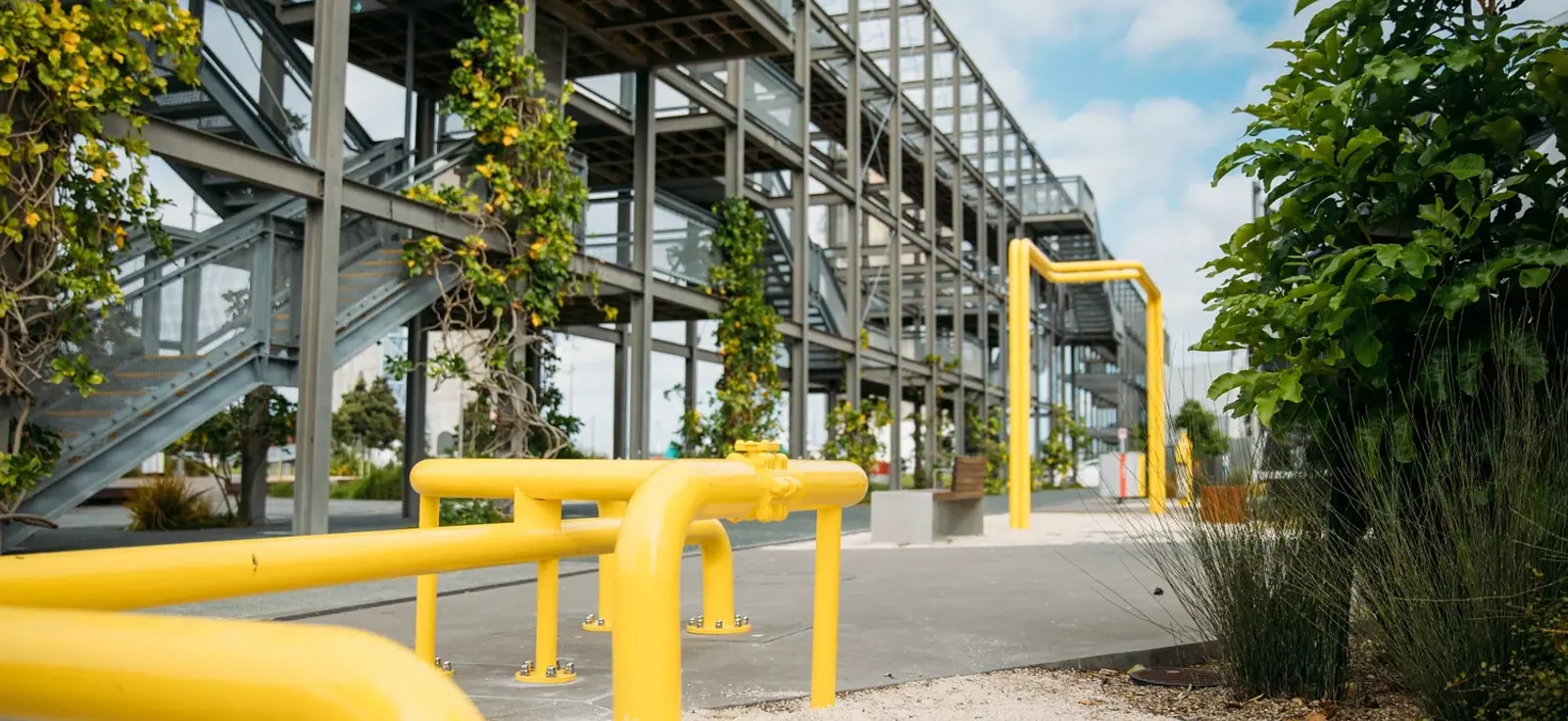 With the completion of our extension project, it's now nearly a third bigger – connecting it to North Wharf and Wynyard Wharf – and boasts heaps of new features for everyone to enjoy.
So, what's new in Silo Park?
The Playline: A new play area now runs alongside the park's southern edge. The pipes and fittings salvaged from the Bulk Storage Terminal (BST) tanks of the old working Wynyard Wharf have been transformed into bespoke, interactive play equipment. Each pipe holds its own adventure, and we're looking forward to adventurers of all ages getting stuck in and seeing what they discover.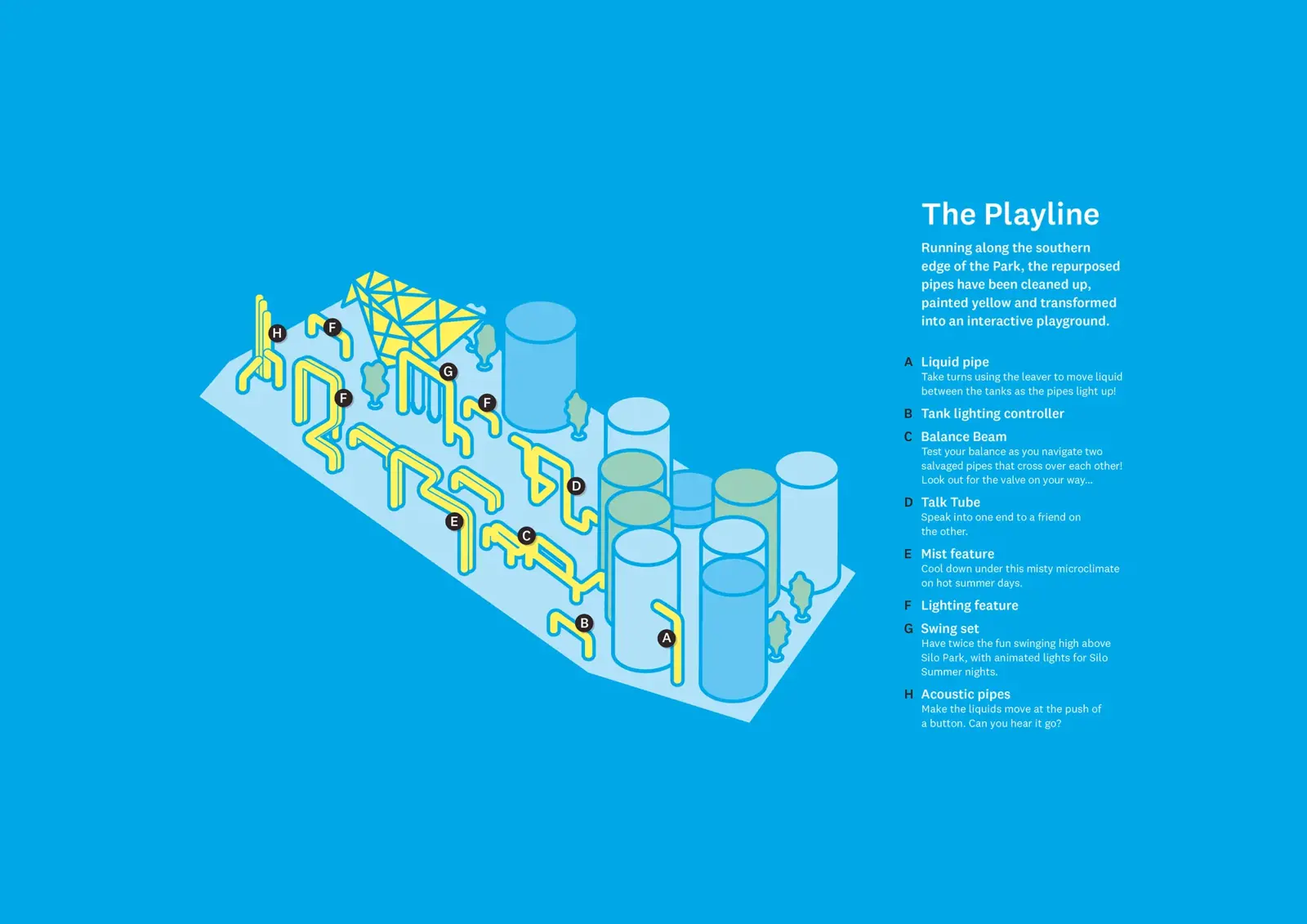 Tanks for the fun: Silo Park was once home to a variety of large industrial tanks. The largest, Tank 102, is being modified with viewing portals – soon you'll be able to get a look inside to see the guts of this historic treasure. Plants have been added to each tank, while Tank 117 will soon feature an interactive lighting system that can be controlled from the ground.
A greener waterfront: Rain gardens, a tree pit and new native plants bring this urban space closer to te taiao (the natural world). This rain garden joins others in the area to help treat Wynyard Quarter's stormwater, helping to make the waterfront of Tāmaki Makaurau a healthier place.
Convenience and comfort: Bike racks, seating and street furniture have been added to make Silo Park a comfier and more convenient place in which to hang out. There's even movable platform furniture that doubles as a small stage for performers!
"Considering that Wynyard Quarter was a predominantly industrial area only a decade ago, it's so rewarding that it's now this popular with Aucklanders and visitors," says Fiona Knox, our priority location director for the Waterfront.
"This extension is a great example of how we're able to consciously reuse materials and repurpose them into something unique and fun – for everyone to enjoy. We're inviting everyone to head down to Silo Park and explore for themselves.
The expansion project's completion comes halfway through our planned 20-year Wynyard Quarter regeneration plan, which is focused on making the neighbourhood a blue-green space that's more public, liveable and connected.
Stage one of the project was completed in December 2020 in time for the 36th America's Cup, adding the award-winning pavilion shelter, Te Nukuao play areas and native plants, as well as retaining nine stainless steel silos as not to lose the location's previous use. The silos used to store a range of oil products that fed the city once upon a time.
The newly completed stage two has expanded the Park further to create more people-friendly space, including seating, bike racks, more greenery and native plants, interactive features on the heritage tanks, and the 'Playline' bespoke interactive play equipment.
Fiona adds, "There's more to come, too: next door in the space that housed the AC36 bases, we are testing and trialling activations over the summer. Follow @yourwaterfront for the details of an exciting and evolving programme, as well as the upcoming events in the Jellicoe Basin."
With so much to do in the expanded Silo Park this summer, be sure to plan your next fun day out with this handy Silo Park map (and don't forget the sunblock!):