Onehunga Wharf purchase key for
neighbourhood revitalisation
05 July 2018
Onehunga Wharf has been acquired by Auckland Council in a move that will be critical to the revitalisation of Onehunga over the next 30 years.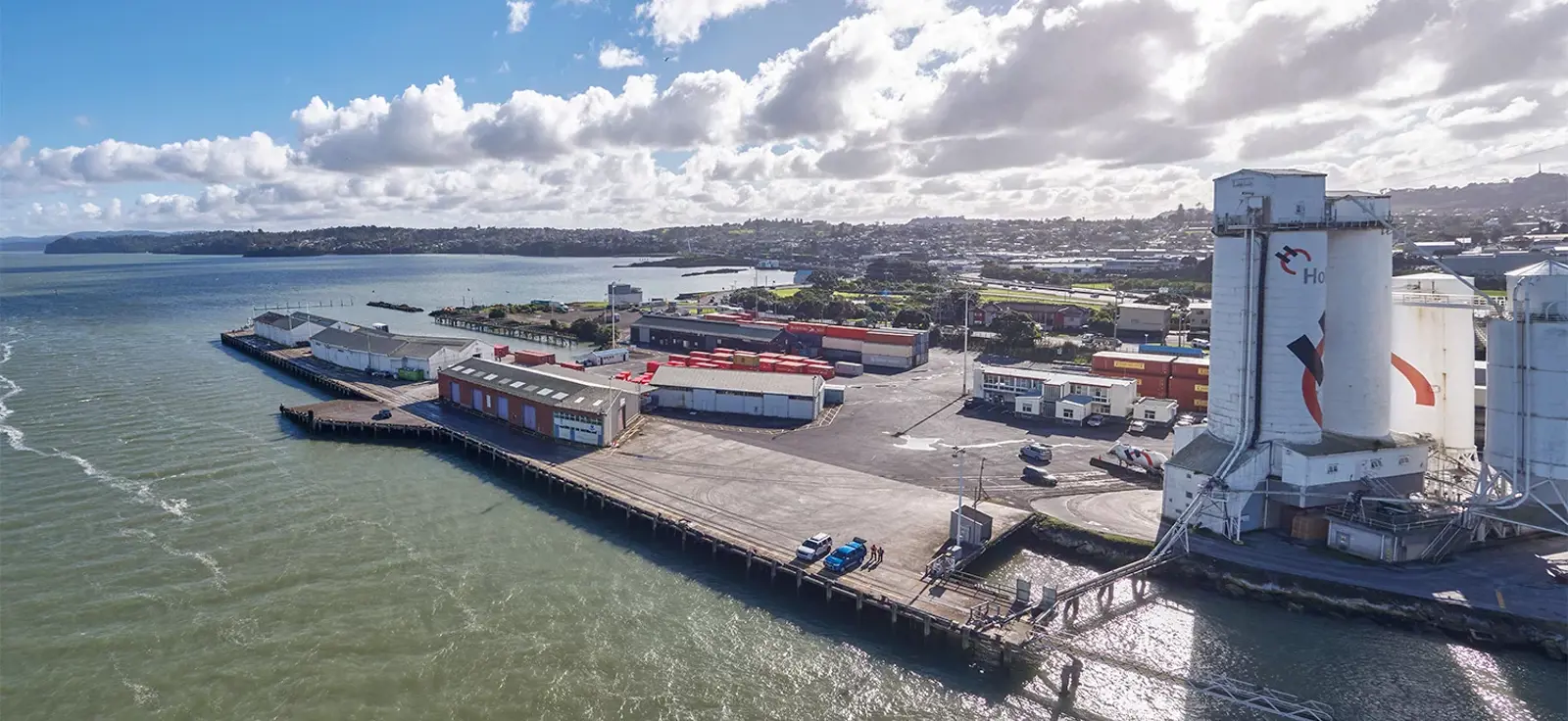 The vision for the wharf is that it will be transformed in to a new community with homes, cafes, retail and public space, while retaining its seafaring history and spirit.
The transformation will be led by the city's redevelopment agency, Panuku Development Auckland, which will work with the community to realise the vision.
"Onehunga Wharf is an historic part of Auckland and the Manukau Harbour. This purchase will enable us to protect and enhance this great part of our city," says Mayor Phil Goff. "We want to ensure that this heritage, that has so much potential, is retained so Aucklanders can enjoy it for generations to come.
"We've been working for years on developing Onehunga's potential as a key destination in Auckland. From the reclamation of Onehunga's waterfront to the introduction of light rail, these changes will be transformative for Onehunga."
The wharf was purchased by council from Ports of Auckland.
Public events or development on the site are up to five years away, as there is a lot of behind-the-scenes work to do. This includes negotiating usage with other key players such as NZTA, undertaking maintenance and upgrades and working with existing leaseholders. The wharf also has health and safety issues which need to be addressed.
Councillor Chris Darby, chair of council's Planning Committee, says the site will play a key role in building on Onehunga's strengths and revitalising the area. "This site provides a great opportunity to rethink how Onehunga will reconnect and embrace its historic harbour-edge location."
"With the threat of the East-West Link severing the town from the waterfront removed, Onehunga Wharf can plan for a future as a magnet for Aucklanders, with the flavour of a new Wynyard Quarter. People can relax and socialise, or enjoy commercial, cultural and tourism activity – all right alongside the existing fishing industry.
"Auckland's unique 'three harbours' context provides a multitude of waterfronts for Aucklanders to choose from – not just in our city centre. It's important that we enrich these areas so that everyone has a waterfront they can enjoy."

Councillor


Chris Darby
The redevelopment of Onehunga will be implemented over the next 25 years. It will include creating high-quality public spaces, mixed styles of housing close to the town centre, facilitating improved public transport and better connections to the Manukau Harbour.
Maungakiekie-Tāmaki Councillor Josephine Bartley says securing the wharf is a key win for Onehunga.
"The wharf plays a crucial role in connecting our community to the Manukau Harbour. It's great to see it secured as an area that could eventually be opened up to the people of Onehunga as a flourishing and lively centre that is well connected to its past, its community and the surrounding environment.
"The Port has a strong and important history for the people of Onehunga. Bringing it into public ownership means that we can make sure that the community enjoys it and benefits from it for years to come."
Panuku Design and Place Director Rod Marler says it will be important that any future development on the wharf maintains a strong connection to the Manukau Harbour and retains its history and authentic seafaring spirit.
"This landmark purchase is a critical component of the transformation of Onehunga. The wharf is the only west coast port in Auckland and has a rich and vibrant history dating back to pre-colonial times.
"Wynyard Quarter was a place where we successfully transformed the waterfront in to a people-oriented place that is fully accessible to the public. We see similar potential in Onehunga," says Marler.