Outdoor dining space pops up in
Henderson
06 December 2021
The Henderson 'parklet' on Great North Road is set to stay for a little longer!
As Tāmaki Makaurau moves down through the COVID-19 levels, we've been thinking about how we can support local hospitality businesses to meet social distancing rules and keep customers safe with outdoor seating options.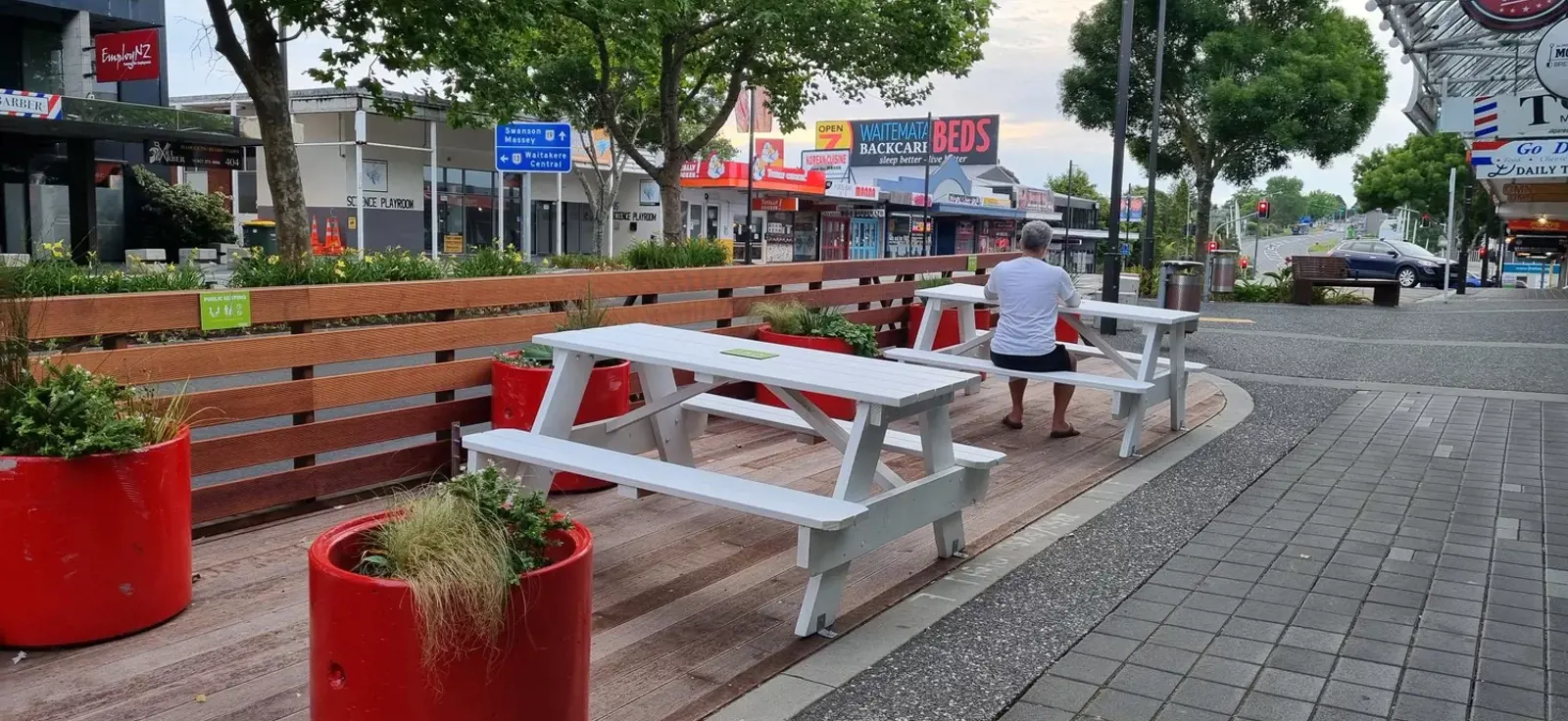 One such way is to use a parklet - essentially replacing a parking space with a space for all people to use. We had planned to install a parklet during the Henderson Streets for People trial, but were unable to complete it before the trial ended. However, during recent conversations with Regan Wood, co-owner of Wood Brothers Bar & Grill, he expressed an interest in keeping the parklet to support Henderson businesses and locals.
"Even though it's located outside our restaurant, we see it as a place for all Henderson locals to use, whether you are buying a meal from us, another café or shop"

Co-Owner of Wood Brothers Bar & Grill


Regan Wood
"COVID-19 has been hard for us all and we're keen to do our bit to support local businesses.
"We want to see some activity happening in Henderson so are keen to work with Eke Panuku in how this site is managed and maintained, and also want to encourage locals to use it."
John Carter, Eke Panuku's Priority Location Director – West, is excited to partner up with Wood Brothers on this initiative, and to give a boost to Henderson as we head into summer:
"We are completing this area with screening, planters and picnic tables, and have classified this parklet as a public seating area, similar to how you would use a picnic table in a park.
"This means the space does not require an outdoor dining licence, as there will be no table service. This enables us to give local eateries a helping hand with an additional shared space for anyone to meet and eat, and we very much appreciate the support of Wood Brothers Bar & Grill to help make this happen."
The parklet is a non-smoking and no-liquor consumption area, and will remain in place until at least the end of summer. If it proves popular with locals, it could be kept for longer.
As part of our ongoing mission to regenerate Henderson, attracting families, businesses, investors and visitors to this growing area, this is one way we are supporting the town centre to thrive. So pick up some kai from one of the local eateries and stop on by the new parklet.
For more information about our mahi in Henderson, visit www.ekepanuku.co.nz/henderson