Panuku delivers modern housing village for
Haumaru
26 November 2019
Construction of a new warm, dry, modern, accessible village for older people in Henderson is now complete,
with a blessing held by mana whenua to ready the space before tenants start to move in.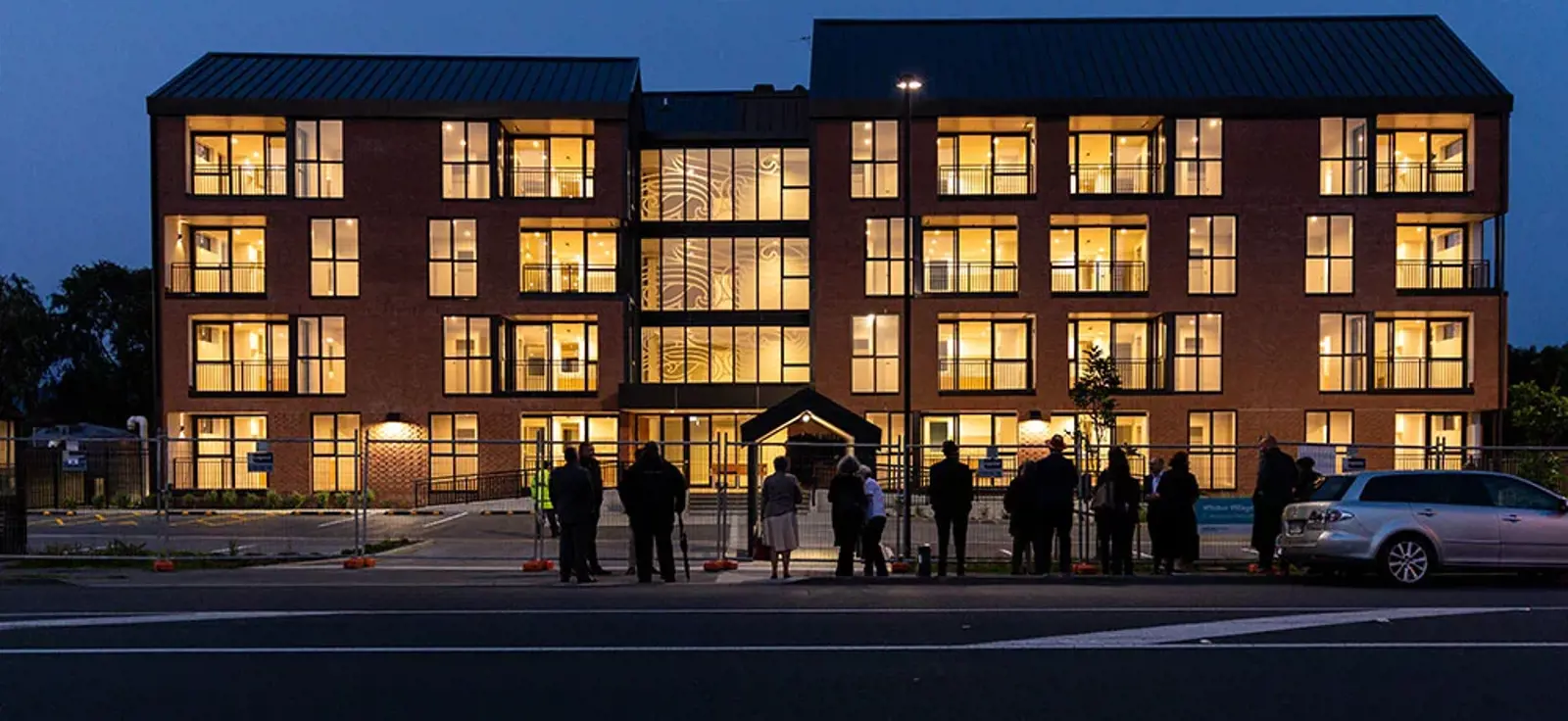 Wilsher Village is a new four-storey building and is the first Panuku Development Auckland, on behalf of Auckland Council, has built for Haumaru Housing.
It is its first project to get more people into high-quality housing in the area to help revitalise Henderson town centre.
"It's an incredibly meaningful moment, moving through the rooms and being invited to put our mauri, our spiritual essence, into the building. It's a wonderful tradition that we are very grateful to be able to continue here,"

Panuku Chair


Adriienne Young-Cooper
"Everyone who worked on this understands the importance of this building, that it is being built for people whose needs are changing yet can still live independently. You can't buy the care that's gone into this building.
"Henderson is an incredible place with so much history and such a bright future. The new tenants will come with all their stories and we are delighted to help make one more memory for them and for Haumaru too."
Haumaru Housing CEO Gabby Clezy is delighted that this development is now complete.
"This new village enables Haumaru Housing to offer affordable rental homes to yet more seniors in need of safe, secure and permanent housing within their local community."
"We're looking forward to welcoming our tenants and creating a vibrant community here, one that connects with the wider Henderson community and makes the most of what Henderson has to offer."
Mana whenua from Ngāti Whātua Kaipara, Ngā Maunga Whakahī o Kaipara, Ngāti Whātua Ōrākei, Te Ākitai Waiohua, Ngāti Tamaoho, Ngaati Whanaunga and Te Kawerau ā Maki participated in the blessing.
Mana whenua representative Martin Te Moni (Ngaati Whanaunga) says "the land was blessed by mana whenua prior to construction and now that the building has been completed, a karakia (blessing) has been carried out to allow new tenants to move into this beautiful retirement village".
Waitākere Ward councillors Linda Cooper and Shane Henderson are both pleased with the completion of this project.
"This is a fantastic project which really highlights how the council can make a tangible difference in the community,"

Waitākere Ward Councillor


Linda Cooper
Councillor Henderson agrees. "It is wonderful to see this development that really sets the bar in terms of quality design and, most importantly, quality of life for older people."