Pop-up village to enliven
Queens Wharf this summer
26 November 2015
A temporary pop-up container village is being planned for Queens Wharf, to create an exciting new dining and services hub for visitors to the downtown area.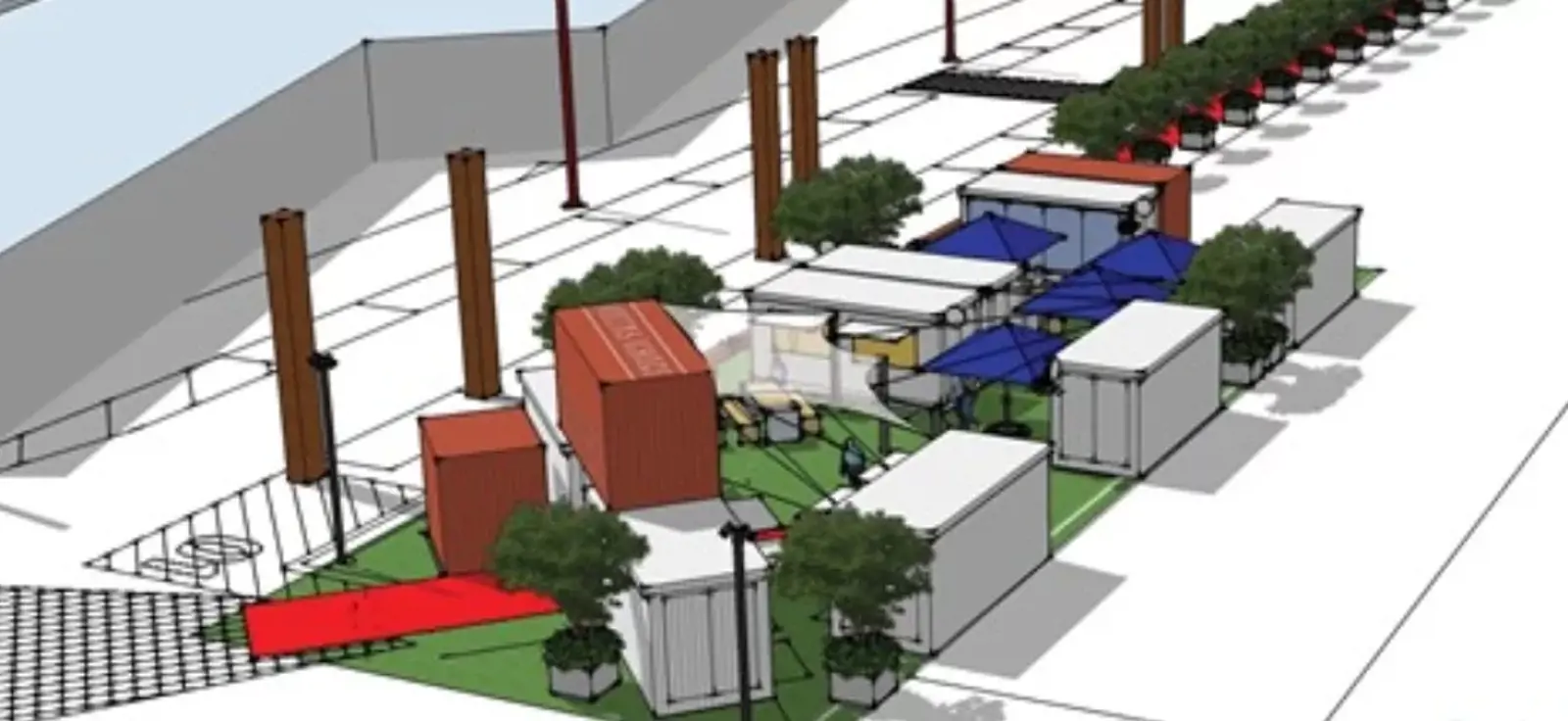 Queens Wharf Village will open in late January 2016 with a mix of food and beverage providers and service-based retailers, along with outdoor dining and lounging spaces and entertainment.
Panuku Development Auckland Portfolio Management Director Ian Wheeler says the proposed village will be an innovative place making response during a period of disruption.
"Over the next three years we are going to see a considerable amount of upheaval in the downtown area with the redevelopment of the Downtown Shopping Centre and the City Rail Link construction works.
"Panuku and the City Centre Integration team have come up with a concept to offer users of the shopping precinct a temporary hub they can look to for food and some services in the meantime," he says.
Retailers will be carefully chosen to ensure services, such as shoe repair, dry cleaning, banking or telecommunications, are offered. This will not be a high street-style shopping mall or a souvenir market.
Queens Wharf manager Connie Clarkson says the wharf welcomes hundreds of thousands of people each year, with a variety of reasons for visiting.
"This village will appeal to our daily casual visitors, commuters that pass through, those that live and work in the area, our venue users and our annual cruise ship guests.
"We aim to complement what's already on offer nearby and pick up some of the services, perhaps even tenants, that will be moving out of the Downtown Shopping Centre,"

Queens Wharf Manager


Connie Clarkson
Mr Wheeler says there is an opportunity for a fun opening celebration during Auckland Anniversary Weekend.
"Summer is the perfect time to get this initiative underway and the beauty of a container village is that you can bring it together swiftly.
"We still have some work to do, locking in the right mix of tenants and finalising the nuts and bolts of the structures, but we'll be ramping up our awareness programme very soon," he says.
Funding for the initiative includes a contribution from the City Centre Targeted Rate, endorsed by the Auckland City Centre Advisory Board.