Pukekohe parklet perfect for your
puku
27 February 2022
Enjoy kai in the sun with widened footpath trial
Good food, good company and good times, all outdoors in bustling Pukekohe – sounds like a great way to enjoy these long, warm days. If you're in the southern town and have a rumbling puku, our new parklet awaits.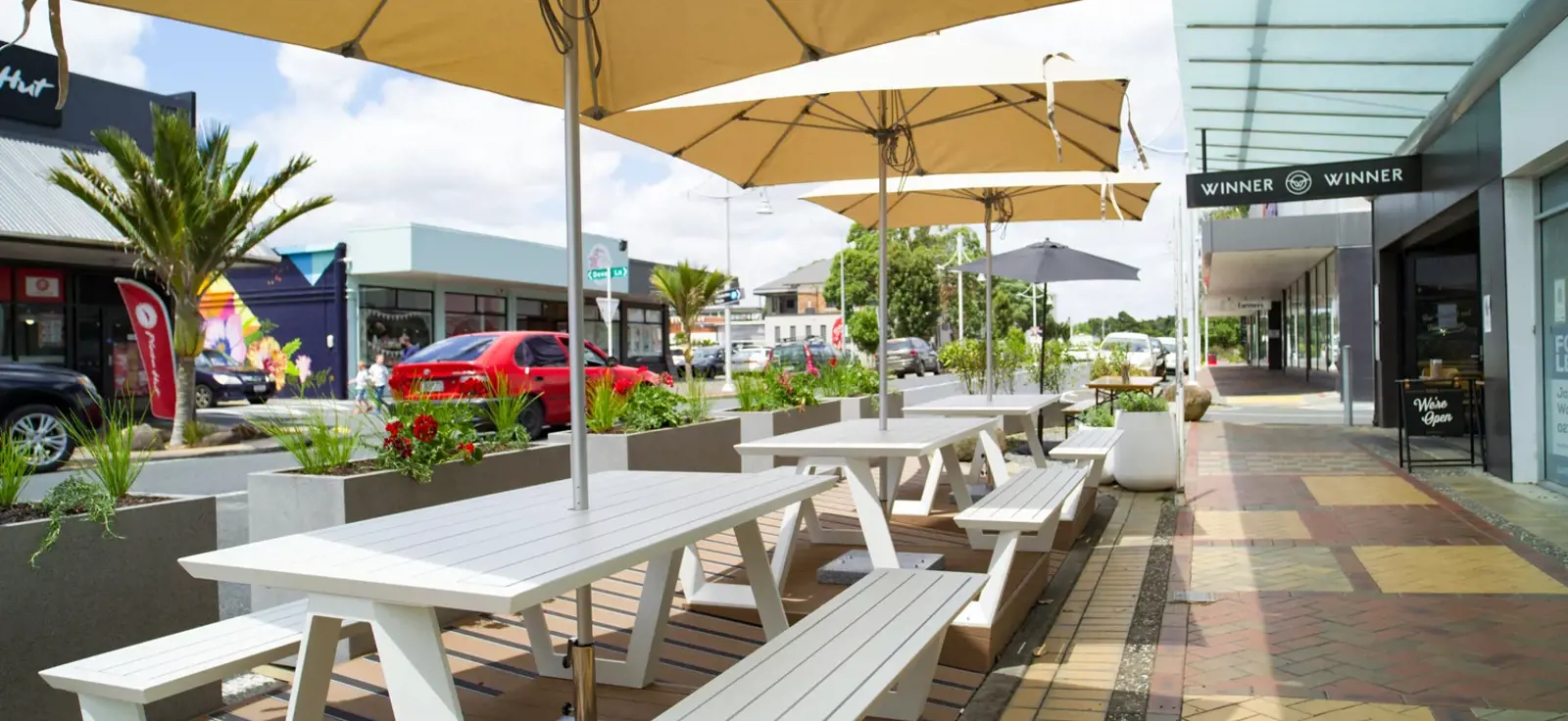 Located outside Winner Winner, Hiroba Sushi and Kaos Café on Edinburgh Street, this new dining area should be on your radar as an ideal place to meet with the whanau for some good grub.
The Pukekohe parklet has opened for two main reasons. Firstly, the idea of expanding footpath space to enable more outdoor dining aligns with our plan for futureproofing Pukekohe. Secondly, we're responding to the needs of local businesses, who are working hard to get through these turbulent times.
"This is the perfect example of council and businesses working together to get a really good outcome."

Franklin Local Board


LOGAN SOOLE
The project has been a superb example of how, while our challenges may be complex (urban regeneration and placemaking are never simple), collaboration is the key to a successful town centre.
It's feedback from each local community that helps us to create amazing places such as this – after all, the mahi we do is for each community with whom we work.
"Councils are inherently risk-averse," recognised Deputy Mayor Bill Cashmore, "because change brings an adverse reaction as we saw last time [with Pukekohe Streets for People], but if we want to actually make things smooth you've got to have the council parties moving together.
"And the businesses, they need to lead the process from the start, through their BIDS, go to the local board whose responsibility it is to make this stuff happen. When businesses request these sorts of outcomes, we can help deliver things rather than lead from the front, because these people know their town, they know their business, and they know what will work and what will not."
It was this spirit of working together that's seen the parklet receive a terrific response.
Logan Soole of Franklin Local Board enthused: "It was really beneficial to see Eke Panuku working together with our local businesses, and it was great to see our local businesses responding to that, adjusting when things weren't quite right; everything from the umbrellas to our slight lean.
"During the install, there were some things that maybe could have been improved on. We're lucky our businesses stepped up and said 'maybe you should try it this way', and Eke Panuku were really responsive. This is the perfect example of council and businesses working together to get a really good outcome."
Kendyl Sullivan from the Pukekohe Business Association, meanwhile, is delighted to see this pop up in Edinburgh Street, and has given it a tick of support from the organisation. She said: "The new extended dining area adds vibrancy and attractiveness to our town centre. We look forward to seeing everyone enjoying this lovely outdoor space."
Because Pukekohe has plenty of wonderful eateries to enjoy, there's always the scope for the parklet to visit different locations around town. As our very own community liaison Hannah Ross said: "We really hope to see people use the parklet this while it's here, and if it goes well, we could do more of these."