Local businessman acquires
Papatoetoe Mall
14 October 2019
If you haven't been to Papatoetoe's shopping strip along St Georges Street in a while, you might be surprised to find a new energy zipping through the iconic town centre.
Meander down there today and you'll find a newly upgraded mall, modern supermarket and large public space where people can soak up the sun's rays, hang out with friends and make new connections.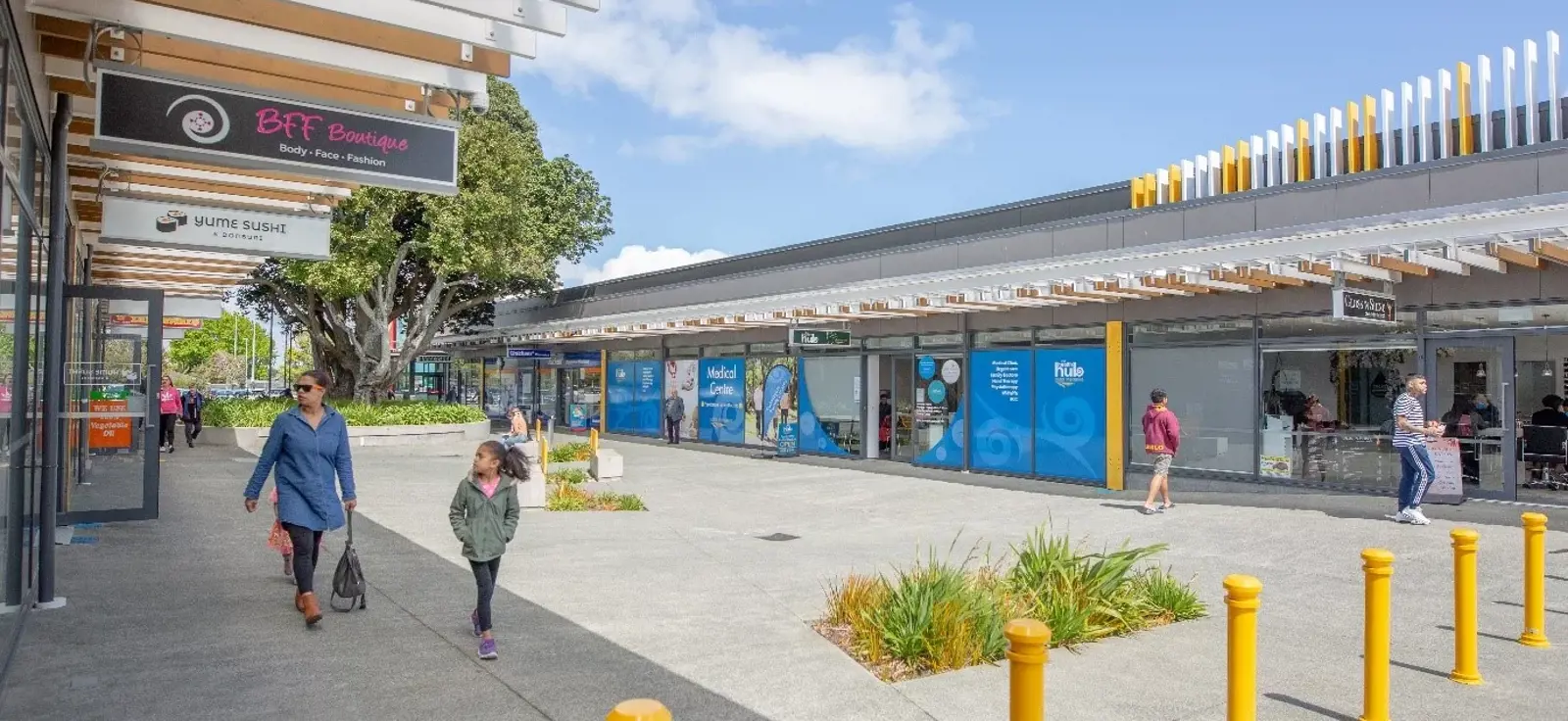 Come summer there'll be a pop-up coffee cart and possibly markets on weekends too. When we visited, locals were enjoying sushi and sandwiches in the courtyard at lunchtime.
This renewed energy is a result of Panuku Development Auckland's regeneration activity in the town centre, exciting local investors too.
Significantly, the upgraded Papatoetoe Mall has recently been purchased by local businessman Billa Singh.
"Moving to the neighbourhood from India 30 years ago, not much has changed over this time until Panuku came and pulled down the old mall," says the mall's new owner Billa Singh.
"When it was rebuilt and then went on the market, I knew I wanted to keep it local. I'm excited to be able to give something back to a community that has given me so much.
"It'd be really great to start some markets here, and this is such a great space to run movie nights as well – maybe show a film like The Lion King, something that the community would enjoy."
Lynette O'Brien, the pharmacist who co-owns the local Unichem is optimistic about the town centre's future and is delighted with the mall's modernisation.
"Our pharmacy has been here since the mall opened in 1971. Compared to what was here before, it's magical. The light now filters through the trees and building canopy which makes it really nice to sit outside. This mall is in a great location to connect the community with everything in walking distance including the supermarket, library and train station.
"A lot of people cross paths here and it's great to be able to have a space where people can come together and soak up the energy of this place. I'm really looking forward to seeing people come and enjoy this space a lot more."
Meanwhile, New World owner Max McDermid is busy working up ideas to bring the community together in the large public space recently completed next to the supermarket and mall.
"As part of our supermarket upgrade we partnered with Panuku to create a large public space where people can hang out and the community can come together. Now that the construction is complete we just have to put it all into action.
"At the moment I'm working on a plan to open up a coffee cart in partnership with the Papatoetoe Food Hub, the community cafe which has opened up across the car park. The food hub is a great initiative and this move will help expose the new business to more customers while providing a café offering in a great location so people can linger and enjoy the space a bit more."
He's already driven all the way down to Wellington to collect the 'cute' little cart and bring it back up to Auckland where it's currently being fitted out.
"I'm also looking at running market days out front, although this is just an idea at this stage - we should start to see it all come together nicely in time for summer."
The Otara-Papatoetoe Local Board was a key partner on this upgrade and provided valuable input and direction particularly around place making, ensuring the resulting improvements were something locals could embrace.