Shaping urban spaces with Unitec's young
talent
08 July 2020
Panuku has a long history of collaborating on real-life projects with talented rangatahi (youth) within New Zealand's tertiary institutions.
A great example is the ongoing partnering between Panuku and Unitec's Department of Landscape Architecture.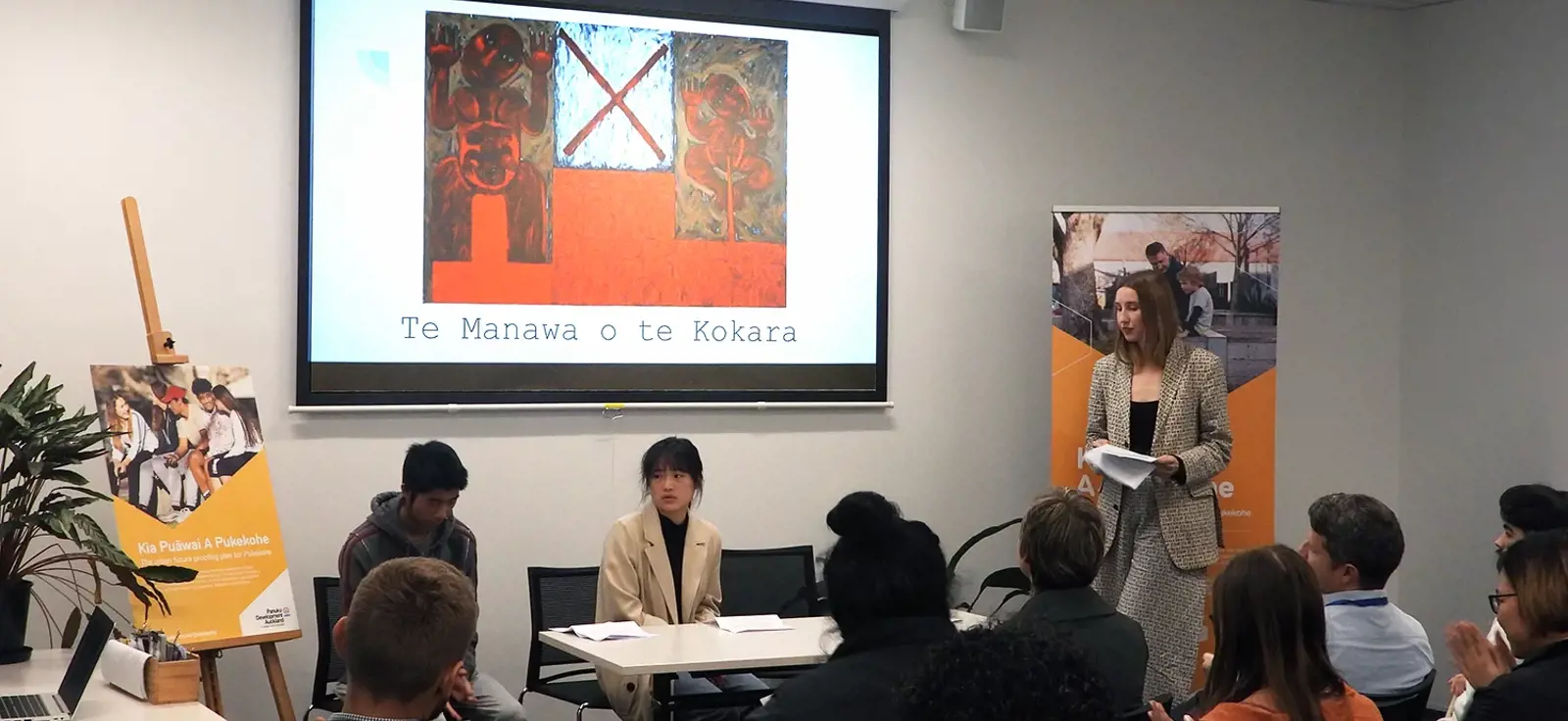 In the spirit of manaakitanga (hospitality), students from the four-year Bachelor of Landscape Architecture degree (BLA), were given the real-world design challenges within our Pukekohe neighbourhood, where they undertook a simulation master-planning exercise.
As course lead, Sibyl Bloomfield says: "Exposing our students to a real-life project is incredibly valuable as it reinforces their learning and allows them to develop skills and understanding that are directly applicable to their future careers. By having real-world clients and real-life projects, the students are engaging directly in the communities and spaces that shape our lives in this city."
Students undertook a four-month 'journey', with an initial briefing of the Panuku Unlock Pukekohe High Level Project Plan, called Kia Puāwai a Pukekohe.
This plan captures Auckland Council's desire to deliver urban futureproofing within Pukekohe which is forecast to experience a population increase of 50,000 people in the next 20 years.
A primary focus for the students' planning was exploring mana whenua engagement and placemaking as key elements of community development and urban regeneration, in response to the forecast population growth. Also, the blending of te ao Māori into the creative process, as Unitec lecturer Jackie Paul explains:
"Te ao Māori is an indigenous world view that can inform the way we practice as landscape architects. We essentially sit in the space between people and the land where we acknowledge the interrelationships of our natural and physical environments. We have provided a platform and space for students to engage in understanding te ao Māori so that this can inform a decolonial practice to re-imagine the country we live in."
Students were then challenged to apply te ao Māori concepts to forms, patterns and processes using contextual opportunities and constraints.
On the 26th of June, students presented their final presentations to Panuku CEO David Rankin and the Unlock Pukekohe programme team, led by Richard Davison. Guests also included Logan Soole and Angela Fulljames from the Franklin Local Board.
Angela says: "The Franklin Local Board has enjoyed a great relationship with Unitec School of Architecture for the past three years. The massive benefit is the objective and different perspective these students bring to commercial projects. Often, I think politicians and town planners need a stimulus of something new and fresh. This is what these students have supplied today in abundance.
"These young people are the designers and place-makers of our future cities. And after today I can safely say we are in good hands."